Old fashion cheesy potato casserole like grandma would make using raw potatoes and other fresh ingredients. One of our favorite side-dishes and is worth the little extra work for the delicious results.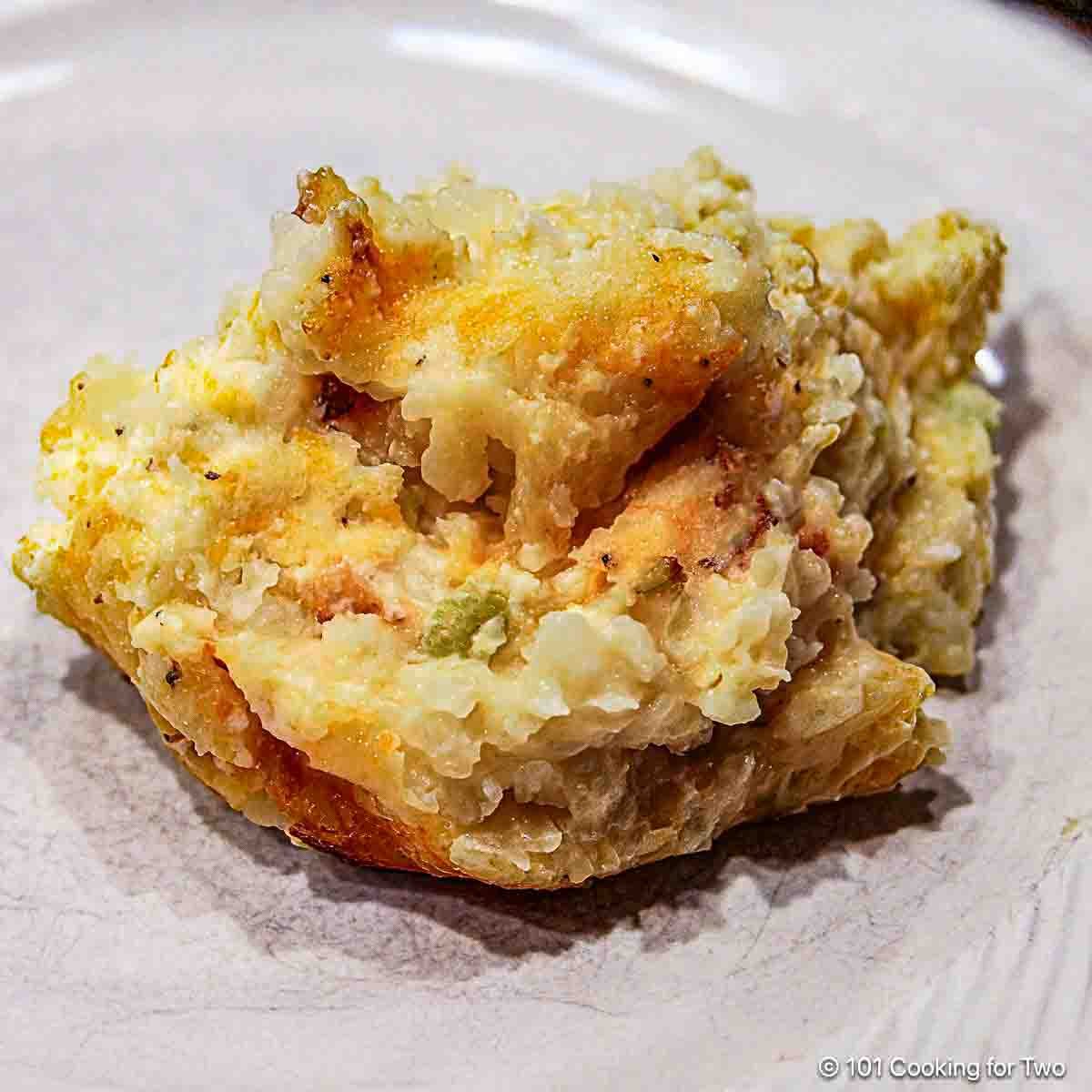 Introduction
A great side dish for BBQ, ham, or almost anything else. No special family meal is complete without this delicious potato casserole. Just follow these easy step-by-step photo instructions.
Cheesy potato casserole has been a standard on holiday table for 40 plus years and is a recipe everyone must-have. It is that good. This is similar to recipes called Funeral Potatoes or Crack Potatoes. Think of this as the original version.
Almost all the newer versions use frozen potatoes. Please, please, please don't do that. Cooking your potatoes will take this recipe from good to fight over the leftovers great. Also, cream of X soup seems to have found at's way into many recipes—just say no.
Simply boil some potatoes. Shred. Mix with sour cream, cheddar cheese, chopped green onion, salt, and pepper. Bake. Sometimes the simple ones are the best.
My Rating

My wife has declared this as part of her absolute favorite meal. Combined with my Easiest Oven Baked Kansas City BBQ Beef Brisket and you have her in heaven.
🥔Potatoes
I'm not too fond of frozen potatoes of any type here. There are texture issues. It is ok with frozen, but it is fantastic with cooking your own potatoes. I believe the issue with frozen potatoes is that they are "undercooked" in most versions of these potatoes making the results less creamy.
We use Russet potatoes that we always have on hand. But they do require peeling after cooking. If you choose thin-skinned potatoes like Yukon gold, you can skip the peeling. But any potato type will do for this recipe.
A full recipe uses about 3 pounds of potatoes but is a casserole, so you don't need to be that exact. That is about 6 medium-large size Russet potatoes.
✔️Tips
The baking dish size for a full recipe is 9X13 or a bit smaller. It will also just fit a 2 ½ quart dish.
A half recipe fits in a deep 8-inch round or a 6X9 dish. It will cook a bit faster. But I highly recommend making a full recipe for leftovers.
Adding bacon is a good touch to make them "crack" potatoes.
Easy to make ahead, cover tight, and refrigerate for up to 2 days. It can come out of the refrigerator directly to the oven but may take a few more minutes to bake.
After baking, store leftovers refrigerated for up to 4 days. Or you can freeze for 3-4 months.
I always make this as written, which is cooking for leftovers, which are oh so good. An easy recipe to cut in half from the current version (but why would you do that?)
📖Casserole Recipes
Crock Pot Cheesy Potatoes from Raw Potatoes
Old Fashion Scalloped Potatoes

🖼️Step-by-Step Instructions
In a large pot, add enough water to cover the potatoes and bring to boil over high heat.
Scrub about 3 pounds of potatoes. I always use Russet, but others should do. A medium Russet is 7-8 oz. Poke each potato a few times with a fork. This will help them not "explode" in the pot. They may still split some but not as bad.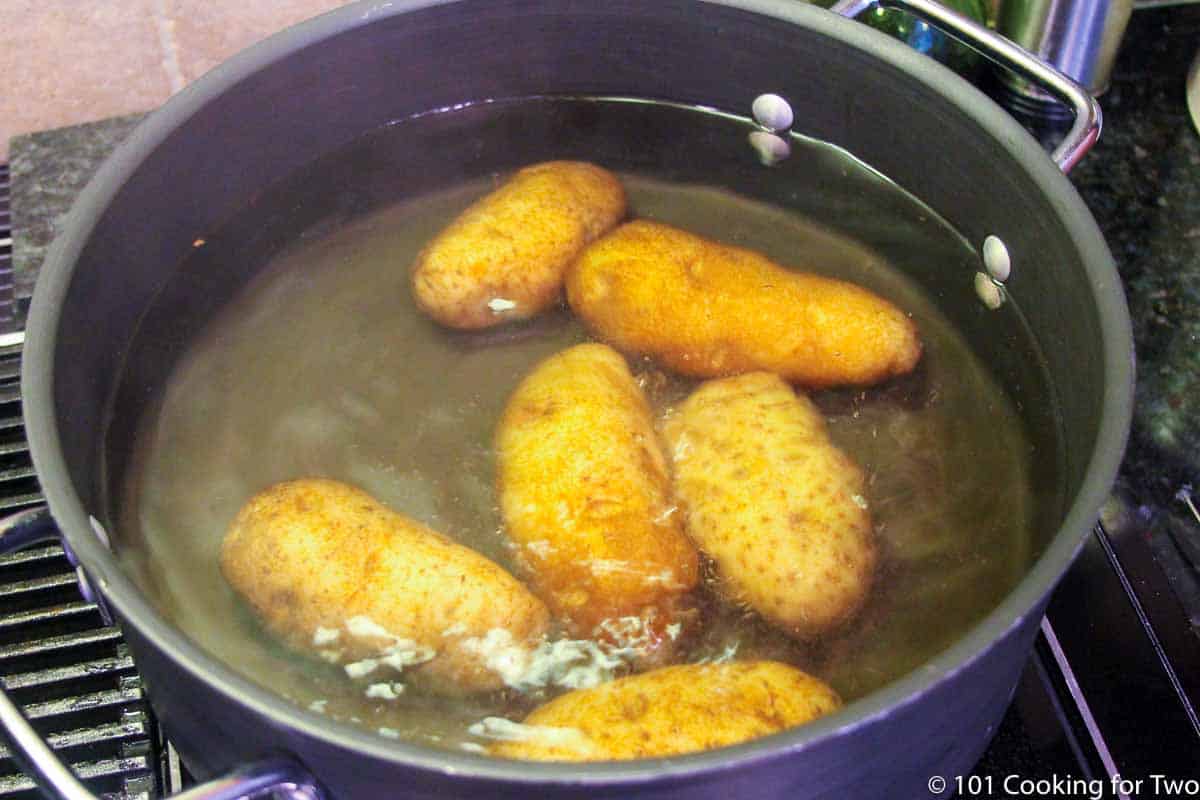 Add potatoes to the boiling water. Turn the heat down to low, so you don't boil all the water off and cover. Cook until fork-tender. That is when you can stick them with a large fork, and it will go all the way through—about 40 minutes. Time may vary some due to the potatoes.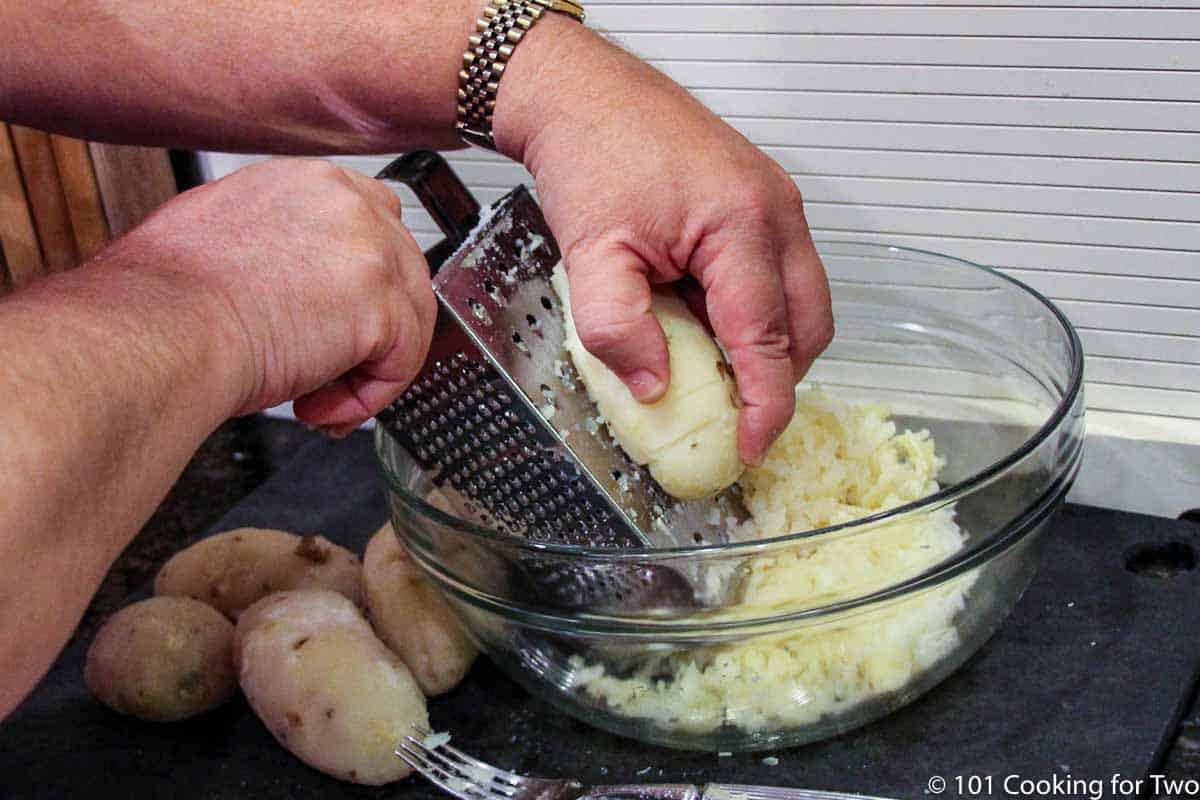 Remove from the water and place it in the refrigerator to cool for a couple of hours. Peel the potatoes. After they have cooled, the skin comes off easily with scrapping. Shred the potatoes. Here I'm hand shredding, but a food processor would be fine. I'm too lazy to get it out and clean it.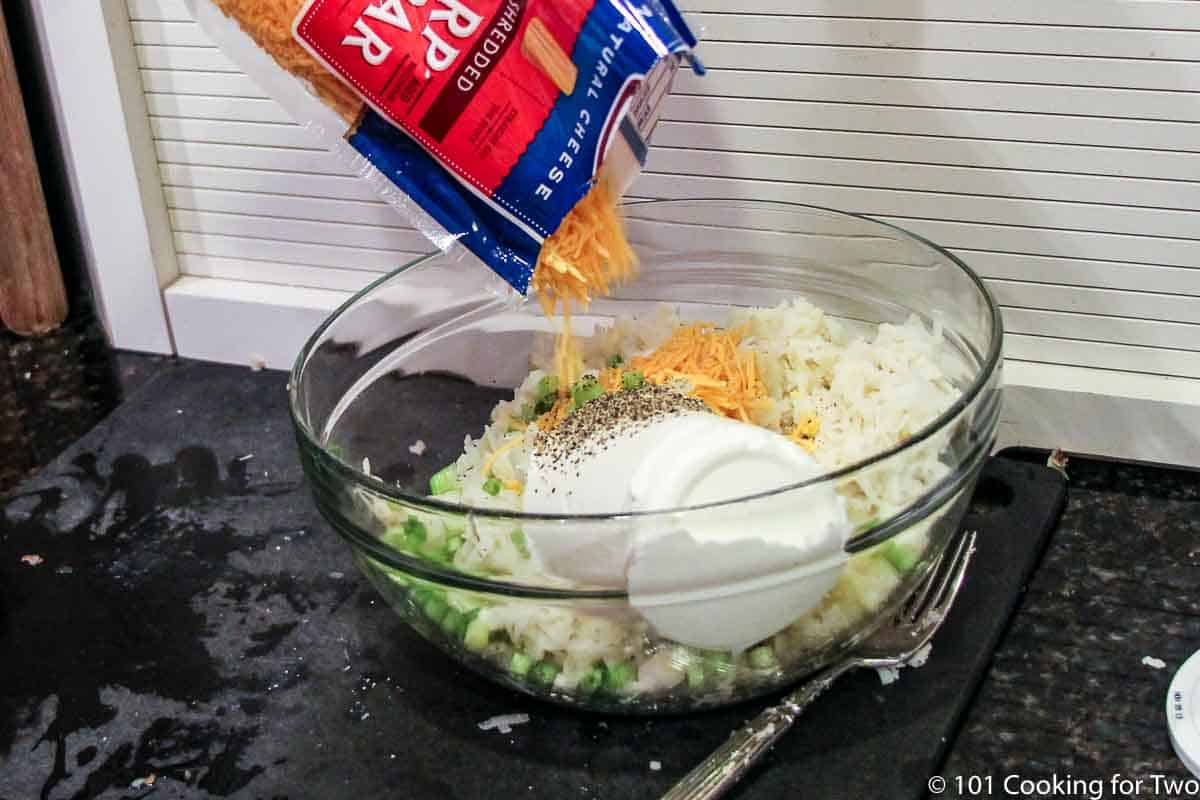 Clean and slice six green onions. To the potatoes, add 2 cups sour cream, 2 cups sharp cheddar cheese shredded, 1 teaspoon salt, ½ teaspoon pepper, and the green onions.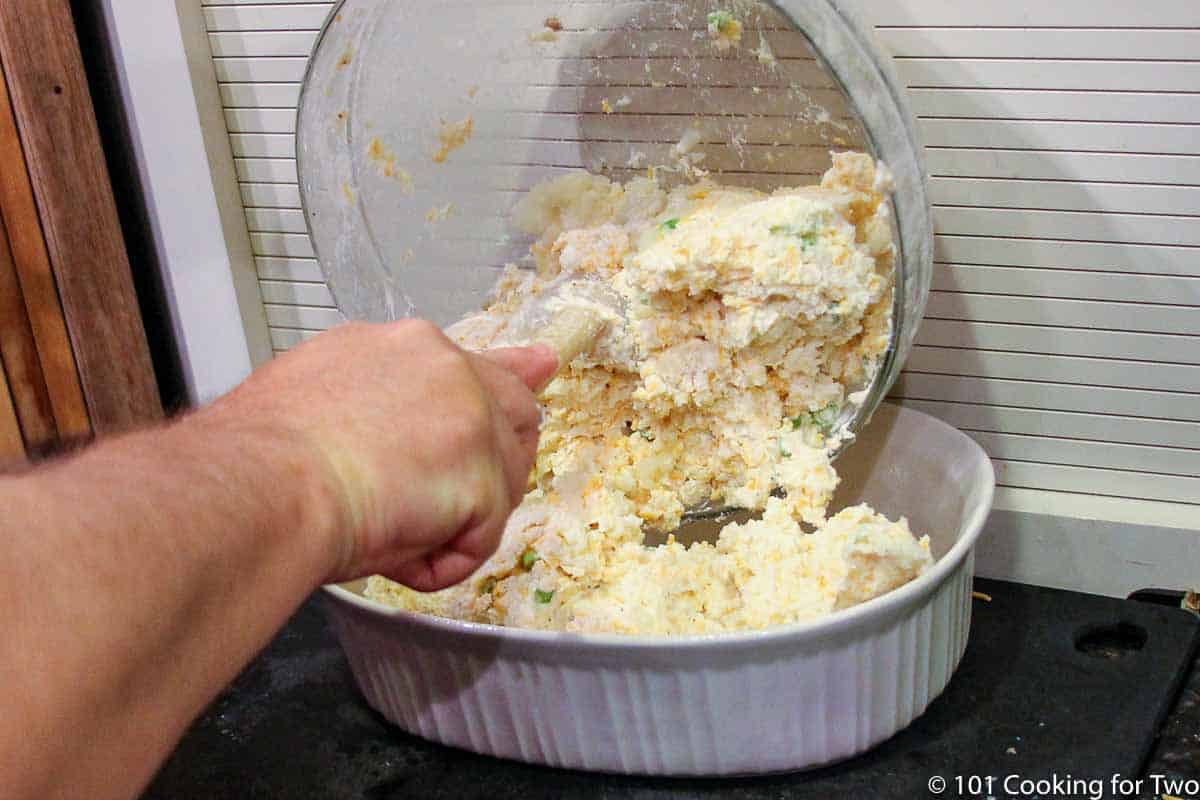 Mix well. Spray a larger baking pan with PAM and add the mixture. Smooth top. At this point, you can cook or cover and refrigerate for a day before cooking.
Preheat oven to 350° convection (375° conventional). Bake until golden brown. 35-40 minutes. A little more if cold from the refrigerator or a little less if a half recipe or a thinner pan.


Do you want more recipes from 101 Cooking for Two? Sign up for the newsletter and get all posts delivered straight to your inbox!
📖 Recipe
Editor's Note: Originally published October 5, 2013. This recipe was in my top 10 recipes of 2013. I have repeated this dish hundreds of times. Please enjoy one of our favorite dishes. Updated with expanded options, refreshed photos, and a table of contents to help navigation.