Super easy Christmas Crack to take to those holiday gatherings. Just follow these simple step by step photo instructions then top as you want.
Introduction
Last week was candy week here at 101 Cooking for Two, but then my daughter in Raleigh suggest I messed a southern favorite.
I never miss a regional favorite and especially southern. But the term "Christmas Crack" was new to me. After I saw a recipe, it was one I know as "Saltine Toffee Candy." So it is time for the fourth candy post in a row.
My Rating

A solid 4 plus and a 5 rating if you have good memories.
Toffee vs. Brittle
The difference between toffee and a brittle is mainly butter. Toffee is sugar with butter, and brittle is usually without butter.
Also, brittles are cooked to a higher temperature to reach a "hard-crack" state while toffees are cooked to slightly lower temperature and are softer.
👨‍🍳Method
This is a simple recipe in concept and execution.
A tray of saltine crackers
Topped with some toffee candy (just butter and sugar).
Bake for a few minutes to firm up the toffee.
Top with chocolate chips and let the heat melt them.
Smooth and top as desired.
The Tray
Most recipes call for 10X 18 trays. All mine and probably yours are 12 X 18 which is the normal size of half sheet pans.
Not too big of an issue. No reason to buy new. Just add another row of crackers. It will increase the surface are to be covered by 20%, but it will be fine.
Preparing the Tray
Toffee sticks to everything. According to some recipes, you can use a baking mat or non-stick aluminum foil.
I suggest a large sheet of parchment paper. Crease the edges to fit your tray and use a bit of butter in each corner to hold it down.
📋Ingredients and Toppings
Like a lot of things in cooking, quality matters. Use ingredients you trust and like.
For the topping, you will need about a cup to a cup and a half of toppings. Also, you will have a large surface area to cover so mix it up some so your friends will have some variety of choices.
I used mostly chopped pecans but added some holiday M&Ms and sprinkles. Other nuts, toffee chips, crushed Oreos, or my favorite suggestion of crushed candy canes.
✔️Tips
I read a lot of recipes, and there are lots of variations. Here is a summary.
Oven Temperature: Lowest 300° Highest 425° Most are 325° or 375°. Almost all are for 5 minutes. Why? You are just trying to get the toffee above 300° to make it "hard-crack". I picked a middle ground.
How Long to Cook the Toffee: Most say three minutes. A few 4-5 and a few needed a candy thermometer. I picked three since the oven will finish it off.
The Toppings: Most are only suggesting one type. Really, just do what you want.
Other Things: A few added 1 teaspoon of vanilla to the toffee when it came off the stovetop. Fine if you want. And a few melted the chocolate chips in the microwave before spreading. A useless step since there is plenty of heat in the toffee to melt the chocolate.
📖Candy Recipes
Crock Pot White Chocolate Almond Clusters
This recipe is part of Christmas Candy Recipes. Check out other easy candy recipes.

🖼️Step-by-Step Instructions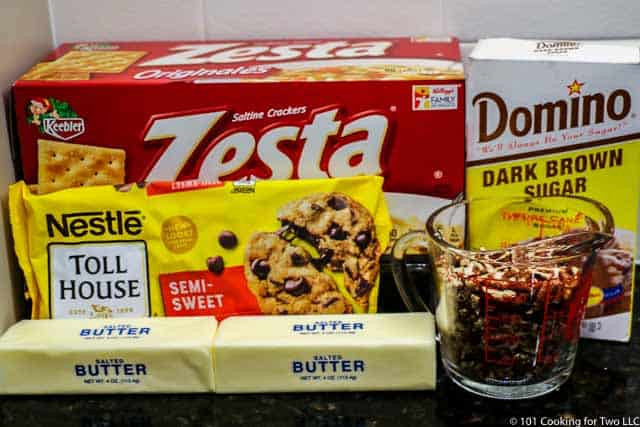 Preheat oven to 350°. Prepare 12 X 18 half sheet tray using a large sheet of parchment paper. Cover with a single layer of saltine crackers, 48 for me.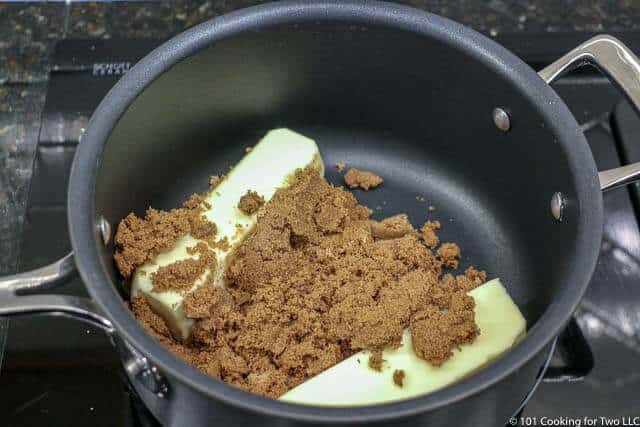 In a non-stick saucepan over medium-high heat, place 1 cup of butter and 1 cup of brown sugar.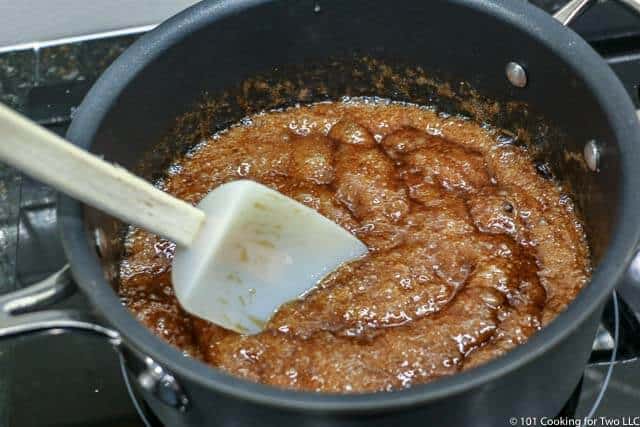 Bring to a boil then cook for 3 minutes while mixing well. It will get a little darker if you have good eyes. It will pull away from the edge of the pot with stirring.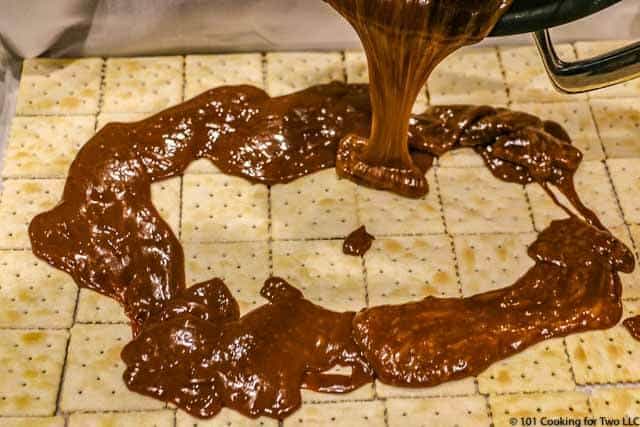 Pour over the toffee over the saltines.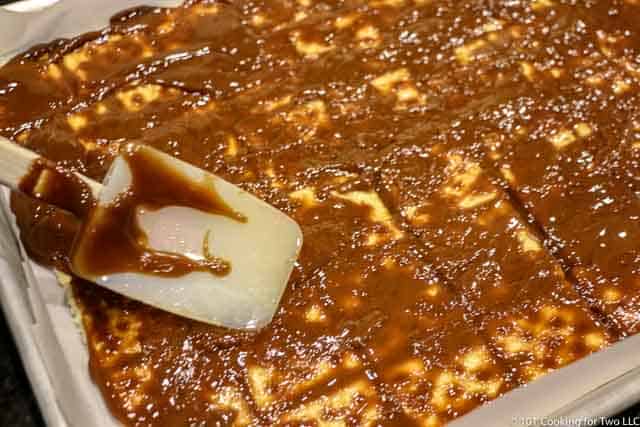 Smooth to cover rapidly. Bake in the preheated oven for 5 minutes.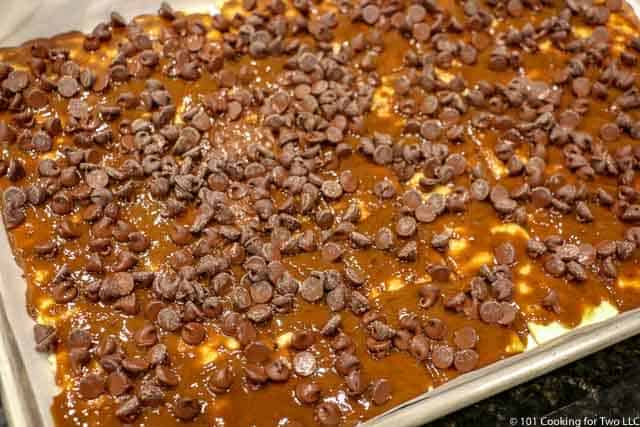 Remove from oven and sprinkle with 12 oz of chocolate chips. Allow to set for 5 minutes then smooth the melted chocolate.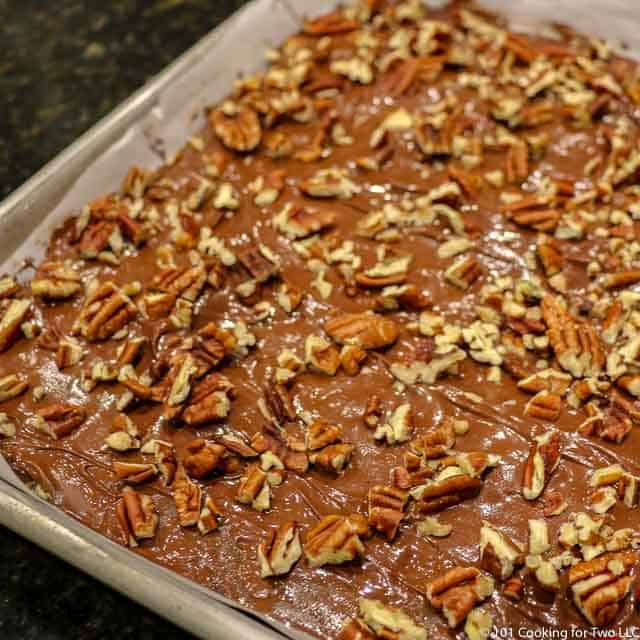 Top with 1 cup of chopped pecans or toppings of your choice.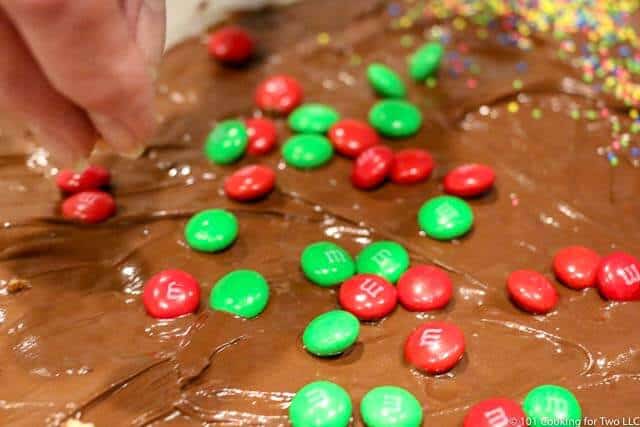 There is plenty of room for multiple variations. Cool in the refrigerator for a few hours.
"Crack" into serving size pieces.


Do you want more recipes from 101 Cooking for Two? Sign up for the newsletter and get all posts delivered straight to your inbox!
📖 Recipe
Originally Published December 11, 2018.