This great Mexican rice is the right side dish you need to complete your Mexican dinner. Just follow these easy step by step photo instructions.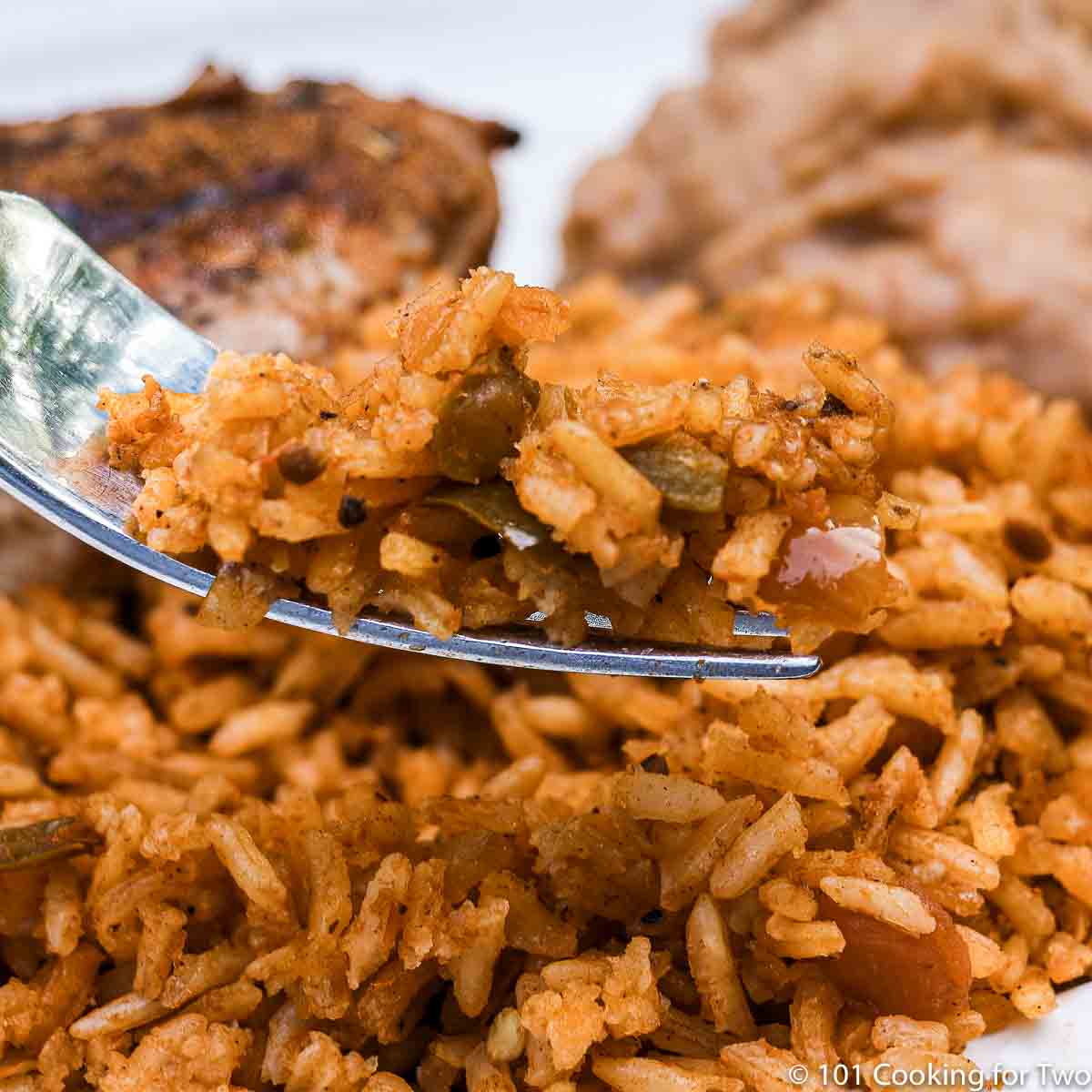 Introduction
Mexican rice is also known as Spanish rice, red rice, or Arroz Rojo. But Mexican rice to me.
Restaurant quality Mexican rice needs three things. Texture meaning not sticky. I want each grain of rice to stand by itself. Tenderness is soft but not mushy. And last is taste; it needs a great taste. Many restaurant versions lack in at least one of these areas — many in 2 or even all three.
My Rating

A 4 because it is a side dish, but a 5 otherwise. Both of us had two servings.
🍚The Rice
I suggest traditional white long grain rice. You may use different rice if you wish, but it may affect total cooking time.
Rinsing the rice is suggest by many. I don' t find it does much, but they fill it prevents some sticking. But the browning does that well without rinsing in my rice. If unsure, rinse.
When browning the rice, get it to a nice color. This will add a lot of extra toasted taste.
👨‍🍳The Seasoning
I used salsa for most of the spicing but added more garlic and cumin. I wanted lots of taste and the salsa provided that easily. You can adjust the heat of the dish by your choice of salsa.
If you want a little less tomato taste, decrease the salsa to ½ cup and increase the chicken broth to 1 ½ cup.
➕Additions
You can add a diced small carrot or ⅓ cup of peas (fresh or frozen) if you want.
If you want a hotter taste, add a chopped jalapeno with the garlic.
🇲🇽Mexican Recipes

🖼️Step-by-Step Instructions
Long grain rice preferred. Some people like to rinse the rice.
Heat 2 tablespoons oil in a large nonstick pan over medium heat until hot. Add 1 cup long-grain rice.
Add ½ teaspoon ground cumin and salt. Toast until nicely brown about 8-9 minutes. The last-minute of toasting, add 1-2 cloves crushed garlic.
Add 1 cup of your favorite salsa and 1 cup chicken broth. You may add optional jalapeno, peas, or carrots at this point. Bring to a boil then decrease to low heat and cover. Simmer for 20 minutes until tender. If you are using different rice, the time will be different. Always cook until tender.
Remove from heat and stir. Cover and let rest until serving.


Do you want more recipes from 101 Cooking for Two? Sign up for the newsletter and get all posts delivered straight to your inbox!
📖 Recipe
Editor's Note: Originally Published August 10, 2014. Updated with expanded options, refreshed photos, and a table of contents to help navigation.