Easy chicken enchilada casserole features homemade enchilada sauce, fresh chicken, plus it is done in 60 minutes. That equals a great Mexican recipe for a healthy dinner "from scratch." No pre-cooked chicken or canned enchilada sauce is needed.

Introduction
So, are you bored with your New Year's diet yet? I'm here to rescue you from boredom at only 300 calories per serving.
We all love good Mexican, but it can be evil on the health-o-meter. But it doesn't have to be. By using lower fat cheese, corn tortillas, and well-trimmed chicken, this recipe comes in at about 276 calories and 8 grams of fat per serving.
My wife will give me hints about what to cook next. Mild hint requires looking at her Pinterest posts. Strong hints I will refer to as "Yum-o-grams," which are emails starting with the Y-U-M phrase.
The best yum-o-grams will have a link to a blog I usually read anyways. This one linked to Jo Cooks, a blog I have enjoyed. Similar recipes have been around the blogs, and all use canned enchilada sauce. I much prefer my homemade enchilada sauce. So I adapted the recipe to my tastes and made it a little healthier at the same time.
I usually make enchiladas with a rolled method. Much fussier and messier. This is so much easier.
My Rating

A 5 from my wife. I was between a four and a five, but I'm good with the 5. She even said she might make it herself, so you know it's good.
📋Ingredients
Chicken
I suggest using fresh skinless boneless chicken breast for this recipe. I then trim and simmer the chicken in the homemade sauce until 165°. Shred, and you are ready to proceed with your chicken and sauce, both ready to use.
You can also use chicken thighs, but that destroys the "low fat" part of the recipe.
You can use precooked chicken. If you're aiming for low calorie, obviously use chicken breasts. You need about 3 cups, which will be about 1 ½ pounds. If you do the precooked chicken, you only need to simmer the sauce for about 10 minutes before assembly.
Sauce
Most similar recipes will suggest canned enchilada sauce - that is disgusting. We are going to make our own with my Homemade Enchilada Sauce, which is as easy as it is tasty.
One huge positive is that you can cook the chicken in the simmering sauce. I do love a recipe that flows.
If you insist, you can use the canned sauce, but please don't do that.
Cheese
I suggest using lower fat Mexican blend cheese. The lower fat cheese saves about 4 gms of fat per serving, so about 36 calories. That is not a huge amount, but I was aiming for low fat here.
So, use the cheese you want, non-low-fat is fine. I never suggest fat-free cheese. It never acts right in cooking.
✔️Tips
Tortillas: I suggest corn tortillas, but flour is fine.
Add-ins: corn, black beans, or whatever you want.
Storage: Good refrigerated for 3-4 days. It should also freeze well when sealed well for 3-4 months.
📖Tex-Mex Casseroles
Easy Sour Cream Chicken Enchiladas
Excellent Chicken Enchilada Casserole
Crock Pot Southwest Chicken Casserole
Crock Pot Chicken Enchilada Casserole

🖼️Step-by-Step Instructions
Start by preheating the oven to 350° convection or 375° conventional.
Trim two skinless boneless chicken breast and cut into three pieces each. These vary a lot in size. Aim for about 1 ½ pound, but anywhere from 1 to 2 pounds total should be fine.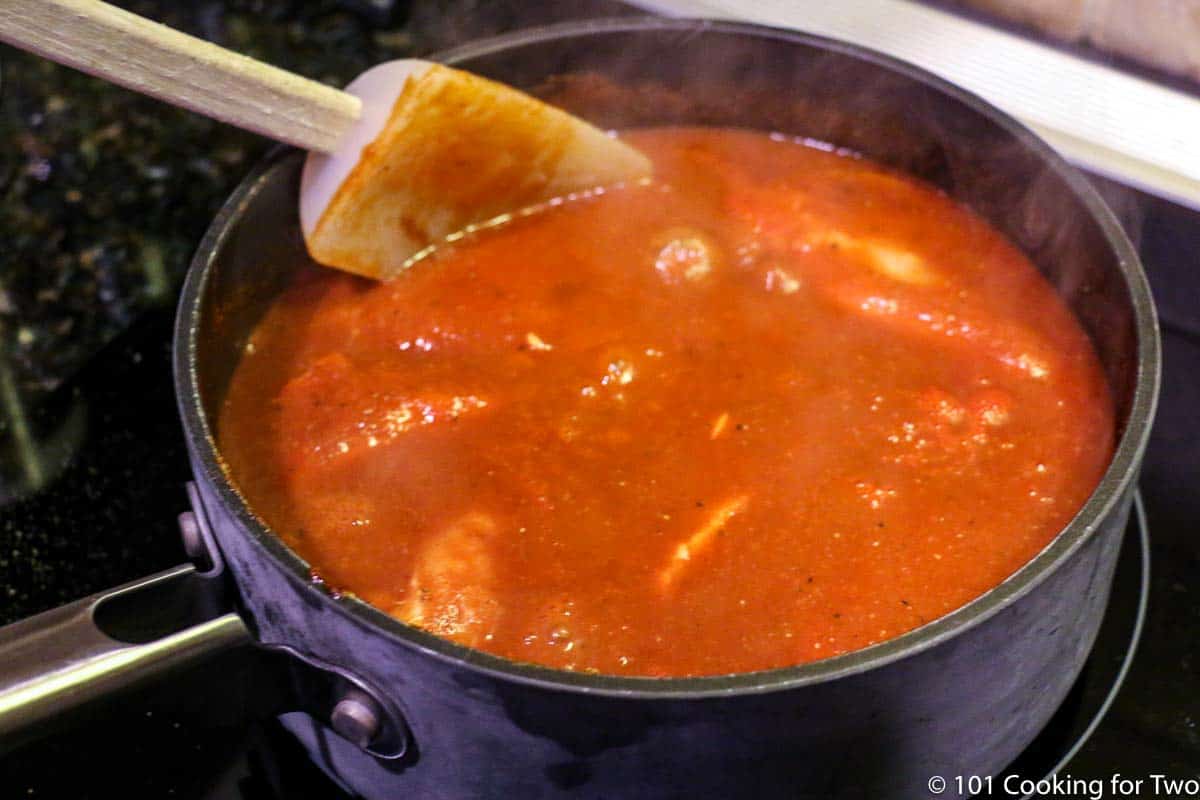 In a medium saucepan, add one 15 oz. can tomato sauce, one tablespoon chili powder, one teaspoon paprika, one teaspoon onion powder, ½ teaspoon garlic powder, ½ teaspoon cumin, one teaspoon salt, ½ teaspoon pepper. Mix well. Add the chicken and bring to boil over medium-high heat—cover and decrease to simmer for 20 minutes.
Check the temperature of the chicken to be sure it is 165° or more. Remove to cutting board and shred. Divide into three equal piles.
Prep an approximately 10X7 baking pan with PAM. Spoon two tablespoons of the sauce over the bottom of the baking pan—layer two 6 inch corn tortillas over the sauce.
Add ⅓ of chicken. Then ⅓ of the sauce (about ⅔ cup). Then ⅔ cup cheese. Repeat this layering twice more.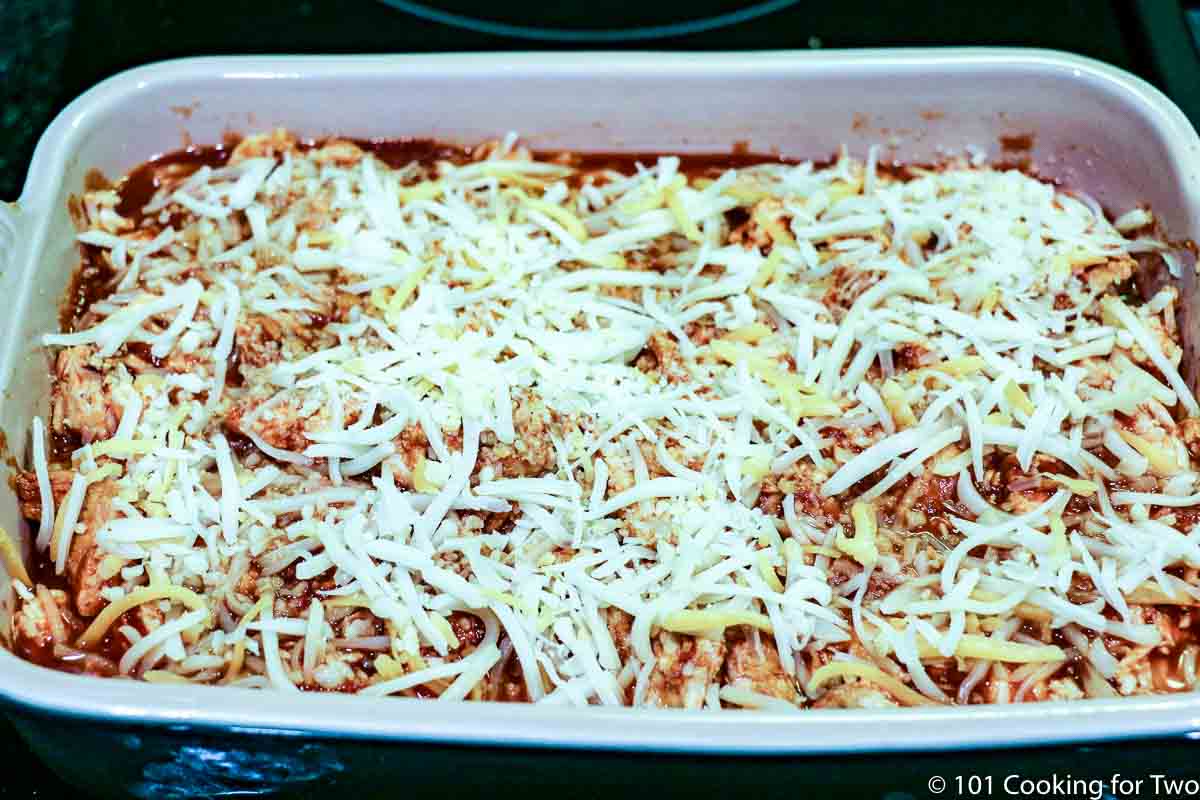 Bake until a golden brown top - about 20 minutes.


Do you want more recipes from 101 Cooking for Two? Sign up for the newsletter and get all posts delivered straight to your inbox!
📖 Recipe
Originally Published February 3, 2015. Updated with expanded options, refreshed photos, and a table of contents to help navigation.