A perfect side-dish or add ham to make the classic scalloped potatoes with ham. Either way, this is great comfort food you can now make in your crock pot.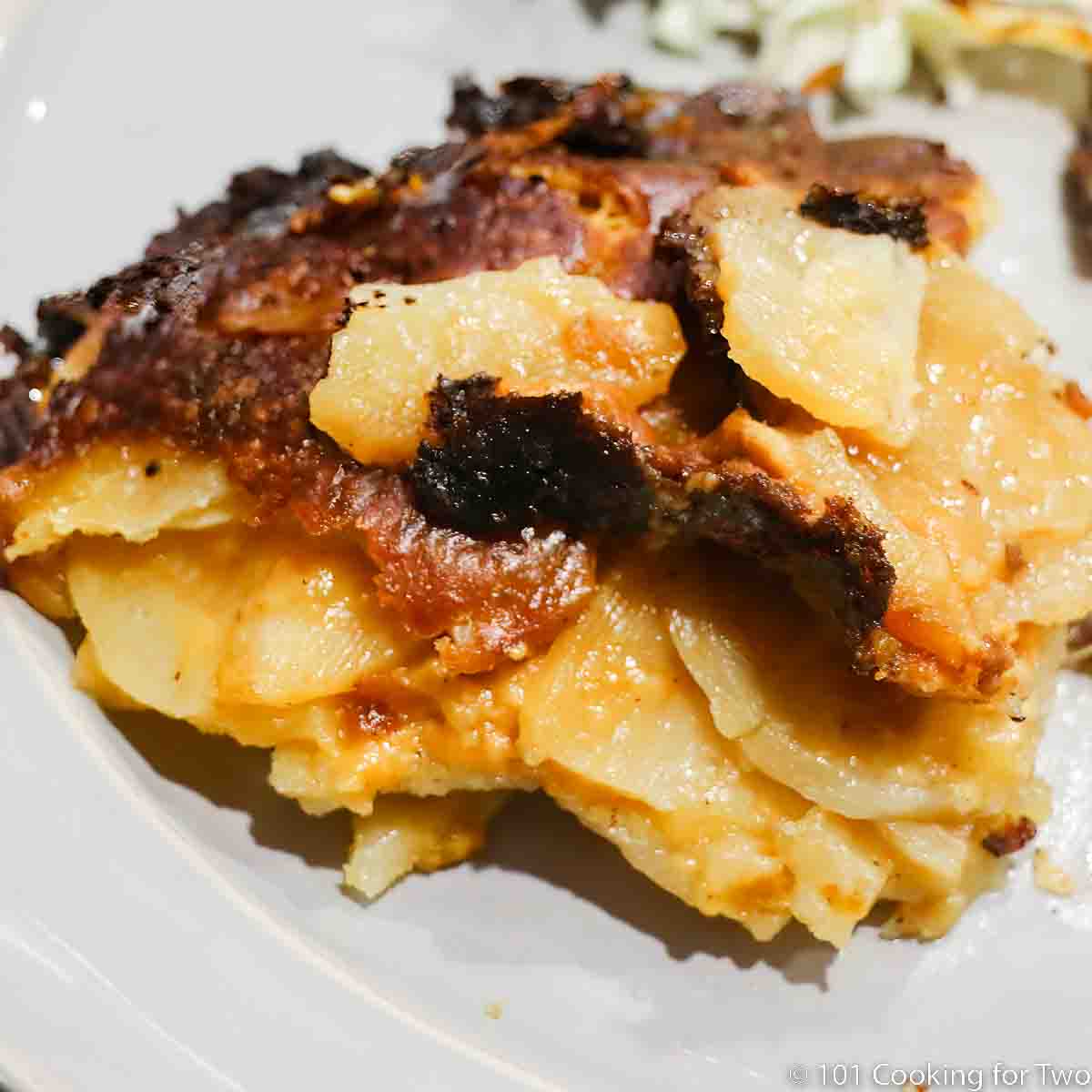 Introduction
I love potatoes but make them cheesy, creamy, and tender, then I will follow you home. This recipe is a crock pot adoption of my oven version of scalloped potatoes.
My oven recipe is very good, but it takes me longer to wipe up than I like. I have to pay attention, and it seems to eat up my time when I'm working on other components of the meal. So I don't do it often.
A crock pot recipe would seem to address some of those issues by time-shifting the work and if possible, simplify even more.
One thing I have against many crock pot recipes is that can of soup. I just don't like the idea or the taste. So mine is slightly more involved with making an easy roux-based sauce—slightly more work but worth it.
I read many crock pot scalloped potatoes recipes, but there were way too many cans of soup just dumped in lots of crock pots—nothing I would want to eat. A few looked ok, but I liked my oven recipe better. So it was conversion time.
My original recipe was based on food.com Scalloped Potatoes recipe. It still looked great, just not a crock pot recipe. A change here and a simplification there, and I had what I wanted. I will enjoy them over and over as long as my mandolin holds up.
My Rating

Excellent. My wife is guarding the leftovers.
👨‍🍳Scalloped vs. Au Gratin
I call this scalloped mainly because, in my mind, that is what they are, but other terms apply. So, scalloped is anything baked in a casserole with a sauce with or without the cheese.
Au Gratin means grated and usually refers to cheese. So this recipe could be called Scalloped or Au Gratin or Scalloped Au Gratin.
🥔Potatoes
All potatoes will cook about the same. The main difference will be the thick skin on Russets, and they will have a bit more starch. So Russets are an excellent choice here and what we usually use.
But other potatoes, like a Yukon Gold, would work great here. I would not use a small potato just because it will cause extra work for no real return.
If you use Russets, they should be peeled due to the tough skin. Thinner skin potatoes can be peeled or unpeeled.
✔️Tips
The Cheese
Most people will use mild or sharp cheddar, but Monterey Jack or Gruyere would be nice also.
The Crock Pot Size
I like to use a large crock pot of 6-quarts or above. This will be a thinner casserole but allow more crispy top and edges. You can fit this in a 4-quart crock pot.
How Long to Cook
This takes about 8 hours on low and 4-5 hours on high. If you use a smaller crock pot or a double recipe, it can take a bit longer to cook.
Also, remember that crock pot varies a lot. Pay attention and cook to the endpoints of temperature and color, especially if you are cooking on high.
The potatoes are done when the edge turns crusty and dark brown - almost burnt. It is not; think of it as a scallop potato version of "burnt ends" from the BBQ joint. You will be tempted to end the cooking early but don't.
Remember, potatoes are done at 200+°. The texture was great, but it took 8 hours. You may only get to 190° in some crock pots, that is still good.
If your crock pot runs hot, then your edges may burn. So know your pot. But that very dark brown is tasty.
Storage and Reheating
Good refrigerated for 3-4 days and frozen for 3-4 months.
We much prefer this reheated in an oven, but a microwave works well, also.
🐖Adding Ham
You can easily make this Scalloped Potatoes with Ham. Just mix some well-trimmed ham in with the potato slices. Use about 3 cups of diced or sliced ham. That will be about ¾ to 1 pound of ham. But use more or less for your taste.
📖Potato Recipes
Old Fashion Scalloped Potatoes and Ham
Old Fashion Scalloped Potatoes
Crock Pot Cheesy Potatoes from Real Potatoes
Crispy Parmesan Baked Potatoes

🖼️Step-by-Step Instructions
2 pounds of russet potatoes is about 5-6 medium potatoes.
Slice potatoes about ⅛ inch. I recommend a mandolin here. Here is my new Oxy mandolin. It is highly recommended. Let's be careful and not end up in the ER. Soak the potato slices in cold water until needed and then rinse and pat dry.
Start the sauce with 3 tablespoons butter over medium heat. When melted, add 3 tablespoon flour and whisk for a few minutes.
Add 1 ½ cup milk. Frequently whisk for a couple of minutes and add 1 teaspoon salt, ½ teaspoon pepper, and ⅛ teaspoon cayenne pepper. Bring to a light boil, and this will start to thicken in a few more minutes.
Remove from heat and add 1 ½ cup of shredded cheese. I used sharp cheddar. Whisk until smooth.
Layer half of the potatoes into a large crock pot that has been sprayed with PAM. Put them in individually, so they are not stuck together. Do not just dump them in.
Pour half the cheese sauce over the first half of the potatoes. Add the second half of the potatoes, then the rest of the cheese sauce.
Now give a light sprinkle of paprika. Cook on low for about 8 hours.
The edges will appear dark brown, but they are just crispy like the best part of many casseroles. The internal temperature should be 200+° if possible. Some crock pots will only get to 190° which is fine.
Be sure to let the casserole rest for 10-15 minutes after cooking to firm up before serving.


Do you want more recipes from 101 Cooking for Two? Sign up for the newsletter and get all posts delivered straight to your inbox!
📖 Recipe
Editor's Note: Originally Published January 9, 2017. Updated with expanded options, refreshed photos, and a table of contents to help navigation.