Chicken Parmesan Soup is a great Italian chicken soup that is a combination of the wonderful flavors of chicken, Parmesan cheese, and Italian seasonings. Good enough for company but super easy in your crock pot for a weeknight family dinner.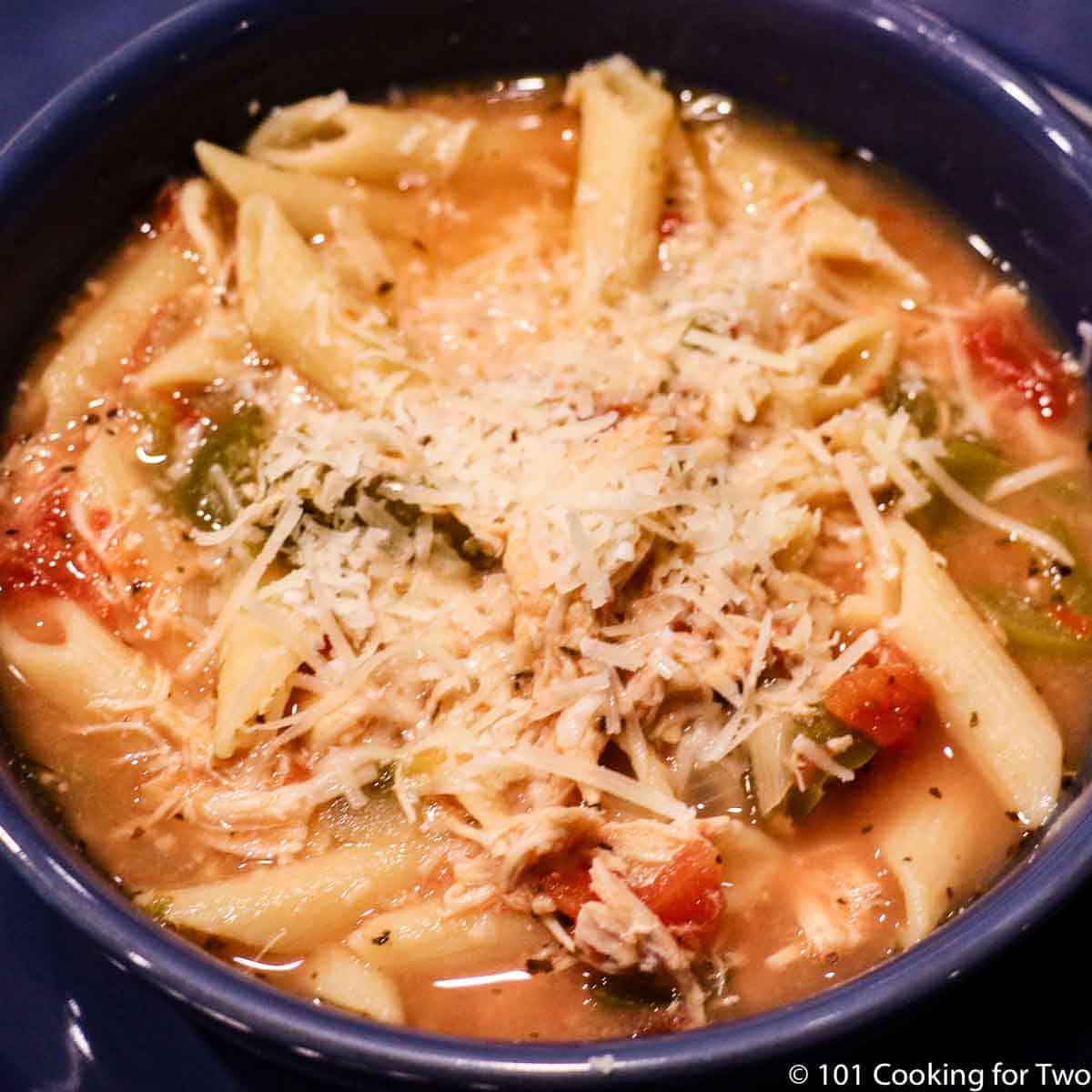 Introduction
We love chicken in this cooking for two household. We love soup, and I love simple. And this soup will fit for most low fat, low carb or keto diets.
So from my wife's Pinterest board, we have Crock Pot Chicken Parmesan Soup from Fox Loves Lemons. The recipe has been quite popular around the blogs, and there are a number of similar recipes. But like all recipes, it is just guidelines. So a nip and a tuck here and a simplification there, and we have what I wanted.
First, I wanted more meat... doubled. Next, I rarely have fresh herbs, so dry is always available—a bit more garlic, more broth to support the chicken, and lastly, diced tomatoes. I have never seen a 14 oz can of crushed tomatoes—very nice soup with almost no work.
My Rating

A low five for me and a bit higher for my wife.
🐓The Chicken
This recipe needs about 1 pound of raw chicken. Usually, that would be skinless boneless chicken breasts, but thighs would be fine. I happen to have chicken tenders.
If you have precooked chicken, like a rotisserie chicken, you will need about 3 cups of shredded chicken that you should add along with the pasta.
♨️Ingredients
The Cheese
Freshly grated Parmesan cheese will add a lot of flavors that you won't get from processed versions. I like buying Parmigiano Reggiano, usually in a big chunk from Sam's Club.
I prefer grated in the cheese and shredded for topping at serving.
The Pasta
The pasta is cooked in the crock pot with the fluid from the broth and chicken. I suggest using standard box pasta here since I know how it will cook in this sort of usage. If you want to use a non-standard type of pasta, you need to watch that it is cooked fully but not overcooked.
✔️Tips
Crock Pot Size
This fits in a 3 ½ quart or bigger crock pot. A double recipe will be fine in 6 quart or larger.
❄️Storage
This soup will store well refrigerated for 2-3 days. You may want to add more broth during reheating since the pasta will absorb more fluid. You can freeze this soup for 2-3 months.
📖Crock Pot Soups
Crock Pot Chicken Tortilla Soup
Healthy Crockpot White Bean Chili Spiced Up

🔪Instructions
Start by grating ½ cup of Parmesan cheese plus a little extra for topping at the end. You could use a pre-grated, but it will suffer in taste.
Chop one green pepper and one small onion. Clean and trim 1 pound of chicken. Any raw chicken will do.
Add a 14 oz can diced tomatoes, 4 cups chicken broth, four cloves crush garlic, one teaspoon basil, ½ teaspoon oregano, and ⅛-1/4 teaspoon crushed red pepper. Add ½ cup Parmesan cheese, chicken, pepper, and onion.
Cook on low for 4 hours total but 3 ½ hours into cooking, remove the chicken and shred.
Place the chicken along with 1 cup of dry pasta back into the crock pot and cook for about 30 minutes more until pasta is done to taste.
Serve with additional shredded Parmesan topping.


Do you want more recipes from 101 Cooking for Two? Sign up for the newsletter and get all posts delivered straight to your inbox!
📖 Recipe
Editor's Note: Originally Published October 11, 2015. Updated with expanded options, refreshed photos, and a table of contents to help navigation.