Old Fashion Scalloped Potatoes (AKA Au Gratin Potatoes) just like grandma made are the perfect side dish for almost any meal. Just follow these easy step by step photo instructions for this classic homemade dish.
Introduction
I love a classic recipe. They are usually easy and almost always present an unmatched wholesome taste with simple ingredients. This is one of those great older recipes that is easy and absolutely delicious.
This is based on a recipe that originally came from the 1971 Florence Junior League Cookbook. I didn't do much to the recipe. 4 cups of sliced potatoes became six medium potatoes. I used pre-shredded, not grated cheese for ease. But mostly I expanded on the instructions to simplify and make them less intimidating.
My Rating

Excellent old fashion taste. Good enough that my wife dug the recipe out of my "to post" file and made it again two days later. Yep, she loves it.
What is Scalloped vs. Au Gratin?
Scalloped is anything baked in a casserole with a sauce that could be cheese or any other sauce.
Au Gratin means "with cheese." So this recipe could be called Scalloped or Au Gratin or Scalloped Au Gratin. Take the cheese out and just use a white sauce and you have Scalloped but not Au Gratin. Now you know.
I use "scalloped" since it is correct and that is what I have called this forever. But Au Gratin is correct and a bit more specific.
🥔The Potatoes
All potatoes cook about the same. The main difference will be the thick skin on Russets, and they will have a bit more starch. So Russets are an excellent baker.
But other potatoes, like a Yukon Gold, would work great here. I would not use a small potato just because it will cause extra work for no real return.
I usually use peeled Russet potatoes since I have them on hand. I use the smaller potatoes in the bag that are not big enough for baking.
You need about 4 cups of potato slices. I used 6 smaller to medium potatoes to get that.
I suggest using a Mandolin to slice potatoes, but a knife works. If using Russets, then peal. If using a thinner skin potato, then pealing in optional
🧀The Cheese
Most people will use cheddar, but Monterey Jack or Gruyere would be nice also.
The Baking Dish
The thicker the dish, the longer the baking time. I used a 9 by 6 baking dish that was about 1 ½ inch deep.
Double the recipe to use a 9 by 13 standard casserole dish.
❄️Storage and Reheating
Good refrigerated for 3-4 days and frozen for 3-4 months.
We much prefer this reheated in an oven instead of a microwave with seems to change the texture some.
⏰How Long to Cook
The standard recommendation for scalloped potatoes is generally 1 hour and "fork-tender," and that is fine.
But for us, we want creamy, melt in your mouth. We love to cook longer. For this about and other 2o minutes. Cover if needed to keep from browning too much.
If you add ham and make a thicker casserole, our cooking time is about 2 hours mostly covered. See the recipe link below.
📖Scalloped Potato Recipes
Old Fashion Scalloped Potatoes and Ham

🖼️Instructions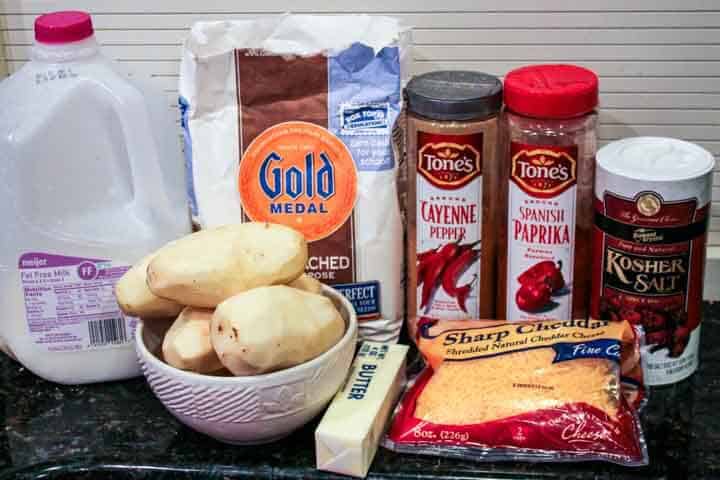 Preheat oven to 350°, not convection.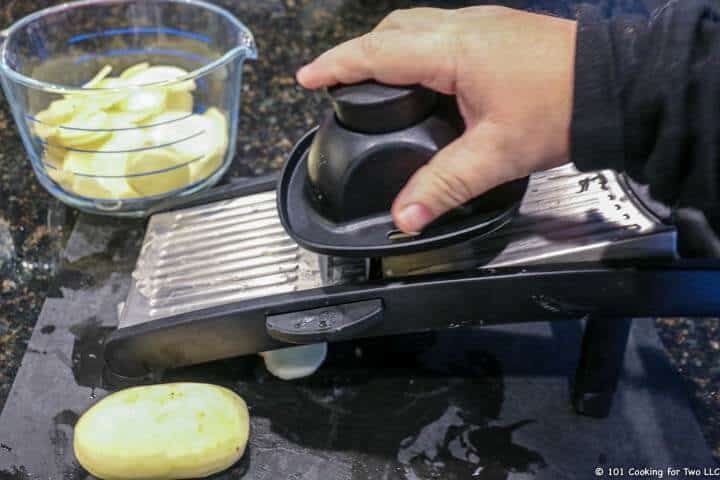 Slice 5-6 medium russet potatoes about ⅛ inch. If you have crazy ninja knife skills, you can do this by hand, but a mandolin is a good thing here (BE CAREFUL.) The setting on mine for this is "thin." You need to end up with about 4 cups of potato slices. Rinse in a bowl of cold water.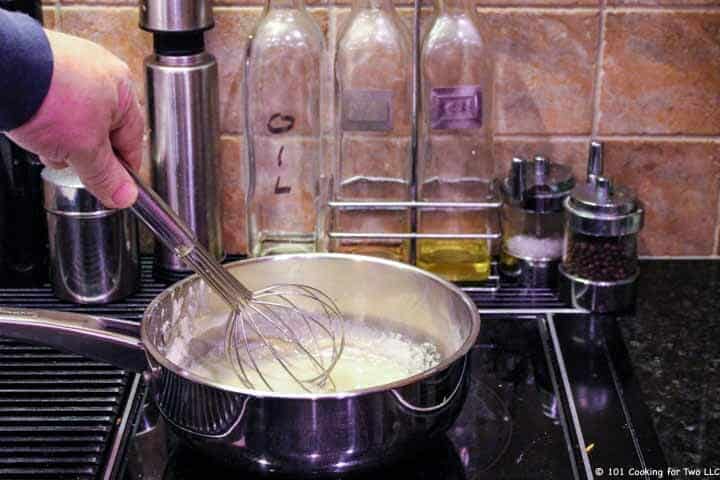 Start the sauce with 3 tablespoons butter over medium heat. When melted, add 3 tablespoons flour and whisk for a few minutes. Add 1 ½ cup milk. Frequently whisk for a couple of minutes and add 1 teaspoon salt and ⅛ teaspoon cayenne pepper (optional.) Bring to a light boil, and this will start to thicken in a few more minutes.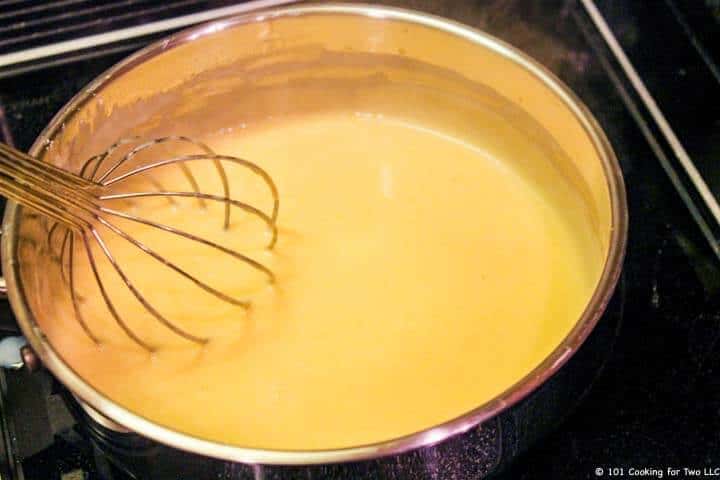 Reduce heat to low and add 1 cup of shredded cheese. I used cheddar. Whisk until smooth and remove from heat.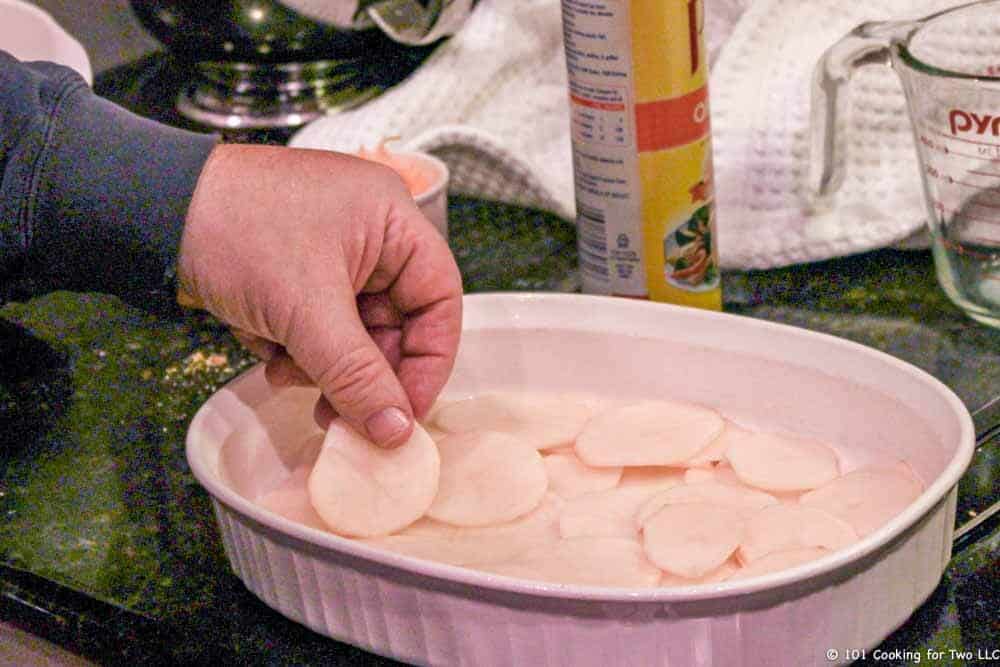 Layer half of the potatoes into a casserole dish (6 by 9 inches) that has been sprayed with PAM. Put them in individually, so they are not stuck together. Do not just dump them in.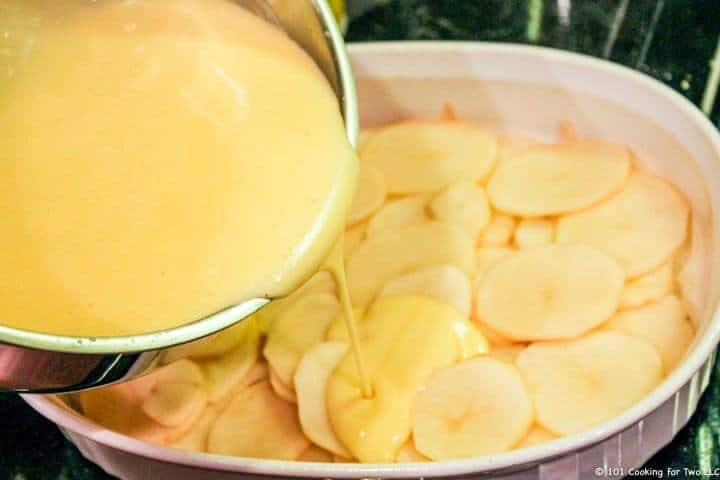 Pour half the cheese sauce over the first half of the potatoes.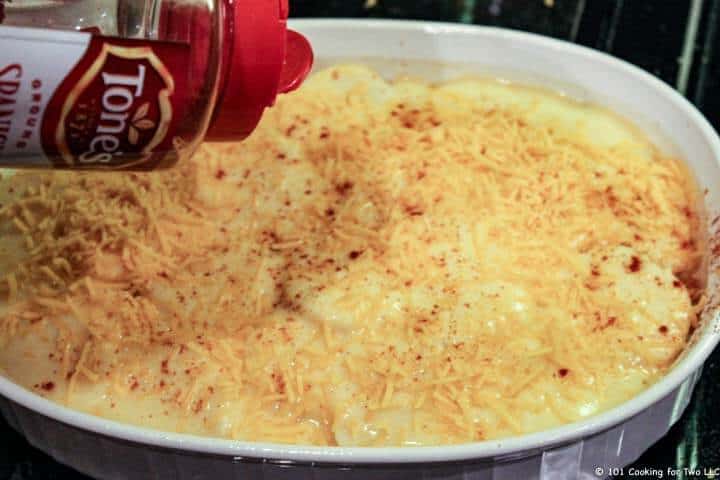 Add the second half of the potatoes, then rest of the cheese sauce. Now top with ½ cup of cheese. Give a light sprinkle of paprika.
Bake until potatoes are "fork-tender." This will be about an hour or a little more. Let sit for 5-10 minutes before serving.


Do you want more recipes from 101 Cooking for Two? Sign up for the newsletter and get all posts delivered straight to your inbox!
📖 Recipe
Editor's Note: Originally Published January 19, 2013. Updated with expanded options, refreshed photos, and a table of contents to help navigation.