My best stovetop white bean chicken chili that will leave you wanting more. With hearty white beans, tender chicken, and a rich, spicy broth, this will become your favorite.  Just follow these easy step by step photo instructions.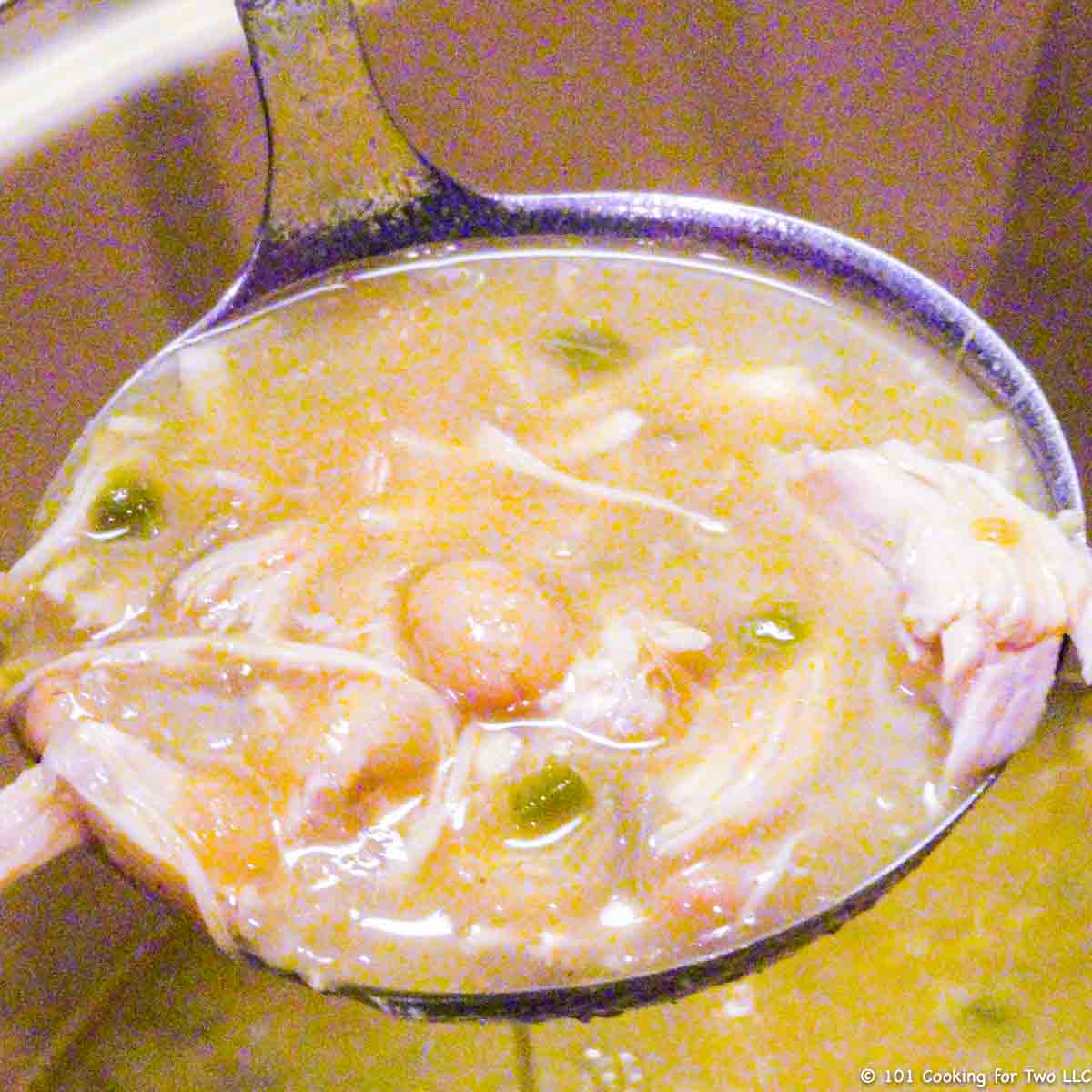 Introduction
I'm a huge chili fan, who else has 10+ chili recipes on their site. But this one stands out for me. It is just so darn good.
I wanted to use the chicken to make broth for the soup so I needed a new recipe. I want simple and common ingredients. Nothing was just right, but I found a nice inspiration recipe at The Pioneer Woman Cooks. A few simplifications and modifications were all that was needed.
On a heat scale, this is 3/10, but on a taste scale, it's a 10 for us.
My Rating

The mere volume of soup produced almost made me rate it a four. Remember this is cooking for two, but it will freeze well.
🐓Chicken and the Broth
I suggest using skin-on bone-in split chicken breasts here. That is to generate the broth and generally that works great. You can use thighs or even a whole chicken. The model recipe used a whole chicken. I don't want to strip the meat off a cooked whole chicken.
But after frequent cooking this recipe, I find that sometimes there is just not enough chicken taste. You can fix the taste issue in several ways. You could just use chicken broth instead of water. Or add some chicken bouillon of some type.
Skinless boneless chicken breasts could be used but will never generate enough chicken taste, so you will need to use broth instead of water.
You can also use pre-cooked rotisserie chicken. You will need about 4 cups of shredded precooked chicken and use broth instead of water. Obviously, pick up the instructions after the shredding of the chicken.
✔️Tips
Size of the recipe.
This is an older recipe and when I did this, there was a teenage boy and lots of his friends around. This is an easy recipe to cut in half.
To thicken or not?
I used some masa flour to thicken. If you don't have the masa flour, you can use cornmeal or corn starch. Or you can just skip the whole thickening part.
❄️Storage
Like most chili, good refrigerated for 3-4 days. And good frozen for 3-4 months.
📖Chicken Chili Recipes
Ultra Simple Crock Pot White Chicken Chili
Low Fat High Taste Crock Pot White Chicken Chili
Salsa Verde White Chicken Chili a la Crock Pot
Instant Pot White Chicken Chili

🖊️Instructions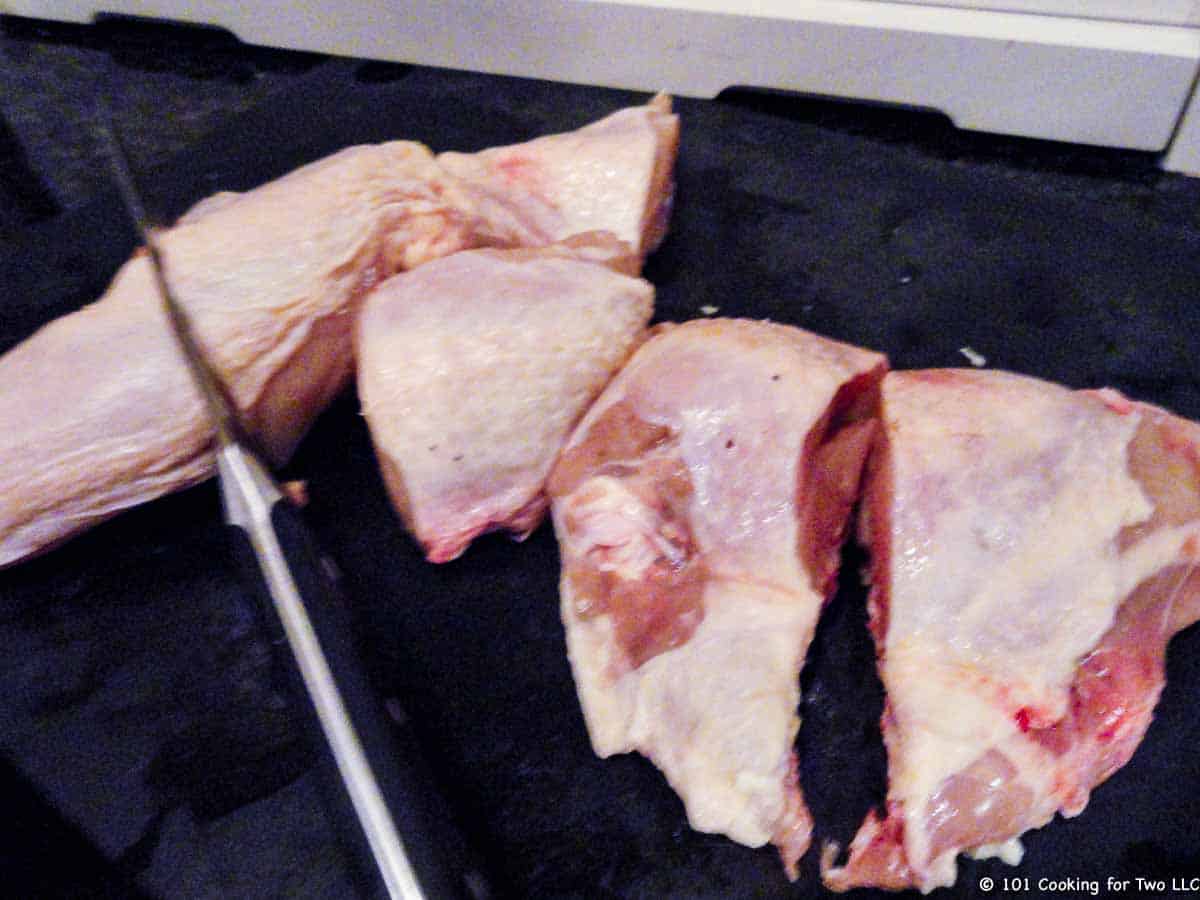 Trim the chicken of any trim-able fat then split in half to aid cooking.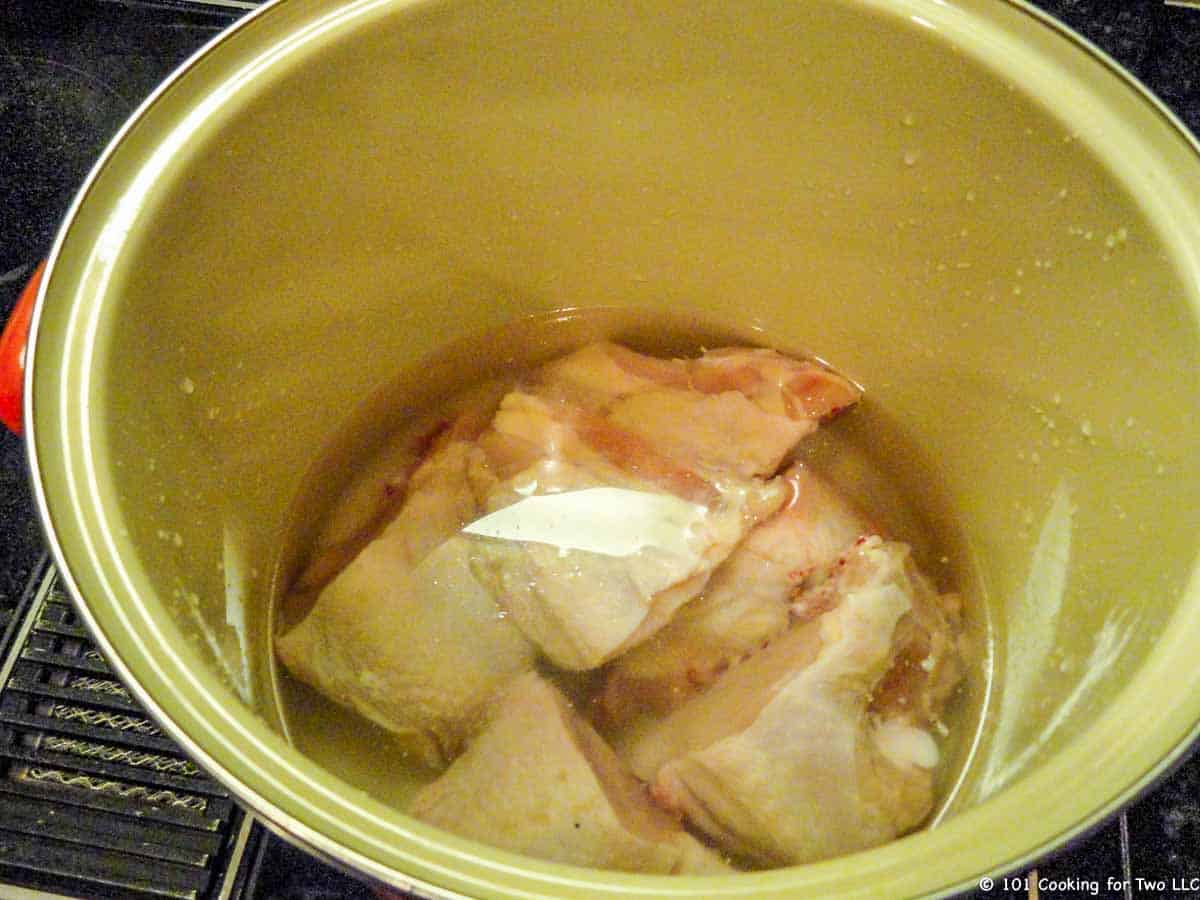 Place in a large stockpot and cover with 8 cups of water. Bring to boil then decrease to low to simmer. Cover with lid and cook until internal temp is 160°. About 40 minutes.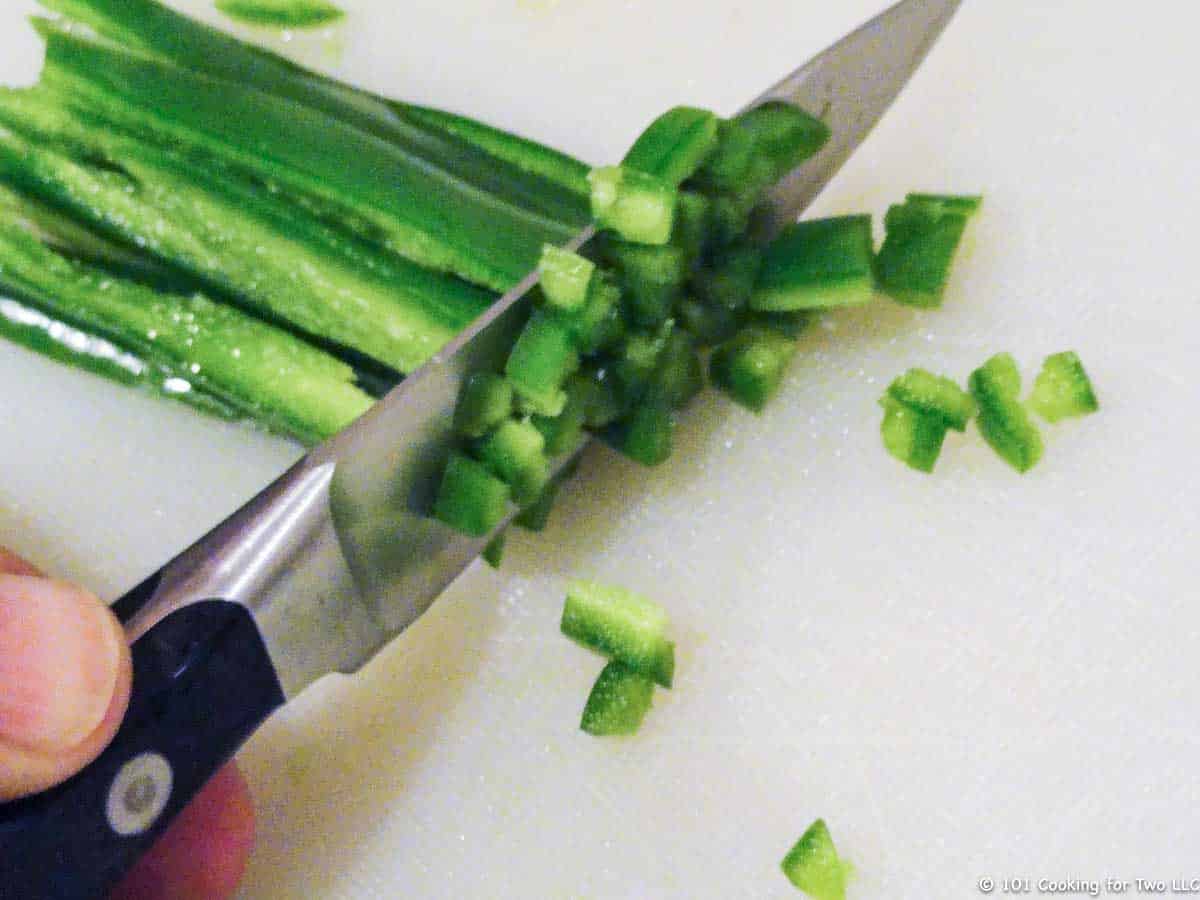 Mince five cloves of garlic and chop a large onion. Then prep the jalapeno by splitting it and removing the seeds and veins before mincing.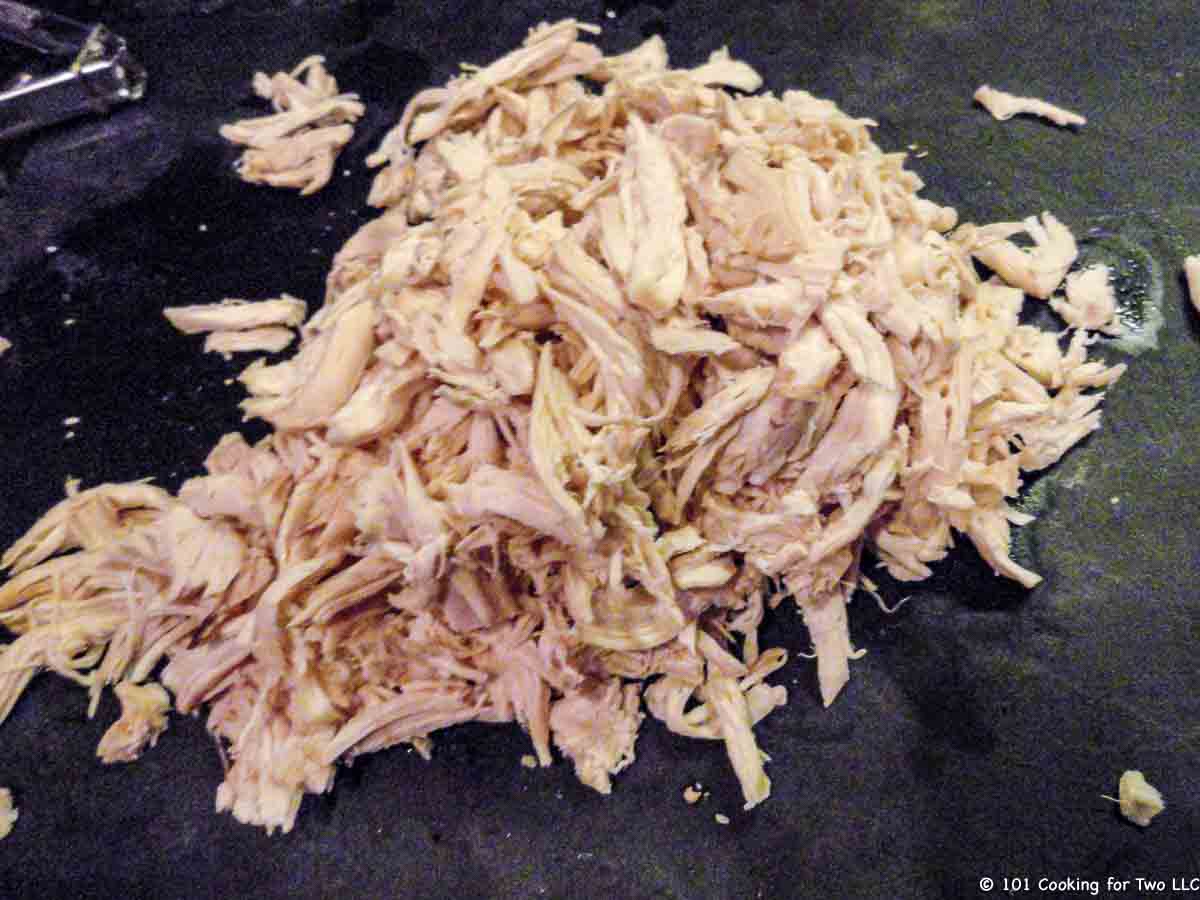 Remove the chicken and allow to cool for about 20 minutes and then hand shred discarding the skin and bones. Combine all ingredients except the masa flour and simmer for about 2 hours. Stir occasionally.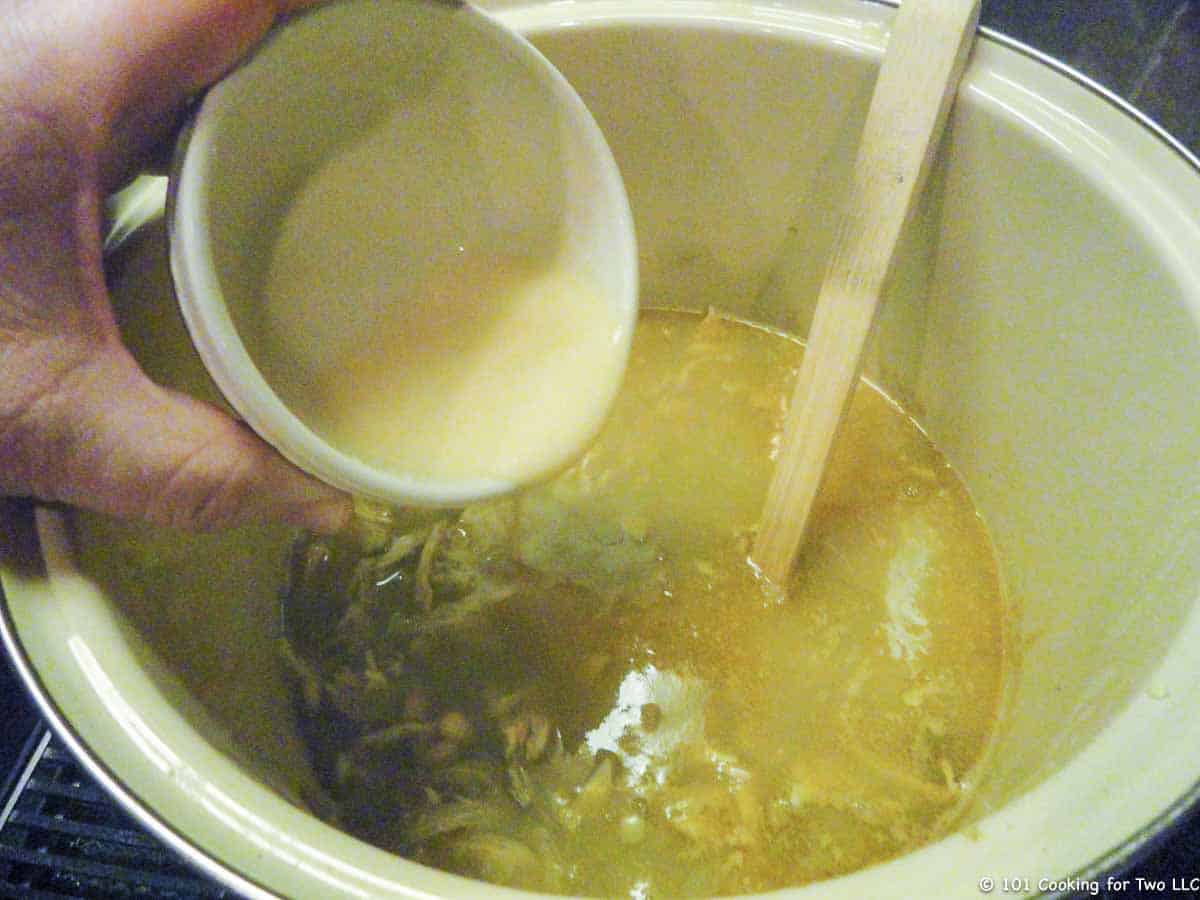 Optional Thickening (I usually don't): Mix the masa flour in ¼ cup very hot water and mix well. Combine the soup and frequently stir for another 10 minutes then remove from heat.


Do you want more recipes from 101 Cooking for Two? Sign up for the newsletter and get all posts delivered straight to your inbox!
📖 Recipe
Originally Published December 4, 2010. Updated with expanded options, refreshed photos, and a table of contents to help navigation.