Taco Tuesday in a bowl. This great taco soup has a ton of spicy taste. Make it is thick enough to be called taco chili. Make it spicy or mild. Make a big or small amount. Make it in your crock pot or on the stovetop.
Introduction
I do not call many recipes "the best." Too much bragging in that term. I need to feel deep in my heart that the recipe is worthy. This recipe is worthy in every way. This is the best taco soup you can make.
This taco soup is low in fat and calories but is "kicktail" spicy with a ton of taste, plus it is thick enough to be called taco chili. You won't believe this fits your diet.
The main complaint about most taco soups appears to be the mild washed out taste. Those recipes start by cooking some burger and then dumping into a crock pot with the taco seasoning. The spices are minimal, to begin with, and then diffuse into the liquid, so the meat has little, if any, flavor.
I originally called this "Kicktail Taco Soup" due to the spicing and the great taste. I don't want a hamburger soup with a bit a taco spices. I want to taste TACO. This is it.
Is it Taco Soup or Taco Chili?
This is a thick soup as published but if you want a very thick chili-like result, leave out the beef broth.
My Rating

It is only a 1 to 5 scale, but this is a 6. I loved it—a personal favorite of mine.
🐄The Meat
This recipe requires ground meat. Generally, that will be beef, but turkey or chicken will be fine.
The ground meat must be browned, spiced, and drained before adding to the pot. Crock pots are great for a lot of things but cooking ground meat is not one of them. You will have clumps of meat along with all the fatty drainage in your dish. Please cook ahead.
👨‍🍳Spicing
The spicing is the key to a great taco soup. Most are way under spiced on an envelope of taco season diluted across the meat and soup base. So hamburger soup with a little spice.
I started with a modified version of my spicy taco meat. Then I bumped up the spices even more and added a little jalapeno. I added all the spices to the meat when cooking to keep some flavor and not have it all washed out in the soup. Excellent, just right.
How hot is it?
This is 6/10 on the heat-o-meter with a teaspoon of cayenne pepper and one jalapeno. Add more spices or another jalapeno if you want to burn.
If you want less heat, cut back the cayenne pepper and/or eliminate the jalapeno pepper. You will still have great taste without the heat.
The Dry Ranch Dressing
I looked at a lot of recipes and really can't claim an "inspired by." This Paula Deen recipe had ranch dressing powder, as did several others. It added an interesting taste, a little cool to oppose the heat of the jalapeno. I recommend it, but it is optional.
Can I just a packaged taco season?
Please, no. It will be washed out with no taste.
✔️Tips
Recipe Size
I estimate a serving size of about 1 ½ cups.
This is a relatively easy recipe to cut in half. Just adjust the serving area in the recipe card. It will do the math. But the instructions do not adjust. Cooking time is unchanged.
Crock Pot Size
A half recipe will fit nicely in a 3-quart crock pot. A full recipe needs 5-quart or larger.
Storage
Good in the refrigerator for 3-4 days and good in the freezer for 3-4 months.
♨️Stovetop Method
This is easy and fast on the stovetop. Just prepare the meat, onion, and spice in a Dutch oven type pan. Drain well, then add all the other ingredients. Cover and simmer for at least 30 minutes but better of a full hour.
📖Crock Pot Soups
Crock Pot Chicken Tortilla Soup
Healthy Crockpot White Bean Chili Spiced Up
Crock Pot Chicken Parmesan Soup

🖼️Step-by-Step Instructions
Use the ground meat and beans of your choice.
Prep a medium onion with a medium chop and optionally, one jalapeno by mincing.
Combine 1 lb lower fat ground beef with the onion over medium-high heat. Cook and break up the beef.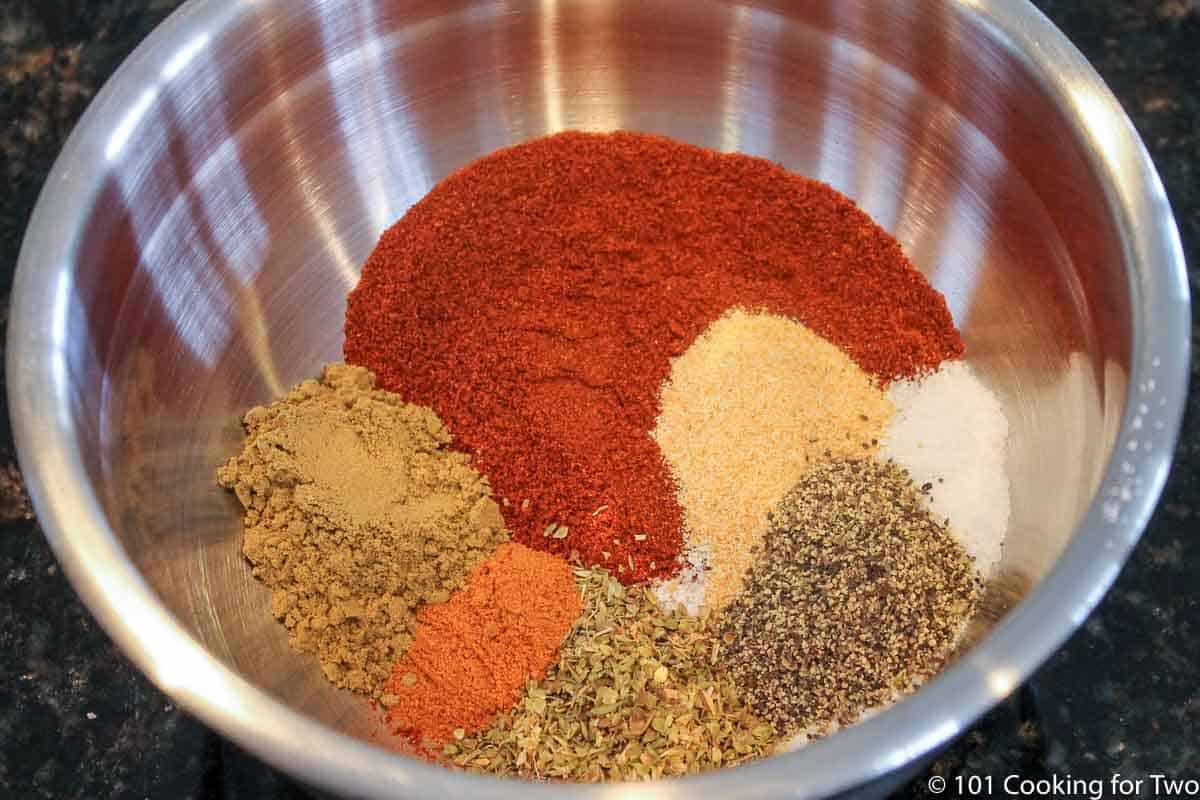 While beef is starting to cook, combine the spices: 3 tablespoons chili powder, 1 teaspoon cumin, 1 teaspoon oregano, ½ to 1 teaspoon cayenne pepper, 1 teaspoon garlic powder, 1 teaspoon salt, and ½ teaspoon of pepper.
When beef and onion have cooked for 6-8 minutes and just browned, drain fat. Add the spices and about half the can of tomato sauce. Continue to cook until beef is well browned–about 10 minutes total cooking time. Add the beef to the crock pot.
Rinse 1 can of black beans and 1 can of kidney beans, and add to the pot. You may substitute any beans you want.
Add all remaining ingredients: 1 small can green chilies, two cans diced tomatoes, 1 - 14oz can tomato sauce, the diced jalapeno, one-half envelope of dry ranch dressing mix (optional), and a 14 oz can of beef broth. The beef broth may be omitted if you want this thick.
Cook on low for 6 hours or high for 3 hours.


Do you want more recipes from 101 Cooking for Two? Sign up for the newsletter and get all posts delivered straight to your inbox!
📖 Recipe
Publishing Note: Originally Published: January 13, 2012. Updated with expanded options, refreshed photos, and a table of contents to help navigation.