Originally named "Low-Fat High-Taste" chicken chili by my wife, this healthy dinner has everything you want in great white bean chicken chili. It is dump-and-go easy with a wonderful mellow taste with just the right touch of heat.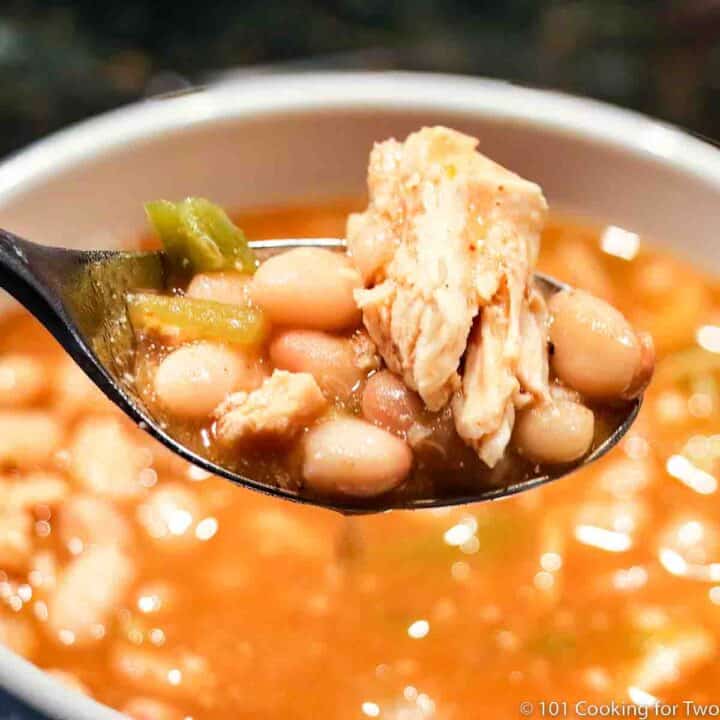 Introduction
With only about 250 calories and 2 grams of fat per serving qualifies as healthy for almost any diet. Or just enjoy its great filling taste even if you have no dietary needs.
I love white chicken chili. Maybe not as much as a good filet but on some days, almost. But my problem was my old reliable white chicken chili has a ton of cheese... read not very healthy.
So with this recipe, I wanted the "dream" chicken chili recipe.
No pre-cooked chicken. I don't normally have precooked chicken. It is ok to use but not required. I need some flex in my cooking choices.
Crock Pot "dump and run" easy.
Healthy or at least healthier than my normal chicken chili.
I have a recipe for Excellent White Chicken Chili, which is a modification of a Pioneer Woman recipe. That recipe had the basics of my dream chicken chili, almost. I just needed a nip and tuck here and there.
Add in a conversion to the crock pot, and it would do as a starting point. This one is low in calories and fat. I also kicked up the spices from the "excellent" recipe—so good.
Take it out for a spin today for one of the best-tasting crock pot white chicken chili you will ever make. You won't regret it.
My Rating

My wife is not quite the chili fan I am, and the five is from her (two servings). A nice five from me also. (PS- originally named by my wife.)
🐓The Chicken
For low fat, there is no choice but to use skinless boneless chicken breasts. I'm letting the chicken cook in the liquid. Pull it out after a few hours, then shred and place it back in the pot.
The chicken needs to reach 165° to shred well. Crock pots can vary some. My larger crock pots will be there in 1 ½ hours on high, but my smaller crockpot takes 2 hours.
You can use precooked chicken. 4-5 cups will do nicely, but even 2-3 cups will be good. Skip the first 2 hours of cooking. Just add everything and cook for about 2-3 hours on high or 4.
If you are not going for "low-fat," a pound or a bit more of chicken thighs will be fine.
🥣The Broth
I usually use a good brand of chicken broth or stock, just depending on which I have, but I try to buy low sodium if available.
This is a good place to save on the sodium load. Use low sodium broth or chicken broth with no salt if available.
♨️The Crock Pot
This fits nicely in a small 3.5 quart crock pot, but it just fit and would not fit in a smaller crock pot. You may use a larger crock pot here. A larger crock pot can cook a little faster when only partially filled.
For a double recipe, you need a 7 quarts or larger crock pot. For a half recipe the smallest crock pot to use is 2 quart.
Some crock pots, especially older crock pots will run hot. Overcooked chicken breast can be dry so know your pot. If unsure, cook on low and double the times.
What Makes it Healthy?
Healthy means different things to different people, but for me, it means lower calorie density and lower fat. I believe this recipe fits most reasonable diets. At least it is much healthier than my previous cheese filled chicken chili.
The sodium can easily get out of control with chili. This one is not too bad; definitely not low sodium, but you can fix that somewhat.
The sodium is mostly from the beans and the added salt. You can skip the added salt or cut it down. Rinsing the beans will cut about 100-150 mg of sodium per serving. Add a cup of water if you do that to replace the liquid. The added salt is about 200 mg per serving.
📖Crock Pot Chili Recipes
Ultra Simple Crock Pot White Chicken Chili
Crock Pot Three Bean Turkey Chili

🖼️Step-by-Step Instructions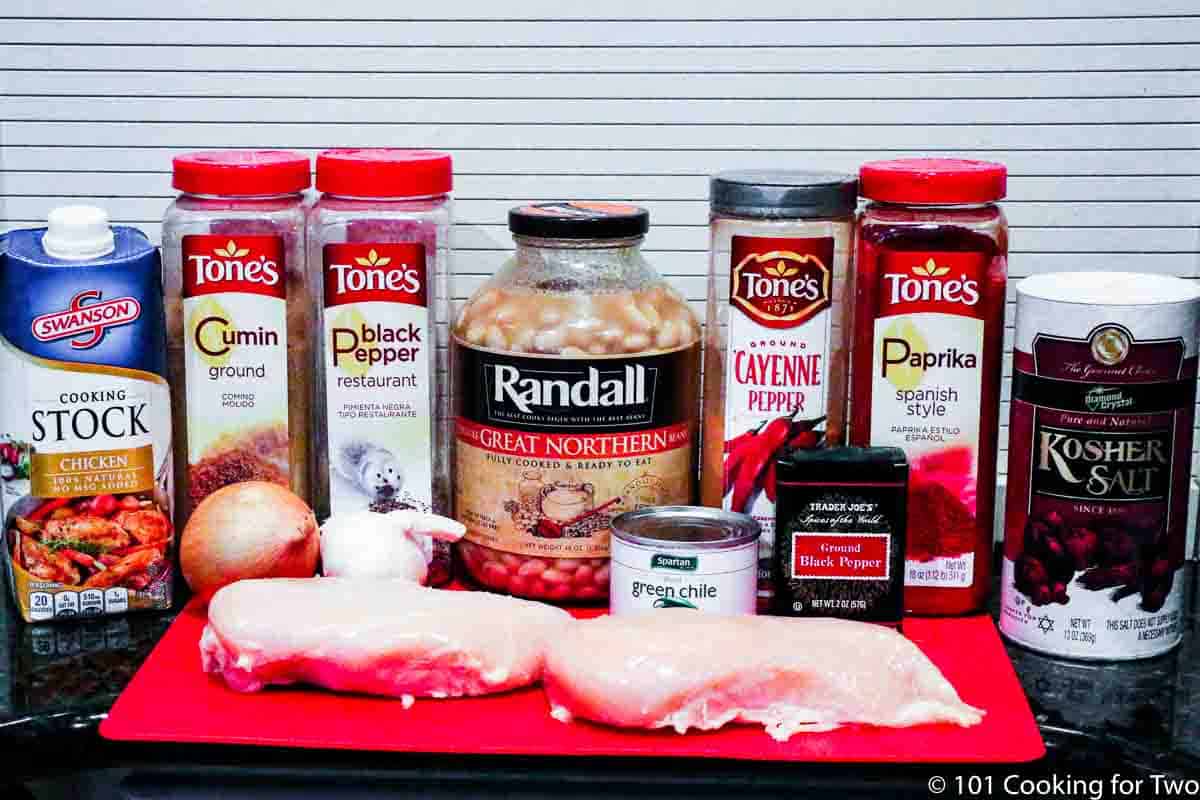 Trim two medium-size skinless boneless chicken breast.
Chop one medium onion.
Mince one jalapeno.
Add to the crock pot; one 14 oz can low sodium chicken broth, one tablespoon cumin, one to two teaspoon paprika, two teaspoon chili powder, three garlic cloves minced, one teaspoon salt, ½ teaspoon pepper, and optionally ½ teaspoon of cayenne pepper. Add chicken and cook on high for 1 ½ to 2 hours.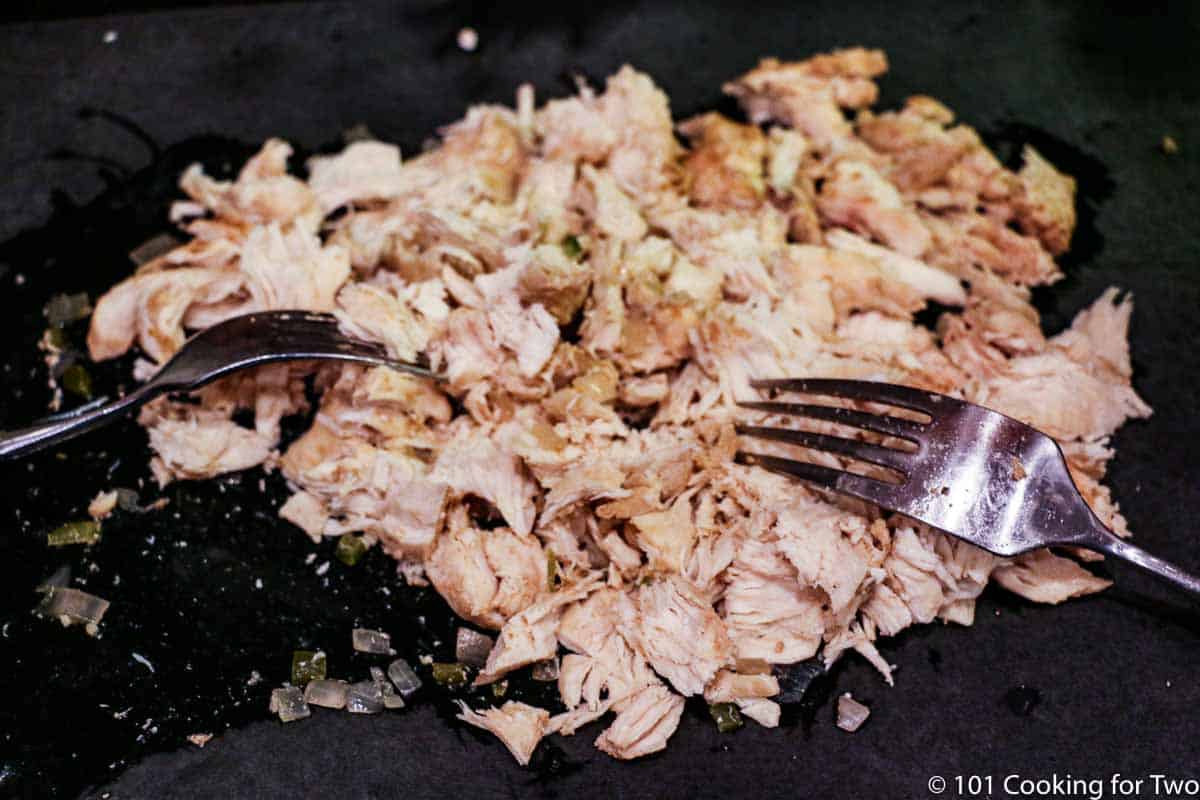 Remove the chicken from crock pot and shred. Place back in crock pot with the liquid.
Add one 48 oz jar pre-cooked Northern beans and one small can of green chilies.
Cook on high for 1 ½ to 2 hours more.


Do you want more recipes from 101 Cooking for Two? Sign up for the newsletter and get all posts delivered straight to your inbox!
📖 Recipe
Editors Note: This is one of my best and most healthy chili recipes. This is one of those unusual dishes which combines great taste with a low calorie and fat profile — originally published September 21, 2014. Updated with expanded options, refreshed photos, and a table of contents to help navigation.