This healthy turkey chili is easy to make in your crock pot or, if you are in a hurry, as little as 30 minutes on the stovetop. It is a wonder hardy chili filled with great flavor, vegetables, and three types of beans.
Introduction
One of my best chili recipes ever. It has a wonderful balance of spices with beans and vegetables. With only 3 grams of fat per serving, it will fit most diets. Yes, you can now have it all.
This has been one of my "Underappreciated" recipes, but I consider it one of my top chili recipes. I make a lot of chilies, but I'm always open to something new. OK, maybe not so much—I do frequently stick to the same old same old. I usually order the same food at restaurants.
But I don't only cook for me; I'm cooking for two. And the wife wanted something different. Now that was not very specific. So Turkey is considered healthy, and a variety of beans is also good for you. This just worked out great.
I was expecting good. I do a good chili. Just give me some ingredients, and I produce. But the biggest surprise was the wonderful blending of spicy flavors. Plus, just the right amount of heat for my older taste buds. About a 4/10 on the heat-o-meter.
My Rating

Now, this rating is from my wife and father-in-law. I agree.
🦃The Meat
The meat is probably the first thing to discuss. Any ground meat will do, but I have repeated this recipe a number of times, but I prefer the turkey by a small amount
Ground meat going into a recipe like this needs to be precooked. Uncook ground meat does not do well in a crock pot. And the stovetop method starts with browning the meat.
This recipe would be fine as a "Three Bean Vegetarian Chili," just skip the meat and use vegetable broth.
The Worcestershire sauce pops up the "meaty," almost beef-like taste for the turkey.
The Beans
Bean choice is up to you, but my choice of pinto, kidney, and black beans is just right and somewhat the recipe's core.
I use only low sodium beans if I have them, although the pictures are from the original cooking and only the black beans are low sodium. Rinsing the beans also removes a little of the sodium.
🔥The Heat
This is about a 2-3 out of 10 on a heat scale with the jalapeno but no Ro-Tel .
You can add a second jalapeno, use the Ro-Tel, or add ¼-1/2 teaspoon of cayenne pepper for more heat. Also, Ro-Tel come in a variety of heat levels.
♨️Stovetop Method
This is an easy recipe to cook on the stovetop. It will be done in as little as 30 minutes, but the longer it simmers, the better. Try for an hour or more if you can.
Start with browning the meat in a large Dutch oven-type pan. Add the onions and celery while you do that. When browned and the celery and onion are tender, drain any liquid. Add the garlic and cook another minute or so.
Add all the other ingredients, bring to a low boil over medium heat. Then turn down to a simmer and cover. Cook for a minimum of 15 minutes but an hour is better.
✔️Tips
This will make about 12-13 cups of chili which is 3+ quarts. A crock pot should not be filled more than ¾ full to cook correctly (some will say ⅔) so 4.5 quart or larger is a good size to use.
This is an easy recipe to cut in half. Use a 2.5 quart or larger crock pot if cut in half.
I suggest low sodium broth and beans since the Worcheshire sauce will increase the sodium. Rinsing the beans will decrease to sodium slightly and you can cut the amount of added salt in half if you have sodium concerns.
Storage is like most chili. Good refrigerated 3-4 days or frozen 3-4 months.
📖Crock Pot Chili Recipes
Ultra Simple Crock Pot White Chicken Chili
Low Fat High Taste Crock Pot White Chicken Chili

🖼️Step-by-Step Instructions
Use the meat you want and I suggest low sodium products if you have them. A can of Ro-Tel is shown substituting for the second can of diced tomatoes.
Start by browning 1 pound of ground turkey.
Dice two ribs of celery and one large onion. Dice one jalapeno pepper.
Rinse and drain three cans of beans, low sodium preferred. I used pinto, black, and light kidney beans, and that is the combination I recommend.
To 4.5 quart or larger crock pot add the cooked ground meat, prepared veggies, two 14 oz cans of diced tomatoes (substitute one 10 oz can of Ro-Tel for one can if you want.) Also, add one 6 oz can of tomato paste, 14 oz can of low sodium chicken broth, 2 tablespoons Worcestershire sauce, 2 tablespoons chili powder, 1 teaspoon ground cumin, 1 teaspoon salt, ½ teaspoon pepper, two teaspoon garlic powder.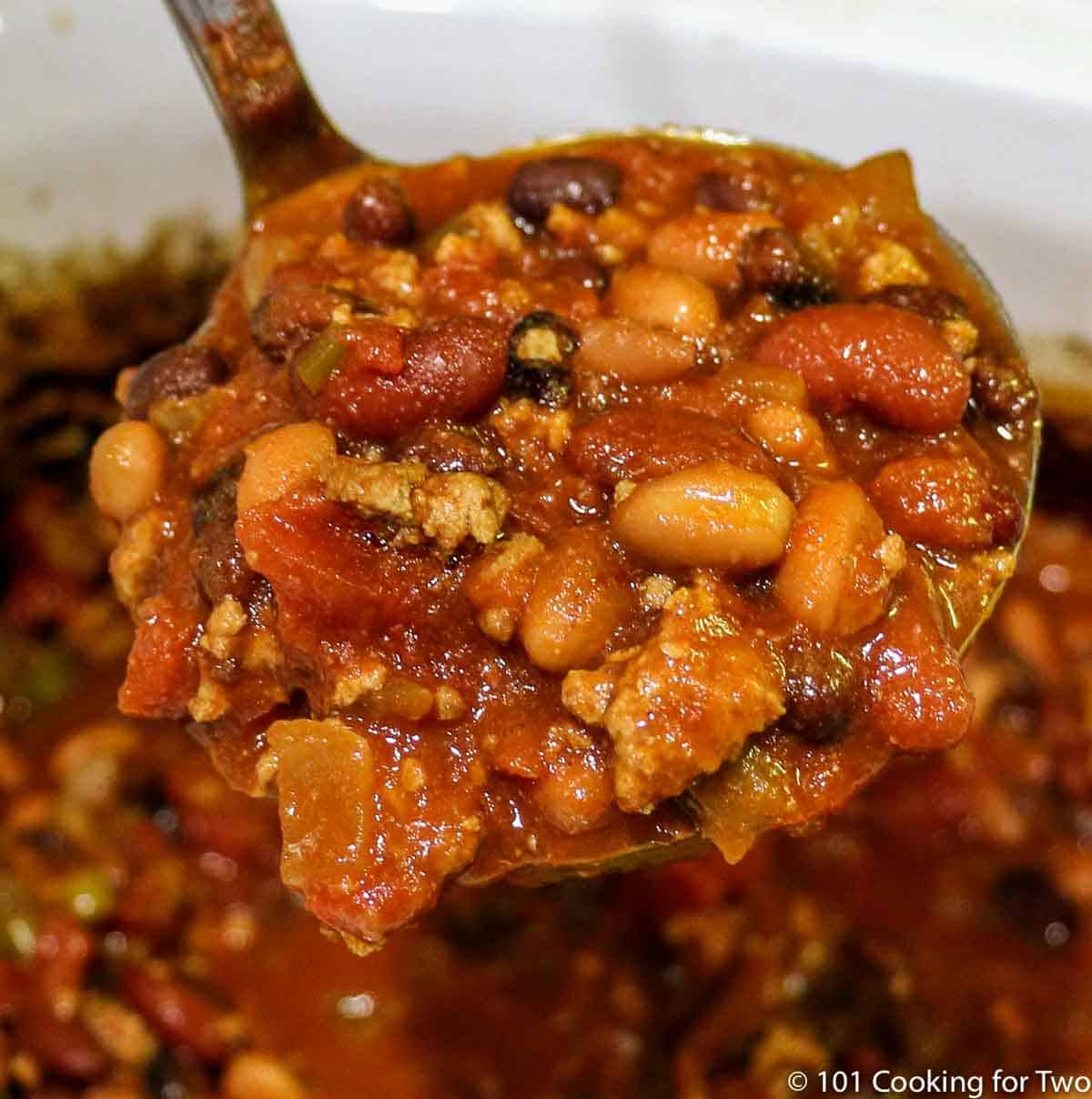 Mix well. Cook on low for 6-7 hours.


Do you want more recipes from 101 Cooking for Two? Sign up for the newsletter and get all posts delivered straight to your inbox!
📖 Recipe
Editor Note: Originally published November 1, 2014. Updated with expanded options, refreshed photos, and a table of contents to help navigation.