Hardy Pasta e Fagioli Soup is an easy dinner recipe made with beef, pasta, vegetables, and beans, then simmered in a rich spicy tomato broth. Just follow these step by step photo instructions.
Introduction
Pasta e Fagioli means "pasta and beans" and this is a traditional Italian peasant soup. If you think of this soup as thick Italian Minestrone Soup with meat, beans, and pasta, you will be fairly close.
The most well-known version is from Olive Garden restaurants and this is an easy copycat version you can do at home with great results. The "inspired by" goes to a Food.com recipe Olive Garden Pasta E Fagioli with only a few minor changes.
We were in a soup mood and needed leftovers. In spite of this not being very "cooking for two" friendly, we finished every last drop without freezing.
My Rating

An excellent soup as expected. This would be a great company recipe to cook ahead.
📋 Ingredients
The Meat: While I used regular ground beef, there is lots of flavor in this soup and ground turkey or chicken will work fine.
The Beans: The original recipe calls for the beans to be put in with their packing liquid. This does increase the sodium some, so I did rinse the beans and then added a can of beef broth to replace the liquids.
This is a thick soup as written. I liked it better with another can of broth.
The Pasta: This is an interesting soup and deserves an interesting pasta. So an interesting shape and some color will add to the enjoyment.
This is a great recipe to make gluten-free or use other alternate pasta types of your choice.
I frequently add uncooked pasta to recipes I develop but cooking time and effect on the fluid in the recipe can vary some.
The Seasoning: You can use Italian Seasoning (1 tablespoon) to replace the herbs in this recipe.
♨️ Can I Make This Soup in a Crock Pot?
I have seen recipes for that but I don't see the reason to do that. If you want to use a crock pot, then cook on low for 4 hours then add al dente pasta and cook another 10 minutes.
I don't suggest uncooked pasta added to the crock pot. Cooking time and amount of extra fluid needed will be too variable.
❄️Storage
This soup should not be stored with the pasta already added. So store without pasta then reheat and add some freshly cooked al dente pasta.
If you know you will be storing some of the soup, remove the amount to store before adding pasta. Of course, you should cook less pasta.
Good refrigerated for 3-4 days and frozen for 3-4 months.
📖Italian Recipes
Boursin Cheese Sauce with Chicken and Pasta

🖼️Step-by-Step Instructions
The ingredients for this soup but pasta and the broth are not pictured.
Start with browning 1 pound of ground beef in a large stockpot over medium-high heat. I used the Dutch oven. Drain excess fat.
While the meat is browning, dice one medium onion and chop three stalks celery. Juline one large or 2 medium carrots. Mince 2 cloves garlic.
Add the prepared veggies to the browned meat. Cook over medium heat for about 10 minutes.
Cook ½ pound of pasta al dente.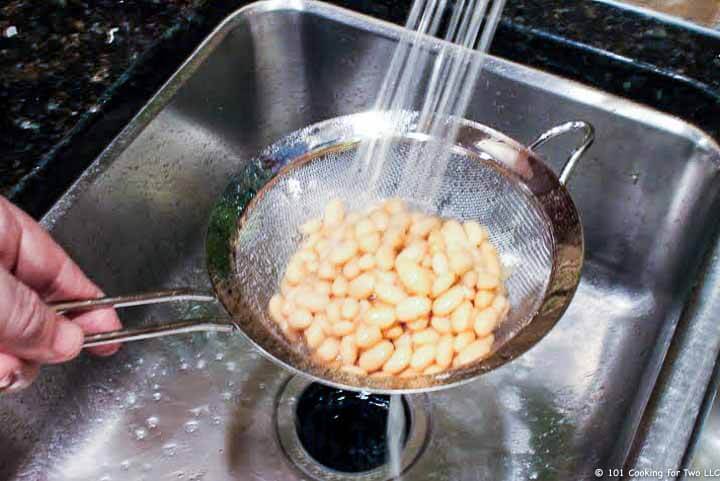 Rinse one can each of red kidney and great northern beans.
Add two 14 ½ oz cans diced tomatoes, 15 oz can tomato sauce, 12oz of tomato or V8 vegetable juice, 1 teaspoon vinegar, 1 teaspoon salt, 1 teaspoon oregano, 1 teaspoon basil, ½ teaspoon pepper and ½ teaspoon thyme. Add the rinsed beans and added a can of beef broth. Add the second can of broth if you want a little more of a soup texture. Simmer for 1 hour.
After the soup has simmered for one hour, add the al dente pasta a simmer another 10 minutes before serving.


Do you want more recipes from 101 Cooking for Two? Sign up for the newsletter and get all posts delivered straight to your inbox!
📖 Recipe
Originally Published January 5, 2013. Updated with expanded options, refreshed photos, and a table of contents to help navigation.