Amazingly tasty homemade Boursin cheese sauce is the highlight of this restaurant-quality chicken and broccoli dish. This ultra-easy versatile sauce will take any dish to the next level. Easy to do at home in under 30 minutes.
Introduction
All recipes have a story, and so does this one. We had out of town company and went to the local high-end seafood restaurant. My wife has wanted to go, but we just didn't have a reason before. She had seafood pasta with Boursin sauce.
She has requested a repeat for her birthday. It is unheard of, "Miss Porterhouse" asks for pasta for her birthday.
It was time to come up with a recipe. But not much is out there. Iowa Girl Eats has Chicken with Boursin sauce. There is a general Boursin cheese sauce by Katie at Mom to Mom Nutrition. There were several more, one of which was more of an Alfredo-type dish but was way too fussy.
My Rating

My wife is at 4.5 to 5. I'm at 4-4.5 so high 4 to low 5.
🧀What is Boursin Cheese?
Boursin cheese is a version of Gournay cheese, a French creamy soft cheese that comes in a variety of flavors. It is similar to cream cheese and is classicly garlic and herb flavors. But it melts into a sauce and provides a wonderfully unique buttery taste.
In America, you will usually find in a deli department in small boxes.
✔️Ingredients and Tips
This is a chicken and broccoli dish. I cook them separately and combine them with a Boursin cheese sauce and serve on pasta for a complete meal.
The Sauce
I usee the Boursin with some Parmesan to make the sauce with some half and half. I can't bring myself to use heavy cream, but I want to add some creaminess, and I needed more volume for all the goodies.
I added some extra garlic at the start of the sauce for my wife. Consider it optional.
While not hard, there are several pans to be cleaned.
The Chicken
I suggest skinless boneless chicken breasts, but you can use chicken tenders or skinless boneless thighs. If you use thighs, cook to a final internal temperature of about 180°. The final temperature for the breasts will be 165°.
Pasta, Broccoli, and Timing
Finally, check the timing on your pasta and the timing on how you are cooking your broccoli, so it all gets done at the same time.
My pasta was 7 minutes; the broccoli was 6 minutes, and the sauce takes about 7-8 minutes. Start the sauce, drop the pasta in the boiling water, then turn on the microwave for the broccoli. Perfect timing.
Storage
Good refrigerated for 2-3 days and frozen airtight for 2-3 months.
📖Special Dinner Recipes
Copycat Olive Garden Pasta E Fagioli Soup

🖼️Step-by-Step Instructions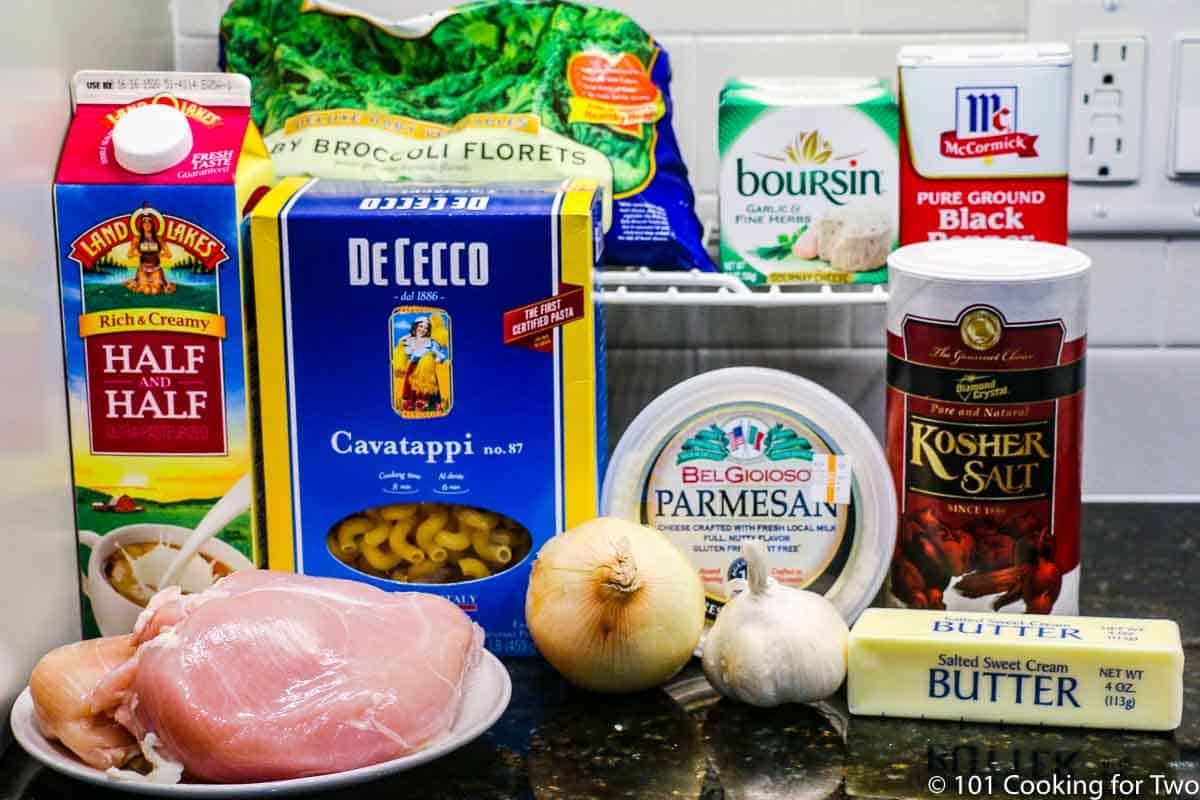 It is hard to go wrong with this lineup of ingredients.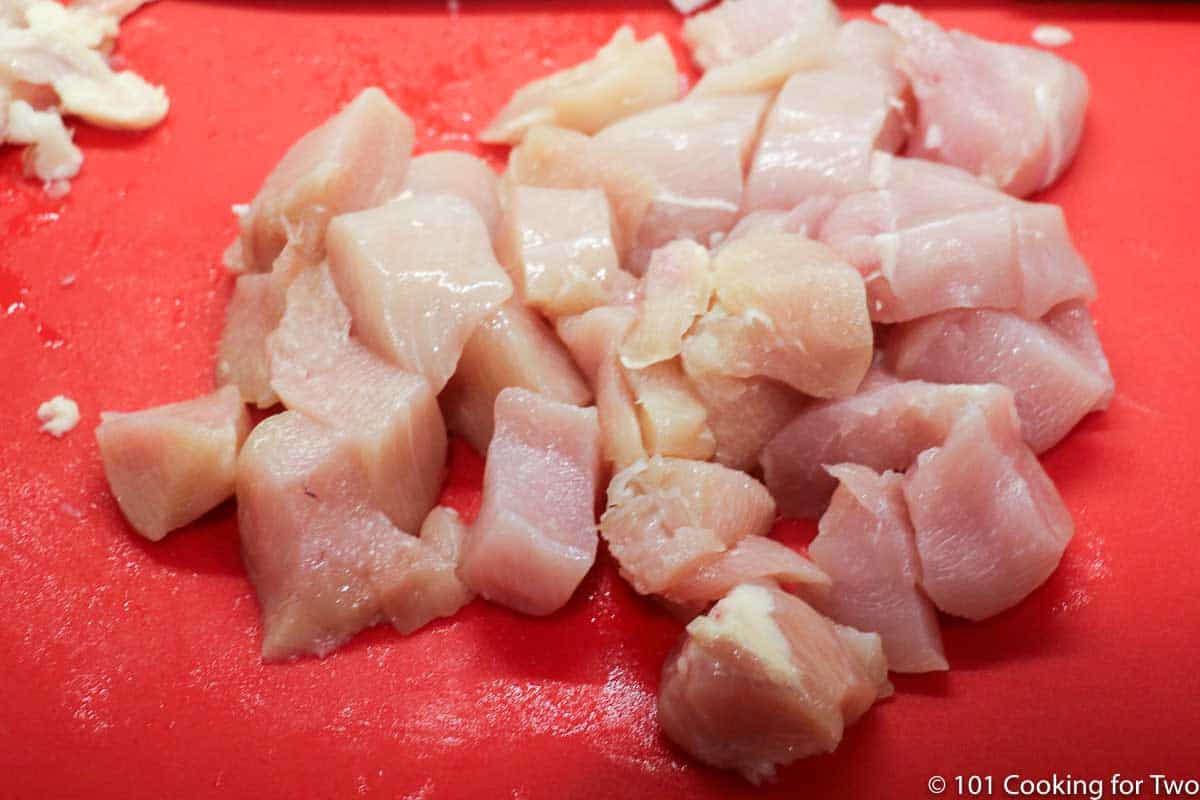 Trim 1 ½ to 2 pounds skinless boneless chicken breast and cut into 1-inch cubes.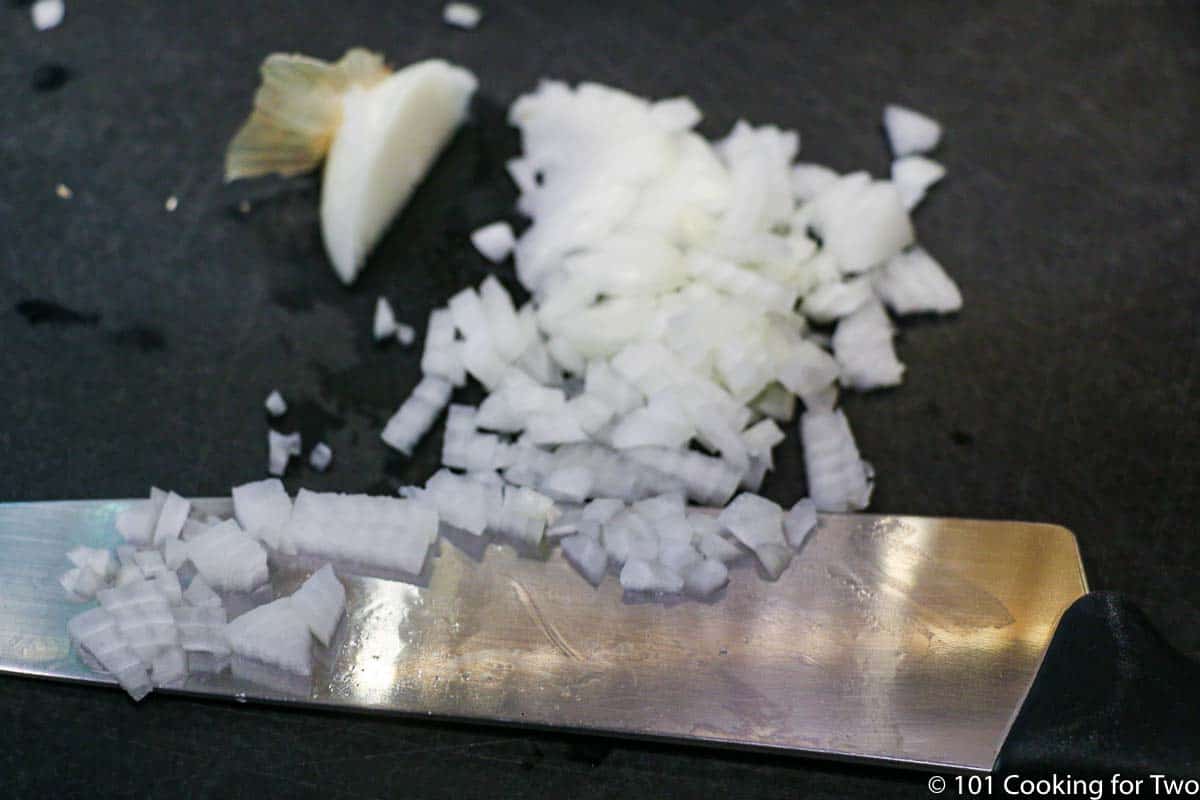 Mince one small or ½ medium onion. Over medium-high heat, add 2 teaspoons olive oil to a large pan. When shimmering, add chicken. Give the chicken a nice sprinkle of salt and pepper. After 3-4 minutes, add the onion.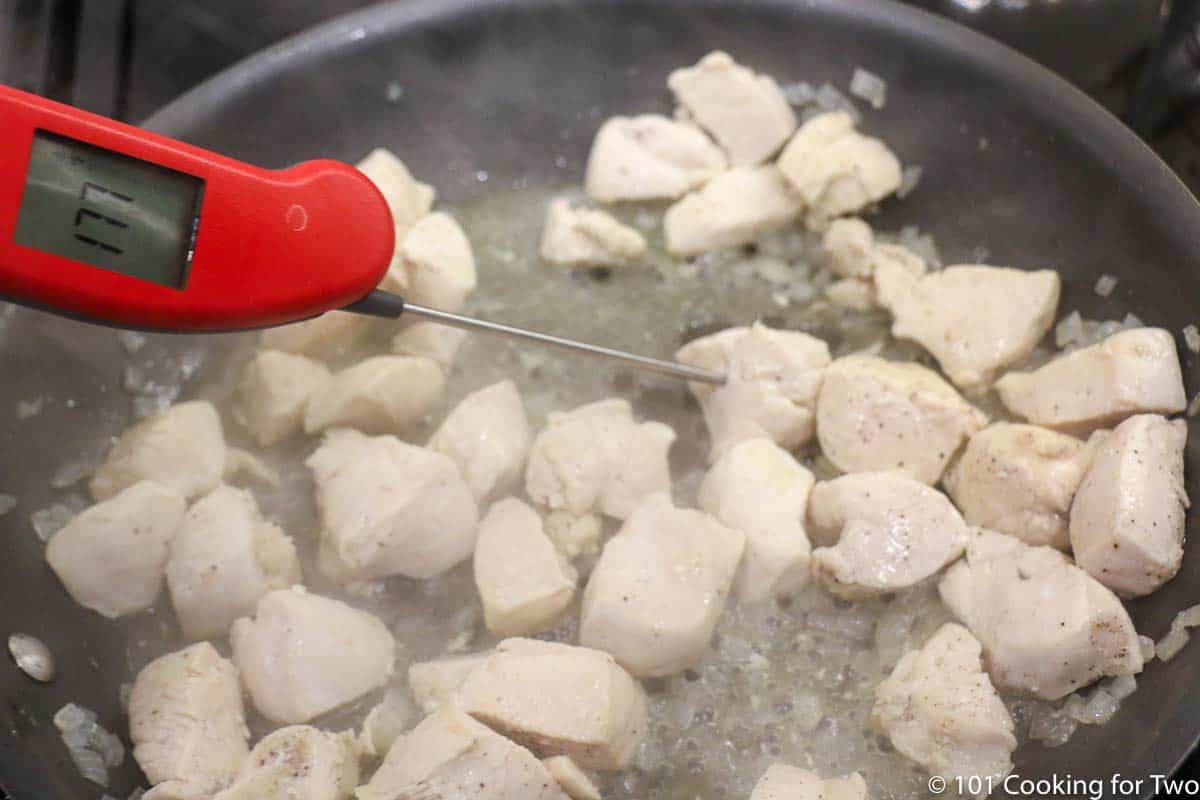 Cook until chicken is at least 165°. About 10 minutes in total. Cook ¾ pound of pasta according to package directions. Cook 12 oz. (4 cups) of broccoli florets. You can use fresh or frozen and cook as you wish. I used frozen and microwaved.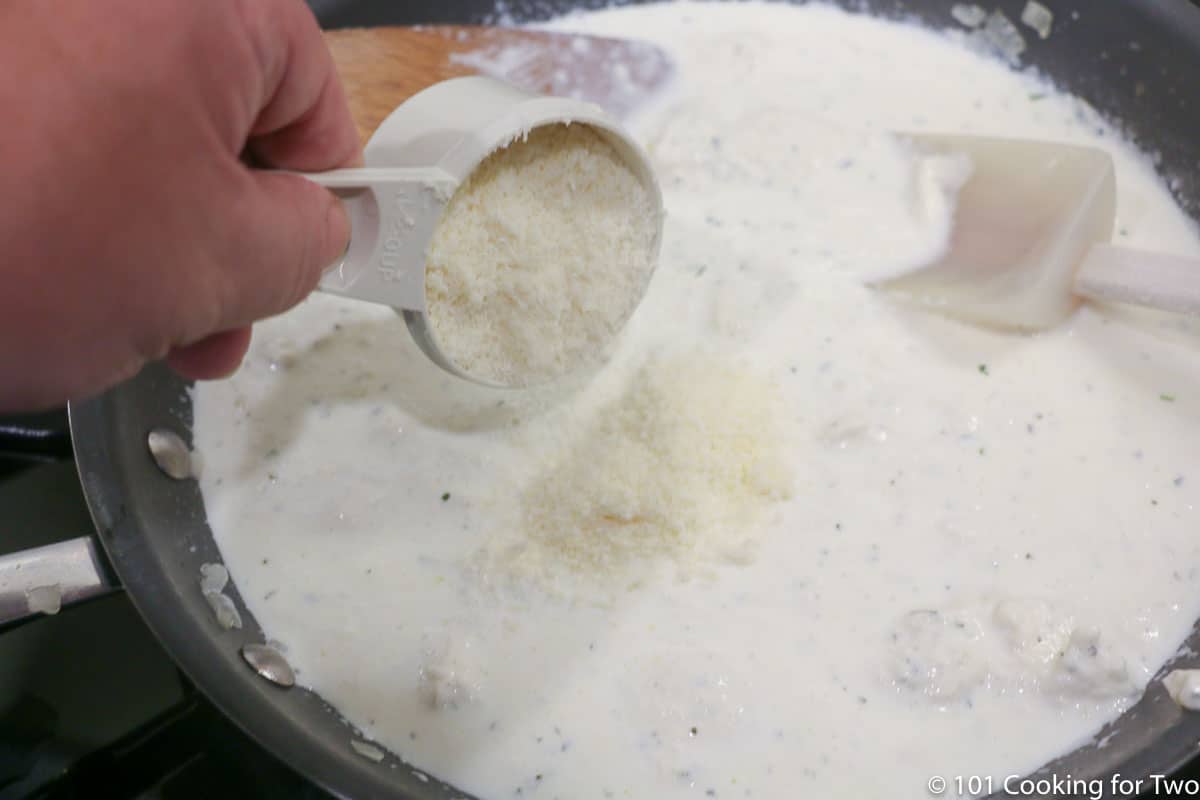 Remove chicken from pan. Over medium heat, optionally add 1 tablespoon butter and when hot, add 1-2 cloves of crush garlic and cook 1 minute. Add 2 cups half and half. Add two 5.2 oz packages of garlic/herb Boursin cheese and ½ cup grated Parmesan.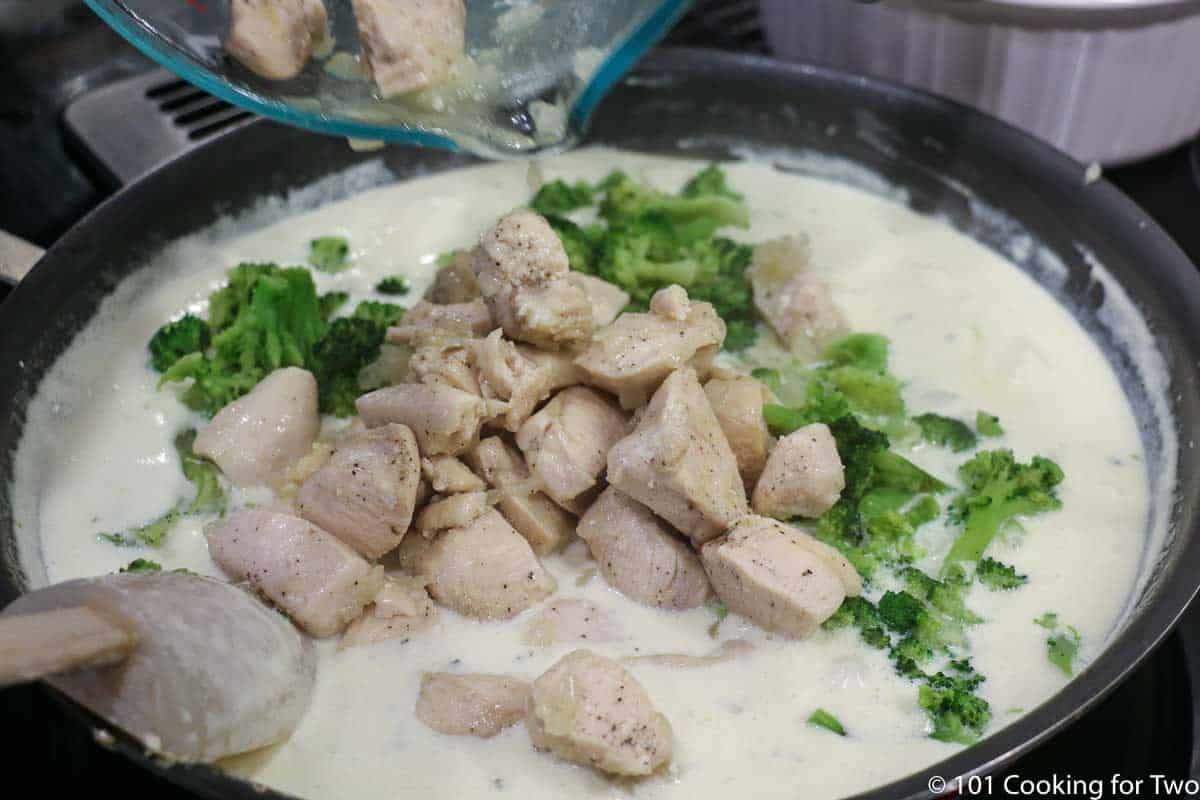 Break apart the Boursin. Continue to mix until smooth—about 5-6 minutes. Add the chicken and cooked broccoli.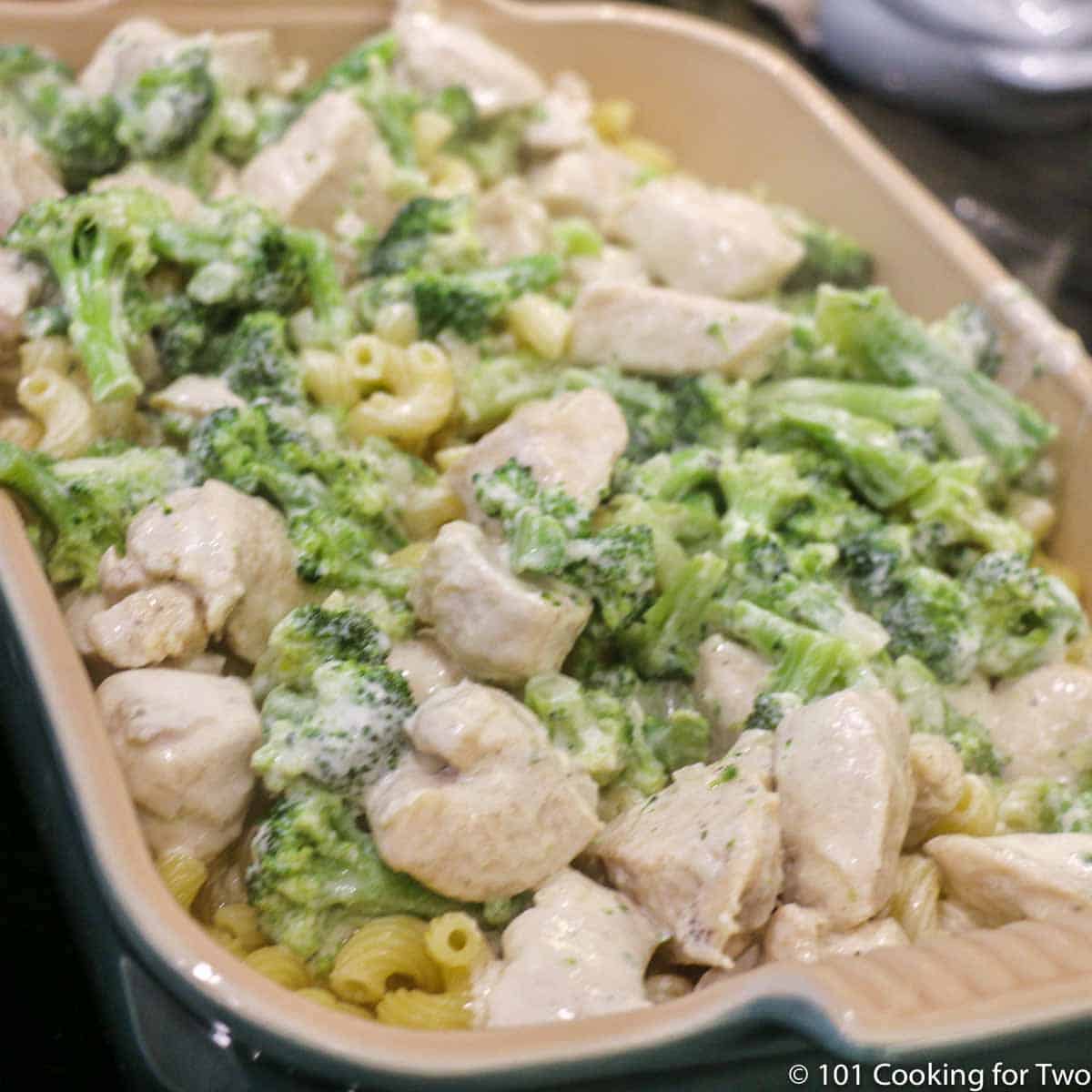 Mix well and pour over the cooked pasta. Mix some in the serving dish and top with a sprinkle of Parmesan.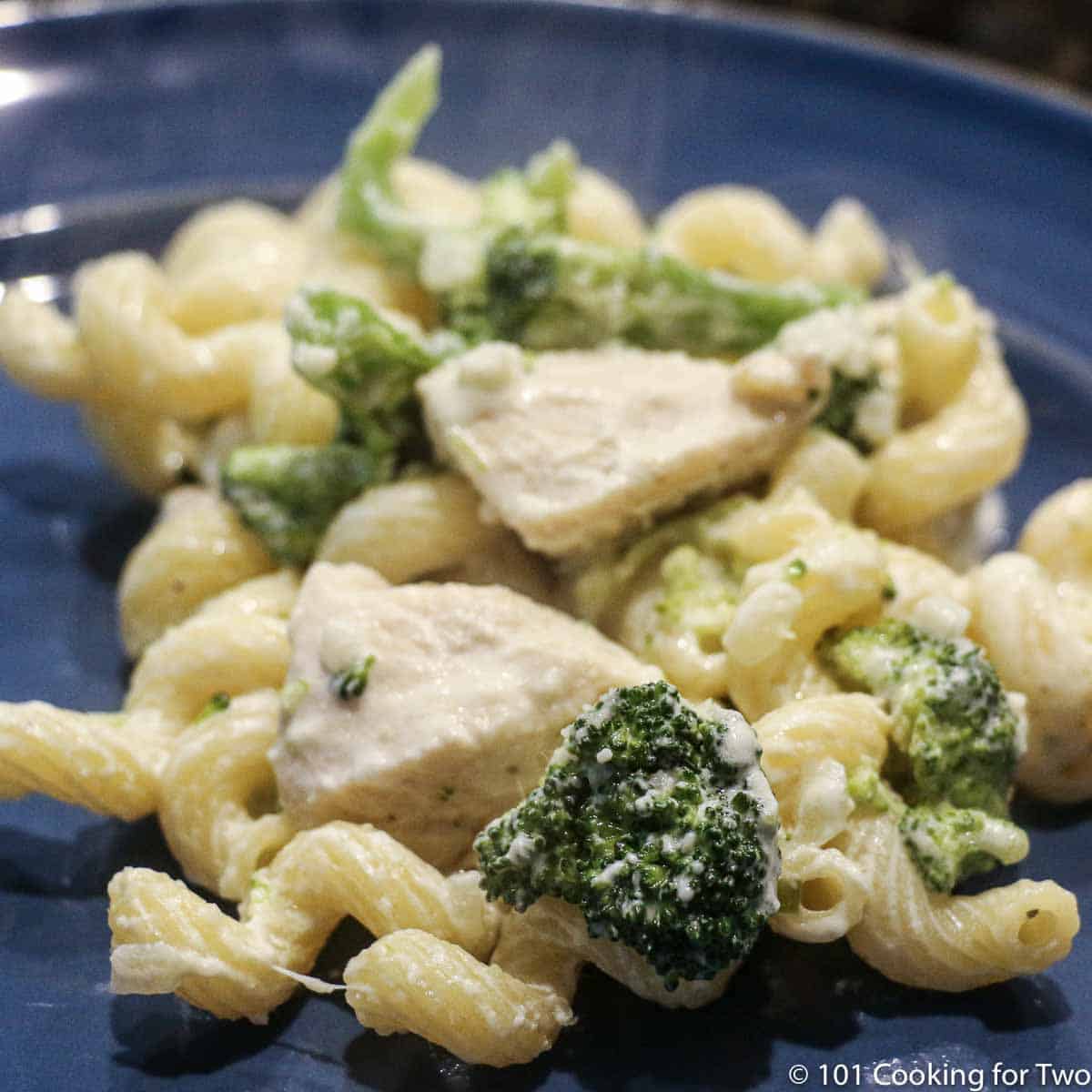 Do you want more recipes from 101 Cooking for Two? Sign up for the newsletter and get all posts delivered straight to your inbox!
📖 Recipe
Editor's Note: Originally Published August 15, 2016. Updated with expanded options, refreshed photos, and a table of contents to help navigation.