Simple one pan stovetop fresh green beans with toasted almonds make a great side dish for family or a special meal. A one-pan recipe that is so easy, it will be your go-to green bean recipe.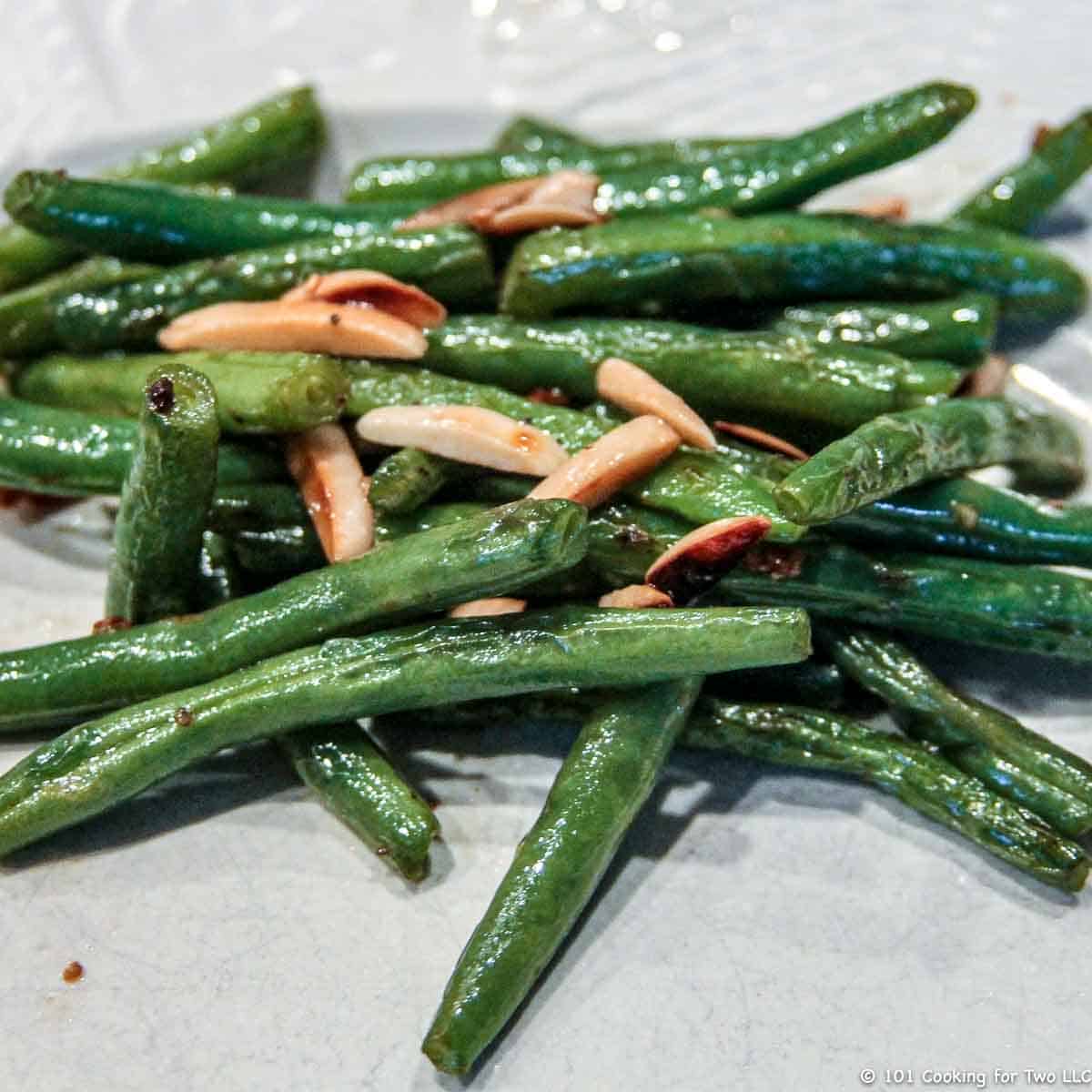 Introduction
Easy, delicious beans with big flavor, infused with garlic, and garnished with toasted almonds. It is a great way for everyday or perfect for holiday cooking also.
This is exactly the type of recipe I love. It takes a fussy method of blanching your beans before you can do anything else and makes it just part of the flow of the recipe. Just follow these easy step by step photo instructions.
Adapted from Cooks Illustrated (subscription required), you first saute the beans then add water and cover to steam them eventually for a few minutes then finish by browning in some butter and garlic. Very simple with great results.
While I love Cooks Illustrated, they are frequently overboard on complexity and ingredients that are not everyday friendly. I simplified it, and this technique can now be your everyday go-to bean method.
My Rating

An easy way to make very good beans. Good enough to make you want to eat your veggies.
👨‍🍳How to Pick Out Fresh Green Beans
The color. You want a nice vibrant green
The skin of the beans should be smooth without seeds swell which shows a more mature bean that will have a starchier pod. Avoid the beans that are large or thick.
The beans should have good firmness, no wrinkle and not a lot of bad spots.
In season, do a test "snap."
Of course, fresh off the vine is the best or farmer's market. Use the store produce department if you must.
While reasonable fresh vegetables are available year-round, the peak season is June through September, and local fresh will be best.
♨️Cooking
Most recipes start with blanching the beans in boiling water for a few minutes followed by an ice water bath to stop ongoing cooking. It can get time consuming and fussy.
This technique is a bit unusual. The beans are essentially steamed and cooked in the same pan, eliminating some steps. I'm all for eliminating unneeded steps.
This recipe is specifically for fresh beans. I do not recommend it for frozen beans. If you are looking for a great recipe for frozen, please check out Baked Bacon Green Beans.
✔️Variations
Spice it up some by added some paprika or other spices. Or add bacon, everything is better with bacon.
The original recipe added lemon just to the almonds after cooking. Add a teaspoon of juice if you want that taste but I found it distracting.
Change out the almonds for pecans or walnuts. Add some Parmesan or feta. Go crazy with blue cheese. Use your imagination.
📖Green Bean Recipes
Green Beans with Bacon

Parmesan Roasted Green Beans
Green Bean Casserole Without Soup

🖊️Instructions
Start with about 1 pound of green beans. Rinse and trim the ends off the beans. Slice into 2-inch pieces if you want.
Over medium-high heat toast ¼ cup of almonds until browning some (about 2-3 minutes). You can do this in a tablespoon of butter if you want or just do it dry.
Remove almonds and add one teaspoon olive oil to the pan and heat over medium heat until hot then add the trimmed beans. Add ½ teaspoon salt and ¼ teaspoon pepper. Saute until getting some spots of brown, about 5 minutes.
Add ¼ cup water and cover. Cook about 2 minutes but stop while the beans are still bright green and crisp. Remove lid and increase heat to high. Cook off the water. About 1 minute.
Add one tablespoon butter and three cloves. Cook until lightly brown and starting to wrinkle. About 2-3 minutes.
Remove to a serving bowl and toss with the almonds.


Do you want more recipes from 101 Cooking for Two? Sign up for the newsletter and get all posts delivered straight to your inbox!
📖 Recipe
Originally Published April 4, 2014Updated with expanded options, refreshed photos, and a table of contents to help navigation.