Easy baked meatballs that are tender and flavorful with a great Parmesan Italian taste. Eat them on their own, in a marina sauce or a sub sandwich. It is done in 30 minutes with these simple step by step photo instructions.
Introduction
This is not those little hard, tasteless meatballs but a big soft, tasty one to eat alone or add to some sauce or just make a great sub sandwich.
I wanted a meatball good enough to eat on its own and not need to be hidden inside of sauce. And it needed to use common ingredients that I always have on hand. And lastly, I wanted to bake them in the oven. Why??? I'm LAZY.
These are somewhat tender. I don't mean fall apart tender but not stir them around in a pot of sauce solid. Just plunk them in there, and they should be fine.
If you want to simmer them in the sauce, cook them more, add another egg, make them a little smaller and roll them tight with wet hands.
There are lots of meatball recipes out there. Most will claim to be the best meatballs ever. I feel the best meatball is one that meets your expectations and taste. So let's discuss options for you.
My Rating

A very nice solid 4. Now I can use them either for dinner or in a sauce. Not a 5 since it is not filet.
♨️Cooking Method
A nice meatball really needs to be baked and not cooked on the stovetop. First, you want a crispy crust with a tender flavorful center that is safe to eat. By the time the center of a nice size meatball is done, the outside can be overcooked.
The second reason to cook in the oven is the grease splatter and mess that comes with the stovetop. Plus, you need to stand there turning them over and over. Not fun. Cooking should be fun and meatballs should make you smile.
🐄The Meat
I'm a beef guy. So, I generally start with ground beef but you can use any ground meat you want. We love to combine Italian sausage with ground beef. But you can also add in any ground pork, veal, chicken, or turkey you want to try.
So the base of your meatball is up to your taste.
📋Other Ingredients
Egg, garlic, Parmesan cheese, and onion are mandatory, I think. The ketchup is to add a bit of tomato taste I like with the beef.
Breadcrumbs are added to help retain moisture, very much like meatloaf. You can make your own in a blender or buy them. If you do use commercial bread crumbs, account for any added spices. If you use gluten-free if you want.
For herbs, I chose oregano here but other spices like basil, parsley, or red pepper flakes could be added.
A touch of milk can be added but it will make a softer overall texture that will be more likely to fall apart. So if you add some, just a bit, please.
📖Italian Recipes
Boursin Cheese Sauce with Chicken and Pasta
Copycat Olive Garden Pasta E Fagioli Soup

🖼️Step-by-Step Instructions
Preheat oven to 425° regular or 400° convection.
In a medium mixing bowl, add one egg and whip it to combine the yolk and white. Add ½ medium onion chopped small, 1 clove crushed garlic, ½ teaspoon salt, ¼ teaspoon pepper, ½ teaspoon oregano, 1 tablespoon ketchup ¼ cup each of panko bread crumbs, and grated Parmesan cheese. Mix well.
Now add 1 pound of ground beef but break it apart a little while you add it. Mix until all is incorporated well, but no more.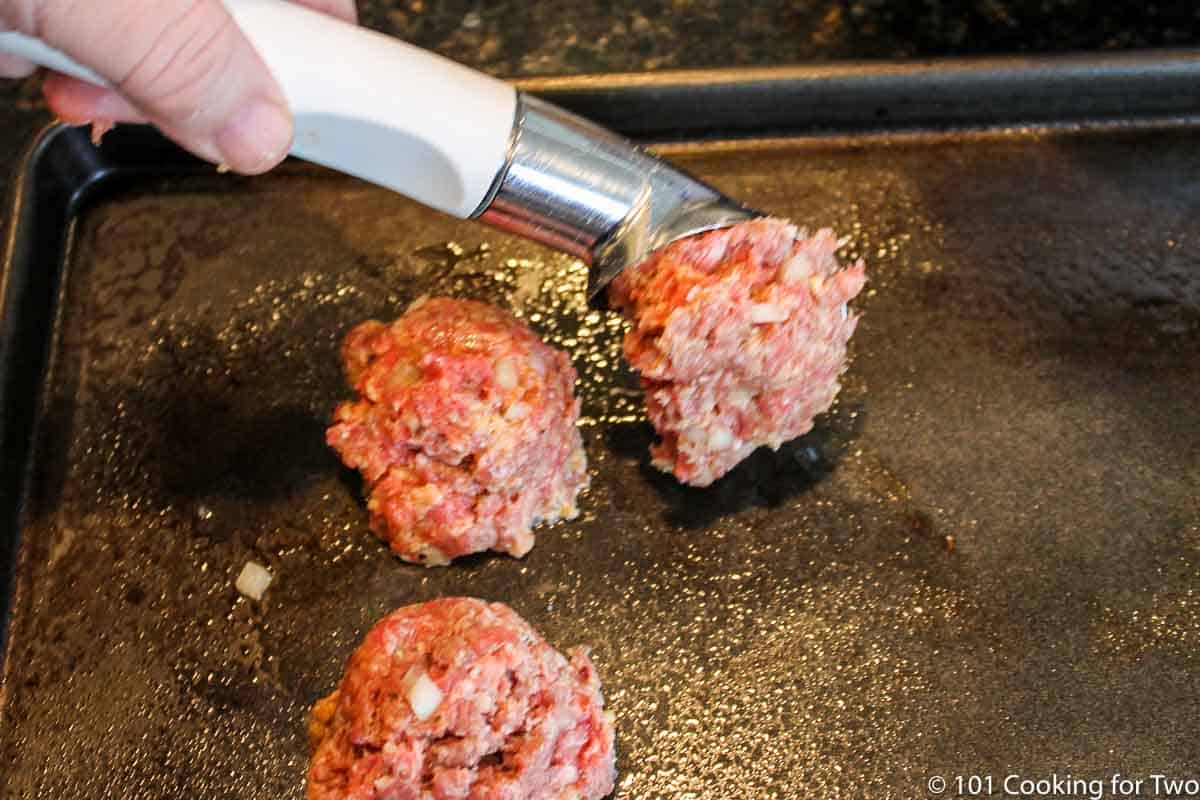 On a nonstick baking sheet sprayed lightly with PAM. Scoop equal size meatballs of 1 ½ to 2-inch diameter.
Bake until 165° minimum internal temperature. 20 minutes for me.


Do you want more recipes from 101 Cooking for Two? Sign up for the newsletter and get all posts delivered straight to your inbox!
📖 Recipe
Originally Published November 24, 2012. Updated with expanded options, refreshed photos, and a table of contents to help navigation.