Another 30-minute everyday dinner recipe from the good old days. A super moist breaded pork chop covered with bread crumbs and spices. So good, so easy.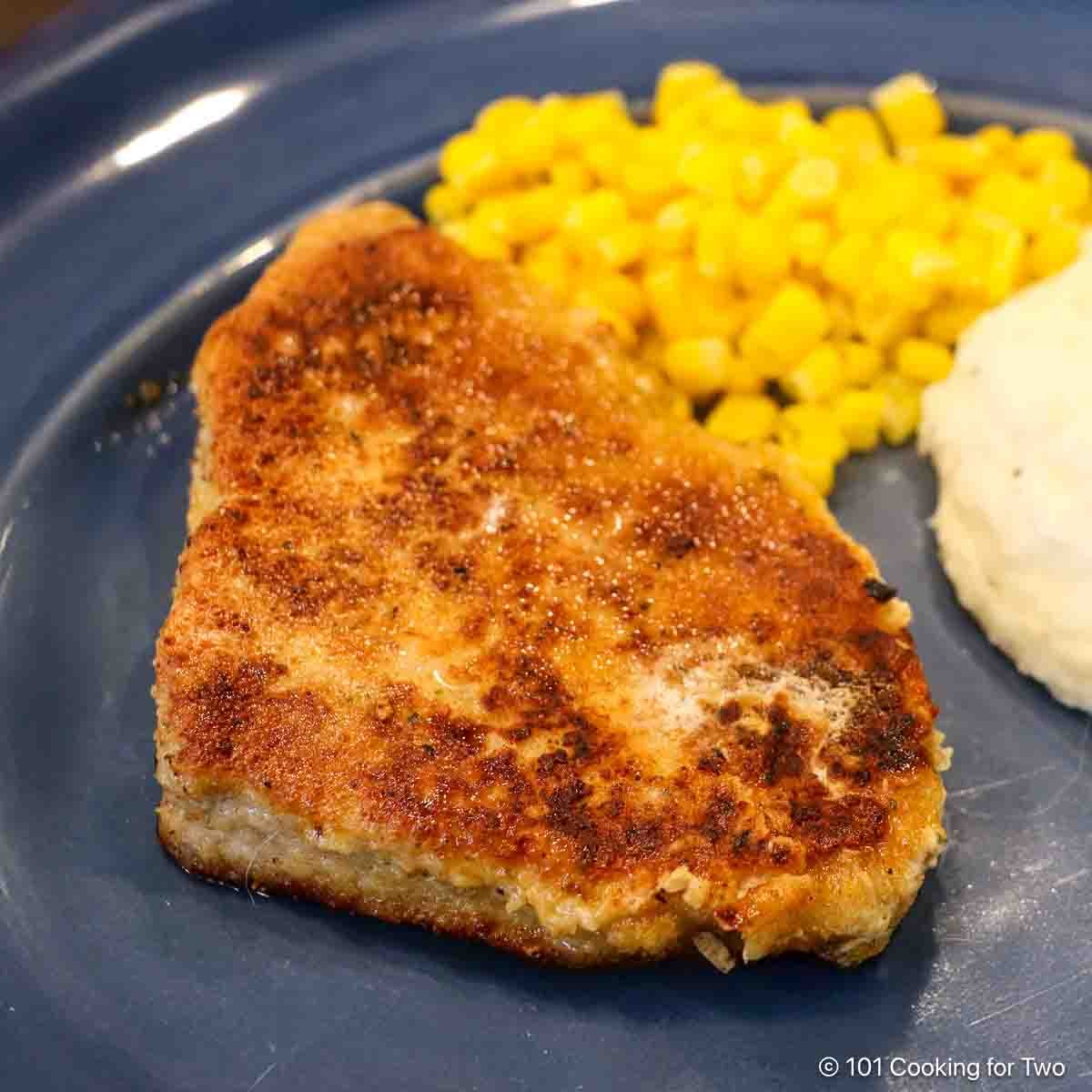 Introduction
Nothing beats a well-done pork chop. And this fork-tender crispy breaded chop is a classic that everybody loves. Done in less than 30-minutes with these easy-to-follow step-by-step photo instructions.
This recipe is a combination of 4-5 published recipes and my take on what was really needed for flavor and ease of cooking. It is basically how we did this 50 years ago, I just needed a refresher.
My Rating

We both loved them. My wife made me promise to do these frequently.
🐖Pork Chops
I suggest a ¾ to 1-inch boneless center-cut chop. But any real pork chop will do, which are any of the center three in the diagram.
With a breaded chop, you don't want to hide a chunk of fat under the breading somebody might try to eat, so trim off that fat rim.
The bone can lead to the breading falling off some since the meat contracts during cooking. Then the coating is more likely to comes off a bit.
Thickness is important. Thin will cook rapidly and may not even need the oven part of this recipe. Thick pork chops will be the same amount of time on the stovetop but may take up to 20-25 minutes in the oven.
👨‍🍳Breading
The coating is relatively simple. Some other recipes will add multiple spices or a bit of parmesan cheese. You can if you want, but it is not needed because there is so much flavor as written.
The most important part of a bread coating is to have it stick. So here are the big secrets to how to get a coating to stick.
Pat dry well with a paper towel. Things do not stick well to wet things.
An underlying coating of something with egg.
Coat with something with some flour. When combined with the egg, it sticks well.
No bone if possible. When the meat contracts with cooking, the bone will tend to break the coating.
Cook in a well-oiled non-stick pan.
BIG SECRET #1: After coating with the flour mixture, set it on a flat surface like a cutting board or plate for about 5 minutes to allow the various layers to combine and adhere better.
BIG SECRET #2: Flip and move the least possible, and when you do, use a fork. Things like tongs will rip the breading. So use a fork and stab the edges.
Should I Brine
I don't feel the need for a brine. It will slow you down a few hours.
But mostly, this is super moist and tender. Here is a picture of me cutting with a fork with no effort.
But if you want to brine, I suggest a brine of 2 cups cold water and 2 tablespoons table salt. Mix well and submerge the pork. Refrigerate for 1-2 hours. Rinse off the salt when done.
You should not use the seasoning salt in the recipe if you brine since the pork is already salted. Use ½ teaspoon of paprika to replace the seasoning salt in the recipe.
♨️Cooking
The final temperature for pork chops: When I was young, the recommendation for cooking pork was 170° to kill Trichinosis. This has not been a problem in the US for decades, but old ideas die hard.
Yes, I cook my pork butt to 200° plus but that is a taste thing not for safety.
I like to cook pork chops to 145°-150°. My wife does not like any pink in pork, so I tend to go even slightly higher to 155°. The FDA recommends 145° minimum with a 3-minute rest.
🥣Gravy
Do You Want Gravy?
Everybody loves gravy. It will add a few minutes but is worth the little work if it fits your plans. I didn't build it into this recipe, but you can easily add it.
Check out my stovetop fried pork chop recipe below with instructions specifically for pork gravy. Or see How To Make Gravy at Home.
📖Pork Chop Recipes
Easy Crock Pot Pork Chops with Gravy
How to Grill Pork Chops on a Gas Grill

🖼️Step-by-Step Instructions
Preheat oven to 350°.
Trim pork chop of the fat rim. Pat dry with a paper towel.
Prepare two trays. First, with one egg whipped with a teaspoon of water. Second, with ¼ cup of Panko Bread Crumbs, ¼ cup flour, 1 ½ teaspoon seasoning salt (Lawry's is my choice), and ¼ teaspoon black pepper.
Dip a pork chop in the egg mixture. Be sure to cover all surfaces. Remove with a fork and allow to drain for a moment.
Dip the egg-coated pork chop into the flour mixture. Coat all sides, remove with a fork, and shake to remove extra flour.
Set the chop on a plate or chopping board. Repeat for the next chop. We want to coat to set up for a few minutes.
Over medium-high heat, add 2 tablespoons of oil to an oven-safe, non-stick pan. When hot and the oil is shimmering, move the pork chops to the pan with a fork.
Brown each side of the chop for 2-3 minutes until almost the final color you want. Use a fork to flip by poking the meat and not anything to grab the meat and pull off the coating.
Do one last flip on the pork and place in the preheated oven until the internal temperature you want. For us, that is about 5 minutes for 155°. This will vary a lot in time, so you must use a meat thermometer and get the final temperature you want. Allow to rest on a plate for 5 minutes before cutting.


Do you want more recipes from 101 Cooking for Two? Sign up for the newsletter and get all posts delivered straight to your inbox!
📖 Recipe
Originally Published March 20, 2019. Updated with expanded options, refreshed photos, and a table of contents to help navigation.