Learn how to grill great pork chops on a gas grill. Chose the right cut, add an optional brine, season, and careful grilling will get perfect juicy flavorful chops every time.
Introduction
Pork chops are a great lean meat that grills quickly with these easy step by step photo instructions. Every grill master needs to learn these easy tips.
There is not much better or easier than a grilled pork chop. Pork and a grill just go together. Start with a simple brine if you have time followed by a short grilling, and you're in "hog heaven" so to speak.
Grill pork chops should be a standard in every grill master's skill set. It is ultra-simple to do right once you understand a few tricks.
A brine is your friend. Always a good idea if you have time.
All pork chops cook approximately the same as long as they are "real" pork chops.
Be sure to rest the chop after grilling.
Season to your taste. There are lots of options.
My Rating

A nice low 5, but I do love a good chop. But it isn't pork butt so I can't be a solid 5.
🐖Pork Chops
Let's talk about pork and pork chops. First, pork is not graded like beef. There is no prime, choice, etc. unless made up as a marketing gimmick.
A pork chop is from the loin of the hog. If there is a bone, it is the same bone, as you will find in baby back ribs.
Unfortunately, the powers in pork marketing changed the names of various cuts of pork to change perceptions. That just adds confusion about what you are getting.
I have listed five chops, but only the middle three should be considered "real" chops and will all cook the same. The other two "chops" do not cook the same and, to me, should be avoided.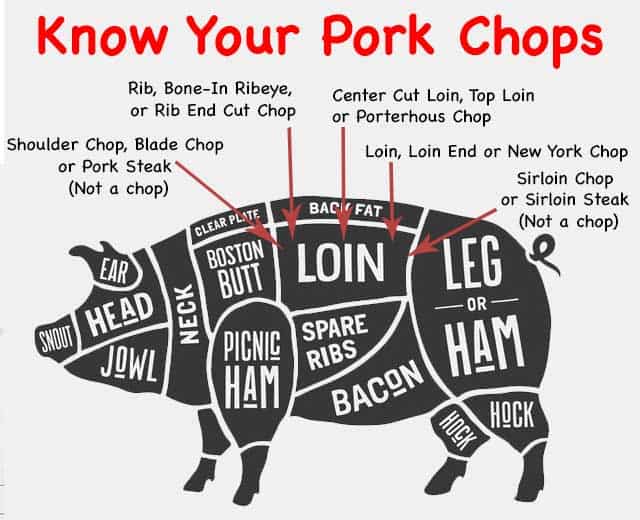 Shoulder Chop AKA Blade Chop, Pork Shoulder Steak, Pork Steak (Not a real chop) - Think of it as part pork loin and part pork butt. Hard to cook and it is more of a "low and slow" meat like a pork shoulder (butt). I don't consider it in the same class as the "real" pork chops and should not be cooked the same. Avoid this cut unless you know what you are doing.
Rib Chop AKA Pork Rib Chop, Bone-In Ribeye Chop, Rib End Cut - Frequently sold boneless and are the most common boneless chop. Cut from the rib section of the loin. These chops are easily identified by the bone that runs along one side and the one large eye of loin muscle. An excellent real pork chop.
Center Cut Loin Chop AKA Porterhouse Chop, Top Loin Chop - The porterhouse/center cut has both loin and tenderloin sections. So it is very similar to the loin chop with a small section of tenderloin in some versions. Also a very good chop.
Loin Chop AKA Pork Loin Chop, Pork Loin End Chop, New York Pork Chop - A little further down the loin. None with sections of tenderloin, otherwise very much like the center-cut loin chop and excellent for the home cook.
Sirloin Chop AKA Pork Sirloin Chop, Sirloin Steak (Not a real chop) - These "chops", cut from the sirloin end of the loin area may contain tenderloin, loin meat, and some hip bone. Generally not recommended. Like the shoulder cut, this cut should not be cooked like the true pork chops.
All "real" pork chops (the middle three) are cooked approximately the same. Some people prefer bone-in, believing it adds some flavor. It may help some with temperature stabilization and prevent overcooking also. Given a choice, go with the bone-in, which I do if not buying in bulk.
How to choose
I believe you should grill pork chops that are 1 to 1 ½ inches thick. ¾ inch is a little too thin and can dry out more. A brine will help that some, but you will be happier with thicker.
Many stores sell ½ inch cuts. These should never see a grill. Bread them, then bake or fry.
Chops thicker than 1 ½ may require either reverse searing or some time over indirect heat. I don't do these thicker chops usually since I consider them too big for a serving.
🧂Brining
Brine is used to add moisture to meat like pork or chicken. While brining is optional, it is highly recommended.
A standard pork brine is 2 cups of water with 1 tablespoon of salt. The salt is standard table salt. If using a different salt, you should adjust accordingly.
But if you are salt sensitive, cut the salt back some or skip the brine. Be sure to rinse the meat under running water before cooking. If adding more seasoning after that, it should not contain salt.
Most will add some sugar to the brine at about the same amount as the salt. Other flavors like garlic can be added, and garlic is required by my wife.
You can skip the brine for speed, but it does add some moisture and avoids that "dry pork" thing that is easy to get.
♨️The Grill
The grill should be 450°-500° surface temperature. That is usually a bit above medium on most gas grills. If you have questions about grill set up, see A Beginners Guide to Grill Temperature on a Gas Grill.
This should work fine on a charcoal grill as well as a gas grill. Just get the heat down a little from the maximum.
⏰🌡️Time and Temperature
This is mostly a thickness thing. A ¾ inch thick chop may only be about 10 minutes. A 1-inch thick chop is more like 12-14 minutes, and a 1 ½ inch may take up to 20 minutes.
A bone-in chop may take longer than boneless. Also, the starting temp of the chop and the exact grill temperature will have large effects. As always, COOK TO THE FINAL INTERNAL TEMPERATURE AND NEVER BY TIME ALONG.
Final Temperature
When I was young, the recommendations for cooking pork was 170° to kill Trichinosis. This has not been a problem in the US for decades, but old ideas die hard. Yes, I cook my pork butt to 200 degrees plus, but that is a taste thing not for safety.
I like to cook pork chops to 145°-150°. My wife does not like any pink in pork, so I tend to go even a little higher to 155°. The FDA recommends 145° minimum with a 3-minute rest.
Also, remember the temperature of the chop will climb several degrees after removing from the grill, so account for that.
✔️Tips
Trim the fat or not?
There is usually a layer of fat on the edge of a chop. You can trim it if you want, but many think it adds some flavor and helps prevent drying.
I do suggest if it is over ¼ inch, then trim it to ¼ inch thick. Also, it should be scored every inch to prevent cupping.
Seasoning
In the base recipe, I'm just adding some pepper and salt if you don't brine. Combined with the grilling, that makes a great chop.
I like a shake of some paprika or garlic powder usually.
If I didn't brine, I always use seasoning salt with pepper.
BBQ Sauce
Sure if you want, I suggest a light coat once with about 5 minutes left then a slightly heavier coat the last few minutes
Last words: This is a great straight-up pork chop. Next, you get to modify it by modifying the brine or do a glaze. Go wild since you now know how to get a good start.
📖Grilled Pork Recipes
How to Grill a Pork Tenderloin on a Gas Grill
The Best Grilled Pork Tenderloin - Memphis Style
How to Grill Baby Back Ribs on a Gas Grill
Pulled Pork on a Gas Grill - Not That Hard
Apricot Glazed Grilled Pork Chops

🖼️Step-by-Step Instructions
Trim a couple of 1 to 1 ½ inch pork chops. Boneless or bone-in are both OK.
If you are leaving a layer of fat on the edge, score it every inch to prevent cupping. I trim it back if it over ½ inch.
Mix brine in 1-gallon zip lock: 2 cups cold water, 1 tablespoon table salt, 1 tablespoon brown sugar, and one teaspoon garlic powder (optional). Mix well and submerge the pork. Refrigerate for 30 minutes to 2 hours. Salt Note: 1 teaspoon table salt = 1 ¼ teaspoons Morton kosher salt = 2 teaspoons Diamond Crystal kosher salt.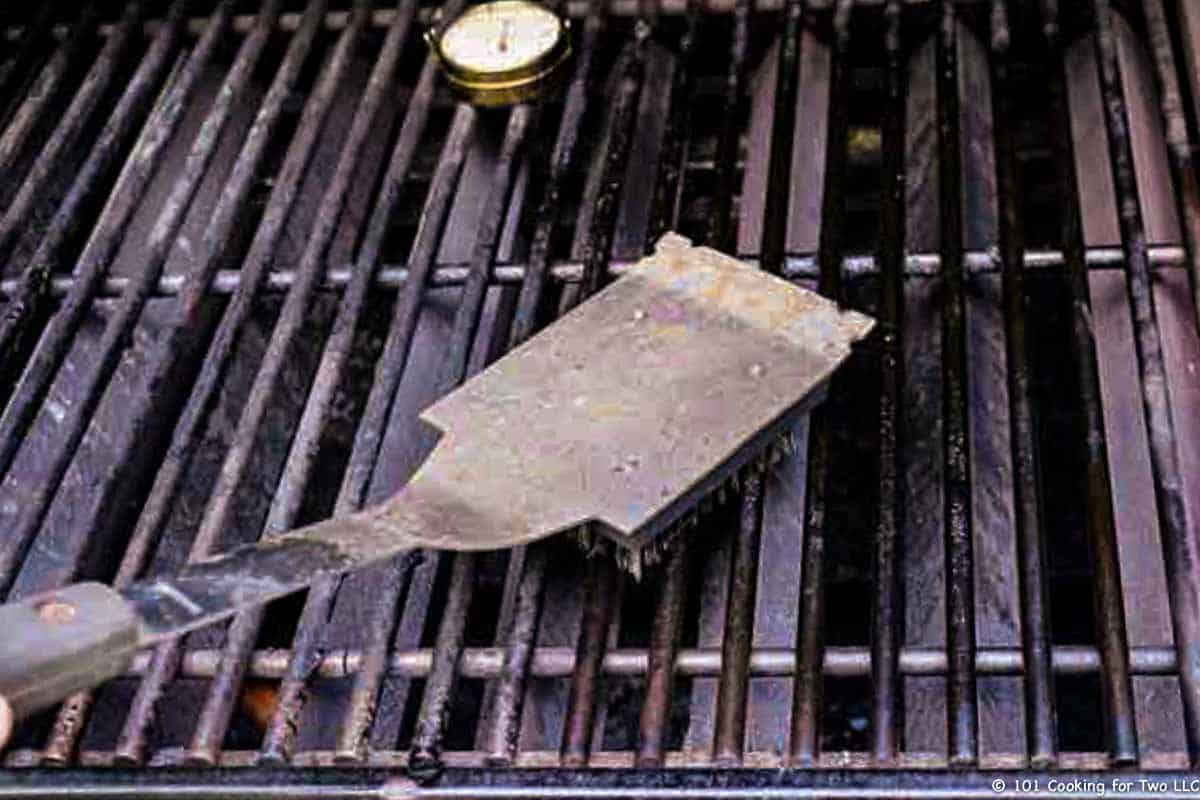 When ready to cook, preheat grill to medium-high (450°-500° surface temperature). Rinse the pork under running water.
Pat dry, add pepper to taste. Do not add salt if you did the brine. This is time to add other optional seasonings like some garlic powder or paprika. If you skipped the brine, also add salt or seasoning salt.
Grill on a well-oiled grill for about 4 minutes per side initially then flip occasionally, aiming for an internal temperature of 145°-150°. About 12-18 minutes total time depending on grill and thickness. If you want BBQ, then add a light coat of sauce with about 5 minutes left and again for the last 2 minutes.
Remove from grill and let rest for 5 minutes or a little more before serving.


Do you want more recipes from 101 Cooking for Two? Sign up for the newsletter and get all posts delivered straight to your inbox!
📖 Recipe
Publisher note: Originally published September 2, 2013. This post has been expanded from 300 words to 1300 works with additional content. Updated with options, refreshed photos, and a table of contents to help navigation.