Old fashion stovetop fried pork chops with gravy like grandma made in less than 30 minutes. Sometimes the old way is the best way for a great weeknight dinner.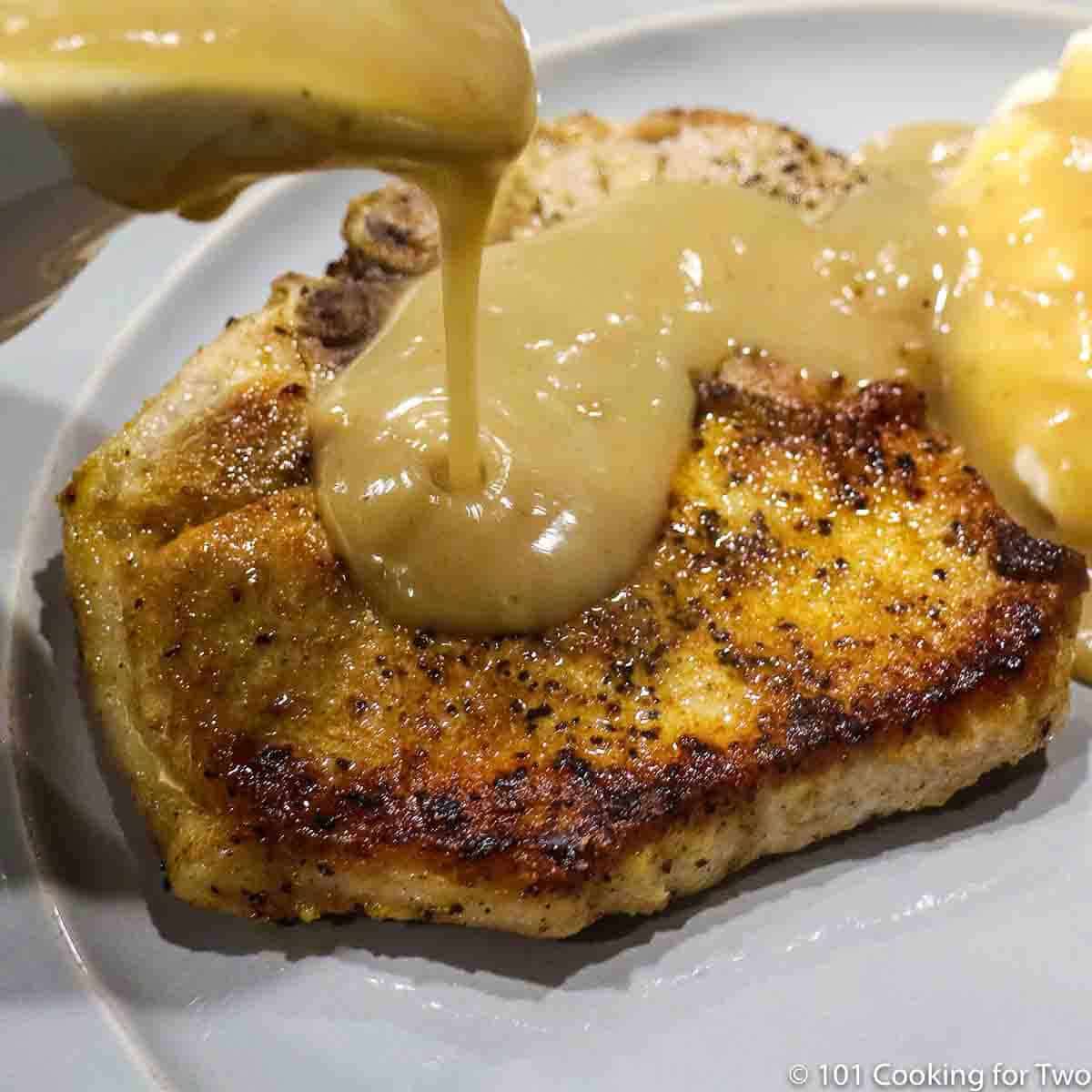 Introduction
I hadn't done bone-in chops fried on the stovetop for 30 years, but it is just so simple it came right back.
This started with my wife. Now, she doesn't make requests very often, but as we are staring at the meat case, she focused on the pork chops. Not the lean center cut loin cut ones I usually buy but the bone-in nicely marbled ones. And she had one other request, just fry them and make gravy.
Per my usual habit, I Googled and was very disappointed. Some used up to 10 spices, lots of brine and most with breading. Just so not me and definitely not the way I always have done them.
This needs to be a fast, done from memory type recipe. So I went from memory.
My Rating

Definitely an every-day five. We do this at least monthly.
🐖Pork Chops
A pork chop is a slice of the pork loin. It is from ½ inch to 2 inches thick and may or may not include some bone.
The loin is very lean so does well with rapid cooking and brining is always good for any pork loin cut.
The "chops" at the front and rear end are not really pork chops and should be avoided unless you know what to do with them.
This recipe is using ¾ inch thick pork chops which is the standard usually found in US stores. It can be used in ½ inch up to 1 ½ inch but if you are on the thicker end, a rest to at room temperature will help you get the correct internal temperature.
They can have a large rim of fat. If it is thick, trim it down to ¼ inch. Also, slice through the fat every inch or so to prevent cupping of the chop.
Brining
I'm not including brining directions in this recipe. It just goes against the spirit of a quick weeknight dinner.
If you want to brine, check my grill recipe brining instructions.
Bone-in vs Boneless
Either will do here. The bone-in will take a few more minutes.
🌡️Final Temperature
145° with a three-minute rest is the minimum recommended by the FDA. My wife does not like any pink, so she is more of 155° here.
For many years we were taught to cook pork to 165°. Dry... very dry. This is not needed and is no longer recommended as long as there is a 3 minutes rest. See WebMD for the discussion.
There're some variables here that you need to pay attention to. The thickness of the meat. The initial temperature of the meat, your pan's conduction of heat, and your stove. So as always you are cooking to a final temperature.
The Gravy
I'm using a slurry method to make gravy here. Not the more traditional roux method.
In the slurry method, you still need 2 tablespoons of flour per cup of liquid. I dilute the flour with about a cup of liquid and use a shaker to mix the flour with the liquid. A whisk and bowl would work well also. That is added slowly to boiling liquid while mixing.
Pork broth is not readily available like other broths. You can usually get pork bouillon or gravy base. I like to use Penzey's Pork gravy base.
See How To Make Gravy at Home for more detailed
📖Pork Chop Recipes
How to Grill Pork Chops on a Gas Grill
Pan Seared Oven Roasted Pork Chops
Pan Seared Oven Roasted Thick Cut Pork Chops

🖼️Step-by-Step Instructions
If you have time, allow the pork chops to rest at room temperature for 30 minutes. The pork chops should be ¾ to 1 inch thick. They can have a large rim of fat. If it is thick, trim it down to ¼ inch. Also, slicing through the fat every inch or so helps prevent cupping of the chop.
Season both sides of the chops with seasoning salt and pepper to taste. If you are using a bouillon or soup base for your pork broth, then mix two cups now. You may also use vegetable broth.
Add 1-2 tablespoon oil to a large frying pan over medium-high heat. When the oil is shimmering hot, add the pork. Cook for about 4 minutes until the bottom is nicely brown. Flip and cook for another 4-5 minutes. Continue to flip occasionally to an internal temperature of about 145°. If you have a hard time getting a final internal temperature, a lid on the pan helps.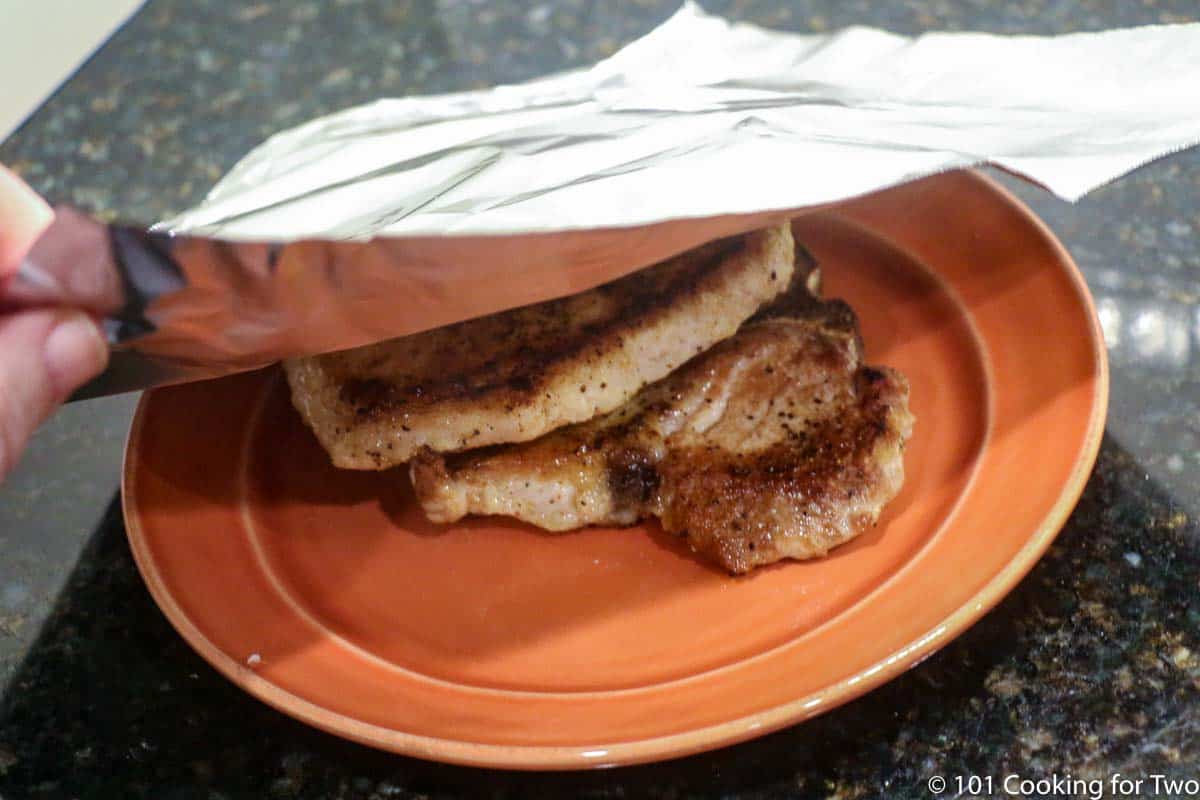 Remove from pan and tent lightly with foil while doing gravy phase.
Whisk 4 tablespoons flour into one cup of broth. Add the other one cup of your broth to the pan over medium heat. When boiling, slowly add the broth/flour mixture while whisking continuously. Continue to whisk until thickened about 2-3 minutes.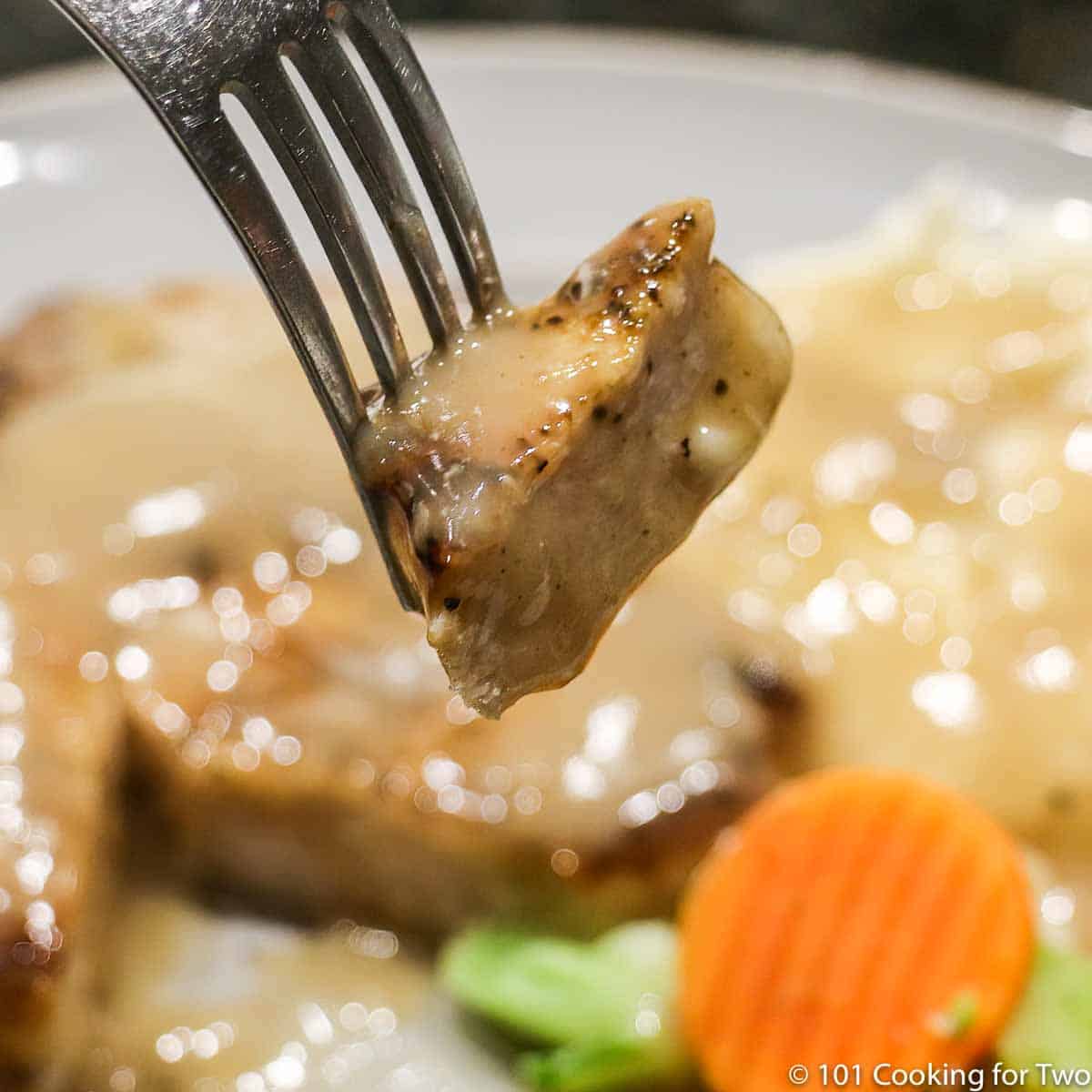 Do you want more recipes from 101 Cooking for Two? Sign up for the newsletter and get all posts delivered straight to your inbox!
📖 Recipe
Editor's Note: Originally Published January 23, 2016. Updated with expanded options, refreshed photos, and a table of contents to help navigation. Welcome to one of our favorites we do frequently.