An easy homemade tartar sauce using only four ingredients you already have in your kitchen. Add some great taste to that fish dish tonight.

Introduction
Tartar sauce is a condiment that is generally used for fish. It is mayonnaise frequently with capers, along with gherkins or other varieties of pickles, and lemon juice. Commonly herbs such as dill and parsley are added.
I broke this out of my Oven Baked Blackened Tilapia post so I could refer to it better from other recipes.
This simple sauce is great with baked or fried fish, and crab or salmon cakes
My Rating

Very nice for what it is. I much prefer this to the commercial variety and can whip this up in a few minutes with pantry staples.
📋Ingredients
This is a mayonnaise-based sauce, so use the mayonnaise that you like. It can be full fat or lower fat, but please avoid the fat-free. I suggest avoiding Miracle Whip or flavored Mayo since they will add other tastes.
Other standard flavors are the onion powder and lemon juice. You can switch those out for fresh, but you will be tossing of the lemon or onion.
I like sweet pickle relish and used that here. You can do a one to one substitute for dill relish.
Variations
While this recipe is for what I want and generally have on hand. But there are some options that others will want.
The common other flavors are capers and dill that are added.
Capers
This recipe is without capers, which I never have when I want them. Most current recipes do not include capers, but they are traditionally used.
To make tartar sauce with capers in my small recipe, drain, and finely chop 1 teaspoon of capers. Increase proportionately for larger amounts.
One final note on capers, general they are combined with a dill flavor.
Dill
They are several ways to make this a dill tartar sauce. First, skip the sweet pickle relish, then try one of these options.
-Dill relish: 1 teaspoon (the suggested method)
or
-Dill Weed: 1 teaspoon
or
-Dill Pickle: 1 tablespoon chopped
❄️Storage
Should be sealed well without air. Good refrigerated for 1 week. Do not freeze.
📖Fish Recipes
Oven Baked Blackened Tilapia

Grilled Blackened Tilapia

Grilled Lemon Butter Tilapia

🖼️Step-by-Step Instructions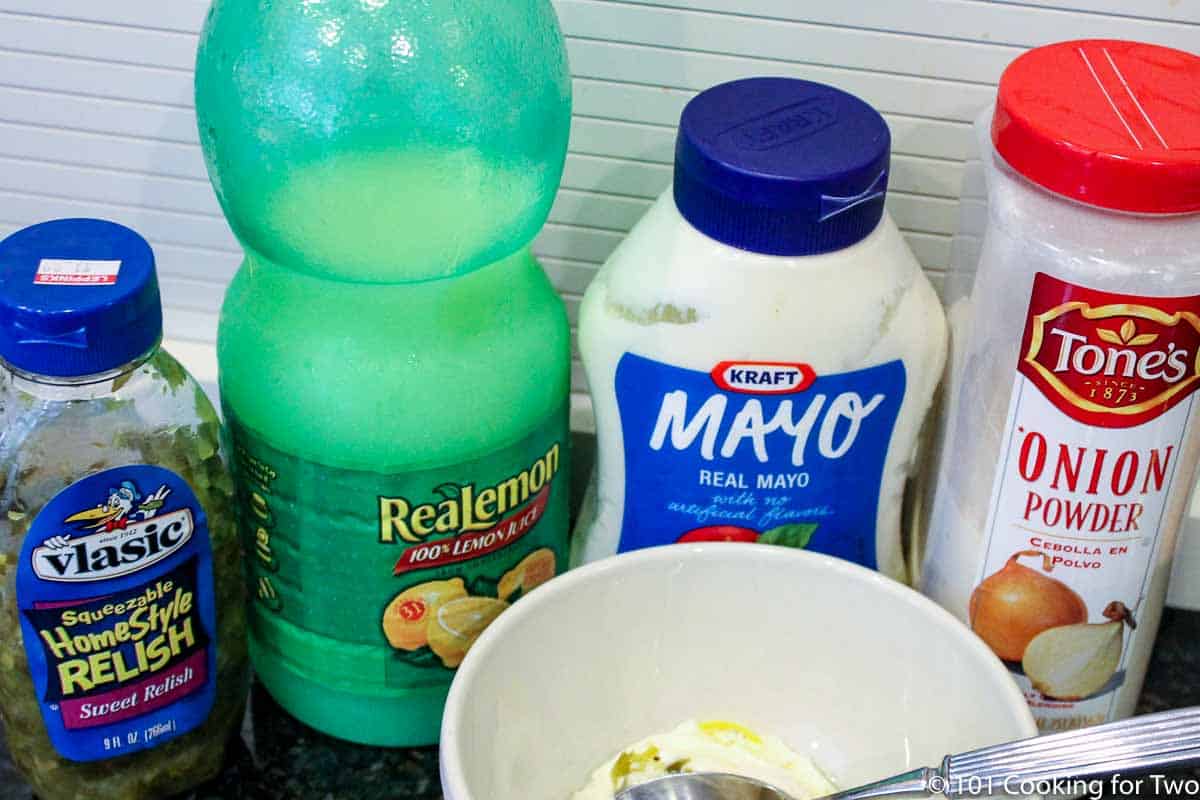 Combine ⅓ cup mayo, 2 teaspoons lemon juice, 1 teaspoon sweet pickle relish, and ¼ teaspoon onion powder. Mix well.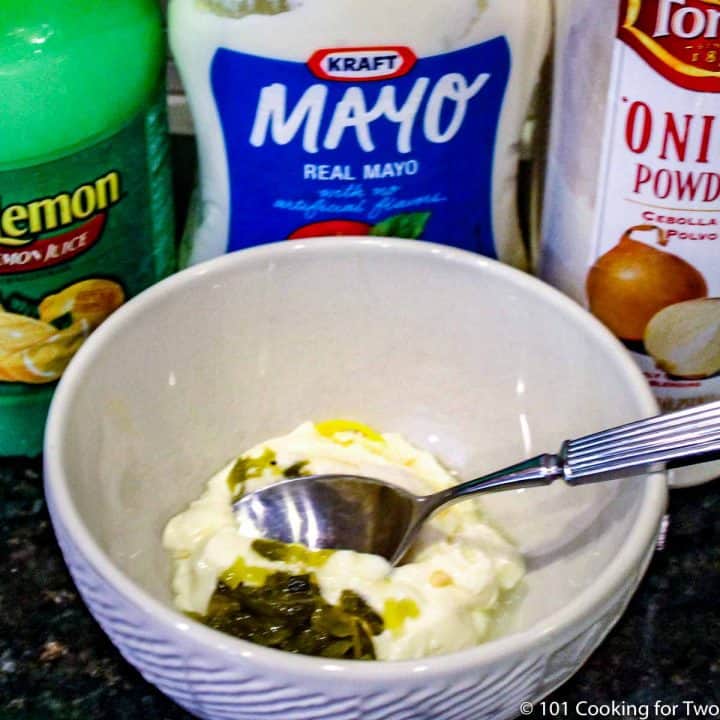 Refrigerate until needed. Better if set for 20-30 minutes.


Do you want more recipes from 101 Cooking for Two? Sign up for the newsletter and get all posts delivered straight to your inbox!
📖 Recipe
Editor's Note: Originally Published May 11, 2013. Updated with expanded discussion with options and re-edited photos. Table of contents added for navigation.