You will love this balsamic marinated pork tenderloin on the grill or in the oven. It is always tasty and tender. You can have something special, just follow these easy step by step photo instructions.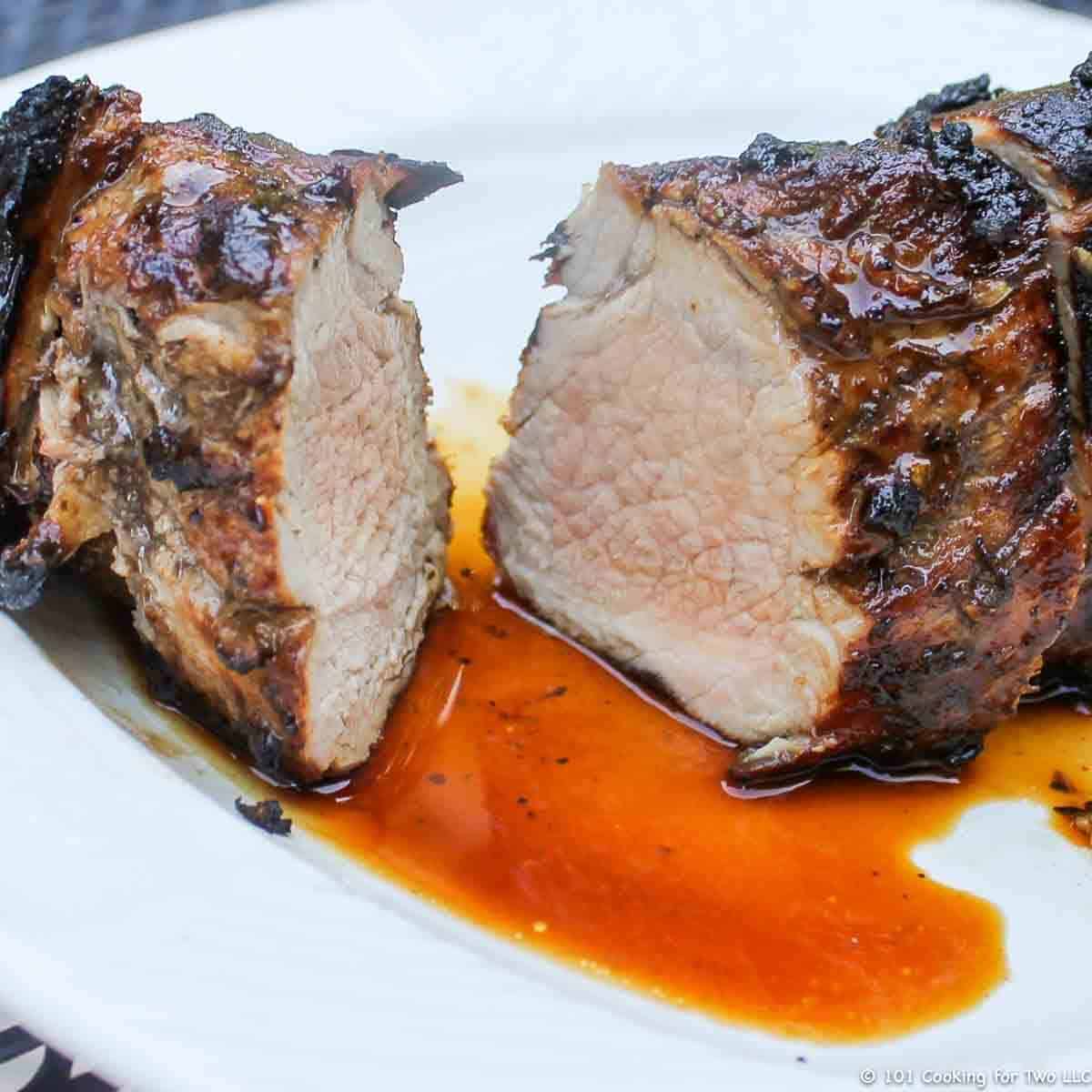 Introduction
I love pork tenderloin. It is a great size for a smaller household. It is always moist and tender; you almost have to work hard not to get it right.
I frequently use it for other pork recipes like carnitas, chili, or even shredded pork sandwiches. It is always tender and most.
Inspired by a Food.com recipe and converted to grill from oven. But can be done either way,
My Rating

A nice tenderloin. More special if you're really into balsamic.
🐖Pork Tenderloin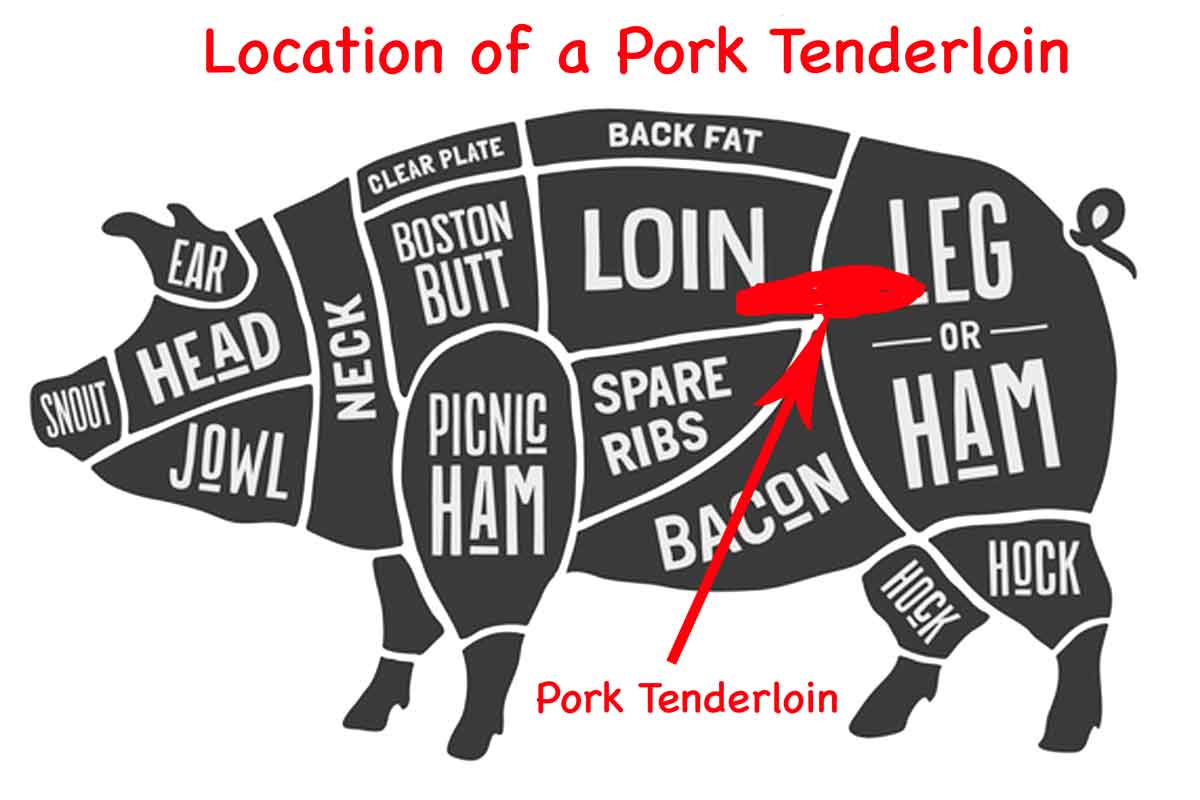 The tenderloin refers to the psoas muscle along the lower back. It is chicken tenders in the chicken or beef tenderloin (filet mignon) in cattle. The psoas is generally most tender cut since it is not used for movement.
A Pork Loin is NOT a pork tenderloin!!!!
Over the years on this blog, many commenters seem to get pork loin and tenderloin confused. It is obvious when they have a "4-pound pork tenderloin". No, they do not.
Balsamic Vinegar
For years I was not a fan of balsamic. It turns out to be a quality thing. I always have local market versions. Not good, not good at all.
Now I get nicely aged balsamic at a local store specialty store. Support your local retailers, please.
♨️Grilling Secrets
There are three keys to grilling this correctly.
Realize that pork tenderloins are triangular in shape, so a "flip" on the grill is really a one-third rotation.
Grill surface temperature must be in the right range of 400

°

-450

°

. You need a grill surface thermometer. Never trust a hood thermometer. See A Beginners Guide to Grill Temperature on a Gas Grill for a detailed discussion.
Cook to the correct final internal temperature. Usually about 145

°

for most people.
♨️Oven Instructions
Even though this is a grilling recipe, it can be easily done in the oven after a short searing on the stovetop. Here are my standard pan-sear oven-roasted instructions, which are almost identical to the model recipe.
When ready to cook after the marinade (no not rinse or pat dry.)
Preheat your oven to 375

°

convection or 400

°

conventional oven.
Over medium-high heat, add 2 teaspoons to an oven-safe pan. When hot, sear all sides of the tenderloin for about 2-3 minutes each to get a nice color. Remember, it has three sides.
Move to the preheated oven and cook until an internal temperature of 140-150. It will take 15-20 minutes.
📖Savory Pork Tenderloin Recipes
How to Grill a Pork Tenderloin on a Gas Grill - A complete tutorial.
Grilled Honey Garlic Pork Tenderloin
Grilled Pork Tenderloin Medallions

🖼️Step-by-Step Instructions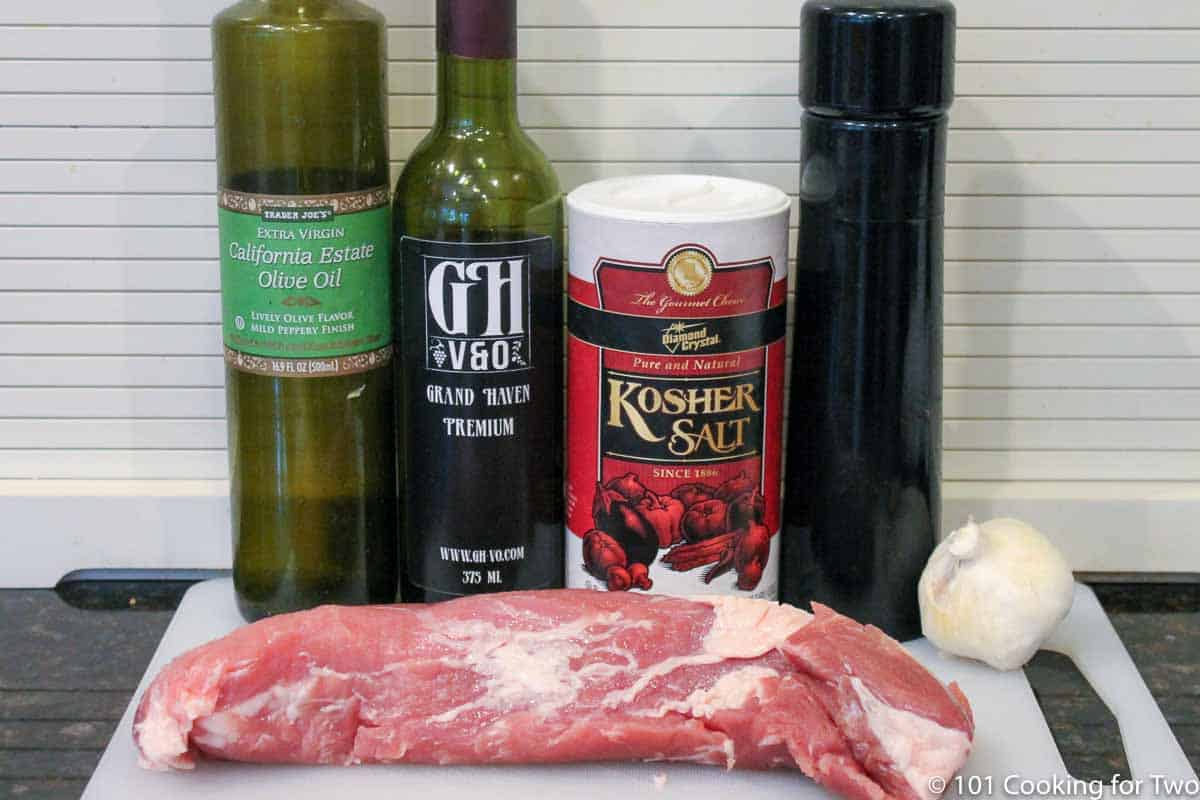 Start with nice pork tenderloin. The quality of the balsamic vinegar is extremely important.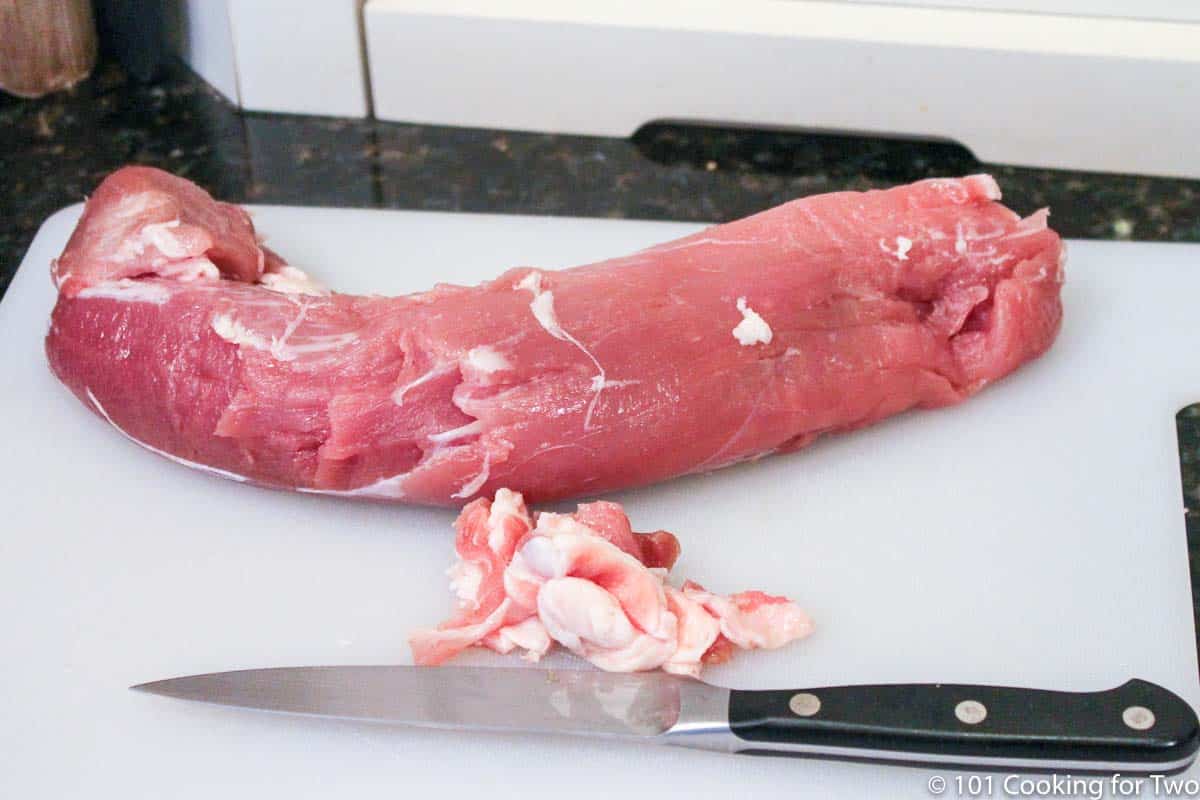 Trim the tenderloin of trim-able fat and the silver skin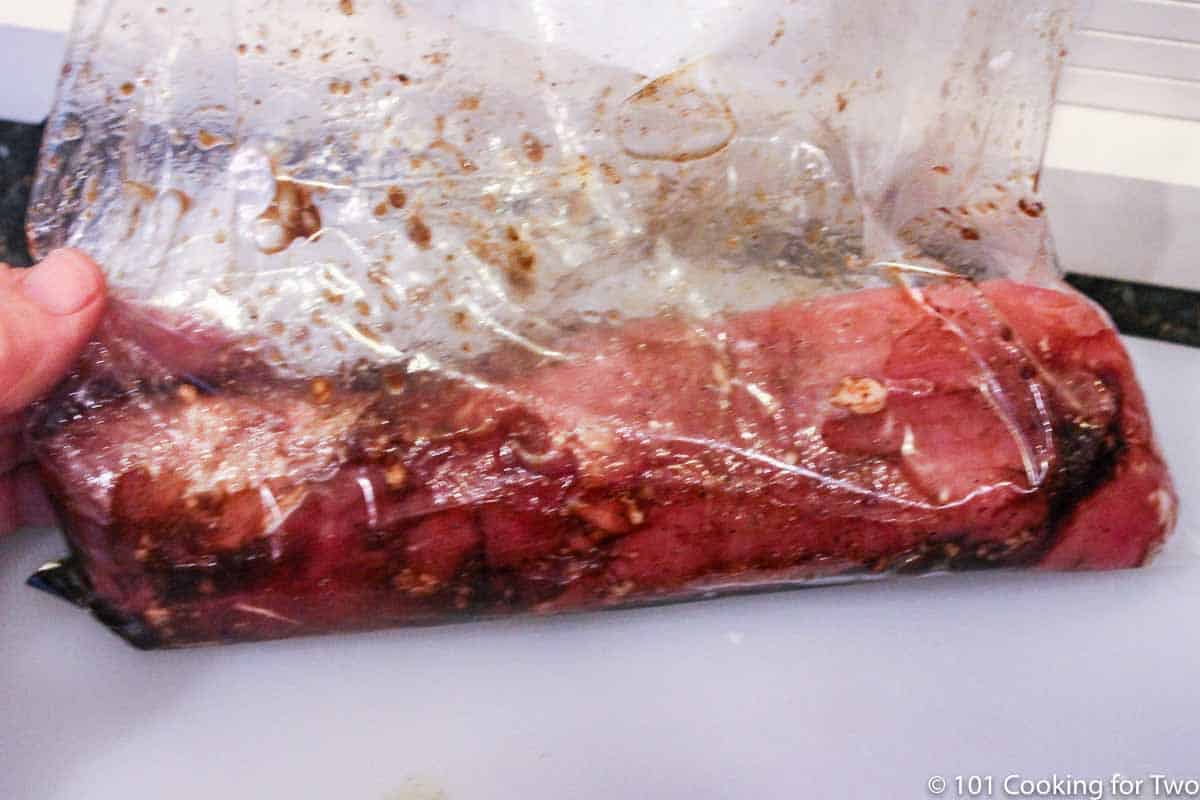 To a 1-gallon zip lock bag, add 1 tablespoon olive oil, 1 tablespoon of good balsamic vinegar, two cloves garlic - crushed, 1 teaspoon kosher salt, and ¼ teaspoon pepper. Add the tenderloin and refrigerate for 1 hour or more. Overnight is OK.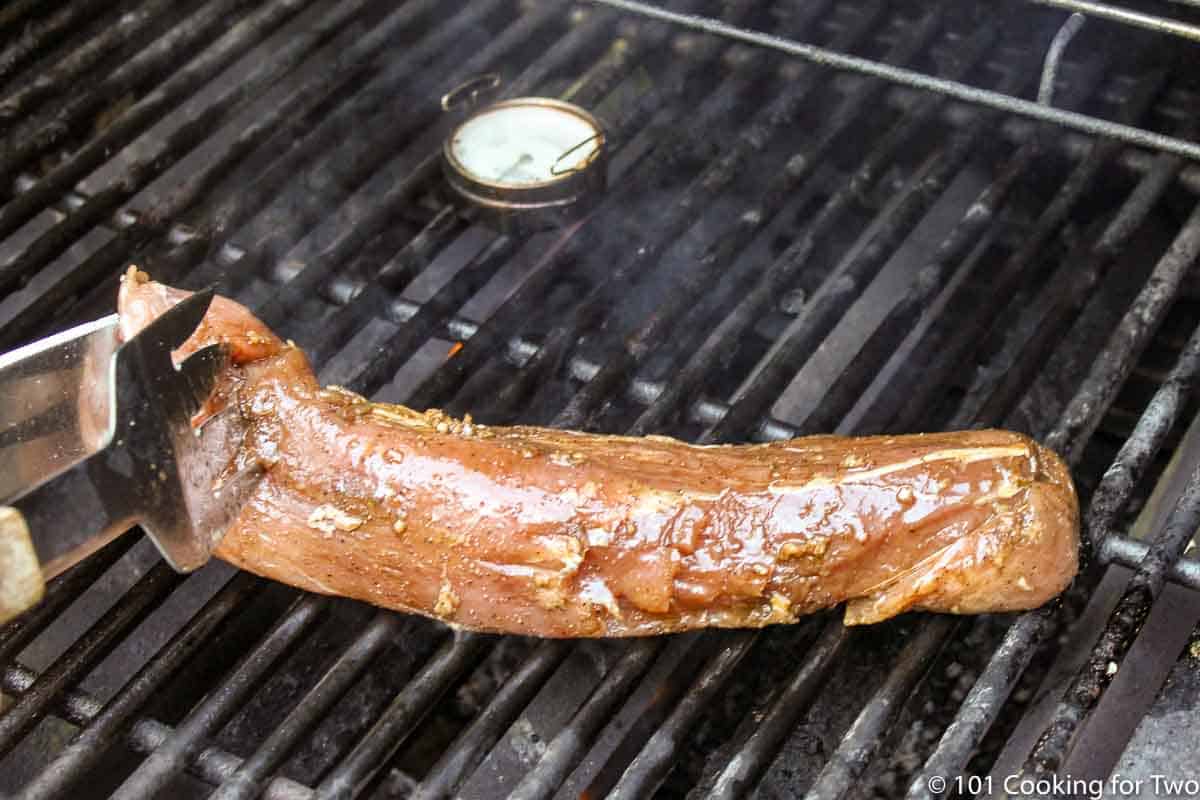 Preheat grill to medium to medium-high (surface temperature of 400° to 450°). Move tenderloin from the bag to a well cleaned and oiled grill. Do not rinse.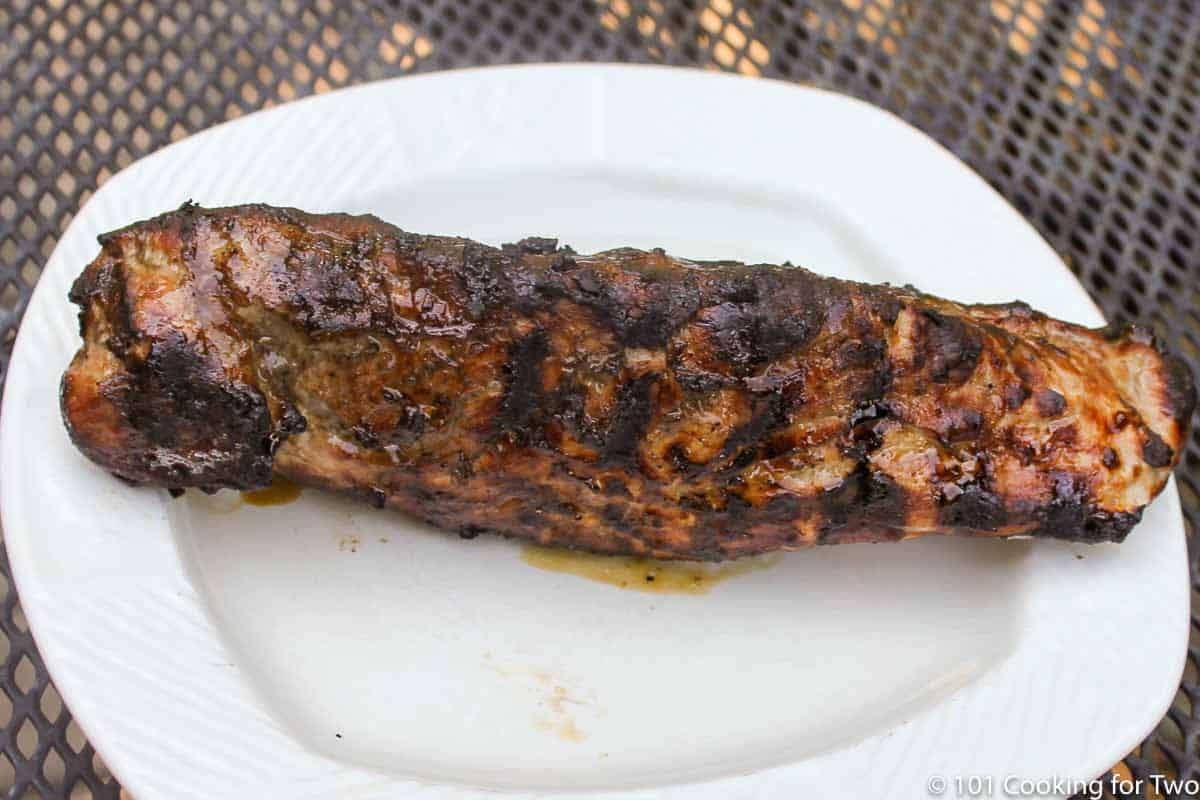 A pork tenderloin as three-sided. Grill about 4-5 minutes per side then continues to rotate every 3-4 minutes until an internal temperature of about 145°. About 25 minutes total grill time but may vary some due to the exact grill temperature and size of the tenderloin. Let rest for 10 minutes before cutting.


Do you want more recipes from 101 Cooking for Two? Sign up for the newsletter and get all posts delivered straight to your inbox!
📖 Recipe
Originally Published July 13, 2013. Updated with expanded options, refreshed photos, and a table of contents to help navigation.