Learn how to grill a whole potato without aluminum foil with these two secrets. Just follow the easy step by step photo instructions.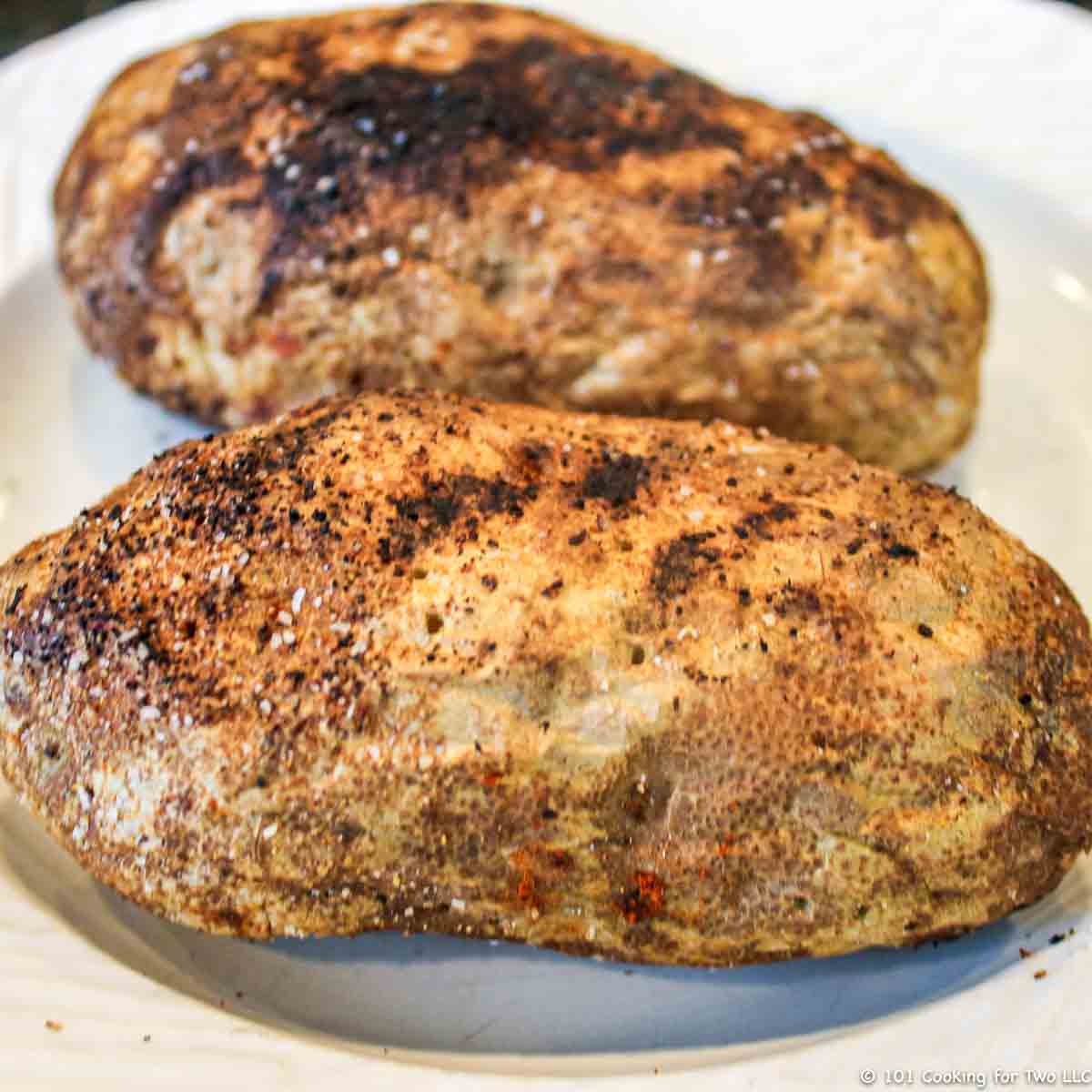 Introduction
A great grilled sided for the summer, and it is simple, simple, simple. Only a few secrets to getting that whole baked potato grilled to perfection, and it does not involve aluminum foil.
So...wash the potato, stick with a fork a few times, so it doesn't explode, brush with oil and season. Then the microwave is your friend. Nuke for 2-3 minutes, then grill over direct heat until done.
My Rating

A really good and simple side.
🥔The Potato
There are several hundred types of potatoes, but I like to divide them into russets potatoes and thinner skin types.
Russets are picked when mature and tend to have more starch. They make great bakers, and the thick skin is great for this recipe.
👨‍🍳No-Foil Secrets
First, the potato needs to be partly cooked (heated) before grilling. You can not get the inside done otherwise.
Second, a done baked potato is 210° internal. Cook's Illustrated recommends 205° to 212°. Potatoes are very forgiving, so a little over is better than under. 200° is usually ok, but 190 is not done.
How to Precook in the Microwave
So...wash the potato, stick with a fork a few times, so it doesn't explode, brush with oil and season.
Applying the oil before the microwave seems to help prevent that shriveled microwave potato look.
Then the microwave is your friend. Microwave on high for 2-3 minutes then grill over direct heat until done.
Do not over microwave or it will shrivel. But microwaves vary some, and potato size varies. A little under is better than over and make it up on the grill.
Foil Methods
A simple way to grill baked potatoes is to wrap them in foil and cook them over direct heat. Many recommend double wrapping (I guess, so the steam doesn't escape). But they taste more like steamed potatoes, not baked and not grilled.
Just as an aside... I love the Paula Deen recipe with double wrapping, cooking, and then topped with a half stick of butter each. I love butter.
📖Grilled Side Dishes

🖼️Step-by-Step Instructions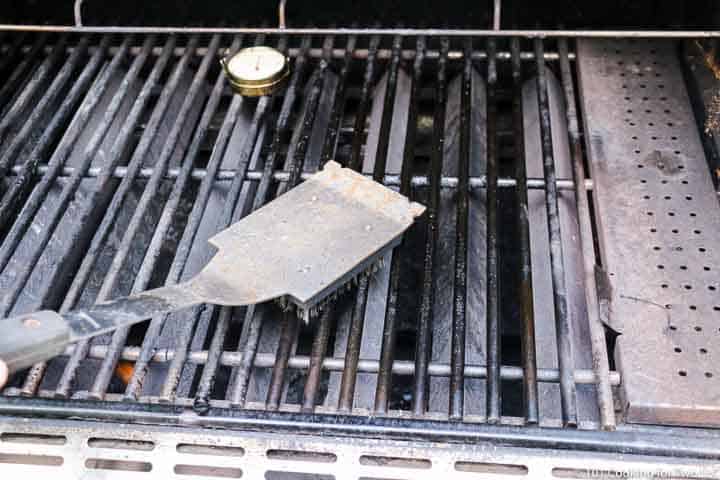 Preheat grill. Your grill surface needs to be in the 450°-500° range. A little under is ok but not over. This is a little over medium on my super-duper Weber, but it is a "hot" grill and would be more medium-high on a normal gas grill and over the edge of the coals of a charcoal grill.
Clean and brush well under running water. You want to eat the skin, so get it clean.
Pierce the skin with a fork a few times on each side.
Give them a nice brush of olive oil.
Sprinkle with coarse salt and pepper. I'm using my 7:2:2 to also add some garlic. Microwave on high about 2 to 2 ½ minutes per potato flipping over halfway through. This can vary some with the strength of your microwave and the size of potatoes. DO NOT over microwave.
Then transfer to grill over direct heat. Flip every 4-5 minutes. Grill until the outside is nicely brown and an internal temp of about 210°. Total grill time 12-14 minutes.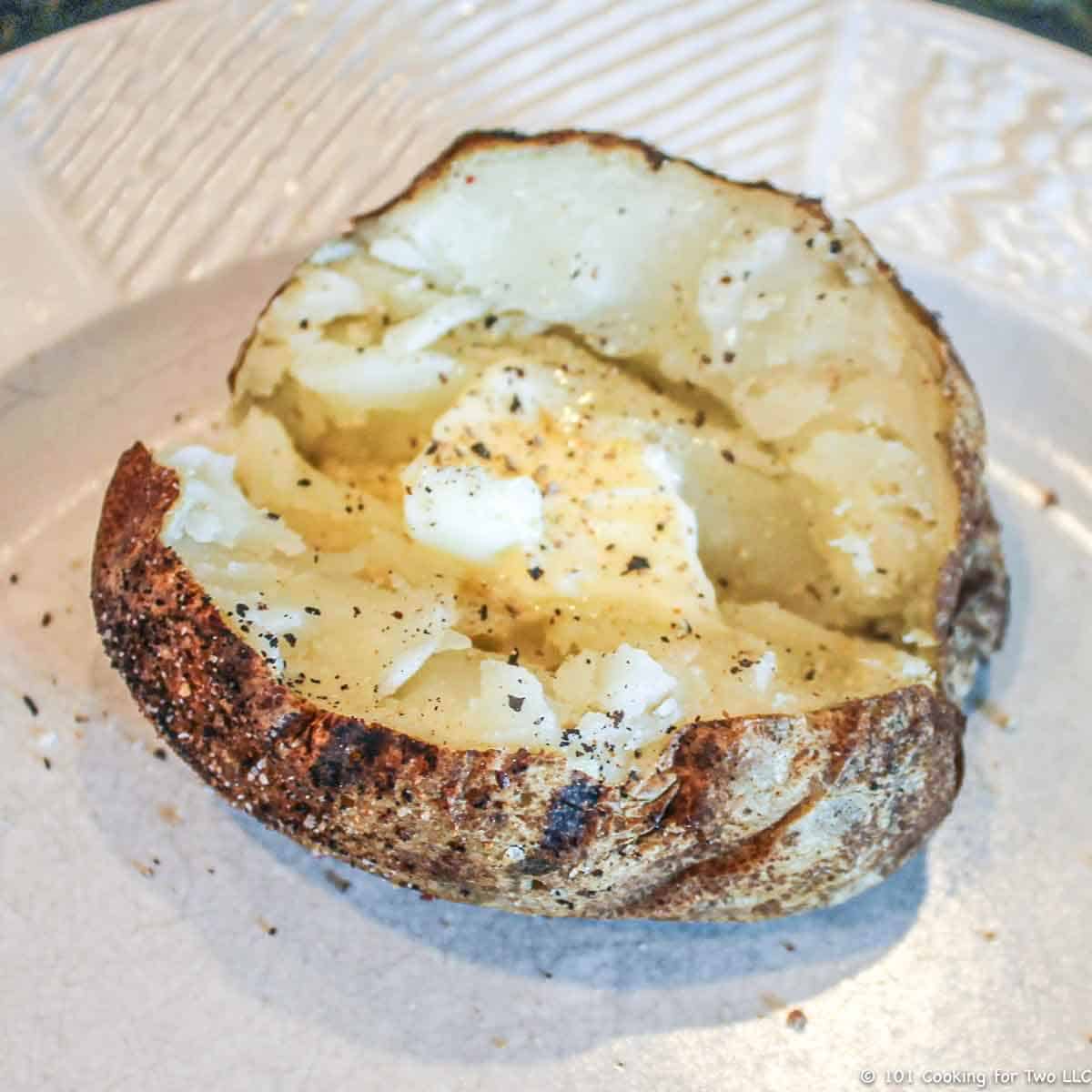 Do you want more recipes from 101 Cooking for Two? Sign up for the newsletter and get all posts delivered straight to your inbox!
📖 Recipe
Editor's Note: Originally Published May 9, 2013. Updated with expanded options, refreshed photos, and a table of contents to help navigation.