Time to try a Soup Nazi soup. Just to see what it's like. Well, the answer is excellent. You will enjoy a great full flavor soup that is something special. Just follow these step-by-step photo instructions for a great chicken chili. There will be soup for you.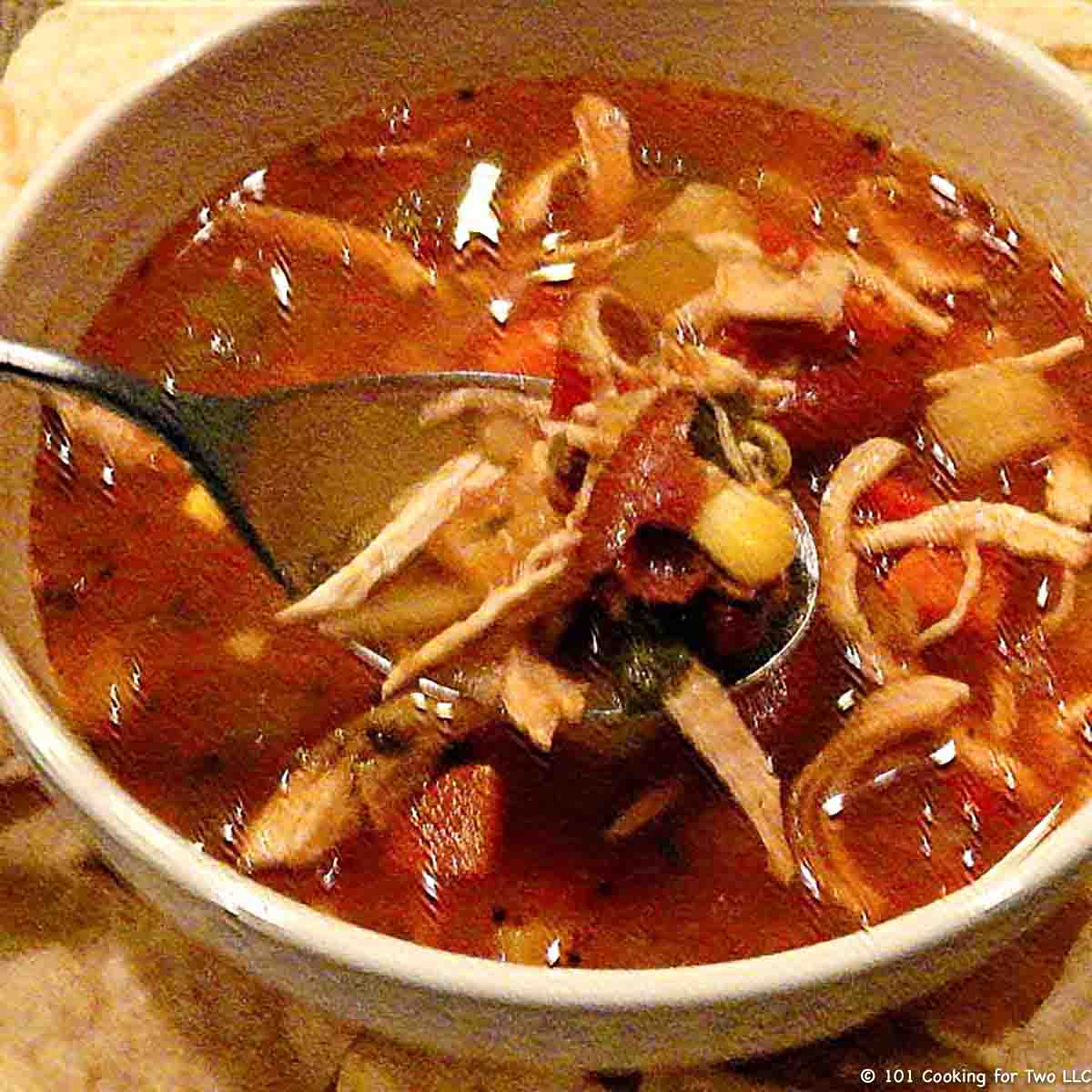 Introduction
I'm calling this a "copycat" recipe since I can not confirm it is original. If you Google Soup Nazi recipes, you will get four different recipes that are repeated in many places. I chose the Mexican Chicken Chili. It's a tomato spicy chicken soup. It will take some time but not a lot of work.
The "soup nazi" was made famous by the comedy series "Seinfeld" in the 1990s. While we all enjoyed the show, the chef that the character was based on was not a fan of the treatment. The story is more involved, but I will just stay that his soups were famous before the show and are wonderful.
While I usually don't do recipes with this many ingredients, it wasn't that bad with a little planning. Print the recipe and go shopping. But you will have most of the spices already.
This soup relies on two things for its great flavor. First, we create a great fond when cooking the chicken. This is a Maillard reaction and creates great flavor. We then use the soup to deglaze the pan to incorporate that flavor. Second, we simmer to reduce the volume at the end. This will concentrate the flavor.
My Rating

A 5 for taste but I'm nudging it to a high 4 due to the number of ingredients.
📋Ingredients
The Chicken
The recipe calls for 1 pound of chicken, but with this much soup, I prefer a little more meat so more like a pound and a half for me.
You can use skinless chicken breasts or thighs. Cut into filets to make cooking easier and to make more fond at the bottom of the pot.
All the Other Ingredients
There are a lot of ingredients. Print the recipe card and mark off ingredients as you add them. Also, it makes an excellent shopping list.
On a spicy scale, this is about a 3 out of 10, so some of you might want to spice it up a little by adjusting the cayenne pepper.
❄️Storage
Good refrigerated for 3-4 days. Or frozen for 3-4 months.
This makes a larger amount of soup and for a smaller household, it will be too much. So freezing will be a good option. I don't see this is a good recipe to cut in half due to the number of ingredients, amount of work, and you would end up wasting a lot of unused ingredients.
📖Chicken Chili/Soup Recipes
Low Fat High Taste Crock Pot White Chicken Chili
Salsa Verde White Chicken Chili a la Crock Pot
Crockpot Southwest Chicken Chili
Crock Pot Chicken Tortilla Soup

🖼️Step-by-Step Instructions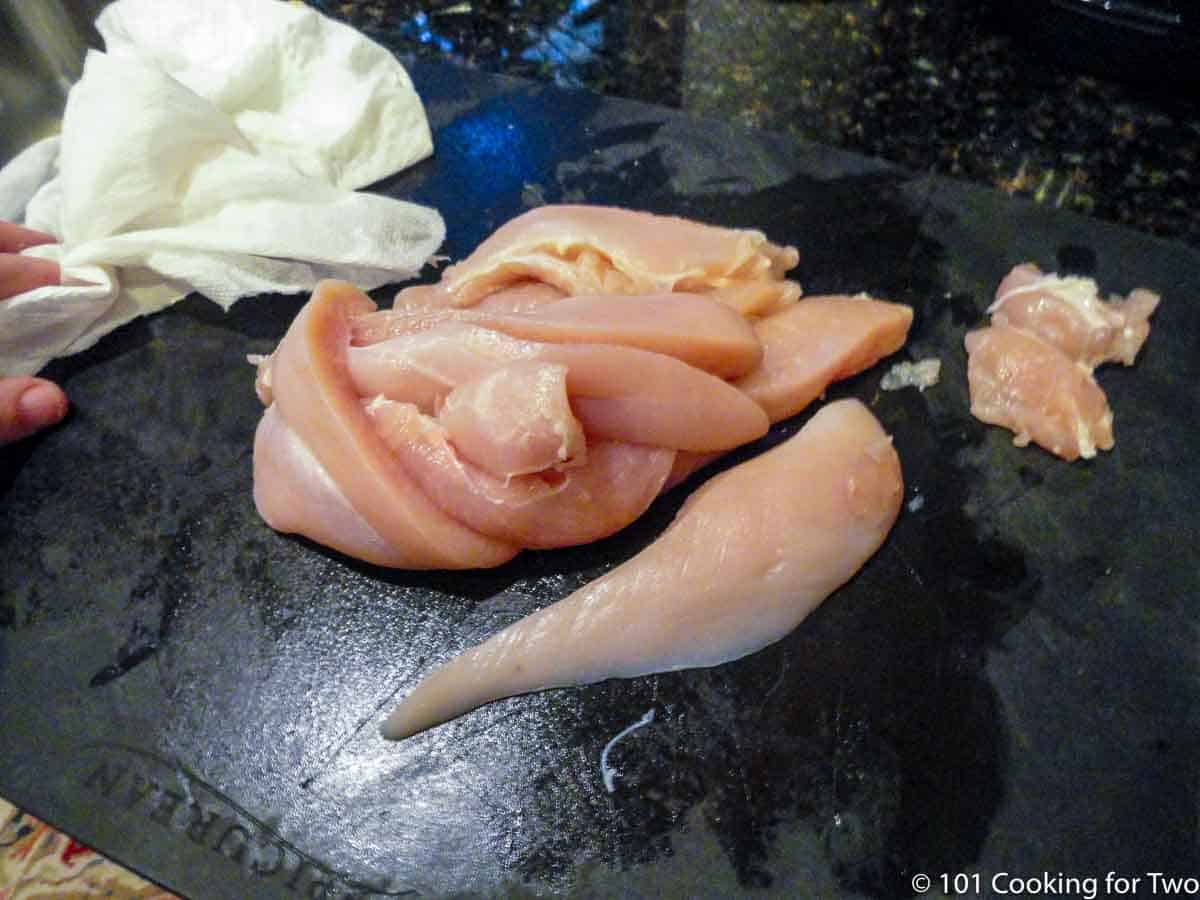 Clean and filet 1 to 1 ½ pounds of chicken breast.
Heat 1 tablespoons olive oil over medium-high heat in a large soup pot. Cook until internal temp of 165°. Do NOT clean pot.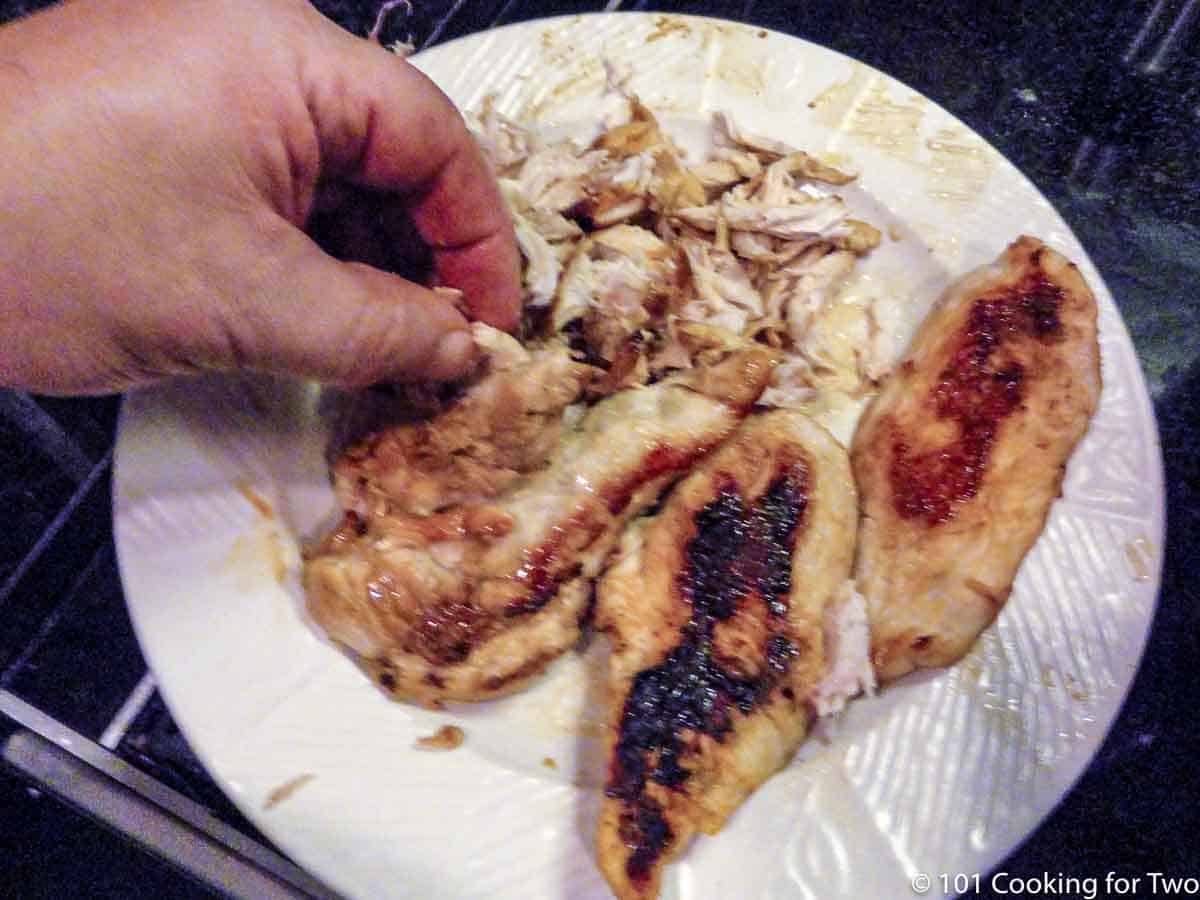 Let chicken cool for 20-30 minutes and then hand shred.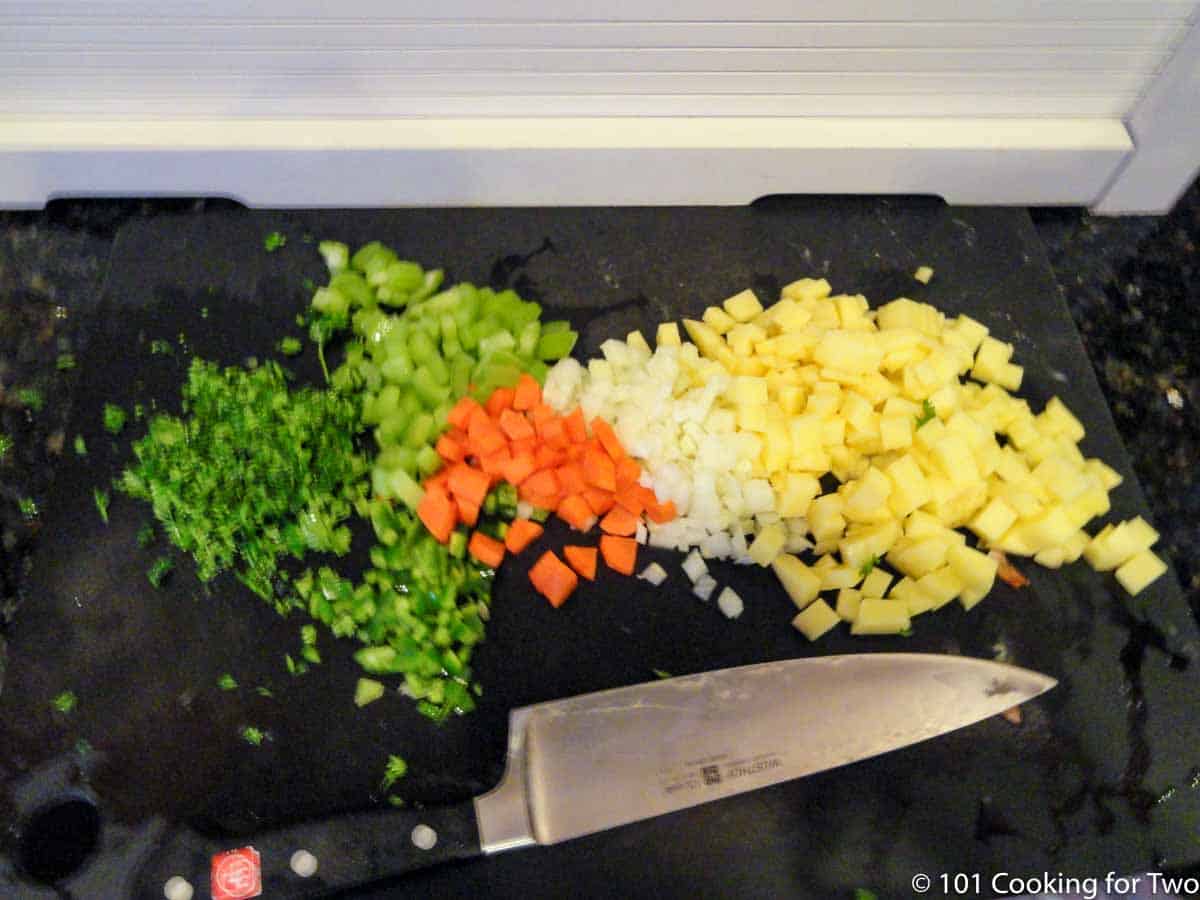 Knife skill time: prep the carrot(sliced), celery(chopped), potato(chopped), onion(diced), jalapeno(diced), parsley(chopped) and garlic clove(minced).
Put all ingredients into the uncleaned pot and bring it to a boil then decrease the heat to a simmer. Work the fond into the liquid with a wooden spoon.
Cook uncovered for 4 to 5 hours stirring frequently.
The color will change from red to brown. The soup will thicken and reduce by about 40 %.


Do you want more recipes from 101 Cooking for Two? Sign up for the newsletter and get all posts delivered straight to your inbox!
📖 Recipe
Editor's Note: Originally Published November 3, 2010. Updated with expanded options, refreshed photos, and a table of contents to help navigation.