Five minutes prep then do something else for two hours. You will have some great soup shortly after getting back with these easy to follow step by step photo instructions.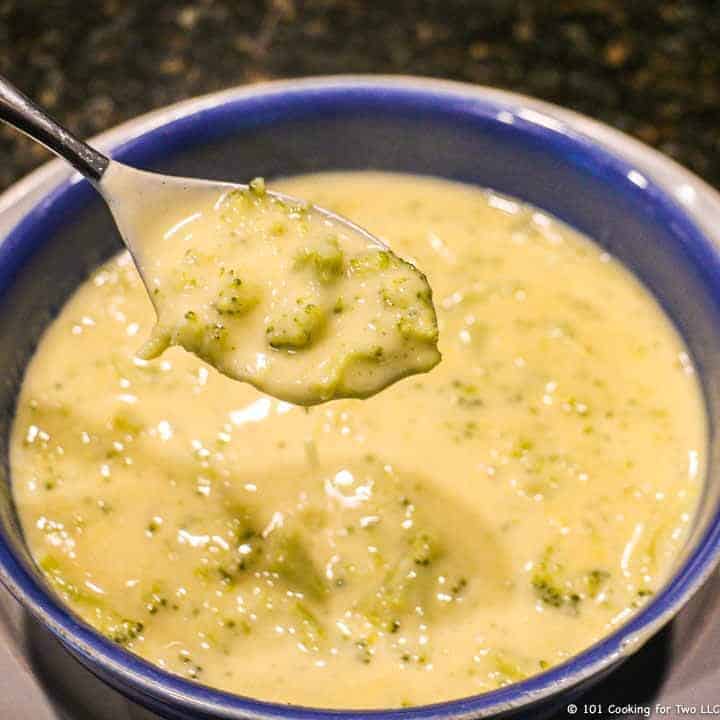 Introduction
This is a great soup for a busy household. With only a few minutes of prep, you can have a wonderful homemade soup ready on your schedule.
In addition to the delicious taste, this recipe is healthy and good on almost any diet. A serving of one cup coming in at about 200 calories, 9 grams of fat and 500 mg of sodium. I have rounded the numbers in the discussion, no need to comment, please.
For the low carb and keto diets, the carbohydrate load is already low. But if you skip the thickening, it drops under 10 gm of carbohydrate.
For low sodium people, the 500 mg of sodium will drop by about 200 if slip the added salt. There is already sodium coming from the cheese and milk.
My Rating

A very easy solid five rating.
👨‍🍳The Recipe
Minimal prep so you can just dump and run.
Great taste - as good as my stovetop recipe.
Flexible for various diets and needs.
I started one of my all-time favorite soups, Easy Broccoli Cheese Soup which was inspired by recipes from Pioneer Woman and Allrecipes.
I did my usual reading of 25 plus recipes for this crock pot version. The oddest thing was a major website using Cheese Whiz. I'm withholding the name of the site.
The two things in my previous recipe that many seem to have some issues with are the trimming of the broccoli and the creation of the roux at the beginning to help thicken the soup. To make this recipe even simpler, I'm addressing both of those issues.
🥦The Broccoli
In my previous recipe, I used fresh broccoli and had an option for frozen. I'm reversing that today to simplify prep for the busy people out there.
Frozen broccoli in the old days always came in a one-pound bag. Not any more. Most are 12 to 14 oz. But really with a soup like this anywhere from 12 to 16 oz is just fine.
More of an issue is the size of the florets. If you are running the soup through an immersion blender to smooth completely, you are good. But most people don't do that; I believe the broccoli needs to fit in a spoon.
So if your frozen broccoli is small size, like Birdeye Baby Broccoli Florets, you are mostly good, but all other frozen broccoli is much bigger and should be chopped up some before adding to the soup.
Fresh broccoli is fine for this recipe. One medium to a large bunch of broccoli will produce the needed approximately 2 cups when cleans and cut up.
✔️Tips
🥣Thickening
In my previous stovetop recipe, I made a roux with butter and flour to thicken the soup. That works great, but it seems to scare people. Plus, once you do that, you are mostly done with my stovetop recipe.
About half the recipes I reviewed started with a roux. And the other half mostly used a block of cream cheese or a can or two of cream of "blank" soup. I was not very happy with any of those and have chosen to use a slurry of corn starch near the end of cooking.
Corn starch will thicken very well, especially things with dairy products. But it will not freeze well. If you are planning to freeze this soup, use the stovetop recipe, or combine the two techniques.
🧀The Cheese
I fess up. I like Velveeta. So here I generally use sharp cheddar and Velveeta. But choose the cheeses you like. Most will want a mixture of different cheddars.
I use 2 cups of shredded cheese which is 8 oz. Frequently, I add more cheese, but it really is not needed. If I use Velveeta, I weigh the amount and cut into small cubes.
Copycat Panera's Broccoli Cheese Soup
If you want to copycat Panera's Broccoli Cheese Soup, then just add one cup matchstick-cut carrots and one stalk thinly sliced celery at the same time as the broccoli.
Make it Bacon Broccoli Cheese Soup
Everything is better with bacon. This is my wife's addiction. Chop three strips of bacon into ½ inch squares and fry until done. Drain and add along with the cheese.
♨️The Crock Pot
This is "cooking for two," so this is a smaller recipe. It makes about 6 cups total, and that fits nicely in a 3-4 quart crock pot. You can use a bigger crock pot. FYI, 4 cups equal one quart.
In general, a crock pot should not be over ⅔ full. So doubling the recipe will fit in 4 ½ quart size or bigger.
📖Soup Recipes
Easy Crock Pot French Onion Soup
Crock Pot Ham Bone and Bean Soup
See Our Best Soups for a round-up of our best soup recipes
Also added to Smaller Crock Pot Recipe Roundup

🖼️Instructions
Chop one small or ½ medium onion.
In a smaller crock pot (3-4 quart) mix 1 can (about 2 cups) of chicken broth, the chopped onion, ½ teaspoon salt, ½ teaspoon pepper, ¼ teaspoon garlic powder, and 2 cups of milk.
Add about 2 cups of broccoli. I suggest frozen baby florets which are small in size. If you use bigger frozen broccoli, you should chop it up some before adding. Or you can use fresh.
Mix well and cook on low for 2 hours. Check that the broccoli is tender. If not, extend the cooking time by 30-60 minutes. All crock pots cook differently.
Mash about half the broccoli with a potato mash while still in the crock pot. The exact amount is more your test and your broccoli. You may also use an immersion blender if you want.
Add 2 cups (8oz.) of shredded cheese of your choice.
If thickening, in a small bowl mix 4 tablespoons corn starch with about an equal amount of cold water. Mix until smooth.
Then add slowly to crockpot and mix well. Increase the crockpot to high and cook covered another 20-30 minutes until thickened.


Do you want more recipes from 101 Cooking for Two? Sign up for the newsletter and get all posts delivered straight to your inbox!
📖 Recipe
Originally Published September 20, 2019. Updated with expanded options, refreshed photos, and a table of contents to help navigation.