Better than restaurant quality, this Crock Pot French Onion Soup is an elegant classic soup for everyday or special meals. With its beefy broth loaded with caramelized onions, it will become a regular at your home with these easy step by step photo instructions.
Introduction
I love good French onion soup. I mean really love it. If it's on the menu, I usually make sure I have it.
Unfortunately, that means the good, the bad, and the ugly. I should put adequate on that list too. I can live with adequate, but most seem to be wanting and falling into the bad/ugly range.
My Rating

Very nice solid lower 5. You can make a little better French onion soup but with a lot more work. This is much better than most restaurants. I have had only a few better.
What is French Onion Soup?
From the 18th century, this traditional French soup can be used as an appetizer. But I love a bigger bowl for the main course.
Good onion soup is more than a beef broth with some onions. You need to get the caramelization going well, or you have nothing. You need some long cooking to get there.
Caramelization is the browning of sugar through the oxidation of those sugars. When correctly done, it results in a deep nutty flavor and brown color. Just what we need for a great soup
While many techniques require multiple rounds of caramelization on the stovetop, you can do it in a crock pot. I'm lazy... I pick number two.
Start by loading a slow cooker with some chopped up onions. Cook with butter, salt, pepper, and thyme. Add a little Worcestershire sauce to deepen the flavor. Cook on high for a long time, add the broth and cook a little longer. Then serve your favorite way. Yum...
The Onions
Regular yellow or white onions are best. I consider white and red onions equivalent to my usual yellow onions and some people like a mix.
Sweet onions like Vidalias, Mauis, Walla Wallas are probably not a good idea here. I don't like much sweetness here, and that may spoil the broth.
📋Other Ingredients
With many other recipes, you can use cheaper generic ingredients and get away with it. But with so few ingredients, quality matters here. So only use ingredients you trust.
The Broth
Very few commercial beef broths are above adequate, and many are just bad. I used Swanson broth here. I think it has improved in quality over the years and is quite good now. The Swanson stock is also good, but I detect no difference in use, so I don't spend the extra money.
Worcestershire Sauce
I'm using Lee and Perrins Worcestershire Sauce, which I trust, but I suspect there are other good choices. Worcestershire sauce will make the "beef" flavor really pop. It can be used in many cooking applications to boost that beef test, especially when using beef broth.
The Cheese and Bread
For the cheese, we like provolone, but some prefer gruyere or Swiss cheese. Again, quality matters.
Some crusty bread is used to float cheese on top. You can use what you want, but a nice crusty French baguette is my choice.
♨️The Crock Pot
The Crock Pot Size
This recipe can be easily double but could also be cut in half. The volume of this recipe is about 6 cups. Slow cookers should not be overfilled, which means more than 75% full. Most feel that bigger is fine but may cook a bit faster.
So this fits well in a small crock pot of 2 quarts minimum. Double recipes (what I suggest making) need 4 quarts or bigger.
Comments on crock pot temperature
Several readers have had trouble with 9 hours on high "burning." Whether they are interpreting deep caramelization for burning or they are really burnt, I can't say, but let's talk crock pots and their temperatures a bit.
Both low and high on a crock pot should be 212-degree range and just take different time to get there. That is all controlled by a thermostat that has improved over the years.
Some crock pots (especially older ones) can run over 300 degrees, and that maybe the issue. Also, even newer crock pots can have a malfunctioning thermostat.
So be advised that some crock pots may run hotter, so watch for "softened and deep golden brown" as the endpoint for the onions being done. I would say if your crock pot boils on low, it may be in the "runs hot" category, then use low for this recipe.
One other note, if you are using a full-size crock pot for this smaller recipe, you have less material to heat, and it may cook a bit faster. So right size crock pot is important or watch the endpoint carefully.
My 9-10 hours on high stands and is consistent with other similar recipes and less than Cooks Illustrated, which is 10-12 hours on high.
Storage
Store in an airtight container. Good refrigerated for 3-4 days and 3-4 months frozen.
📖Crock Pot Soups
Crock Pot Ham Bone and Bean Soup
Crock Pot Broccoli Cheese Soup
Thick Crock Pot Cheeseburger Soup
This recipe is part of Our Best Soups.

🖼️Step-by-Step Instructions
Start with simple ingredients.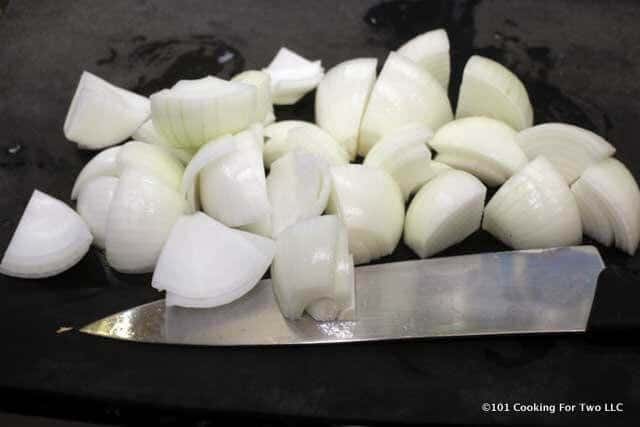 Chop 1 ½ pounds of onions about 3 medium size onions. Some people will want rings or some petals. Add to a smaller crock pot. If doubling the recipe, then a full-size crock pot is correct.
Add one teaspoon coarse salt, two tablespoons butter, ½ teaspoon pepper, 1 ½ teaspoon Worcestershire sauce, and ½ teaspoon thyme. The butter can go in unmelted, but you will need to stir in 1 hour or melt it first in the microwave.
Cook on high for 9-10 hours until nicely darker brown. Be warned that some crock pots may run hot, and please watch for the endpoint and don't go by time alone. Using a larger crock pot may also lead to cooking too rapidly. Then add 4 cups of beef broth and cook on high for at least one hour more.
Preheat broiler to high. Arrange ramekin or oven-safe bowls on a cookie sheet. Ladle hot soup it into the bowls, float toasted crusty bread on the soup.
Cover each bowl with cheese of your choice.
Broil until cheese is bubbly and golden, 2-4 minutes.


Do you want more recipes from 101 Cooking for Two? Sign up for the newsletter and get all posts delivered straight to your inbox!
📖 Recipe
Editors Note: Originally published July 12, 2015. Updated with expanded options, refreshed photos, and a table of contents to help navigation.