It's time for a roundup of ten of my best soups and stews. All with easy to follow step by step photo instructions to help you get it right the first time, every time.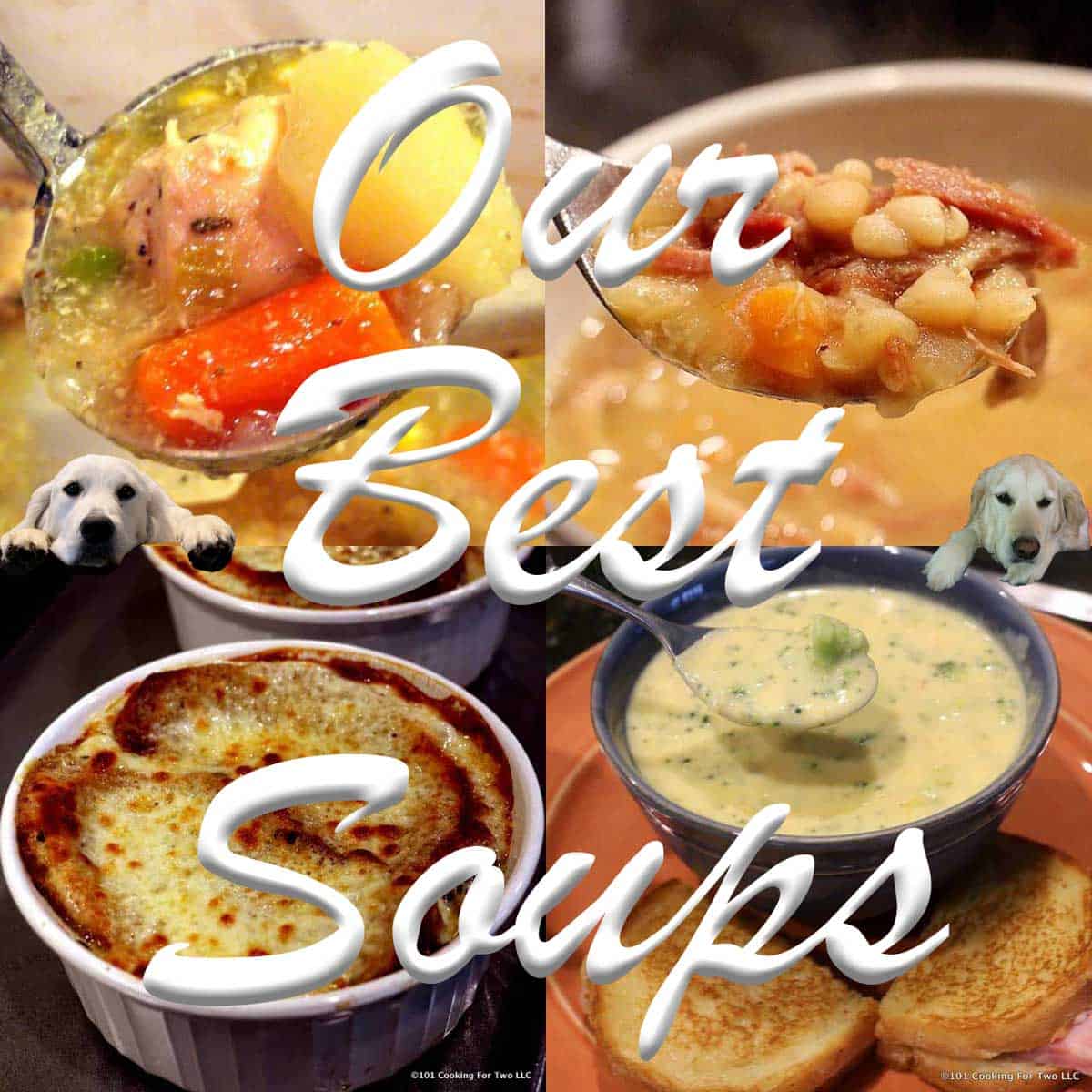 Editor's Note: Originally Published as "A Week of Soups" on January 6, 2018. At that time, I updated and republished a total of 9 recipes. I will be updating this roundup yearly with my current recommendations.
It is winter in Michigan, but you wouldn't know it this year. We finally have a few inches of snow, so a warm bowl of soup will be just right now.
I have selected ten of my best soup recipes for this roundup. There are stovetop recipes and some in a crock pot. There are beef, chicken, pork, and even two non-meat offering.

My Two Must Try Soup Recipes
Two super easy but wonderful soups.
One pot, one hour, one great soup. And oh so easy. Better than restaurant quality broccoli cheese soup for your family or company. You will love this soup.
Oh so simple and oh so good. Better than restaurant quality, this Crock Pot French Onion Soup is an elegant classic soup for everyday or special meals.

Old Fashion Soups
A collection of six soups with old fashion taste. All easy to make with simple instructions.
Wonderfully simple old fashion soup packed with great taste and good for you too. A wonderful fall or winter meal for just the two of you (with leftovers) or the family.
Classic chicken noodle soup made crock pot simple. Great homemade taste with these easy to step by step photo instructions. Bring on the cold weather; I'm ready now.
You've got a leftover ham bone so let's make some soup. There is nothing much more classic then ham and white bean soup. Use up that holiday ham bone with this traditional soup.
This great taco soup is low in fat and calories but is "kicktail" spicy with a ton of taste plus it is thick enough to be called taco chili. You won't believe this fits your diet.
This is a great tasting extra thick Cheeseburger Soup that will become a great addition to your cold-weather rotation. A "stick to your bones" type of soup.
Hearty beef barley soup with chunks of tender beef with some veggies and barley. A crock pot soup that you can start in the morning and eat in the evening.  Make a pot today for that cold weather day.


Stews
The idea of a crock pot is to make your life easier. Not much is easier than this family-pleasing stew. Using things you probably have on hand anyway, you spend about 10 to 15 minutes of preparation time and eat in 8 hours.
Thick and meaty, this is the best beef stew you will ever taste. Make this excellent stew with these easy to follow step by step photo instructions.

Do you want more recipes from 101 Cooking for Two? Sign up for the newsletter and get all posts delivered straight to your inbox!



If you enjoyed this recipe, the pleasure of a rating on the recipe card below is requested.
Originally Published: January 6, 2018