It's time for some great comfort food that will warm you to the bone on a winter night. These hardy soups are all easy to make and delicious.
Jump To:

It is time for a roundup of my best soup and stew recipes. We have traditional soups, a few change-of-pace soups, and some traditional stews. Don't miss my two favorites, Quick and Easy Stovetop Broccoli Cheese Soup and Crock Pot French Onion Soup.
There are stovetop and crock pot recipes. There are beef, chicken, pork, and even a few non-meat offerings.
Please see our complete Soup Recipes collection for other great choices.

Traditional Soups
A collection of eight soups with old fashion great taste. All easy to make with simple instructions.
Quick and Easy Broccoli Cheese Soup
This quick and easy Broccoli Cheese Soup uses fresh or frozen broccoli and cheddar, Velveeta, or other cheeses. Make it a copycat of Panera's Broccoli Cheese Soup or one of the other variations.
Crock Pot Ham and Bean Soup
Fire up the slow cooker to make some delicious ham and bean soup from that leftover ham bone. There is nothing much more traditional than this classic soup. Please enjoy one of the best soups you can make at home.
Crock Pot Beef Barley Soup
This hearty beef barley soup recipe has chunks of tender beef and vegetable with plump and tender barley. This easy comfort food only needs a few minutes of preparation, and your slow cooker will do the rest.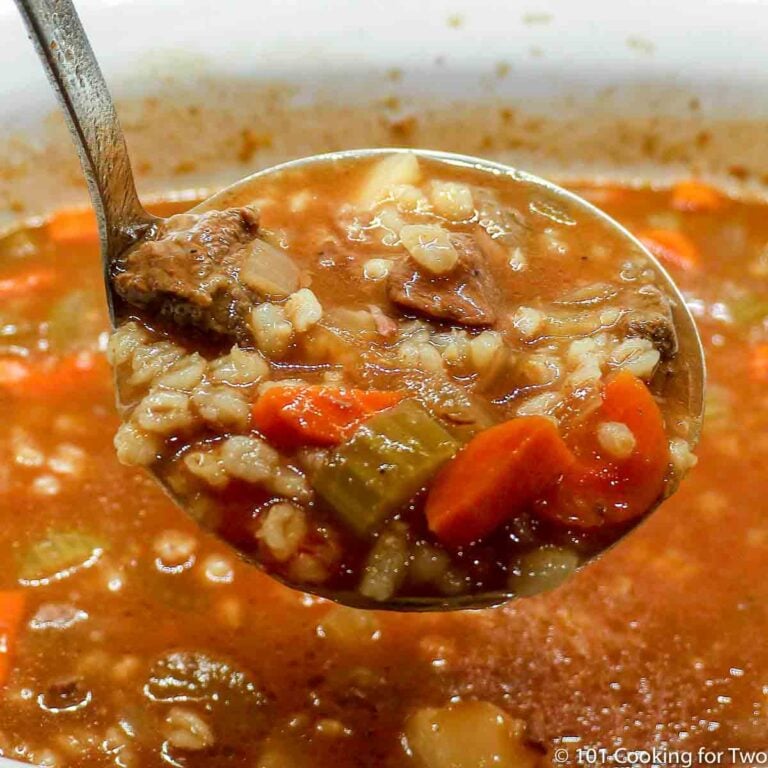 Full of Taste and Change of Pace Soups
Easy Pasta e Fagioli Soup—Stovetop or Crock Pot
Pasta e Fagioli soup is thick and hardy with beans, pasta, vegetables, a spicy tomato sauce, and optional meat. You can easily make this Olive Garden copycat at home on the stovetop or in your crock pot.
Beef Taco Soup
This is the best Beef Taco Soup you can make at home. Full of spicy flavor with tender ground beef and beans in a thick tomato broth.
Crock Pot Cheeseburger Soup
Loaded with ground beef and vegetables in a cheesy broth, this Crock Pot Cheeseburger Soup is an easy dinner the whole family will love.
Two Crock Pot Stews
There is nothing like a great hearty stew on a cold winter day. Give these easy recipes a try.
Small Crock Pot Chicken Stew
The perfect old-fashioned Small Crock Pot Chicken Stew recipe packed with tender chicken, potatoes, and lots of vegetables in a tasty broth. Quick and easy to make.
Small Crock Pot Beef Stew
Everybody will love this delicious crock pot beef stew with tender meat and vegetables. The ultimate comfort food that will warm you to the bone. This smaller beef stew recipe is ideal for a small household or is quickly doubled to full size.
Editor's Note: Originally Published as "A Week of Soups" on January 6, 2018. At that time, I updated and republished a total of 9 recipes. I will be updating this roundup yearly with my current recommendations.