Make it on the stovetop or in your crock pot, this hardy old fashion vegetable beef soup is like grandma would make. The perfect comfort food with tender beef and lots of vegetables.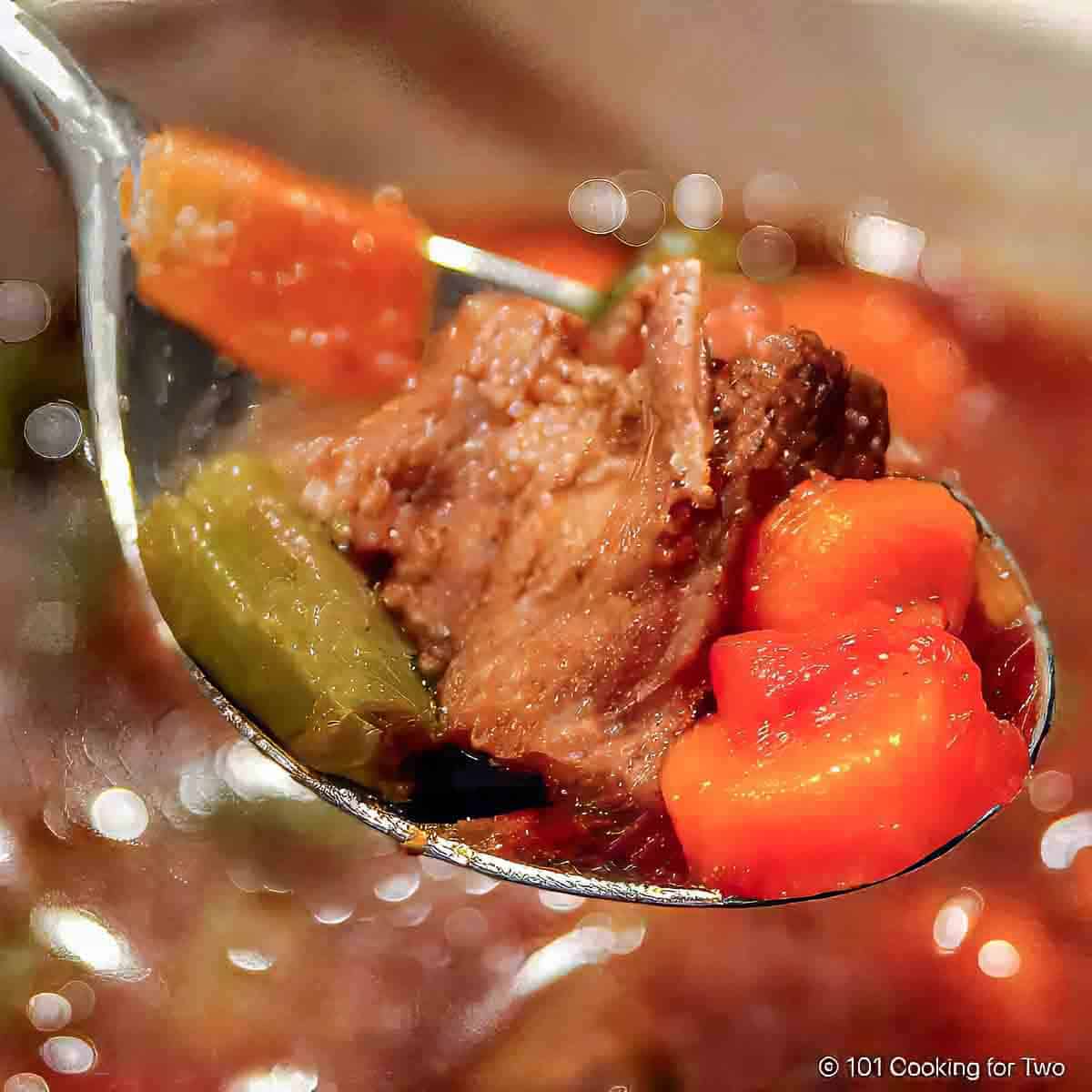 Introduction
This is a highly modified version of a recipe from our favorite 1972 cookbook. Yep, it is in bad shape, but all the recipes still work great. They are simple and cover almost anything you want in "everyday cooking." I recently eBayed a second copy.
Basically, you brown the meat, then add the veggies, and simmer until tender. Not that hard.
While originally a stovetop recipe, I have added a crock pot option that most people want.
My Rating

Exceptional taste with the tomato base.
🐄The Beef
Cut your own from a roast or just be lazy and buy it pre-cut. If you do the pre-cut, check it a little for anything that might need to be trimmed.
I suggest just trim up a beef roast into 1-inch cubes. Chuck roast trimmed, or something like a sirloin tip roast would be good.
One last thing on the beef, I like to brown the meat on the stovetop even if doing the crock pot method. I think it adds a lot of flavors. You can skip it if you want.
🥕The Vegetables
I suggest the traditional carrots, celery, and green beans. The carrots and celery should be fresh. The green beans can be fresh or frozen.
Other options would be potatoes and peas. If you do potatoes, do not add a lot since it can overwhelm the other veggies. I generally do not add potatoes, which seems more like beef stew to me.
If you do peas or corn, add frozen the last hour or so of cooking.
👨‍🍳The Spices
Salt and pepper are really enough. The original recipe includes thyme, marjoram, and a bay leaf. I feel all three of those are optional. Add them if you really want that old 1950's taste.
What is Marjoram, and Do I Need It?
Marjoram is a cousin of oregano but not as strong. It was a common spice years ago but not seen much anymore.
Recommended substitutes include half the volume of oregano, sage, or thyme.
But really, to me, they are not the same. There is very little marjoram in this recipe, and I would just skip it if you don't have it or bump up the thyme a little if you like thyme.
♨️The Crock Pot
As written, this makes about 3 quarts of soup. It needs a crock pot of 4 quarts or more. If you may double the amount if you have an 8-quart crock pot. For the more standard 6 to 6 ½ quart crock pot, it can hold a recipe increased by 50%.
Dump everything in and cook for 4 hours on high or 8 on low, but brown the meat first.
❄️Storage
This is good refrigerated for 3-4 days or frozen for 3-4 months. Like many soups and stews, the flavors come together, and it is even better the next day.
📖Crock Pot Soups
Easy One Pot Broccoli Cheese Soup
Thick Crock Pot Cheeseburger Soup

🖼️Step-by-Step Instructions
Photo Note: Images are from multiple cookings and may not match but are provided for illustration.
Trim and prep about 2 pounds of stew meat. Cut your own or just buy it.
Prep your veggies. 1 medium onion chopped, 1 large carrot peeled and cut into ¼ inch slices, ½ lb green beans cut into ¾ inch pieces (sub frozen if you want), and 1 rib of celery cut into ½ inch pieces.
Heat a large pot over medium-high heat with a teaspoon of oil. Add the beef and cook until well browned, about 10 minutes. Transfer to a crock pot if using one.
To the crock pot or the large pan, add 32 oz of beef broth. Add spices:1 teaspoon salt and ½ teaspoon pepper. Optional are ¼ teaspoon thyme, ¼ teaspoon marjoram, and 1 bay leaf.
Add one 15 oz can of diced tomatoes including the liquid and mix well. Simmer covered until carrots and the meat are tender — about 90 minutes on the stovetop. If using a crock pot, 8 hours on low or 4 hours on high.


Do you want more recipes from 101 Cooking for Two? Sign up for the newsletter and get all posts delivered straight to your inbox!
📖 Recipe
Editor Note: Originally published October 11, 2011. This was my favorite soup as a child, and this is a wonderful rendition. Updated with expanded options, refreshed photos, and a table of contents to help navigation.