This simple classic chicken noodle soup can be made in a crock pot or on the stovetop—get a great homemade taste with this Betty Crocker inspired recipe. Bring on the cold weather; I'm ready now.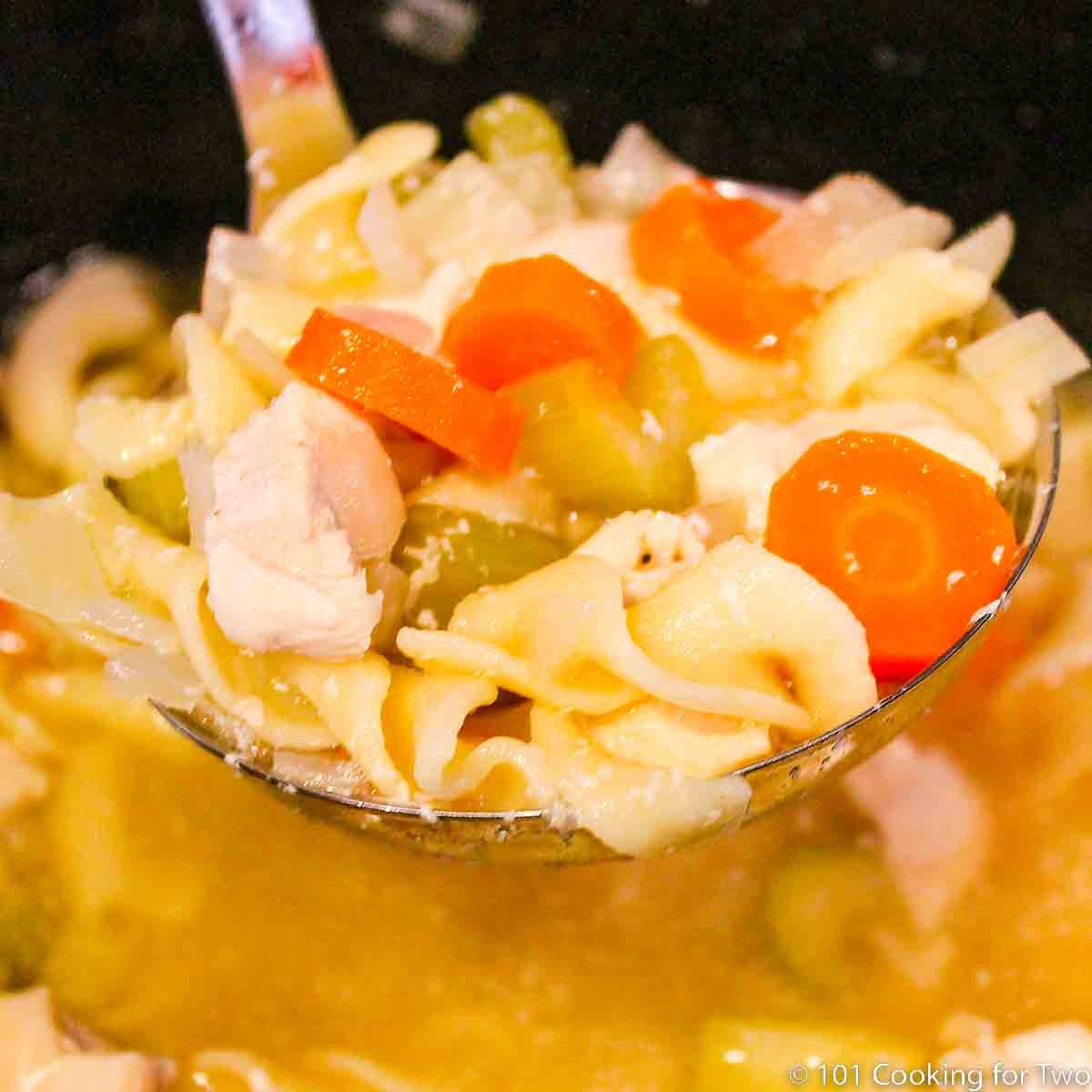 Introduction
A warm and comforting soup with chunks of chicken with lots of vegetables and noodles is just like grandma would make since it is from her recipe.
I love simple, really simple. This recipe is right up my alley: no precooking things and no taking the chicken out of the pot to cut it up.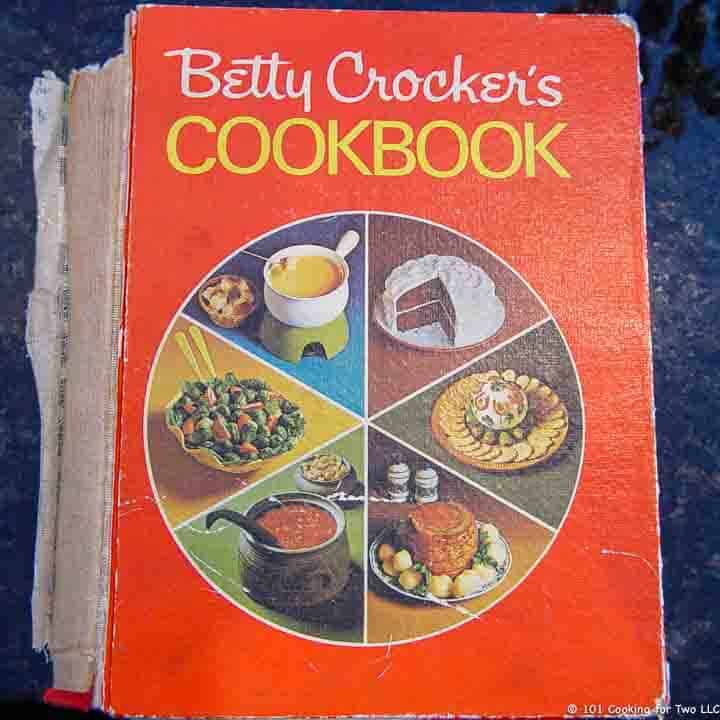 I read multiple recipes as usual, but I ultimately used my wife's favorite recipe and added a conversion to a crock pot. The original source is the 1972 Betty Crocker Cookbook.
My Rating

A very nice chicken soup. But since it is just chicken soup, it can only be a 4.
🐓The Chicken
I tend to use skinless boneless chicken breasts for everything. But boneless chicken thighs would work great here.
I also do cubed chicken here. But if you want shredded chicken, put the whole breasts in the crock pot (not frozen), and at the 3-hour mark when adding the noodles, remove the chicken, shred and place back into the crock pot.
You can also use pre-cooked chicken and add it with the noodles.
👨‍🍳Variations
The recipe, as stated in very good. I like a lot of meat and veggies in my soup.
If you want more soup with lots of broth, add another 14 oz can of chicken broth. Most of you will want the extra broth.
If you want a lot of noodles, add the can of broth plus ½ cup more of noodles. Don't add the extra noodles without the broth, or you won't have any broth left.
♨️Crock Pot Version
This fits nicely in a 3-½-quart crock pot. You can cook this recipe in a larger crock pot, and you could double the size if using the larger crock pot.
I only cooked this on low. Most crock pot recipes cut the time in half if cooked on high. I'm not convinced that would work well here. The veggies took the whole 4 hours, and I don't know the effect on the timing of the noodles. If you try it, please comment on the results.
♨️Stovetop Version
To do this on the stovetop, add everything but noodles to a Dutch oven and simmer for 1-½ hours until carrots are tender and chicken is 165°. If doing whole raw chicken, remove and shred at this point.
If using pre-cooked chicken, then add at this point. Bring to boil and cook noodles per package instructions.
✔️Tips
The Pasta
I suggest commercial egg noodles and my timing reflects that. If you use a non-standard pasta, especially if it has a quick cooking time, you need to assume my time estimates are incorrect and start watching your pasta starting at about the time suggested on the package.
Even with the commercial egg noodles, check them a few times during the cooking.
Storage
Good refrigerated for 3-4 days. The pasta will absorb some of the fluid during that time and may need some added broth. If you are planning on freezing part of this, I suggest removing that amount before adding the pasta. It will freeze well for 3-4 months.
📖"Comfort Food" Soups
Easy One Pot Broccoli Cheese Soup
Old Fashion Vegetable Beef Soup
Easy Crock Pot French Onion Soup
Crock Pot Ham Bone and Bean Soup

🖼️Step-by-Step Instructions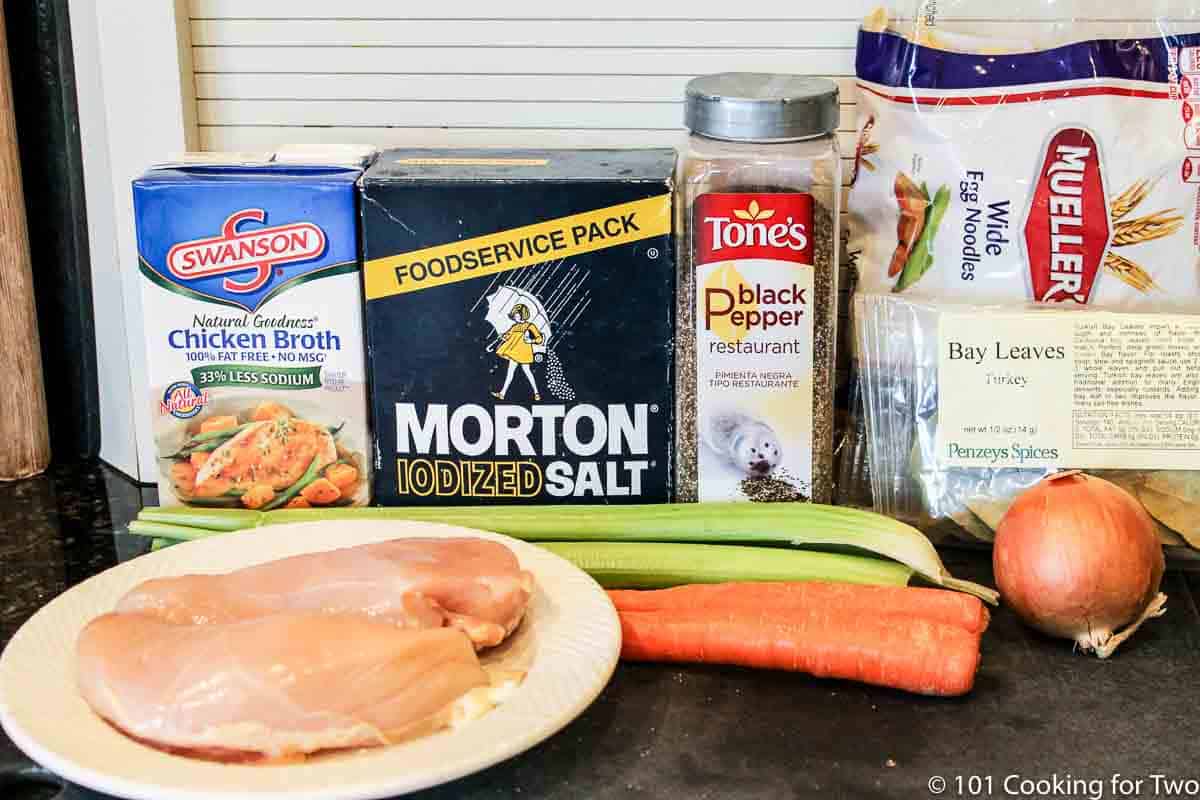 This is a four to six serving recipe. You can cut in half easily, but you want a few leftovers.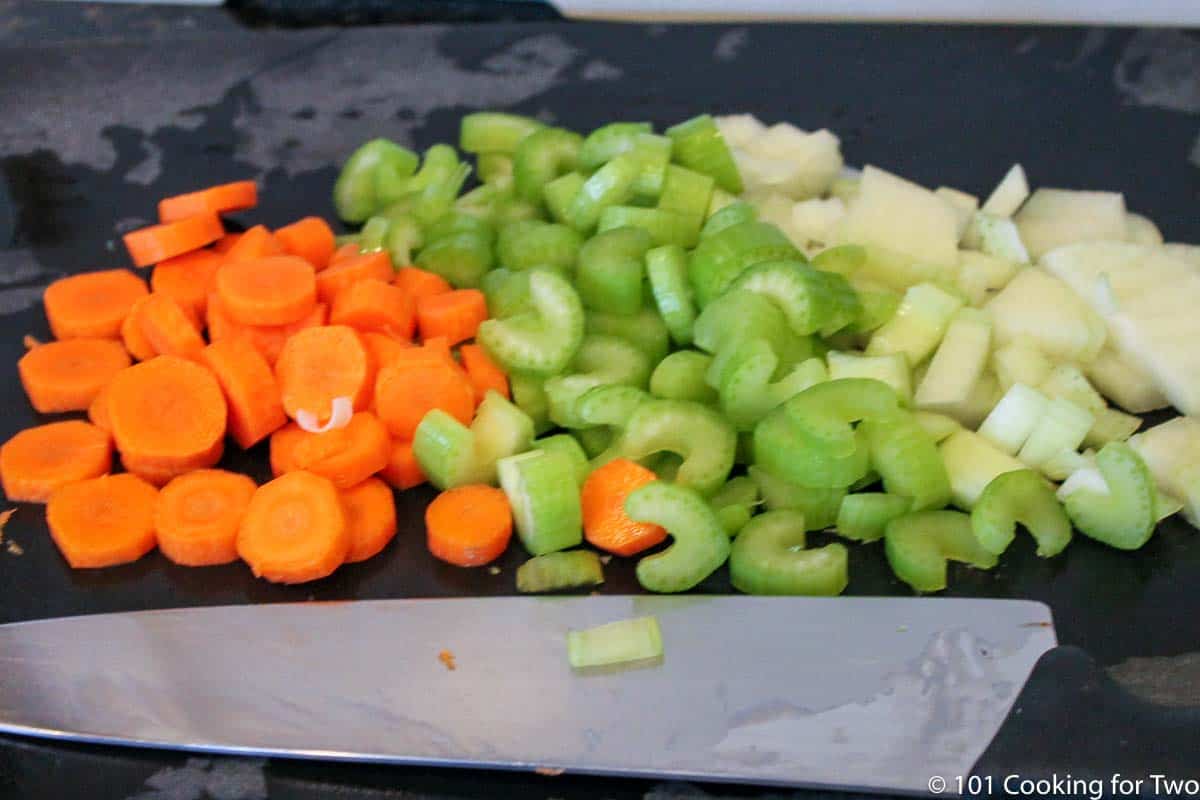 Peel and cut two carrots into medallions, medium onion chopped, and slice two ribs of celery.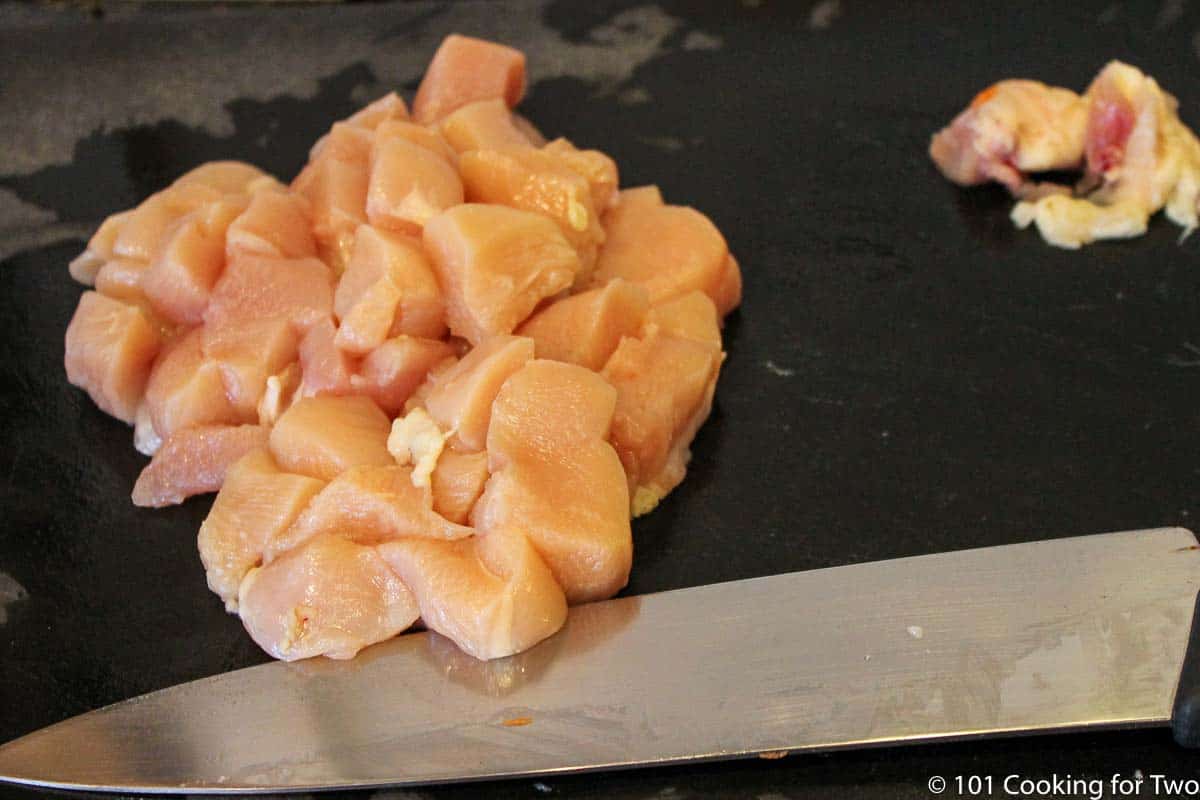 Trim and cut two skinless boneless chicken breasts into cubes. From this point on, the instructions are for the crock pot version. See the Pro Tips in the recipe card for stovetop instructions.
Add the chicken and veggies to a small slow cooker (3 ½ qt.). Add 32 oz of chicken broth or stock, one bay leaf, ½ teaspoon of salt, ½ teaspoon pepper. one 14 oz can more of broth if you want a lot of liquid in your soup. Most of you will want this extra broth. Cook on low for 4 hours in the crock pot.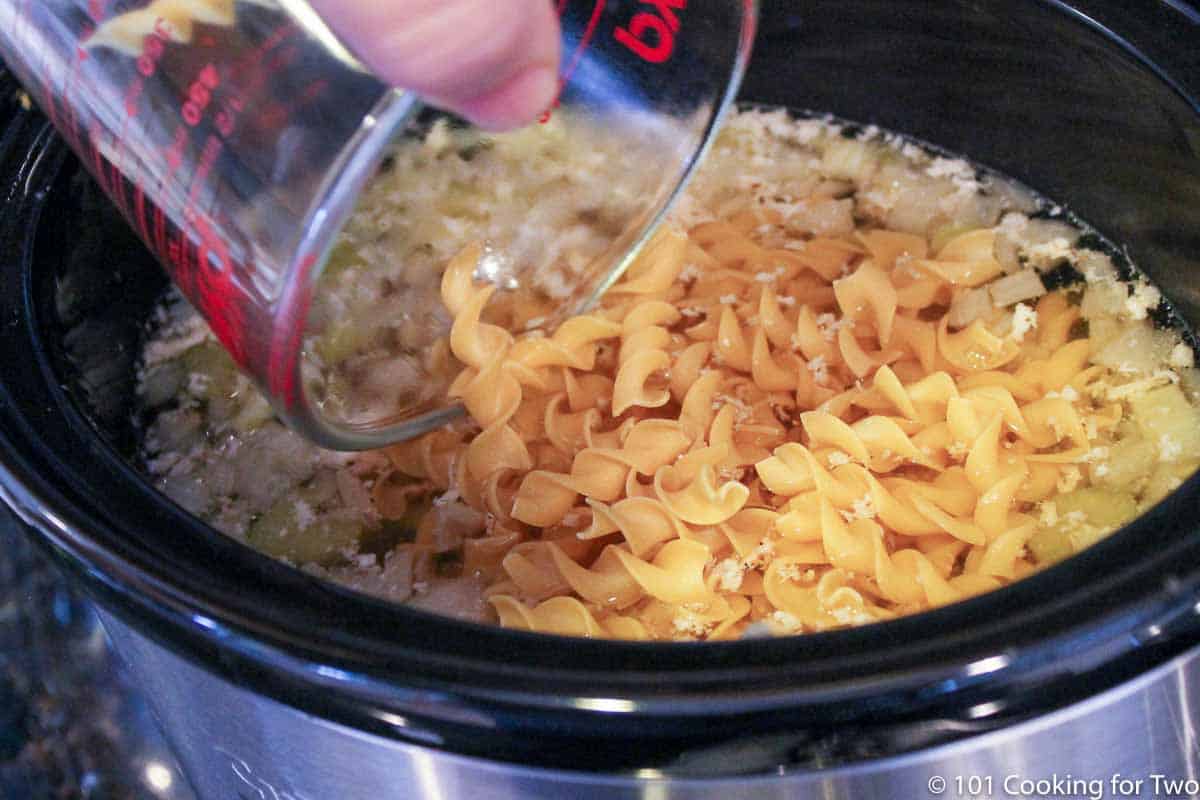 After the first 3 hours in the crock pot, add 1 ½ cups of dry noodles and let cook for the final hour. If you like a lot of noodles, add another ½ cup of noodles BUT do not do this without adding more broth from the previous instruction. I suggest standard commercial egg noodles. Please check the pasta every 15 minutes until done. If you use non-standard pasta, you should check the pasta more frequently.


Do you want more recipes from 101 Cooking for Two? Sign up for the newsletter and get all posts delivered straight to your inbox!
📖 Recipe
Editor's Note: Originally published November 20, 2012. Updated with expanded options, refreshed photos, and a table of contents to help navigation.