Nothing's better than roasted veggies unless they are grilled. Now you can do them on your grill while you cook your dinner. A delicious blend of mixed vegetables cooked on the grill!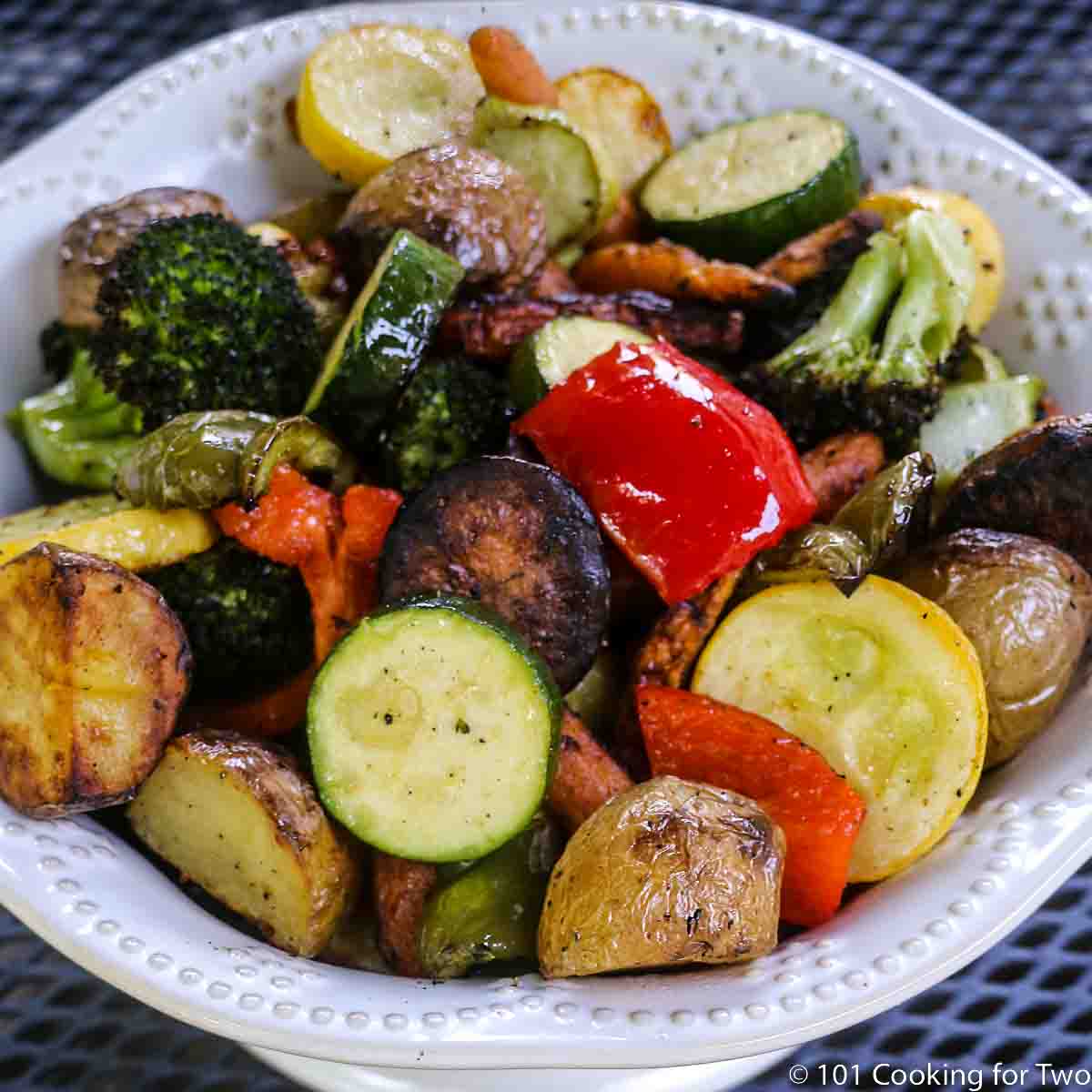 Introduction
It's time to enjoy some great grilled veggies with all those grill meals this summer.
The idea is simple. Treat the grill as an oven, kind of at least. Most of my grilling is done in the 450°-500° range, and I have a large grill surface. So somewhat like an oven, but there is that direct heat thing going on, so give all the veggies a nice coat of olive oil and season to taste.
Make sure to give it a good stir every 5 minutes, and you can grill almost any veggie in a grill basket. Please note... NO ALUMINUM FOIL.
My Rating

An easy 5, great taste, and I do this over and over.
♨️The Grill
The general grill surface temperature range to cook vegetables is about 450°. So they go will with other things like pork tenderloin, pork chops, or most chicken recipes.
If you are cooking something at a higher temperature like burgers or steaks, you will burn the outside of the vegetables before the inside is done - not a good thing.
If you use a lower temperature, it will take longer, but usually, the results will be acceptable.
Please note, we are talking about the grill surface temperature and not the temperature on your hood thermometer, which is totally useless. Please see A Beginners Guide to Grill Temperature on a Gas Grill.
🥕The Vegetables
The cooking time for vegetables will vary some by the type of vegetable.
Root vegetables, like potatoes and carrots, will take longer. About 30 minutes for 1-inch chunks of potatoes and 25 minutes for thinner carrots.
Note that a done potato has an internal temperature of at least 190°, but 200°-210° is much better.
Softer vegetables like broccoli, peppers, zucchini, bell peppers, and yellow squash will take about 15 minutes.
But what if you want different veggies. Here is a general guide from VegKitchen that should help. Or, as always, Google is your friend.
Be sure the veggies have a coat of oil. Plus, a little salt and pepper. I used my All Purpose Seasoning - 7:2:1 and 7:2:2.
📖Grill Side Dish Recipes
Brown Sugar Cinnamon Glazed Grilled Pineapple
Grilled Stuffed Tomatoes; Italian Style

🖼️Step-by-Step Instructions
Preheat the grill to 450°-500° range surface temperature. That is medium-high on most grills.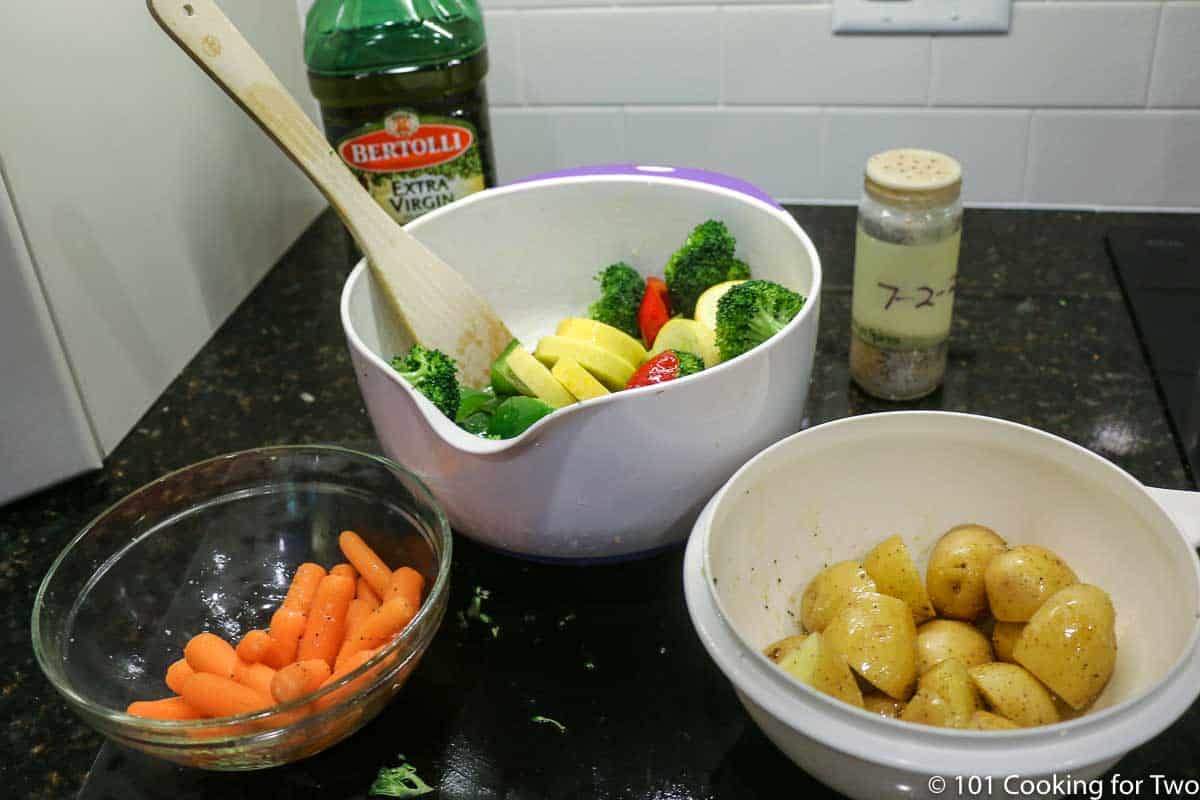 Prep the veggies you want. I'm doing small potatoes cut into about 1-inch pieces (30 minutes). Baby carrots (25 minutes). Broccoli, peppers, zucchini, and yellow squash all at 15 minutes. Give them all a nice coat of oil and season with some salt and pepper to taste. I used my 7:2:2 seasoning.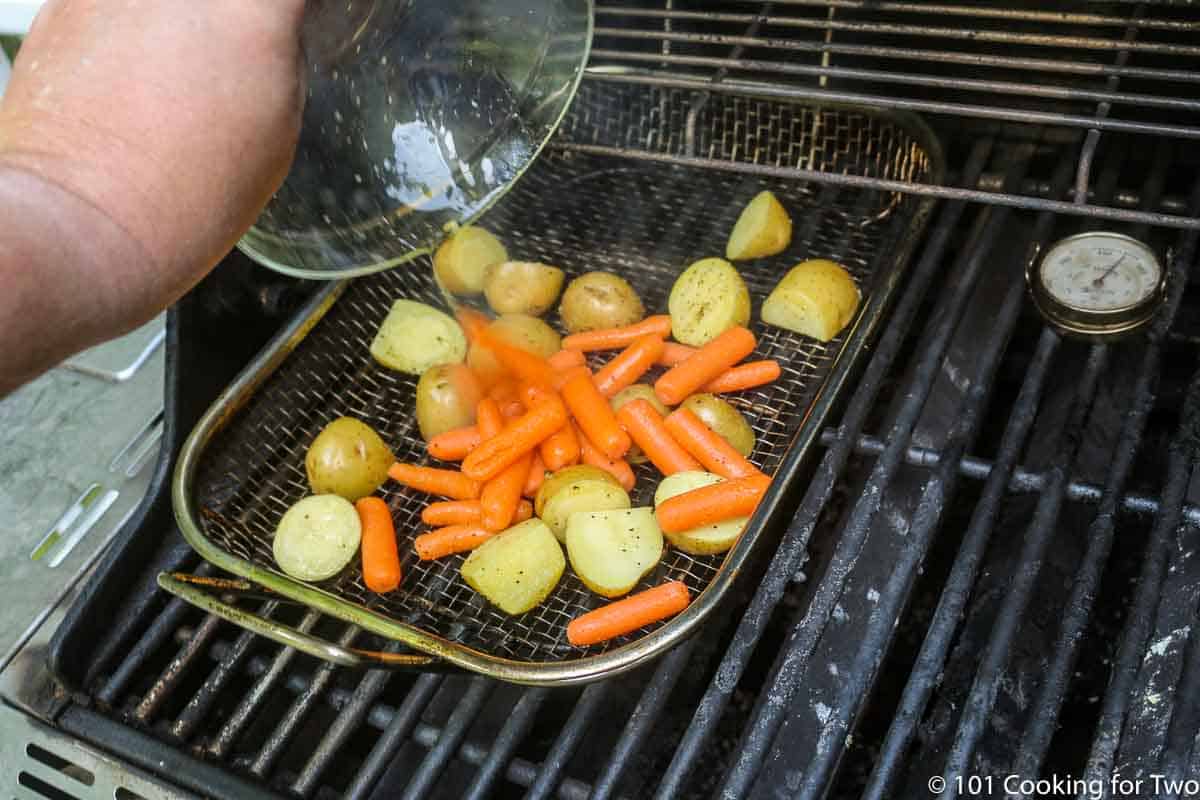 Start grilling with a closed hood and stir every 5 minutes. Potatoes first, then at the first stir, add the carrots.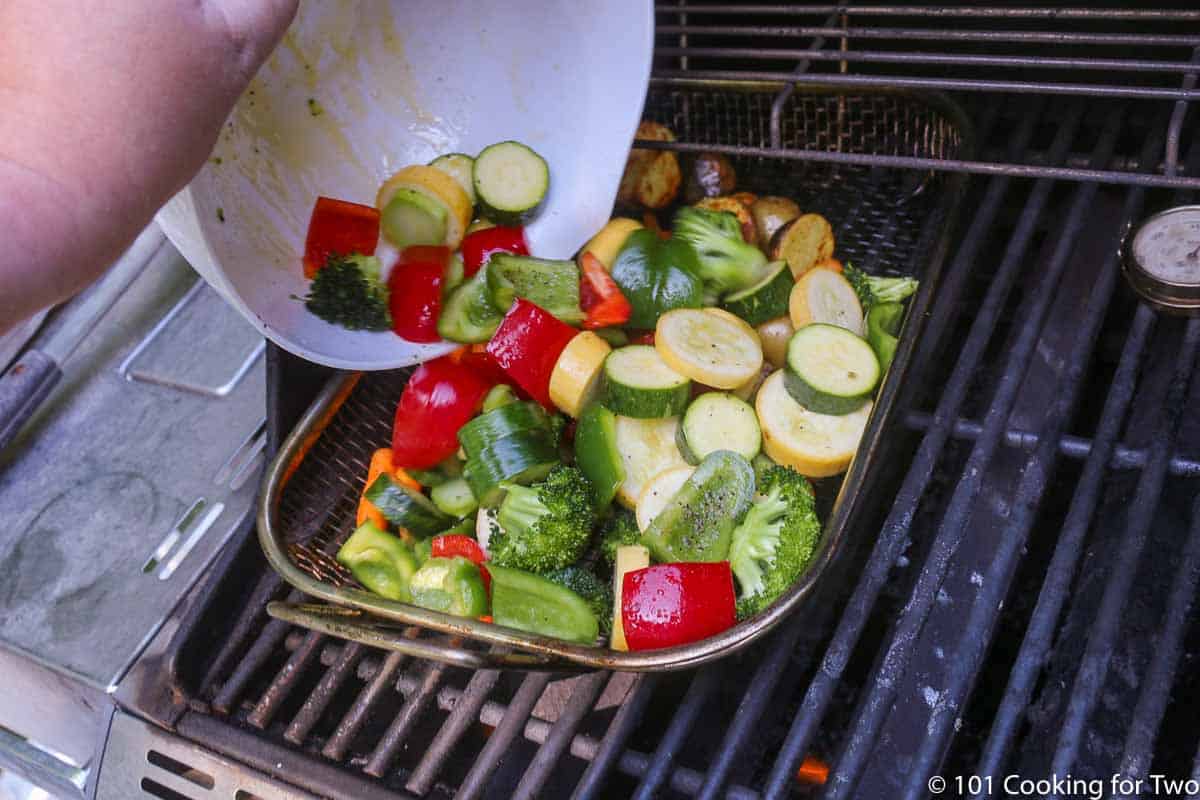 At 15 minutes into cooking, add the other veggies.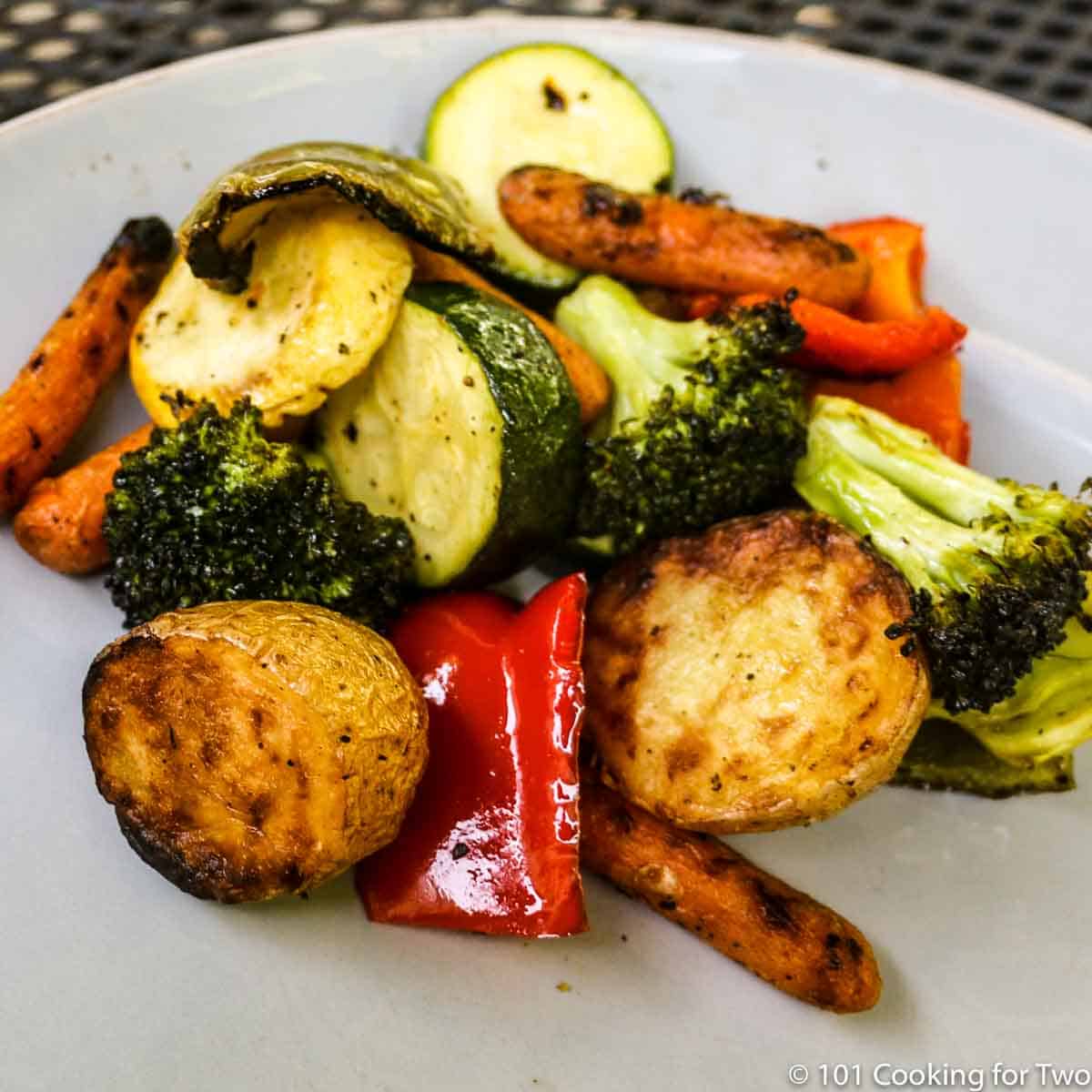 Serve immediately.


Do you want more recipes from 101 Cooking for Two? Sign up for the newsletter and get all posts delivered straight to your inbox!
📖 Recipe
Editors note: Originally published June 11, 2016. Updated with expanded options, refreshed photos, and a table of contents to help navigation.