Make that steak or vegetables pop with this wonderful blue cheese and garlic compound butter. Add layers of butter, garlic, and blue cheese to make the meal extra special.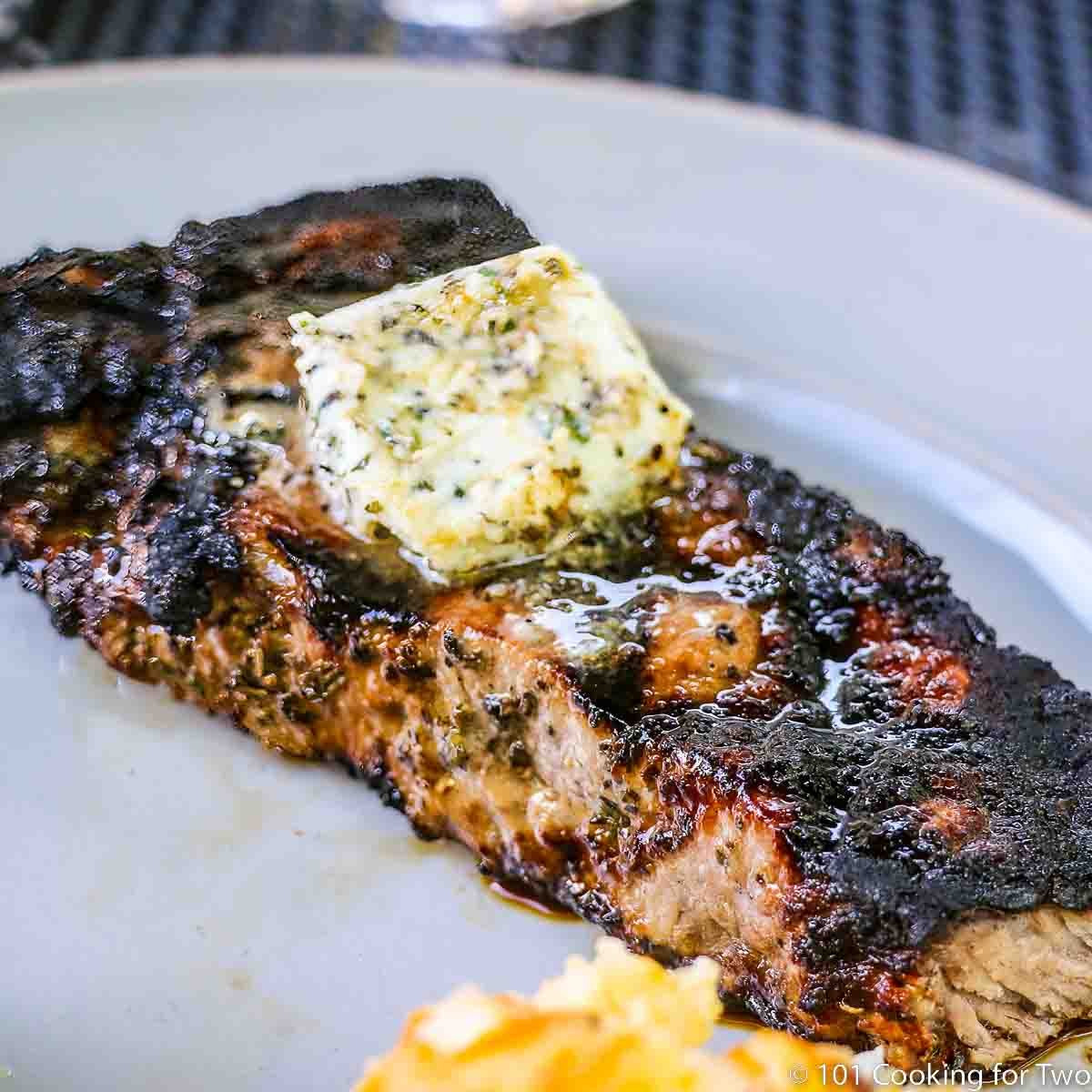 Introduction
There are as many compound butter recipes as there are people. Well almost.
After reading many of these recipes, we came up with what my wife really wanted, great blue cheese taste with a bunch of garlic and butter. We have repeated this many times since.
My Rating

Excellent addition to steak, veggies, or even a baked potato.
🧂Ingredients
The Butter
I use regular salted butter softened a little be sitting at room temperature or softened slightly in the microwave. If you use unsalted butter, you should add about one-quarter teaspoon of salt.
The Blue Cheese
Blue cheese crumbles are made for salad toppings and are perfect here but you can use any blue cheese you have and just break it up to incorporate it completely. ½ cup of crumbles is about 2 ozs of weight.
Other Ingredients
Now comes the fun. You can add almost anything you think would be good: Garlic, fresh herbs, shallots, scallions, spices, zest from fruits, cheeses, but almost anything you want. Now, I think the combination I have here is exceptionally good, and my wife has made me repeat it many times.
👨‍🍳Uses
Most commonly, compound butter is added to steaks. We commonly use it on strip steaks to make them exceptional for special dinners. But use it on any steak like ribeye or t-bones.
It will also add a ton of flavor to vegetables or a baked potato.
A little goes long ways. A tablespoon or two is more than enough for lots of flavors.
❄️Storage
While butter stores well, there are fresh components here. I feel that 3 to 4 days refrigerated is as long as I would trust it.
For freezing, I generally will cut the compound butter into slices of about a tablespoon each, seal tight, and flat before freezing. We can then take out a few when needed. They are good for 2 to 3 months.
🐄Steak Recipes
Pan Seared Oven Roasted Strip Steak
How to Grill a Strip Steak on a Gas Grill
How to Grill a Ribeye Steak on a Gas Grill
How to Grill a T-bone or Porterhouse Steak - A Tutorial

🖼️Step-by-Step Instructions
Allow one stick ( ½ cup) butter to come to room temperature. You can speed that up some with the microwave.
Combine with ½ cup blue cheese crumbles. One tablespoon fresh chopped parsley, one teaspoon dry basil, and two cloves crushed garlic.
Form into a roll in parchment paper and allow to firm up in a refrigerator for 1-2 hours before serving.


Do you want more recipes from 101 Cooking for Two? Sign up for the newsletter and get all posts delivered straight to your inbox!
📖 Recipe
Editor's Note: Originally Published July 10, 2016. Updated with expanded options, refreshed photos, and a table of contents to help navigation.