Everybody will love these tasty and tender marinated steak kabobs made with strip or sirloin steak. Easy enough for family dinners but eloquent enough for company.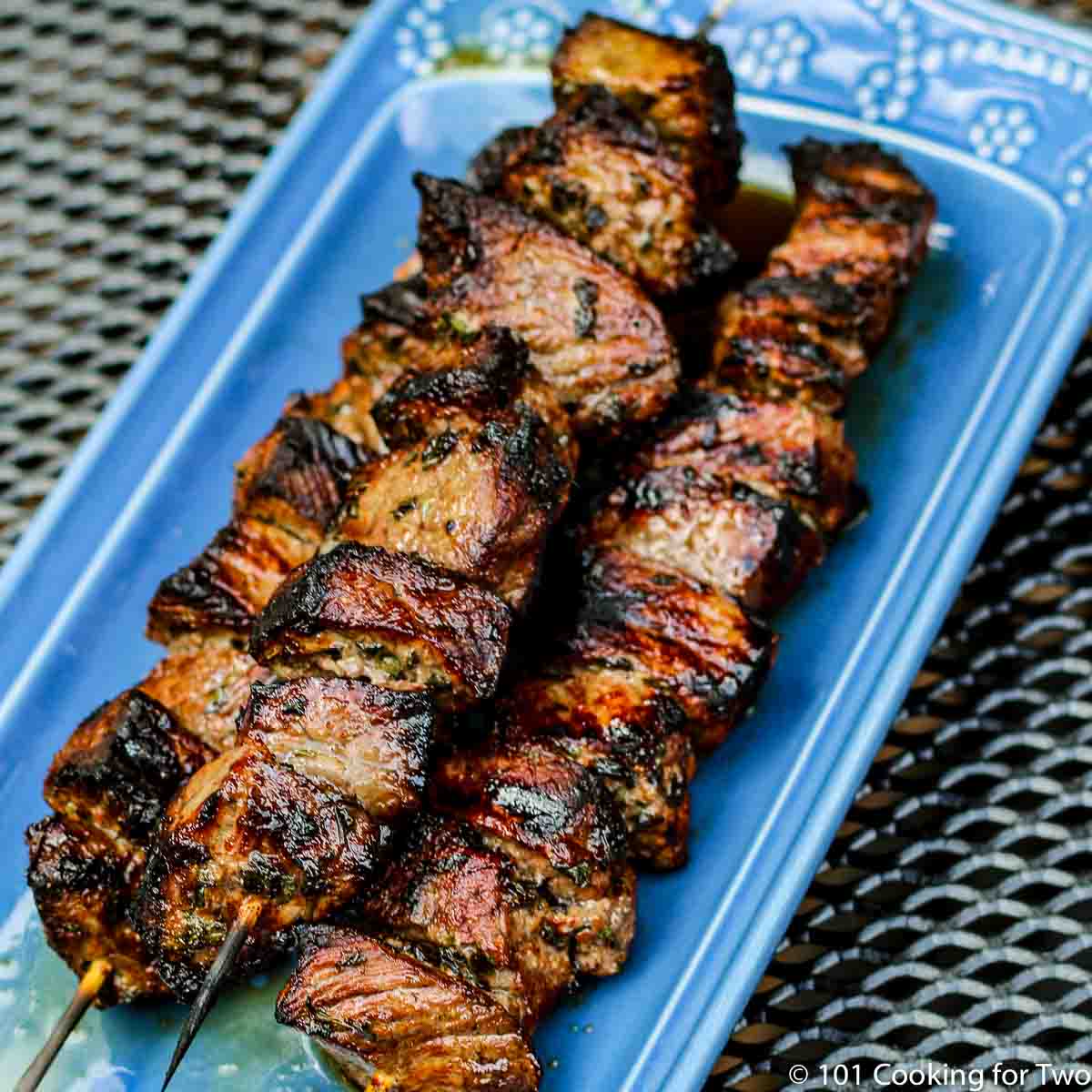 Introduction
I love kabobs. They are just fun. What is better than meat on a stick? You could add veggies between the steak chunks for a complete meal, but I tend to cook my meat separately as veggie kabobs.
We cheat occasionally. I occasionally buy premade, season, and tenderized sirloin steak kabobs at our local store. They are nicely done and just a great time saver. Buy, turn on the grill, and cook. So easy.
But it was time for my own version with very little work you can step it up a few notches. Using just pantry staples, you can make a great kabob marinade everybody will love. Step the meat up to strip steak or top sirloin will just add to the great taste.
My Rating

High 4 to low 5. Varies with your meat choice. The marinade is a strong 5.
🐄Steak
I like to use top sirloin steak or strip steak cut into 1-inch chunks. Strip steak is a step up from the sirloin and a bit more tender.
Yes, filet would be great, but I have better things to do with good filets. You can use lesser sirloin, but it is a bit chewer but still good due to the marinade tenderizing.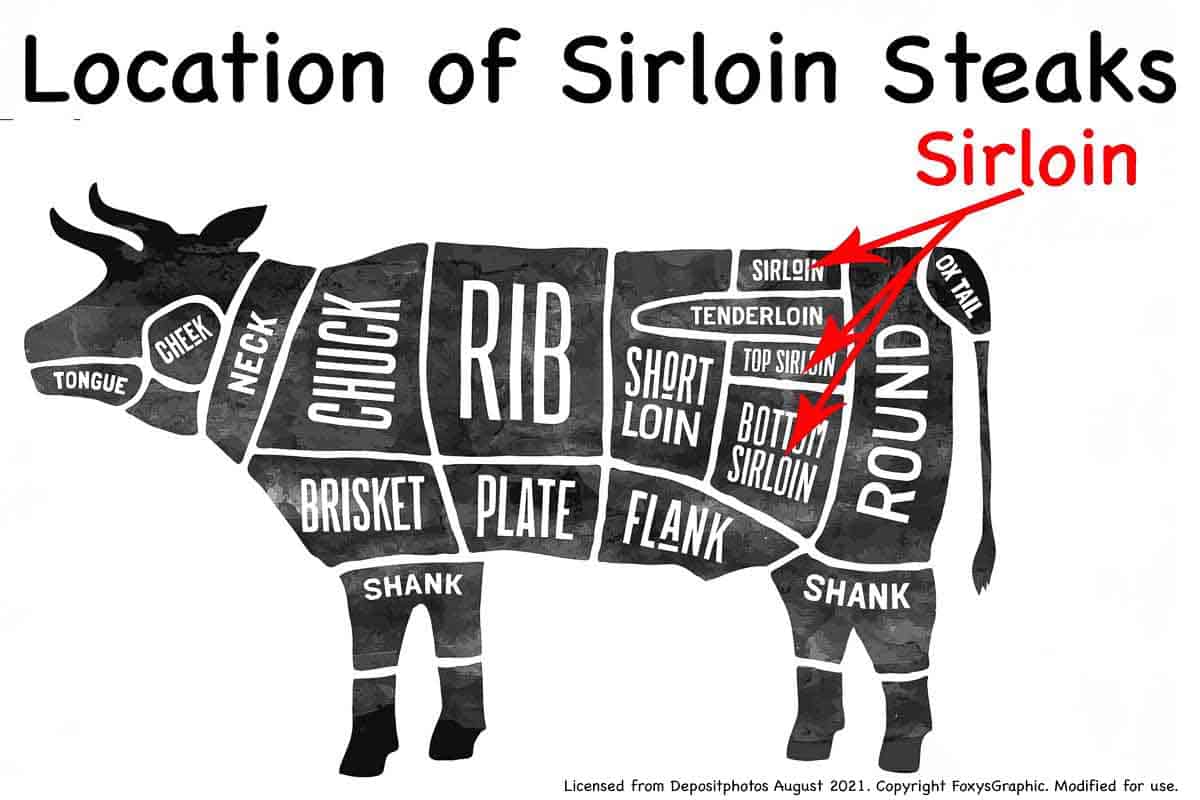 🥣Steak Marinade
A marinade is used to tenderize and to add flavor. While we all love grilled steak, adding more taste and tenderness is always a good thing.
I read maybe 20 marinade recipes, but in the end, I have a great marinade, The Best Steak Marinade. It has great taste and handles the heat of a grill on high great without burning.
This marinade uses pantry ingredients you already have on hand. There is olive oil, soy sauce, lemon juice, and Worcestershire sauce along with common spices. I also suggest white pepper for a special taste but use black pepper if you don't have that.
A final note on terminology. A marinade is a liquid, so it is a noun, while marinate is a verb.
✔️Tips
Adding Vegetables
I frequently add the veggies on the same kabob as the meat. That usually works out ok. If you elect to do that, some big chunks of green or red peppers or wedges of red onions are my favorites. They need a light coat of oil.
But I consider veggies vs. meat a bit of a grilling mismatch. They just don't cook the same. So even though it looks so nice, I suggest separation is best.
Vegetable Kabobs
If cooked on separate kabobs, the standard onion and bell peppers will cook in about 10-12 minutes. But if mixed in with the steak, they will take about the same time.
The Skewers
I tend to use metal skewers, but really on beef, I prefer wood. Why? I don't really need the center to cook faster.
With chicken and veggies, I prefer metal with the heat transfer but not for beef. I prefer wood. The wood skewers should be soaked in water for several hours before grilling so they don't burn up.
Serving Size
Lastly, I suggest about ½ pound of meat as a serving size. There is enough marinade here for about 4 servings. If you are doing more, just increase the marinade.
📖Kabob Recipes
Buttermilk Ranch Chicken Kabobs

🖼️Step-by-Step Instructions
Pictures are for 3 servings, but recipe and comments are for 2 servings.
Mix marinade 4 tablespoons olive oil, 3 tablespoons soy sauce, 3 tablespoons lemon juice, 2 tablespoons Worcestershire sauce,1 ½ tablespoons dry basil, 2 teaspoons garlic powder, 2 teaspoons dry parsley flakes, and ½ teaspoon white pepper.
Trim the steak of trimmable fat and cut into 1-inch cubes.
Combine marinade with steak cube and mix well. Refrigerate for 2-6 hours—but overnight is fine.
Clean, oil, and preheat grill to high. Place steak on skewers.
Grill over high direct heat. Flip every 3-4 minutes—grill to your desired internal temperature. For me, 12 minutes to get 145°.
Allow to rest for 5 minutes before serving.


Do you want more recipes from 101 Cooking for Two? Sign up for the newsletter and get all posts delivered straight to your inbox!
📖 Recipe
Originally Published August 28, 2017. Updated with expanded options, refreshed photos, and a table of contents to help navigation.