This wonderful barbecue sauce is the perfect complement to pork, beef, or chicken. A sweet and tangy sauce with a touch of spice that will become your summer favorite.
Introduction
We are coming into grilling season, and it is time to impress your friends and family with your "secret" homemade BBQ sauce. This is the best BBQ sauce you will ever try. It would make cardboard taste great. I don't use the term "best" lightly, but this qualifies.
This is a copycat recipe from an Ann Arbor institution, Zimmerman's Road House. The pork is great, but the sauce even better. Their "Red Rage"- Memphis barbecue sauce is wonderful. It was sweet and spicy, all at once.
There are several variations of Memphis sauce floating around. I chose the version from Fine Cooking as the inspiration recipe. I varied the spices a bit and eliminated what I thought was unnecessary oil. I also added some options so you can adjust to your tastes.
My Rating

An absolute 5. As high of a 5 as possible. And my wife agrees. What more is there to say?
🥣Kansas City vs. Memphis Style BBQ Sauce
There are a number of differences between KC and Memphis BBQ, but today I will discuss only the sauces.
Kansas City-style BBQ sauce is a sweet and thick sauce that is tomato and molasses base. Kansas City-style sauce can be very sweet and tangy but not too spicy.
Memphis-style BBQ sauce is different from Kansas City-style barbecue sauce. It isn't as sweet and is spicier. It also is thinner and has a bit of vinegar.
Memphis and St. Louis sauce is similar, and some experts will classify them as types of Kansas City sauce. But there is a distinct difference.
Other common sauces would be Carolina vinegar based sauce and Alabama white BBQ sauce, which is mayo based. There is a wide variety of sauces in Texas, and I'm just not getting into that fight but will just say there is regional variation.
✔️Tips
Use a Non-reactive Pan
Some pans are "reactive," meaning they contain metals that might interact with certain foods like tomatoes, and change the taste. Cast iron and copper would be common examples. Stainless steel and normal non-stick cookware are examples of nonreactive pans.
Ingredient Notes
I'm specifying Heinz or Hunts Ketchup. I believe you get what you pay for in ketchup. Any other than Hunts or Heinz will never come into my house.
Mustard taste is heavy at ½ cup. Cut it down to your taste. I usually go for ⅜ cup.
📖Memphis BBQ Recipes
Marlowe of Memphis BBQ Dry Rub
The Best Grilled Pork Tenderloin – Memphis Style

🖼️Step-by-Step Instructions
Combine in a non-reactive saucepan with a glass lid: 2 cups Heinz or Hunts Ketchup, ¼-1/2 cup yellow mustard, ¼ cup apple cider vinegar, ½ cup firmly packed brown sugar, 3 tablespoons Worcestershire sauce, 2 tablespoon chili powder, 1 tablespoon black pepper, 1 tablespoon onion powder, 1 tablespoon garlic powder, 2 teaspoon celery salt, 2 teaspoons liquid smoke, ¼ to ½ teaspoon of cayenne pepper.
Place over medium-high heat, stirring aggressively until starting to boil being careful to avoid splatter. This stuff is thick and will burn you. Reduce heat to low and cover with a glass lid so you can see the action.
Occasionally remove from heat and stir well. Please be sure to remove from heat before stirring to prevent splattering and burns.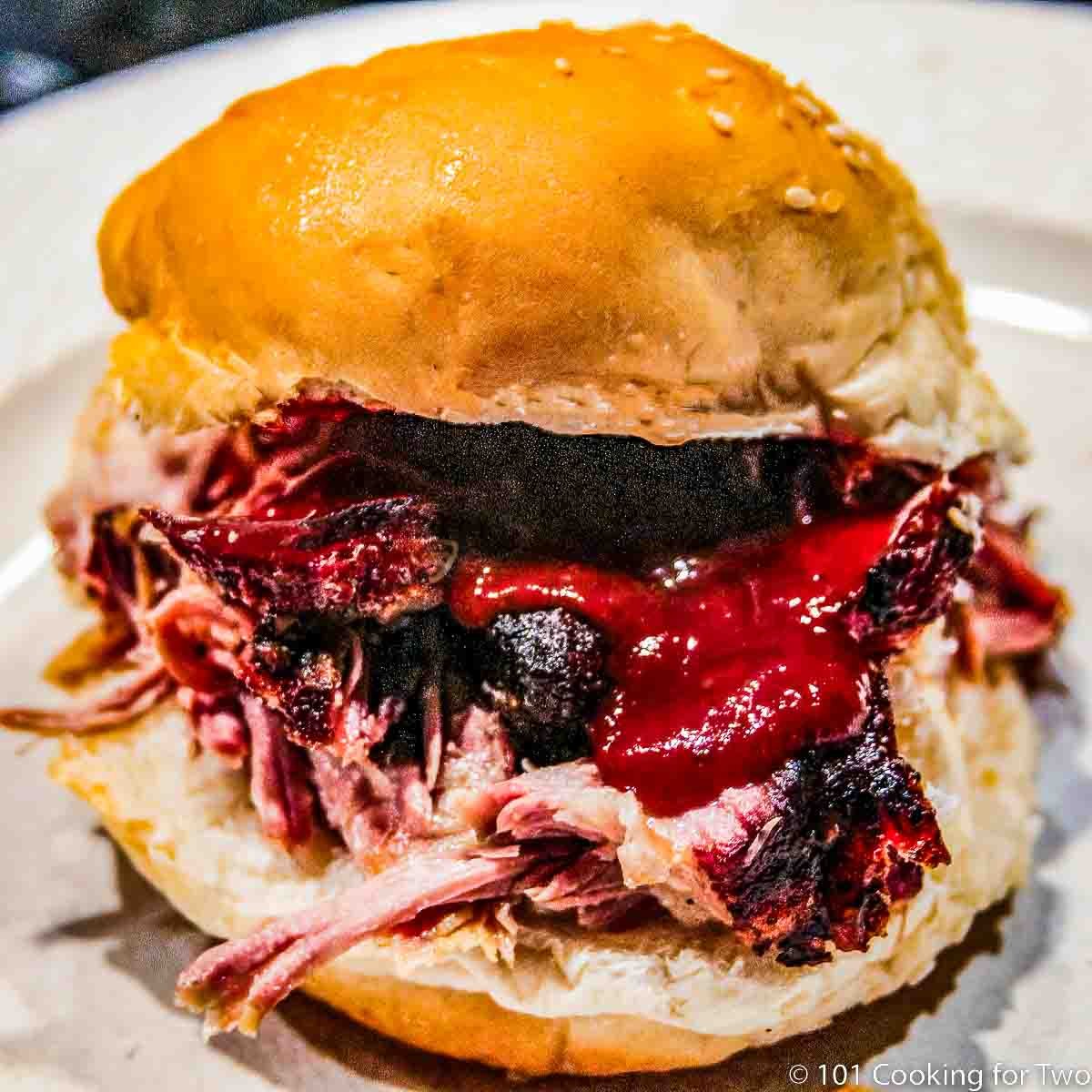 Do you want more recipes from 101 Cooking for Two? Sign up for the newsletter and get all posts delivered straight to your inbox!
📖 Recipe
Originally Published April 19, 2010. Updated with expanded options, refreshed photos, and a table of contents to help navigation.