There is no need to cook a whole turkey or even a whole breast with this easy turkey tenderloin recipe. You can have melt in your mouth, moist and tender turkey with gravy all year round, and not eat leftovers for a week.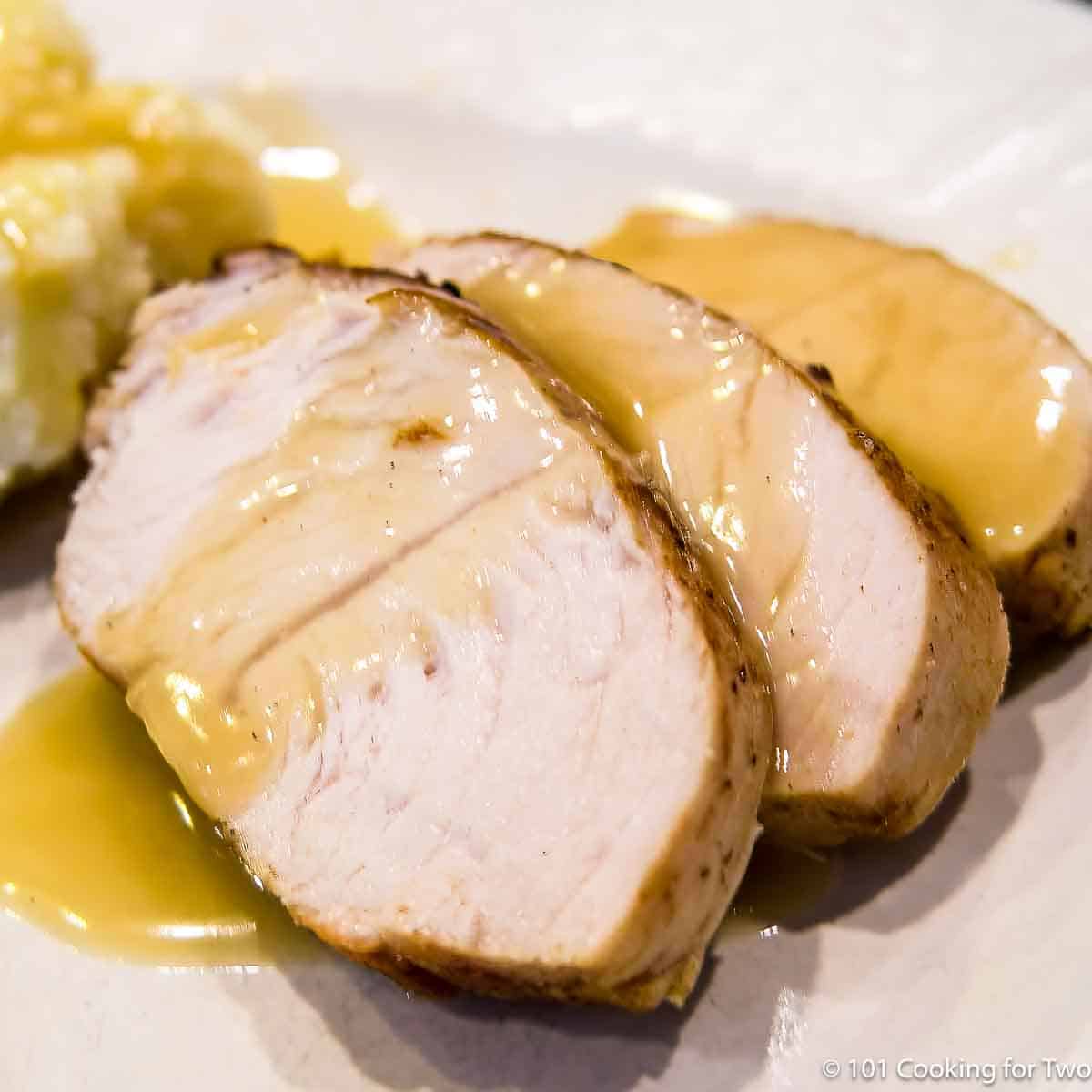 Introduction
Do you ever want turkey and gravy? Just a little turkey but no big production. Well, those turkey tenderloins that you walk by all the time in the meat department is your answer. Just follow these easy step by step photo instructions.
There seem to be very few instructions for cooking turkey tenderloin. They have no skin and are a long triangular piece of very lean breast meat. From the processor, they already have been injected, so no brining here.
I wanted a buttery taste and gravy (the nectar of the gods.). I started with some pepper, then pan-seared in some butter and finished in the over with more butter during the roasting.
My Rating

A borderline 4 to 5 but the gravy makes it a 5. I do love gravy.
🦃Turkey Tenderloin
The turkey tenderloins are a very tender long strip that is the somewhat triangular muscle under the main part of the turkey breast. You have seen a slice of it when you slice a turkey breast, and there is the inside part that tends to separate some.
Because the tenderloin is an underused muscle, it is very tender - like other tenderloins, chicken, pork, and beef, it can be fork tender and an enjoyable cut of meat.
♨️Cooking
This is always one of my favorite methods of cooking things. We can take a relatively bland food, usually meat, and though something called the Maillard reaction creates great flavor.
First, we sear the meat; this can easily be done on a stovetop. But turkey tenderloins are too thick to cook fully on the stovetop. So into the oven to finish the cooking.
The Butter vs. Oil
Butter can smoke if overheated. I don't seem to have a problem with that, but some people do. You can use vegetable oil if you have that issue.
If I'm cooking turkey with skin, I try to use oil vs. butter that has been shown to develop crispier skin.
But with no skin, go for the butter taste.
The Gravy
There will be oil left in the pan after cooking, along with some great taste. I suggest a slurry method for making the gravy.
I have instructions in the recipe below but for more details on gravy making at home, see How To Make Gravy at Home for more details. It really is easy to do.
⏰🌡️Temperature and Time
I suggest an oven temperature of 375°. Normally, with pan-searing recipes, we use a 400°-425° oven, but with the butter, we are cooking a bit lower. If you have smoking, you can decrease the temperature another 25°.
How Long will it take, and when is it done?
The easiest and correct answer until you reach a 165° internal temperature in the thickest part of the meat.
This will take about 25 minutes but is highly variable. The variables are the turkey tenderloin size and thickness, how much searing you did, the oven, and the pan. So start checking the internal temperature at about 20 minutes, and don't be surprised if it takes over 30 minutes.
Always cook to a final internal temperature for recipes like this and never by time. I give times just as a general guideline for meal planning.
📖Related Recipes
How To Roast a Turkey Breast with Gravy

🖼️Step-by-Step Instructions
Preheat oven to 375° convection or 400° conventional. Trim and pat dry about 1-1 ½ pounds of turkey tenderloin.
Melt 1 tablespoon butter in an oven-proof pan over medium-high heat. Add pepper the tenderloin. You can salt lightly if you wish, but remember, it has been injected.
Sear the tenderloin. Start with good side up. 3 minutes. Flip. 3 minutes. Get to approximately the final color you want.
Microwave 2 tablespoon butter in a microwave on high for about 20 sec. to melt. Bush with butter and place in oven. After about 10 minutes, baste again with butter.
Bake until the temp of 165°. About 20-25 minutes of total oven time. Remove from pan and tent with foil on a plate while making gravy.
Add turkey or chicken stock to the pan ( here a couple of cups). Over medium-high heat, bring to a boil.
Thicken with a mixture of flour and cold water. Here about ¼ cup flour and ½ cup water in a Tupperware shaker or whisk together. Add slowly while whisking continuously. It will thicken in a few minutes.
Cut across the grain to make it fork-tender.


Do you want more recipes from 101 Cooking for Two? Sign up for the newsletter and get all posts delivered straight to your inbox!
📖 Recipe
Editor's Note: Originally Published June 29, 2012. Now updated with expanded and improved text and refreshed photos and a table of contents.