Learn how simple it is to brine a turkey the right way and then expand on that to add flavors that will make this year's feast outstanding. Do it simple or kick it up a few notches with these easy to follow step by step instructions.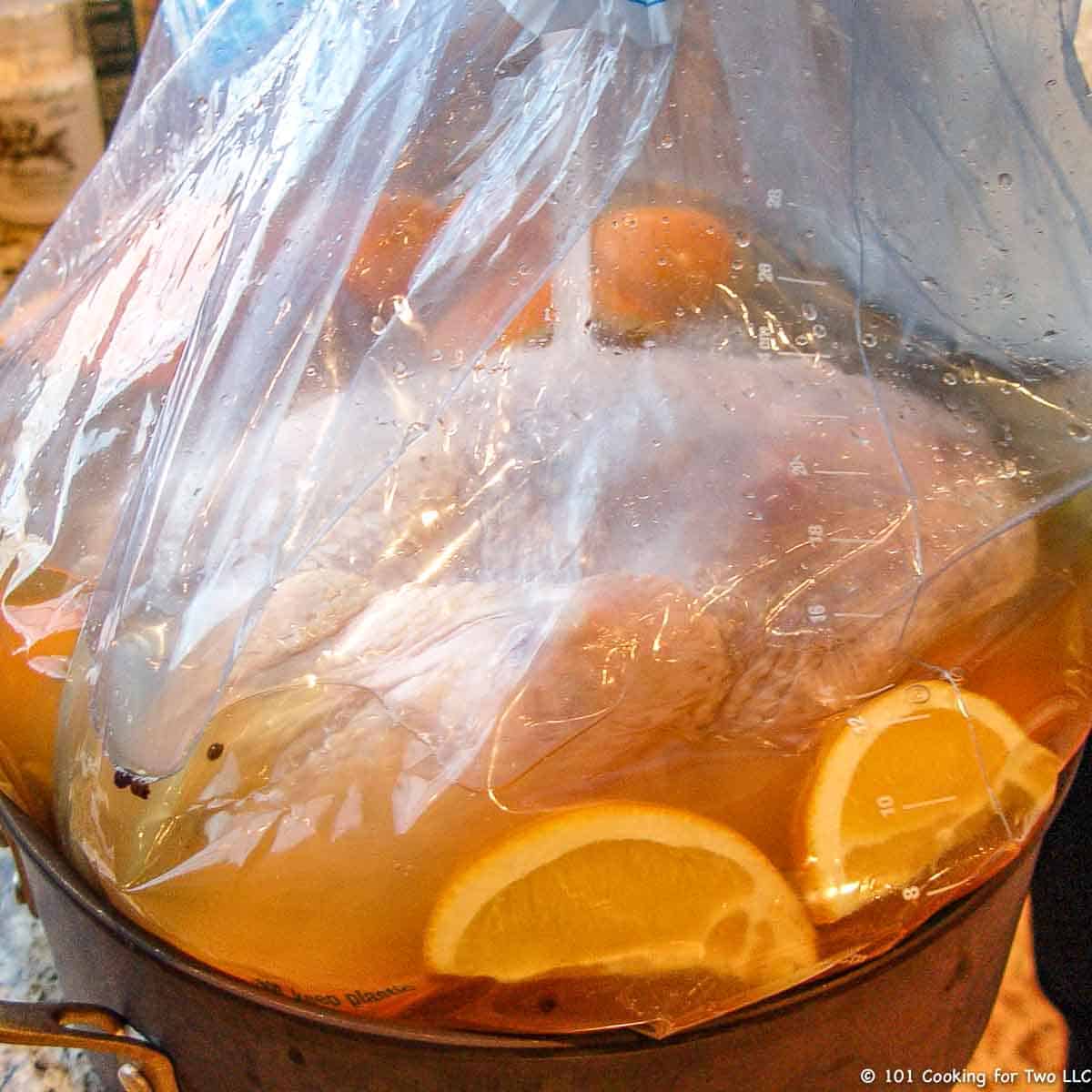 Introduction
Learn how to brine a turkey the right way and then expand of that to add flavors that will make this year feast outstanding.
A brine for your holiday bird that will add a lot of moisture and tenderness. And you can add your own custom flavors. But you can easily make mistakes.
***Here is a reminder I will put in this post several times: NEVER BRINE AN INJECTED OR PREVIOUSLY BRINED TURKEY***
The fancy technique is from Christine at 15 Minute Beauty Fanatic aka Little Miss Martha for her love of all things Martha Stewart. I'm sure the method has a lot of Martha Stewart in it.
My Rating

An appropriate brine is a wonderful thing for a roasted turkey. My wife gives it a 6 or 7, but I don't have a graphic for that.
👨‍🍳Brining Discussion
A little background on why to brine. Roasting the bird leads to loss of water during the cooking process.
The brine is a salty water "marinade." The salt and water will absorb and cause the break down of the proteins in the meat. This will give you a more tender, moist, and flavorful turkey.
By adding other things like spices, you can also add tons of flavor. So this is a totally buffed up brine.
NEVER BRINE AN INJECTED OR PREVIOUSLY BRINED TURKEY
Safe Brining
You need a large bag. Fortunately, these are easier to find these days, but if you can't, large oven roasting bags will do.
Garbage bags are NOT a good choice since they are not designed for food storage and the chemicals may not be safe (I don't know but let's not do that).
To brine a turkey, the bird needs to be totally thawed and kept under 40 degrees. I have always had a second refrigerator but if not available, lots of people use a large cooler and lots of ice.
The turkey should still be in a food-safe bag and sealed to prevent the brine from being diluted. This is poultry so let's be careful out there.
🦃The Turkey
The turkey should have no additives, brine or anything else injected or added in any way. If the bird is frozen, then thaw completely according to package directions.
But be aware that almost ALL frozen turkeys have some sort of salt injection and should not be used for brining unless you are SURE it has not been injected or brined.
Remove any giblets from the neck and body cavities. We generally special order a fresh turkey from the meat department. It's just one phone call.
Tell them the size you want and the date you want to pick it up. You can do it. You generally need a good pound plus per person. We love leftovers so we up that.
NEVER BRINE AN INJECTED OR PREVIOUSLY BRINED TURKEY
🧂Basic Simple Brine
Basic brines for turkey will be about a cup of kosher salt to one gallon of fluid. This can be a little less just to prevent over-salting. Here we are using ¾ cup per gallon.
Really the salt to fluid ratio is the main work of a brine. The salt and water get into the meat and say. It then breaks down some of the proteins and makes more tender meat.
The rest of the components add flavor and makes the brine even better but are optional.
✔️Tips
When ever kosher salt is called for it will mean Diamond Crystal or the equivalent of other salts. 1 teaspoon table salt = 1 ¼ teaspoon Morton kosher salt = 2 teaspoons Diamond Crystal kosher salt.
The salt does the work and can not be omitted. It seems to break down some tissue in the bird and bring water into the turkey.
I call for a "light" amount of salt by decreasing it by 25% from many recommendations.
Other ingredients are to taste.
There are dry brine methods I'm not covering here.
There are only a few studies on the amount of salt absorbed by brining a whole turkey. It seems that about 200 mg is added per 4 oz. But there are lots of variables here and it could be higher. Please don't quote me on this. If you are watching sodium intake, you should not be brining.
24 hours is the most you should brine for since there is very little absorption after that time, and the water can start affecting the meat texture. Most of the effect is really in the first 12 hours.
📖Turkey Recipes
How To Roast a Turkey Breast with Gravy
Butter Turkey Tenderloin - Pan Seared Oven Roasted with Gravy

🖼️Step-by-Step Instructions
Basic Turkey Brine
8 quarts (32 cups) water
1 ½ cups kosher salt
The rest is optional
2 quarts apple juice or cider - substitute for an equal amount of the water
½ cup sugar
2 tablespoon peppercorns and 2 tablespoons allspice, combine and coarsely crush
6 slices ginger( or 2 teaspoons powdered)
8 whole cloves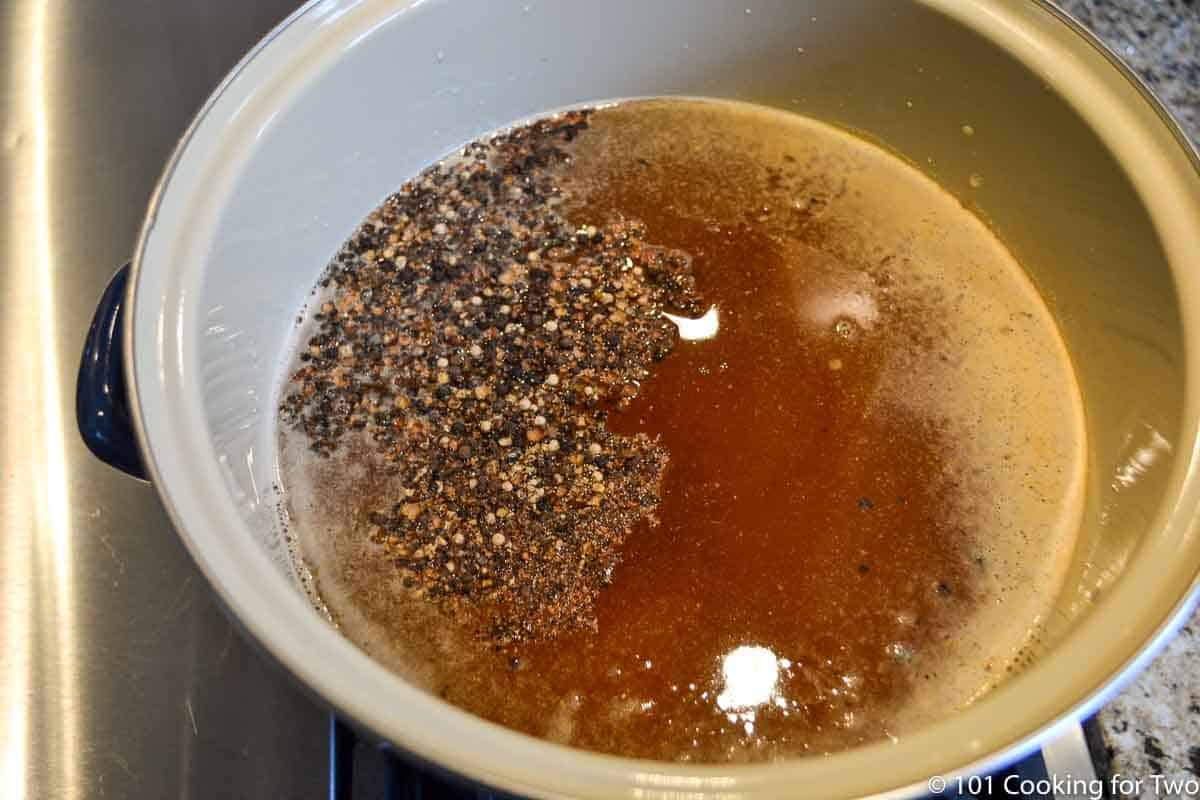 Combine all the above ingredients you are using into a stockpot on the stove. Let boil 10 minutes then cool.
Clean and place turkey in brining container (I love big plastic bags, the Ziplocs are great).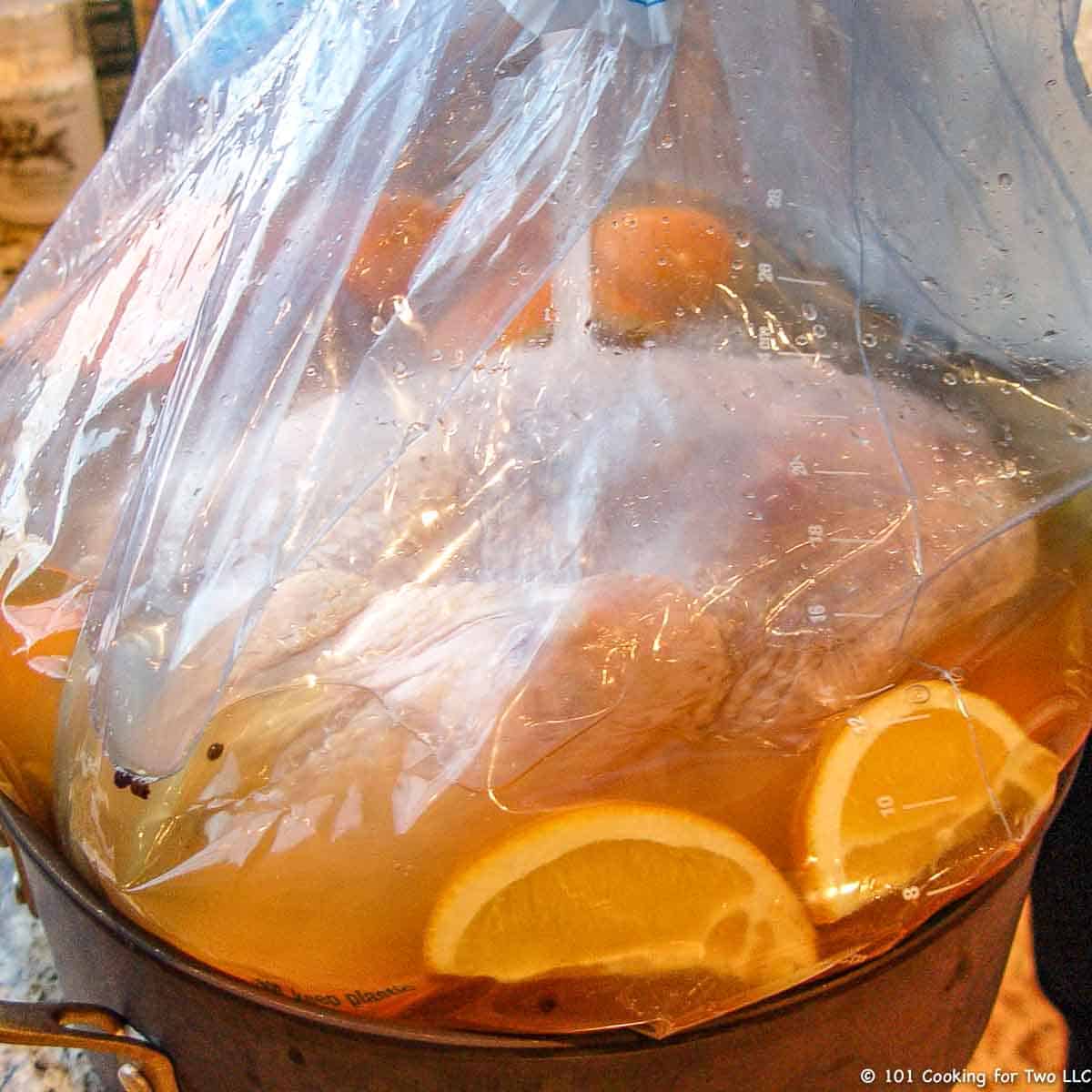 Add the cooled brine and enough water/ice to cover the turkey. Note the large pan in the picture to support the bag. It will help you handle the very heavy bag better. Also, if using fresh fruit, add it at this time. We added three quartered oranges.
Seal and refrigerate for 12-24 hours. Be SURE to rinse the bird inside and out when removed from the brine. Pat dry and proceed with the cooking. Clean the whole area after rinsing off the brine for food safety.


Do you want more recipes from 101 Cooking for Two? Sign up for the newsletter and get all posts delivered straight to your inbox!
📖 Recipe
Editor's Note: Originally Published November 11, 2012. Updated with expanded options, refreshed photos, and a table of contents to help navigation.