Classic Italian Chicken Cacciatore is a family-friendly, easy dinner recipe. Made in a crock pot, the chicken comes out moist, fall-apart tender, and packed with taste. Your home will have a wonderful aroma of tomatoes and peppers all day long.
Introduction
This crock pot Chicken Cacciatore is one of those recipes you need to have in your recipe box. It's a healthy weeknight dinner with minimal prep and full of great Italian flavors but still special enough for a dinner party or a Sunday family dinner.
Start with simple ingredients. Cut the chicken into serving size pieces and cook for 6 hours in a tasty sauce that simmers with the chicken.
This is an ultra-simple recipe. I rate it as a 2/10 difficulty recipe. It is two only because you must use a knife and not hurt yourself.
My Rating

A very nice dish.
FAQ
👨‍🍳What is Chicken Cacciatore?
It's an old Italian dish. Cacciatore means "hunter" in Italian, and to prepare something cacciatora style refers to preparing a meal "hunter-style" or sometimes called "hunters stew."

The meat is generally braised chicken, but rabbit is also acceptable. While I suggest skinless chicken, chicken with skin and bone is commonly used.

The sauce is generally onions, spices, tomatoes, bell peppers, and sometimes wine or mushrooms.
🐓What Chicken to Use
I suggest skinless boneless breast but thighs would work very well here. I do not suggest skin on chicken or chicken with the bone for this crock pot recipe.

I cut chicken breasts into smaller pieces for easier serving.
❄️How To Store
Good refrigerated for 3-4 days. Will do well frozen for 3-4 months.
♨️Crock Pot Size
This recipe will fit as written in a 3-quart crock pot. If you use a large one, it may cook a bit faster, so check at 4-5 hours.
This recipe can be cut in half easily and will then fit in a 2-quart crock pot. You won't be able to find 14 oz cans of crushed tomatoes, so use diced tomatoes, and freeze the half can of tomato paste. Or cook the whole thing and freeze away.
📖Crock Pot Italian Recipes

🖼️Step-by-Step Instructions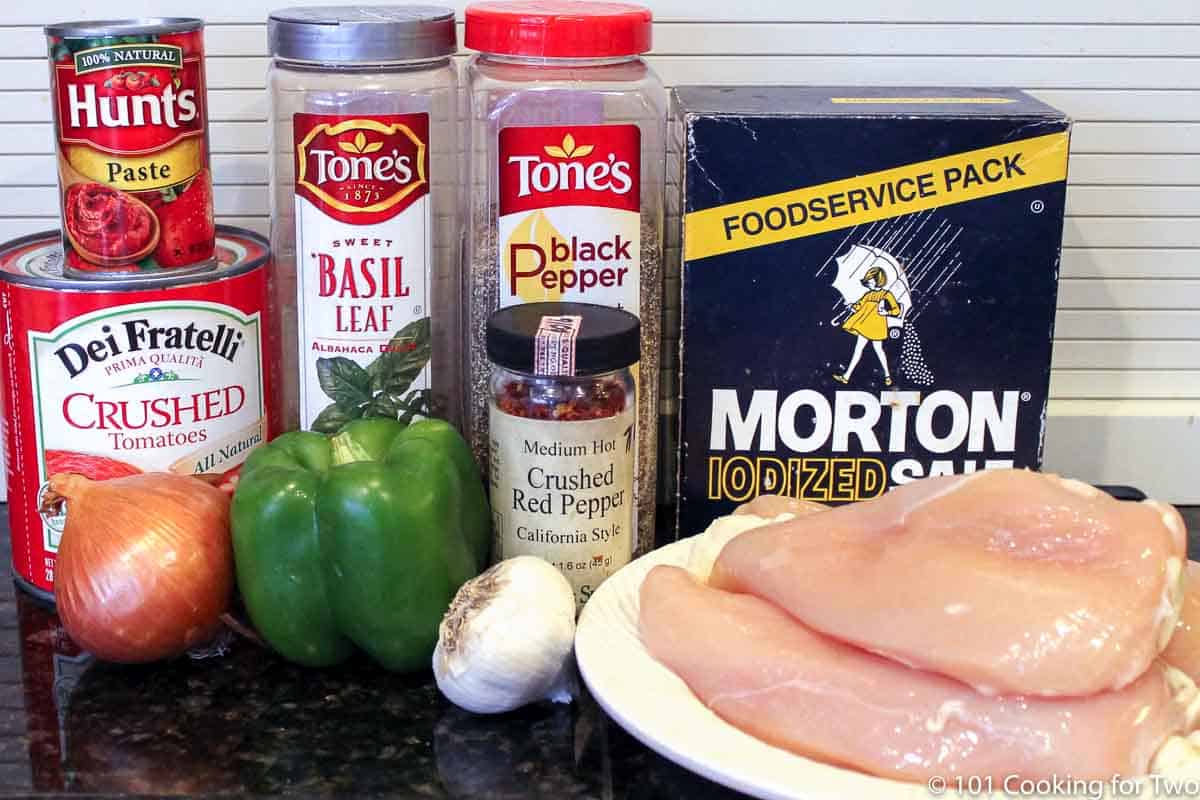 Start by chopping one medium onion and one green pepper—crush 3 cloves garlic.
Rinse and trim about 2 pounds (three medium) skinless boneless chicken breast. Cut into 3-4 pieces each for better serving. Other skinless chicken may be used.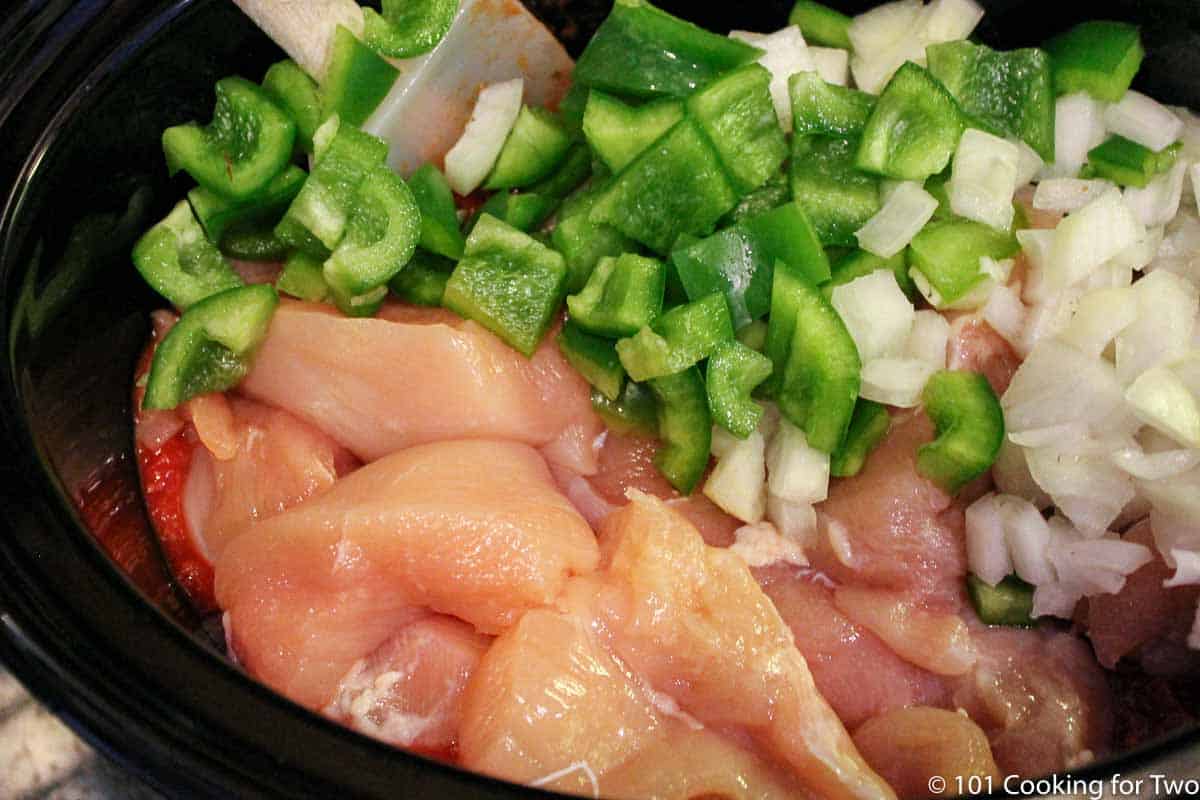 I used a 3 ½ quart size. Combine with one 6 oz can tomato paste, one 28 oz can crushed tomatoes, 2 teaspoons dry basil, 1 teaspoon salt, ½ teaspoon pepper, and ¼ teaspoon crushed red pepper (optional). Mix well. Add chicken and prepped veggies to a crock pot.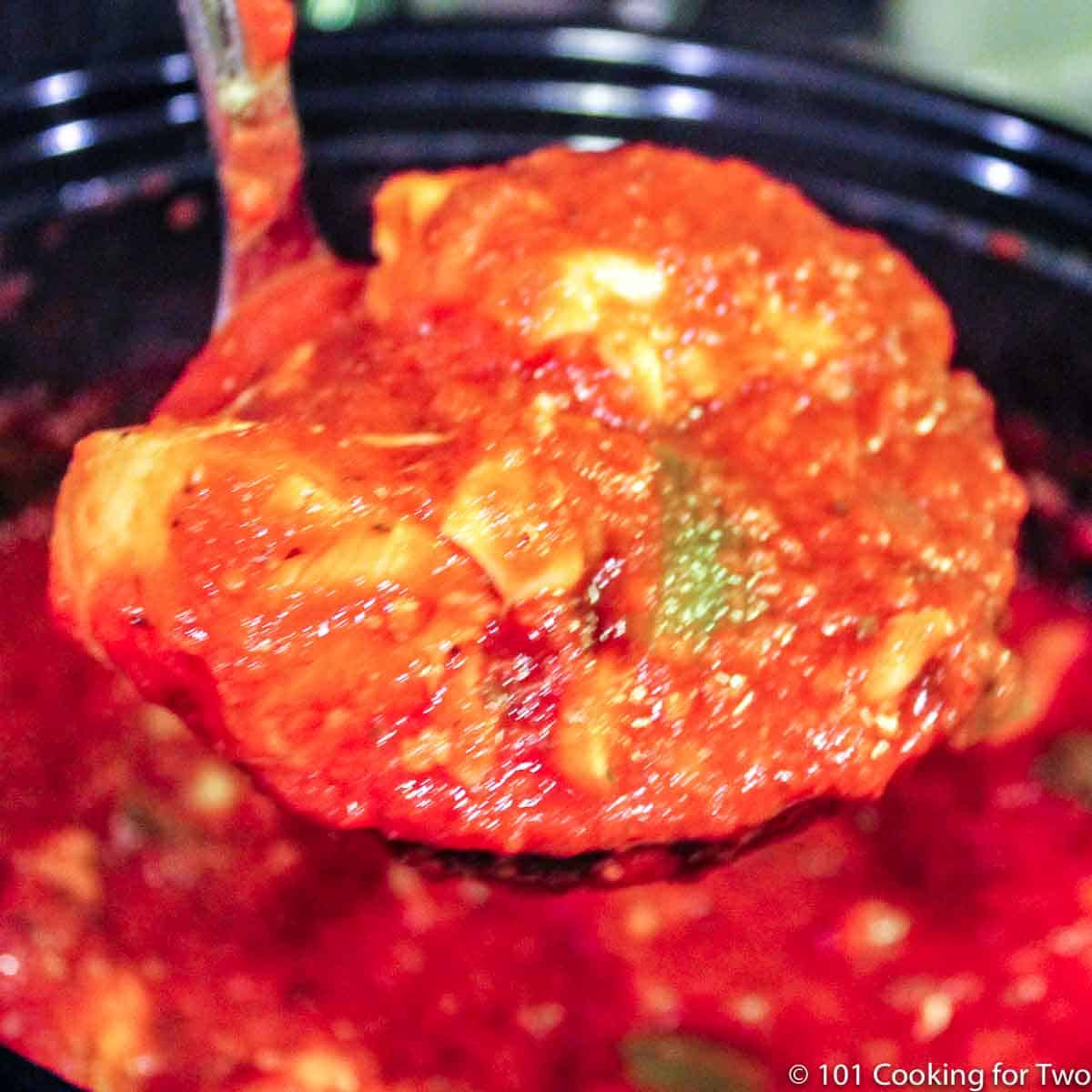 Cook for 6 hours on low.


Do you want more recipes from 101 Cooking for Two? Sign up for the newsletter and get all posts delivered straight to your inbox!
📖 Recipe
Editor's Note: Originally published February 2, 2013. Updated with expanded options, refreshed photos, and a table of contents to help navigation.