Super easy chicken tortilla soup is packed with tender chicken, beans, and vegetables, all in a spicy broth. Not only is it delicious, but it is also healthy—both low-fat and low-calories.
Introduction
This recipe takes advantage of your slow cooker to make an excellent soup with minimal work. Most of the work with this recipe is opening cans. The hardest part is chopping the onion—all with common pantry ingredients.
Topped with crispy tortilla strips, this is the perfect weeknight dinner recipe. It is a great "dump and go" type crock pot recipe. You can do this with only 10 minutes of active time with these easy step-by-step photo instructions.
My Rating

A nice solid higher 4.
♨️What is Chicken Tortilla Soup?
It is a spicy chicken broth with tender chicken, tomatoes, beans, and other veggies like corn, celery, and onion. Usually served with a variety of nacho toppings and some tortilla strips.
All this makes a healthy, low-fat soup loaded with vegetables and meat that will warm you on a cold day.
🐓The Chicken
We like our chicken soup with lots of meat. Some recipes use as little as ¾ pounds of chicken for this volume of soup. I suggest skinless boneless chicken breasts, which will generally be about 1 ½ pounds. But it could range from 1 to 2 pounds.
You can trim and cube the chicken before cooking or toss in the whole chicken breast and shred near the end of cooking — your choice.
You may also use skinless boneless chicken thighs if you want.
Can I use pre-cooked chicken?
Sure. And you can cut down the cooking time some. At 3 hours, add your pre-cooked chicken. Cook for an hour to add the great taste, and you are done.
✔️Tips
This is soup, so put in what you want or have, and it will be good.
Spicing
The RoTel provides a lot of spicing here. The heat level is about 3/10. RoTel comes in hotter versions if you want more heat, and there is an option for some cayenne pepper.
If you prefer, switch out the RoTel for a second can of diced tomatoes
We prefer white corn for this soup — a touch of sweetness and more tender.
The Toppings
It is generally topped with toasted tortilla strips along with other nacho toppings like cheese, avocados, jalapenos, and sour cream. Use what you love.
Storage
Good in the refrigerator for 3-4 days. Good sealed well in the freezer for 3-4 months.
📖Soup Recipes
Healthy Crockpot White Bean Chili Spiced Up
Crock Pot Chicken Parmesan Soup
Soup Nazi's Mexican Chicken Chili

🖼️Step-by-Step Instructions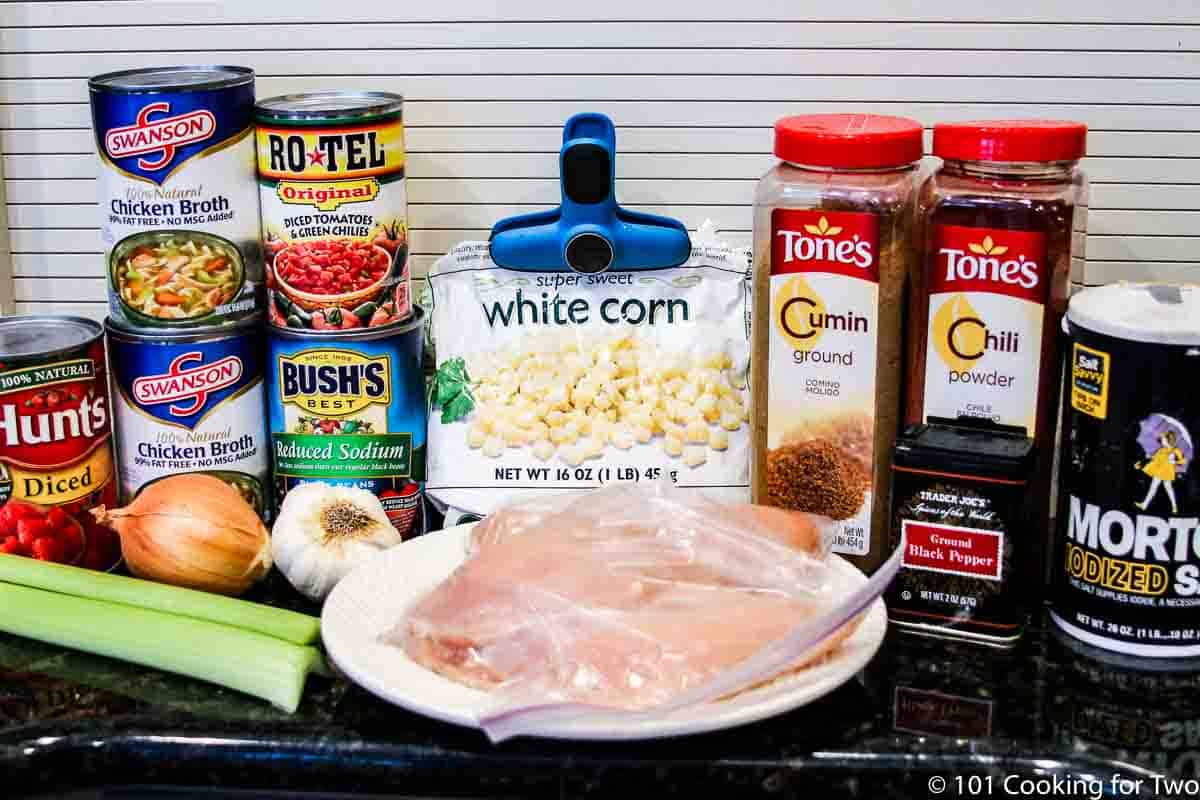 I suggest skinless boneless chicken breast, but thighs would be fine.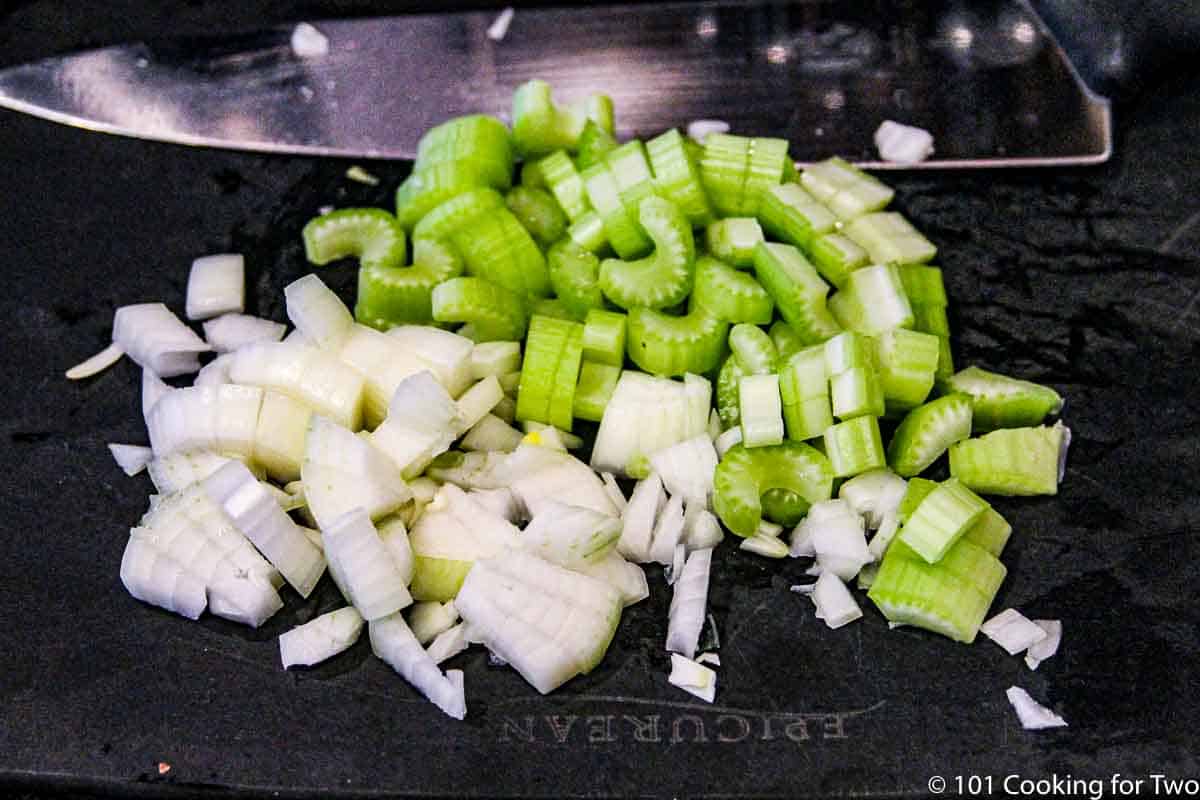 Chop one medium onion and a couple of celery ribs.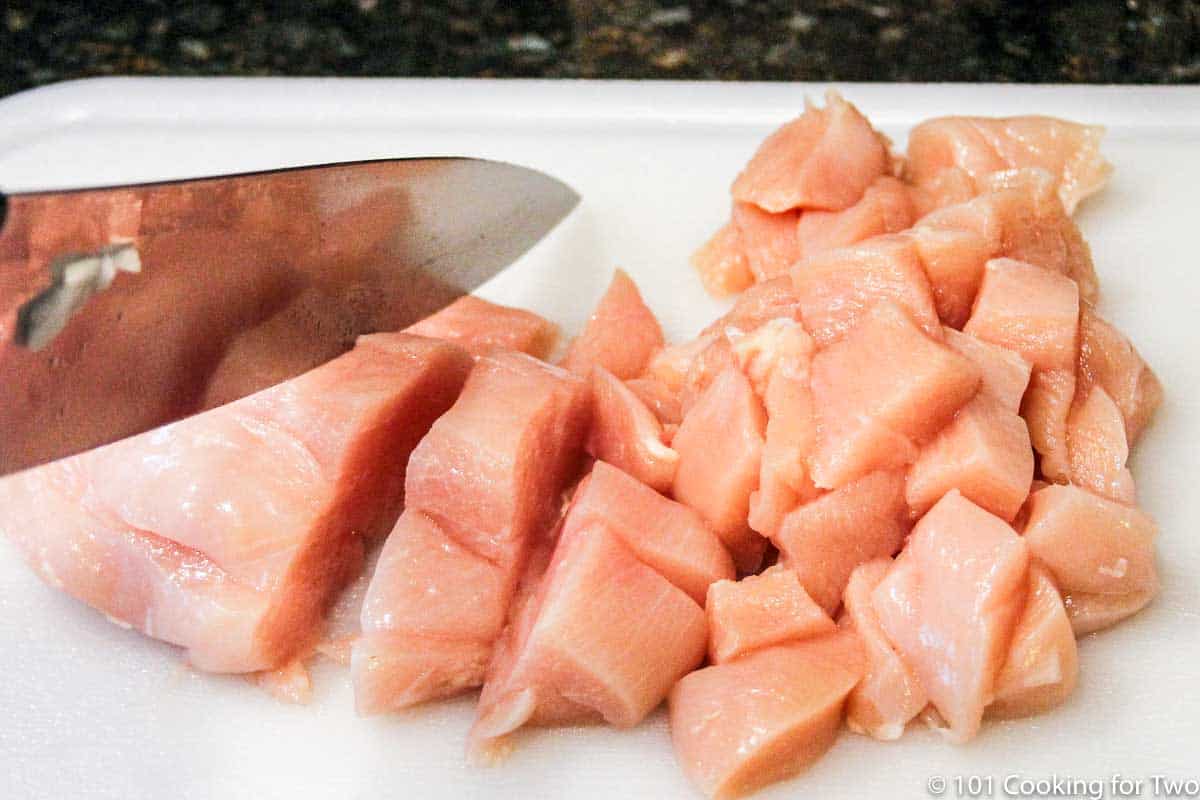 Trim and cut two medium skinless boneless chicken breast into bite-size pieces.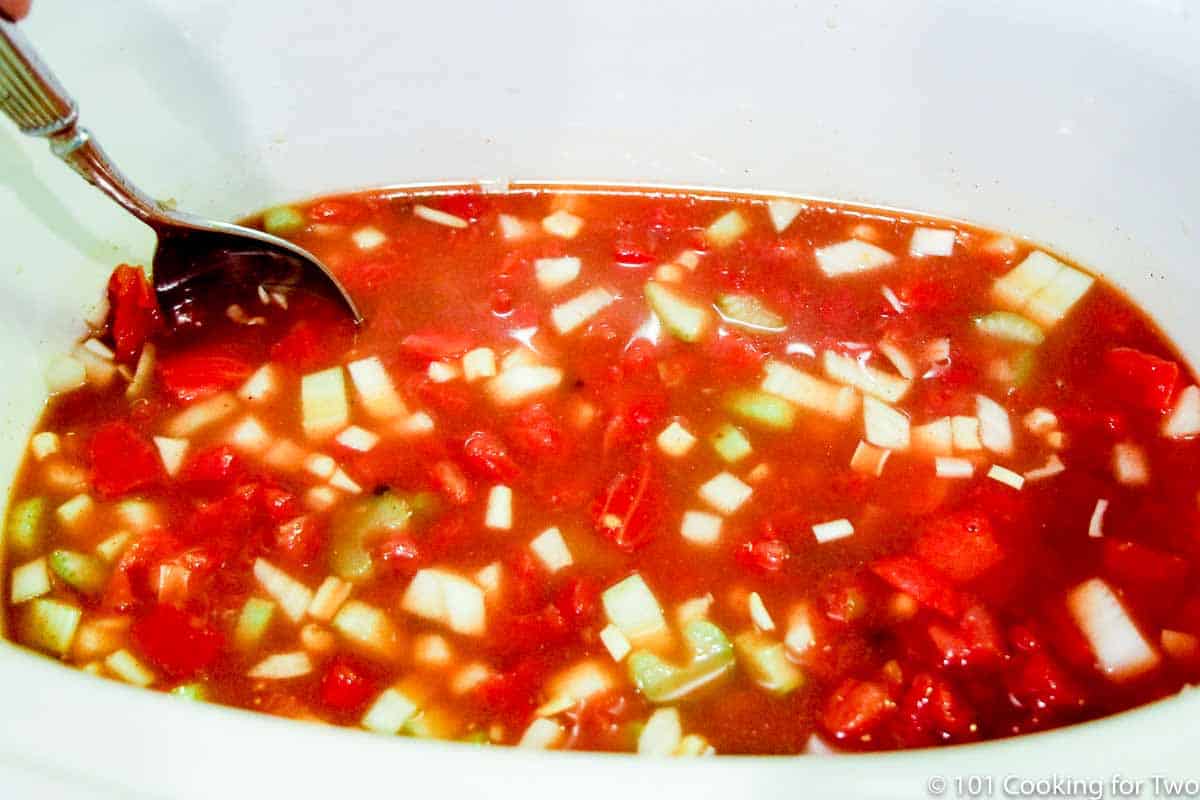 Mix veggies in a crock pot with one 10 oz can RoTel (Diced Tomatoes with Green Chilies), one 14 oz can diced tomatoes, 1 cup frozen corn or 1 can corn (drained), one 14.5 oz can black beans rinsed, 2 cloves crushed garlic, two 14 oz cans lower-sodium chicken broth, 1 teaspoon cumin, 1 teaspoon chili powder,1 teaspoon salt, ½ teaspoon pepper, ¼ teaspoon cayenne pepper (optional). Mix this all together in the crock pot. This will not fit in a smaller crock pot, so use a 4 quart or bigger.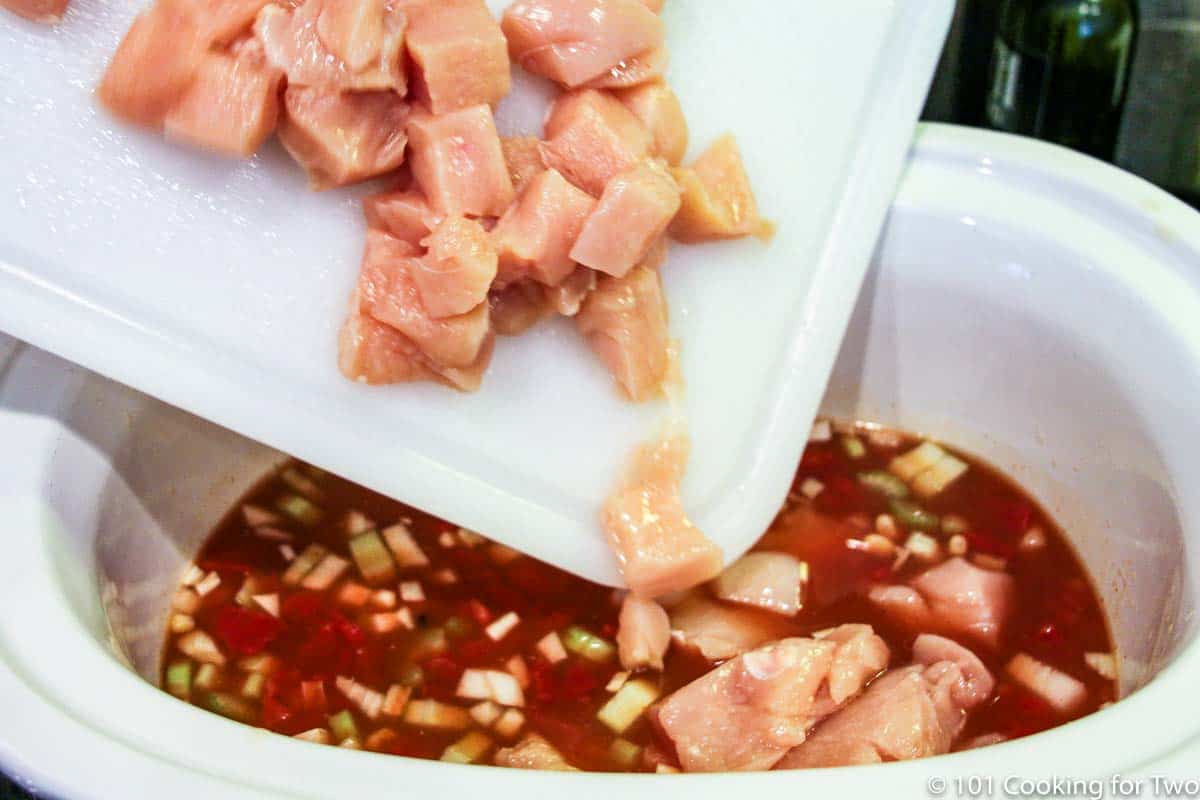 Add the prepared chicken to the pot. OR you can just toss in whole chicken breasts. If you do the whole breast, then about 1 hour before the endpoint, remove, shred, then replace.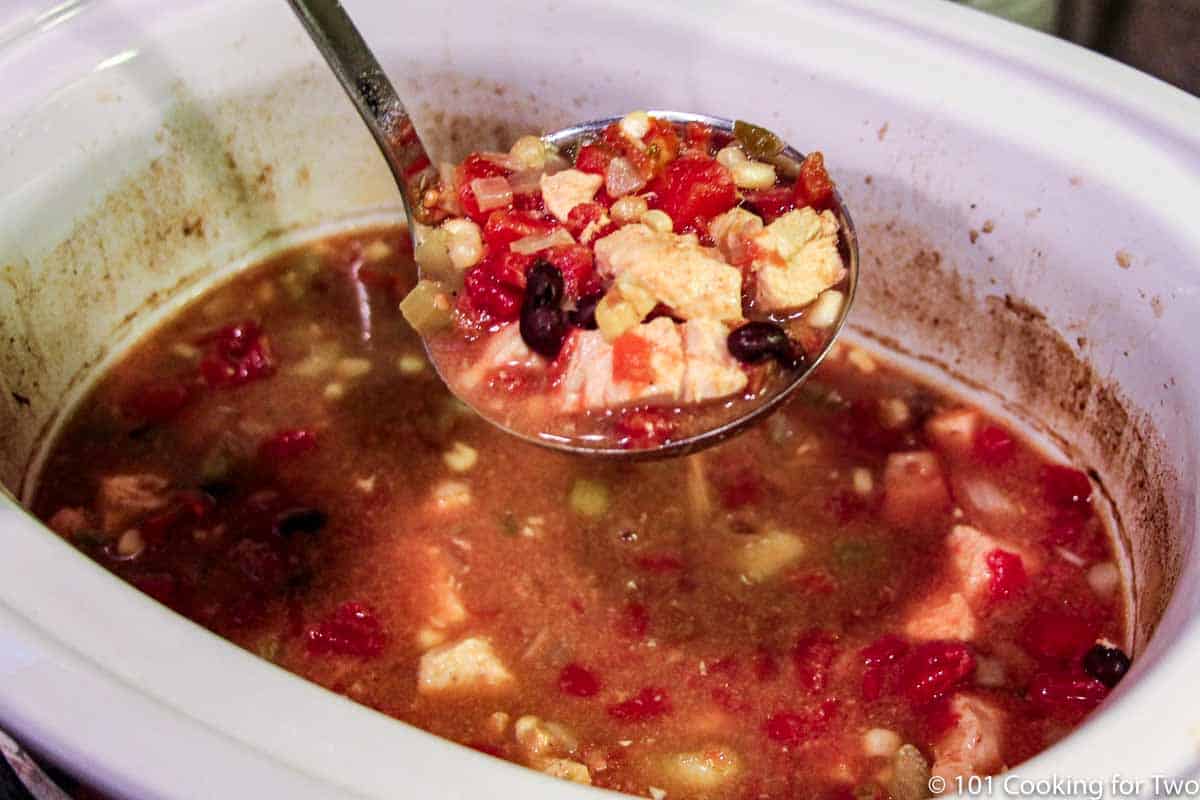 Cook for 6 hours on low.
Make your tortilla strips.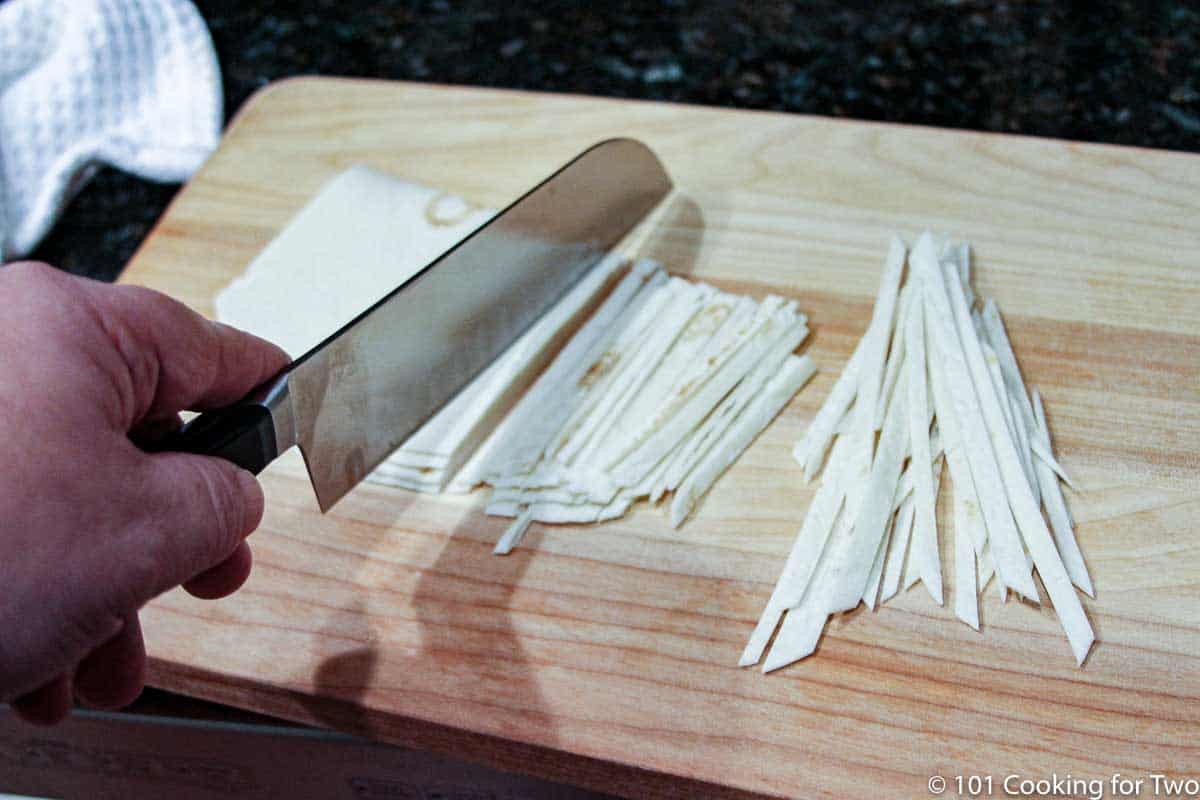 While the soup is cooking, make some tortilla strips for topping — Preheat oven to 375°. Thinly slice up a couple of tortillas.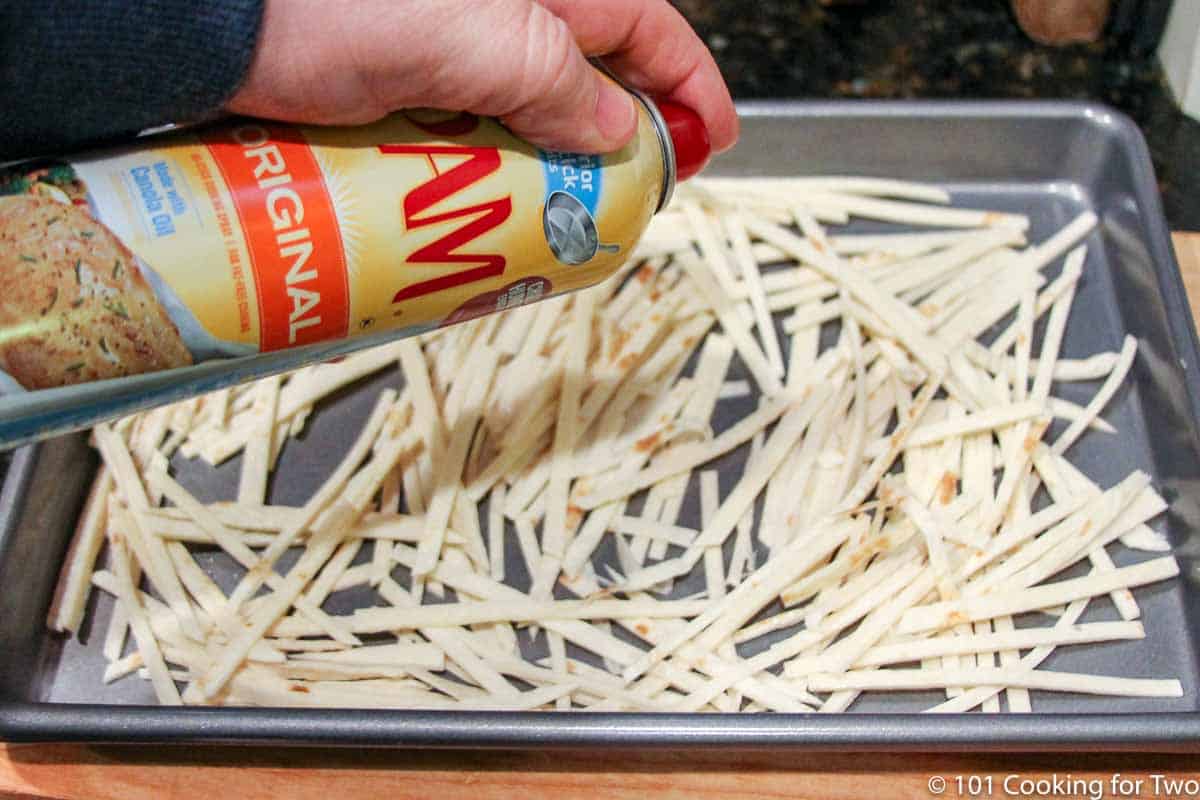 Spread the tortilla strips in a baking pan, give a light spray of PAM and bake until golden brown. About 10-15 minutes. This will vary some by your tortillas and the oven, so watch it.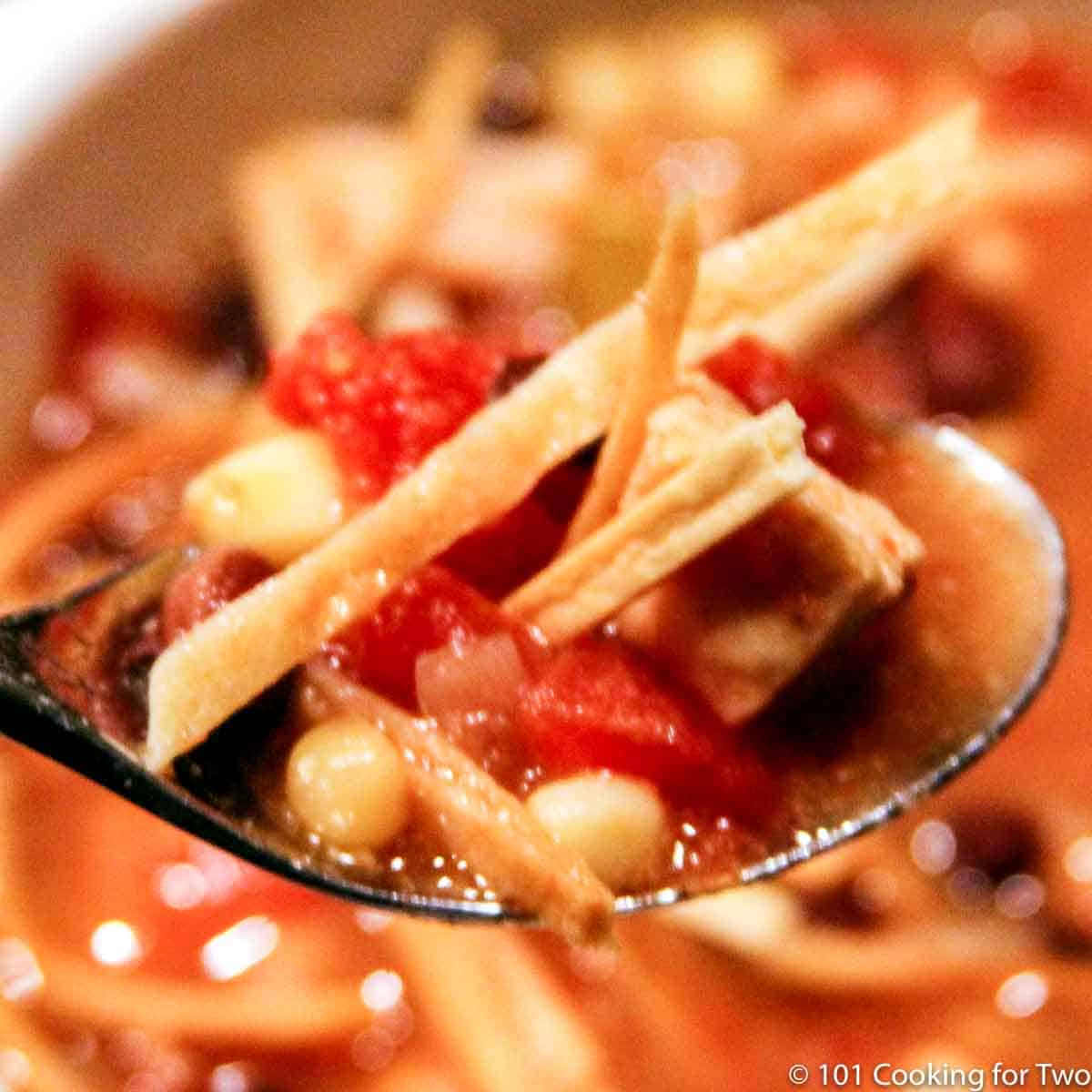 Do you want more recipes from 101 Cooking for Two? Sign up for the newsletter and get all posts delivered straight to your inbox!
📖 Recipe
Editor's Note: Originally Published January 11, 2014. Updated with expanded options, refreshed photos, and a table of contents to help navigation.