A wonderfully tasty and healthy slow cooker soup that is good for almost any diet. Just follow the easy step by step photo instructions.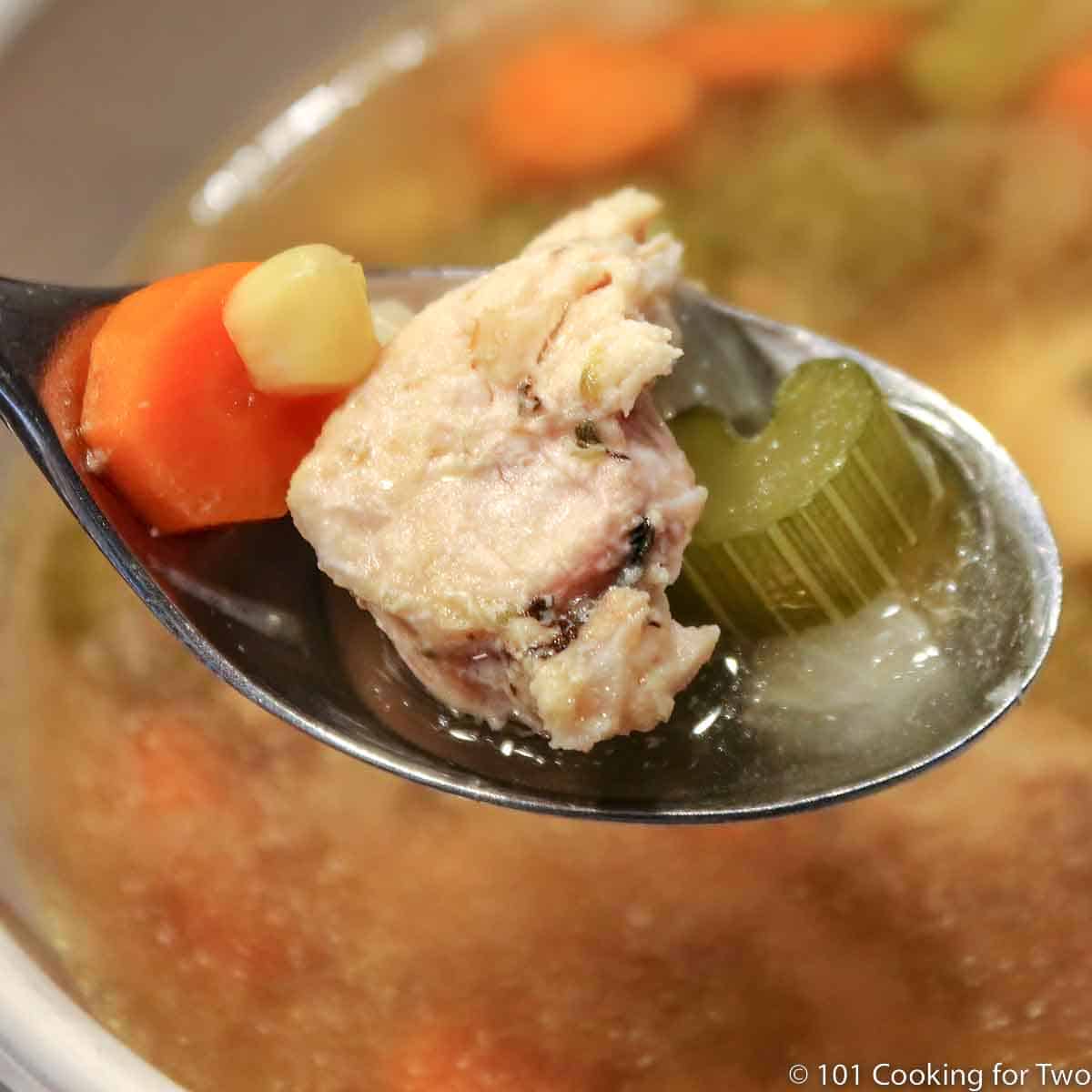 Introduction
This super easy and tasty soup fits low calorie and low fat. So this soup has earned the term "healthy."
For the lower carb/keto diets, it is relatively low with most of the carbs from the corn which you can cut back or change if you want to green beans.
I will not try to calculate anything to do with Weight Watcher's points. They keep changing it, so I gave up.
Somewhat inspired by a food.com recipe with only a few minor changes. I cut what appeared to be some unnecessary butter and a few other minor changes.
My Rating

A very nice soup that is healthy enough to be a basic part of almost any diet and tasty enough even if you're not dieting.
🐓The Chicken
To make a healthier soup, the obvious choice is skinless boneless chicken breast. They vary a lot in size but is it soup, a little more or a little less is fine.
But these chicken breasts can be a bit low on taste due to the lack of skin, bones, and fat. I use a soup base to give it this that extra pop of chicken flavor. Decide at the end of cooking if you want the extra taste or not.
🧂Nutrition
Sodium
The sodium can creep on soups, so use low sodium broth and do not add any salt until you are sure you need it.
Carbohydrates
For the low carb or keto diet people, this has 26 grams of carbohydrates and only three of that is fiber. This still fits well in lower-carb diets easily but not very low carb diets.
Most of the carbs are from the corn. You can change that out for green beans and save about 16 grams of net carbs per serving.
Final Notes
This is a fairly "brothy" soup. But I think most of you will be happy with that. You can cut the broth down be a can or up some of the veggies or the chicken.
The oregano went well with the extra sweetness of the white corn, but my wife thought a bay leaf might have been more to her taste.
While I have the thyme in the recipe, I consider it optional. It seems like thyme in a soup tends to dominate everything for me. If you love it fine, but I generally leave it out.
📖Healthier Chili and Soup Recipes
Low Fat High Taste Crock Pot White Chicken Chili
Healthy Crockpot Italian Chicken Vegetable Soup
Healthy Southwest Chicken Chili
Crock Pot Pork Tenderloin Chili

🖼️Step-by-Step Instructions
Nice basic common ingredients.
Chop 2 peeled carrots, two ribs of celery, and one medium onion.
Trim and cut two medium skinless boneless chicken breasts into 1-inch cubes.
Add broth to the crock pot — 4-Quart size minimum for the full recipe.
Add veggies, four cloves minced garlic, 4 - 14 oz cans low-sodium chicken broth, 1 teaspoon oregano, and ½ teaspoon pepper. If you like thyme, add ½ teaspoon of thyme. Salt to taste. 16 oz package of frozen white corn or green beans for low carb. Add chicken and mix well.
Cook for 8 hrs on low. With about one hour left in cooking, the taste test. You can add a bit of salt if needed. If you want more "chicken taste," add some soup base or bouillon cubes.


Do you want more recipes from 101 Cooking for Two? Sign up for the newsletter and get all posts delivered straight to your inbox!
📖 Recipe
Editor Note: This recipe was first published on October 14, 2012. Updated with expanded options, refreshed photos, and a table of contents to help navigation.