Reliable and super easy, anybody can learn how to make crispy homemade French fries. Make them on your stovetop with no special equipment needed or need to monitor oil temperature. So simple.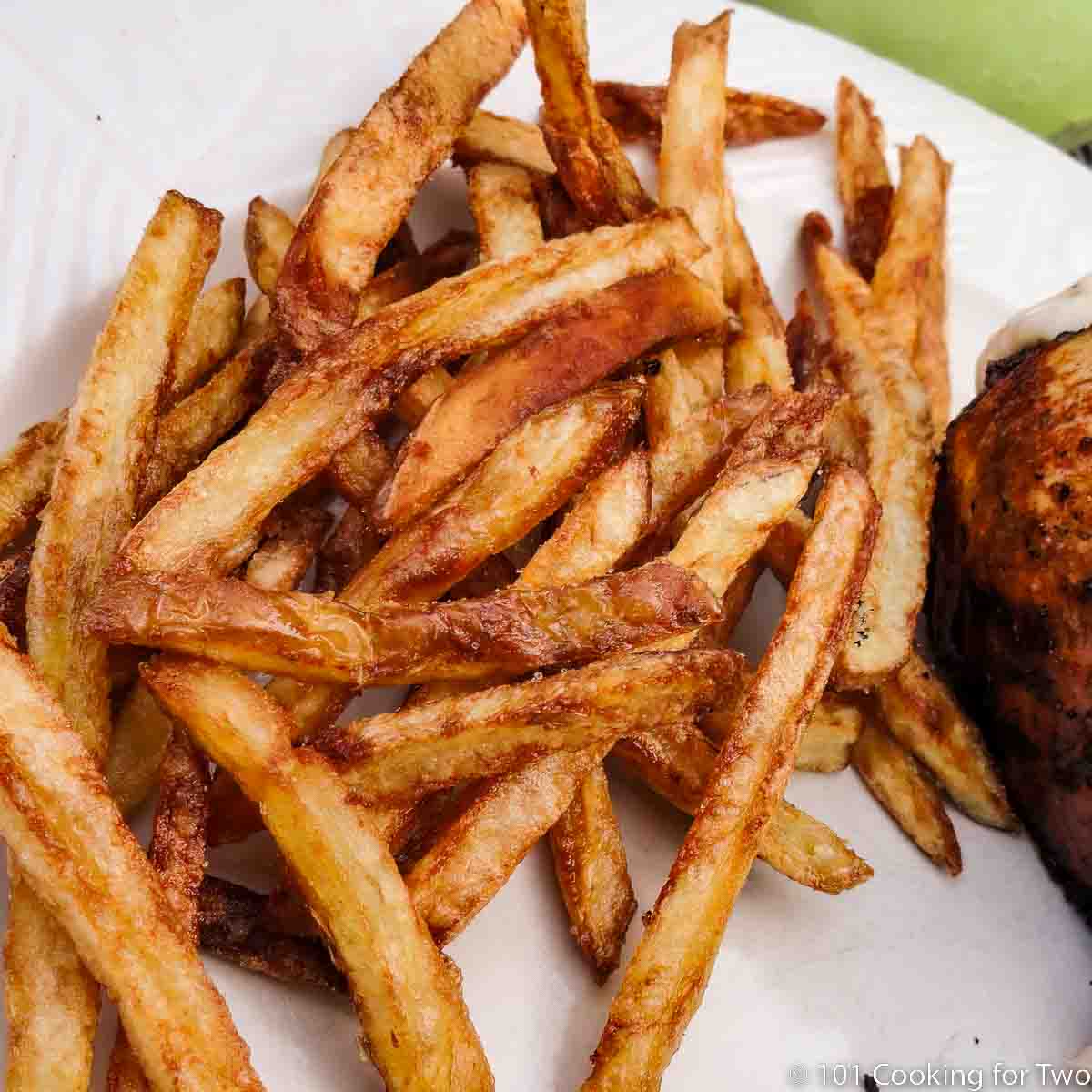 Introduction
This is the ultimate easy french fry recipe. It just works. Cut. Put in cold oil. Cook for 25 minutes. Eat.
No double frying, no watching temperature on the oil, no catches. The original idea came from famed chef Joël Robuchon so credit to where credit is due.
When I first saw Christopher Kimball present this on a morning show, it was obviously a "me" type recipe. It was simple and logical. I have since seen it on his PBS shows several times.
By starting in cold oil, the interior of the potato has time to cook and get to the temperature before the outside starts to crisp. It is like a one-step only double frying of French fries. And since most of the oil absorption happens between the double frying of fries, they are lower in fat by ⅓.
My Rating

I do love a good French fry.
🥔The Potatoes
Most people will be using Russets potatoes for this, which is fine. Peeling is optional. Wider fries are ok but not thinner than ⅜ inches, and all pieces should be about the same size.
I always feel a potato is a potato, and I feel that it is mostly true here. Kimball and Cooks Illustrated made a big deal of using Yukon gold and implied no others worked well which seems wrong. They may be a bit creamier interior than Russets due to the starch levels being lower, but America is used to Russet fries, and they are fine.
Can I use frozen potatoes? I don't recommend it. I have not done it and have not seen that others have tied it either.
The Oil
Use a higher temperature oil. I have used peanut oil frequently but more recently used a more standard oil mixture with corn and canola oil.
The oil is not abused by very high temperatures, so it is fine to run it through a strainer and reuse several times.
👨‍🍳Method
Trim the potatoes.
Place in cold oil. Cover completely.
Cook on high for 15 minutes without touching.
Stir well once, then continue to cook for about 10 more minutes until golden brown.
📖Potato Recipes

🖼️Step-by-Step Instructions
Start with about 1 ½ pounds of potatoes. About three medium or two large.
Clean and cut potatoes into ⅜ inch fries. Very easy with a mandolin or use a sharp chef's knife. BE CAREFUL.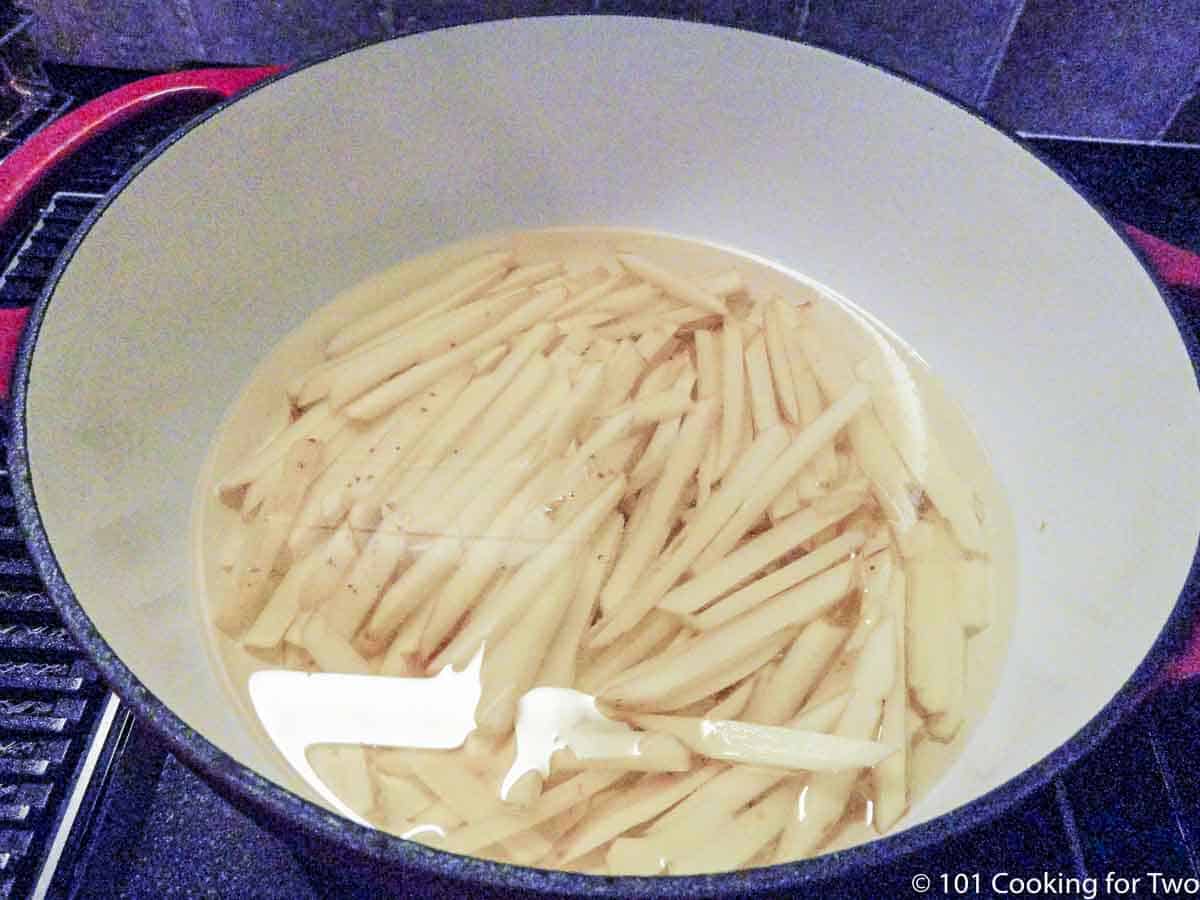 Add fries to a Dutch oven or another large pan. Cover with oil.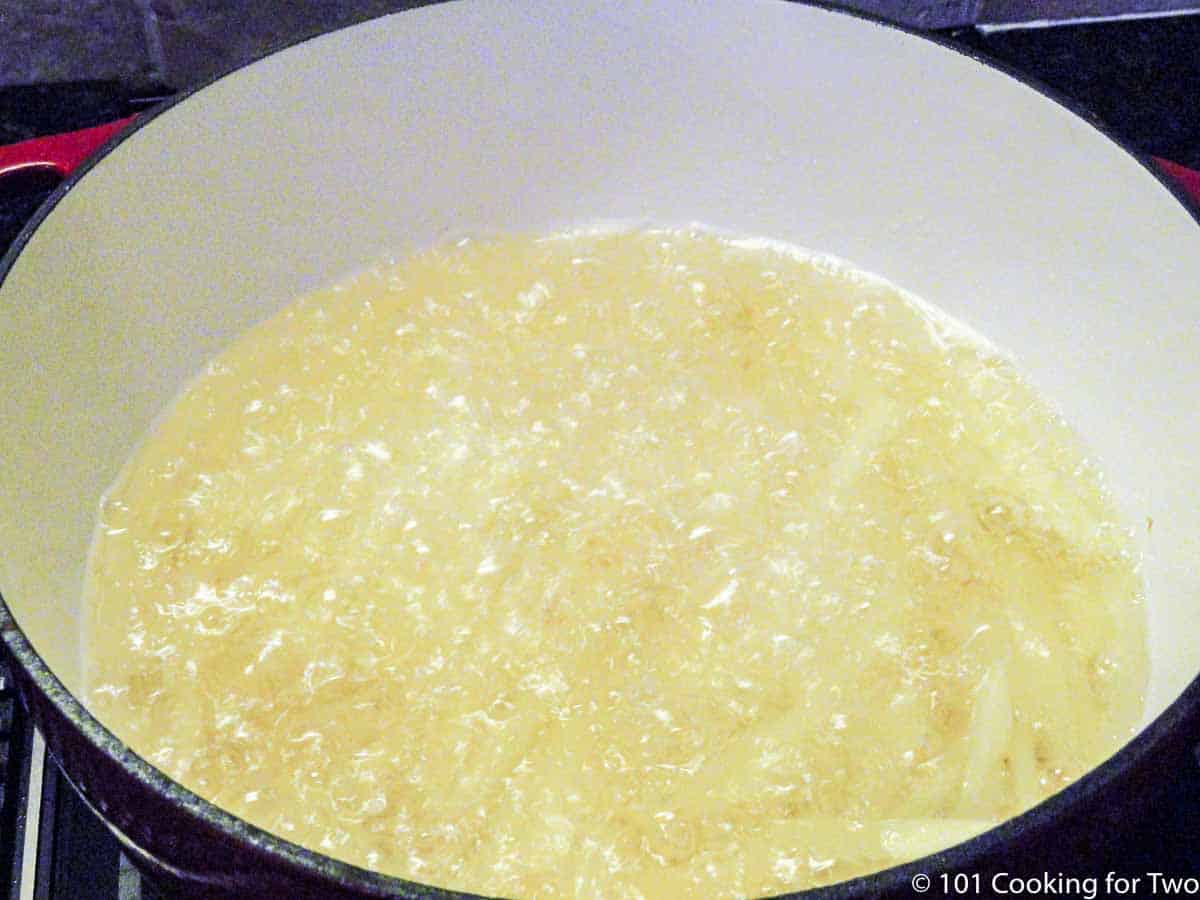 Place over high heat. Cook for 15 minutes without touching. It will reach a hard boil after a few minutes. After 15 minutes using tongs or wooden spoon, stir and scrape the bottom to release any stuck fries and to break apart any clumped fries. This is the only time you will stir the fries.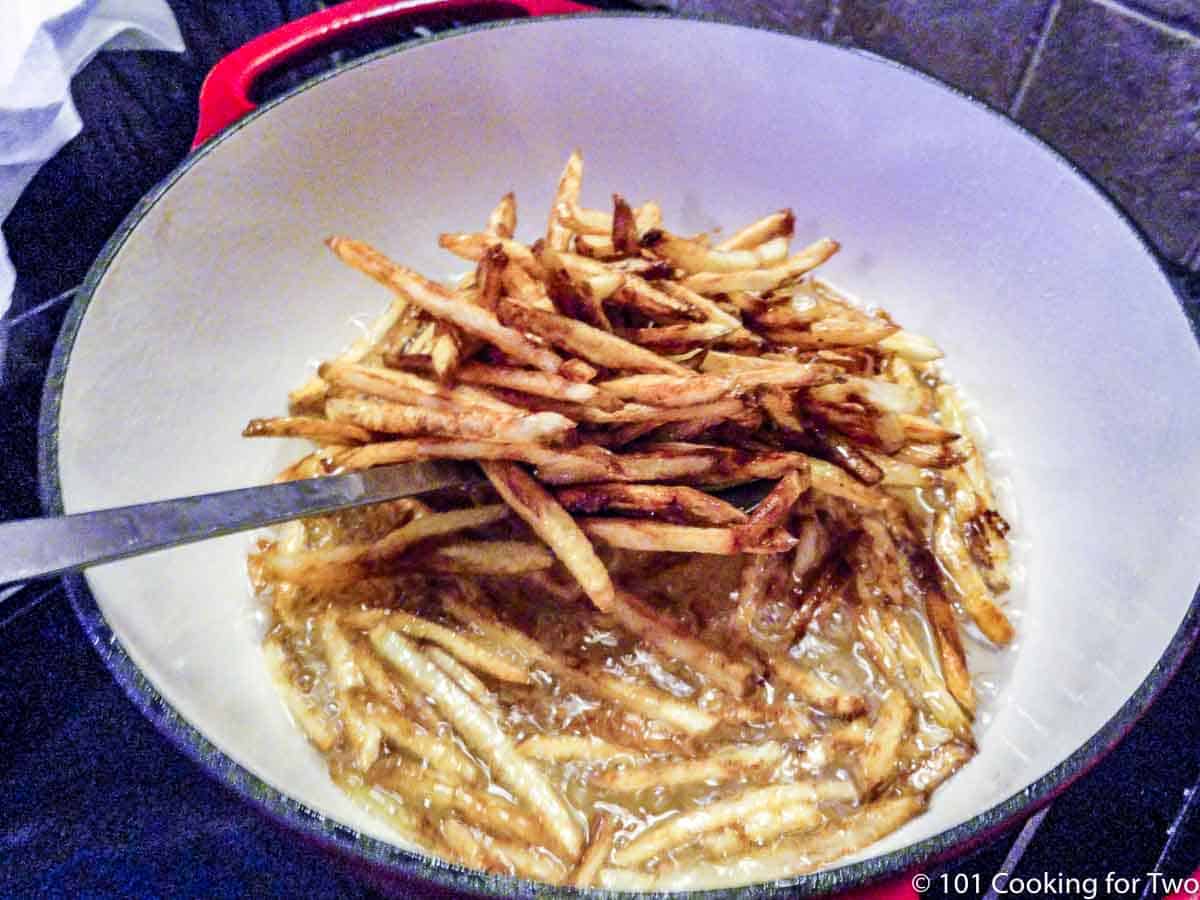 Continue to cook for about another 10 minutes until golden brown. Place into a large bowl lined with multiple paper towels to drain. Salt to taste.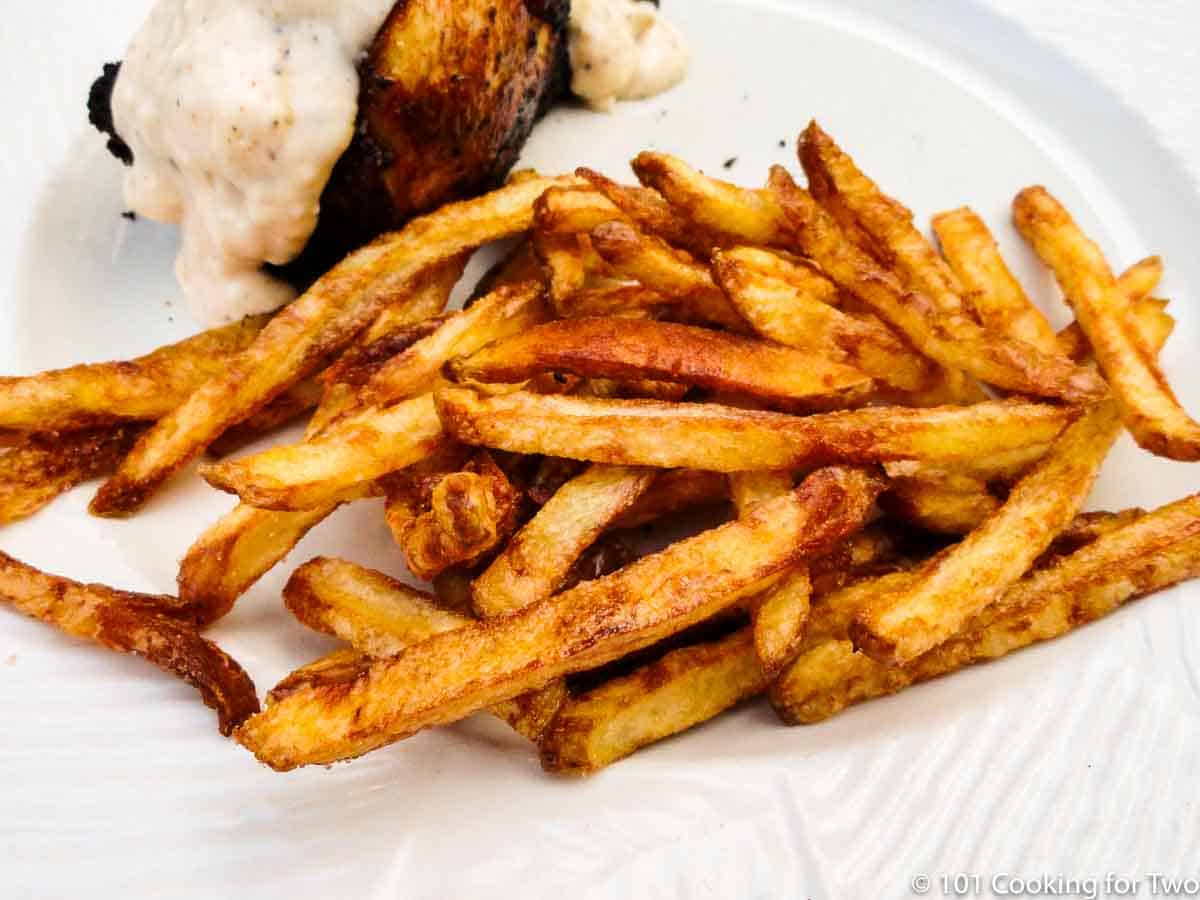 Do you want more recipes from 101 Cooking for Two? Sign up for the newsletter and get all posts delivered straight to your inbox!
📖 Recipe
Editor's Note: Originally Published August 6, 2010. Updated with expanded options, refreshed photos, and a table of contents to help navigation.