Let's learn the three simple secrets to moist and tender chicken breasts on a gas grill. Just follow these easy step by step photo instructions.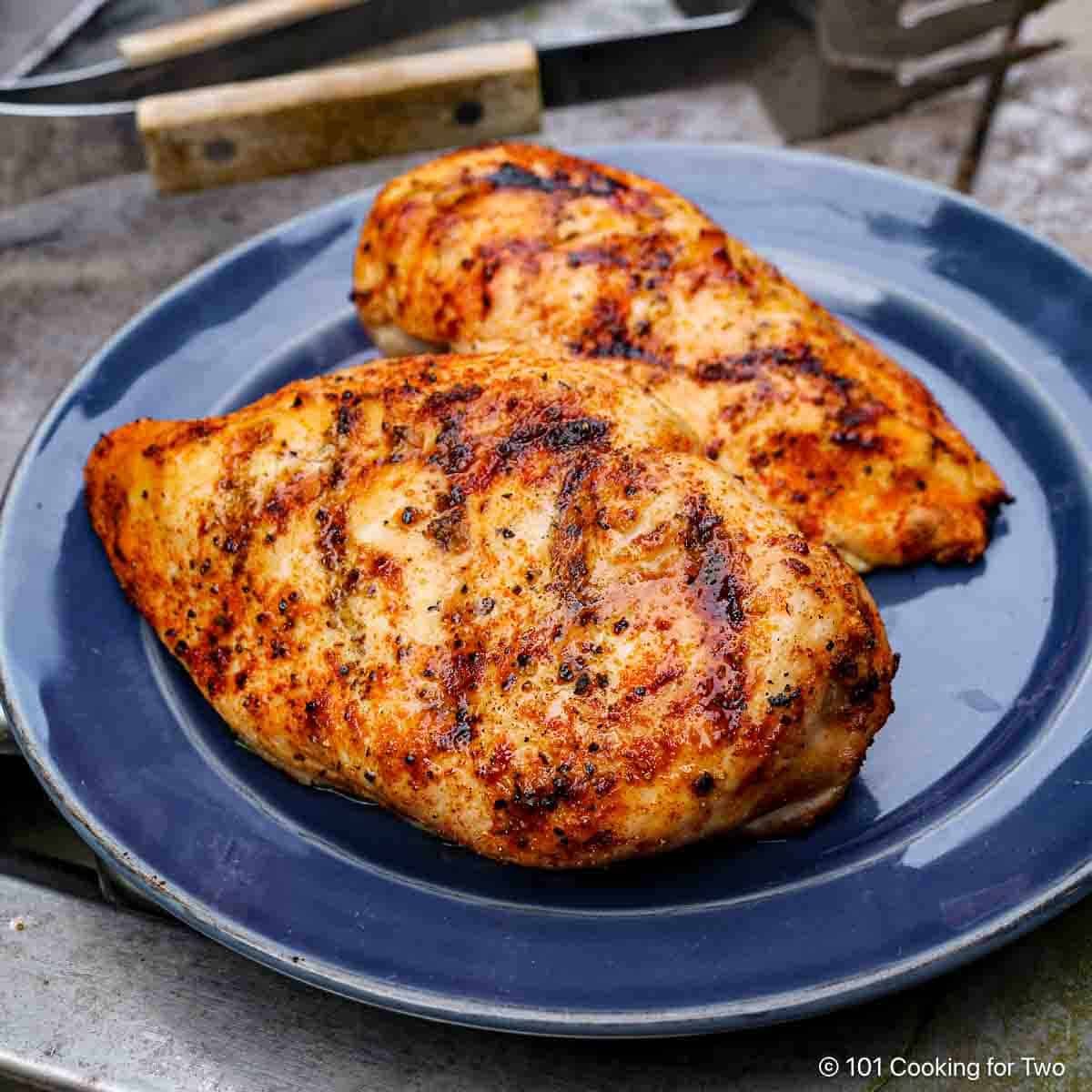 Introduction
This is something that has most grill owners struggling. Mostly they still get hockey pucks.
But it is not hard, and no magic is involved. Learn the basics then expand from there for your own variations. Become the chicken master today.
My Rating

A solid 5 for this technique.
👨‍🍳Top Tips
Not really secrets - just the high points of correct technique. If you do these three things right, you will do well.
Even out the thickness.
Get the grill surface temperature correct.
Remove at 165 internal temperature and rest for 5 minutes before serving.
🐓Chicken Breasts
Chicken breasts have become progressively bigger over the years. Forty years ago, the six to eight-ounce chicken breast was standard. Now, eight is small, 10 to 12 is the common and bigger is not unusual.
If the chicken was frozen, it must be totally thawed before proceeding.
Try to get breast about the same size if possible. But the next step will help even out cooking time.
The Thickness (Pro Tip #1)
So what to do with the big thick chicken breast? Smash it.
With grilling, the thickness of the meat will determine the cooking time more than weight. ScienceDirect had a discussion about beef, but the same principles apply to chicken (not available online).
I like to get to about ¾ inch thick. The smaller ones are already there, but the bigger breasts will be an inch and need to be adjusted.
I usually use a meat hammer, but the bottom of a heavy pan will do nicely.
You need to protect yourself and the surrounding area from splatter. Most people will place the chicken in plastic wrap for this, but I like one-gallon freezer bags.
See Chicken… To Rinse or Not To Rinse? for more food safety discussion about chicken.
To Brine or Not to Brine - That is the question.
A brine is a "salt-water bath" where the salt will go into the meat dragging water with it. It will help keep the meat moist during cooking. And in dry heat methods like grilling can make a major difference.
You can still get good results without a brine, but you will be consistently better with a brine. Also, if the breasts have been previously frozen, they do lose some moisture, and brine will help that.
I use a brine of 2 cups of water with a tablespoon of table salt. You can add other flavors like garlic or sugar to this, but this discussion is about the basics.
With this brine, you can get fairly good results in 20 minutes. You can brine for up to 1 hour. More than that leaves too much salty taste to me.
After brining, you should carefully rinse the salt off the surface. For food safety, try not to splatter and lean up with an anti-bacterial cleaner in the sink area. See
Never use a seasoning with salt if you have brined.
🧂Seasoning
I have a suggested seasoning that you can adjust to your needs but use what you want. Most commercial seasonings are heavy in salt, and if used with a brined chicken breast will be too salty for most tastes.
BBQ sauce will work fine the last few minutes on this, but I prefer to build up a base of the sauce and suggest you see How to BBQ Skinless Boneless Chicken Breast on a Gas Grill
♨️The Grill
Pro Tip #2 - You can NOT cook chicken properly on high heat. You will dry the outside long before the inside is even close to done or safe.
I suggest a grill surface temperature of about 450°. A little less is fine, and a smidge more is ok but never over 500°.
To get this right, you usually should have a grill surface thermometer. The hood thermometer is ALWAYS wrong.
If you don't have a surface thermometer (you should), then medium will be about 400°-450° on most gas grills. The cooking time will be different, but as long as you get the end-point of 165° correct with an instant-read thermometer, you will do ok.
Please see A Beginners Guide to Grill Temperature on a Gas Grill for more discussion.
Can I do this on a charcoal grill? Yes, but you need to be very careful about surface temperature. And, of course, times will vary.
🌡️⏲️Temperature and Timing
Most chicken breast, when properly prepared, will take 20-25 minutes on a grill with a surface temperature of 450°. Smaller breasts may be a bit less and larger may be a bit longer. Remember to never cook by time alone.
Pro Tip #3 - A chicken breast is done at 165° internal temperature in the thickest part of the breast. More will dry, and less is unsafe. An instant-read thermometer is required to get this right.
The chicken should rest off of the heat for about 5 minutes before serving. If longer, tent lightly with foil to keep warm.
📖Grilled Chicken Breast Recipes
How to BBQ Skinless Boneless Chicken Breast on a Gas Grill
Super Moist Grilled Skinless Boneless Chicken Breasts
Honey Glazed Grilled Chicken Breasts
Grilled Blackened Chicken Breasts
Grilled Chicken Tenders For the Kids

🖼️Step-by-Step Instructions
Trim chicken breasts.
Use a meat mallet and flatten the thickest part of the breasts to ¾ inch.
If doing the suggested brine, combine 2 cups cold water with 1 tablespoon table salt. Submerge the chicken in the brine for up to 1 hour. As little as 20 minutes will help moisture a lot.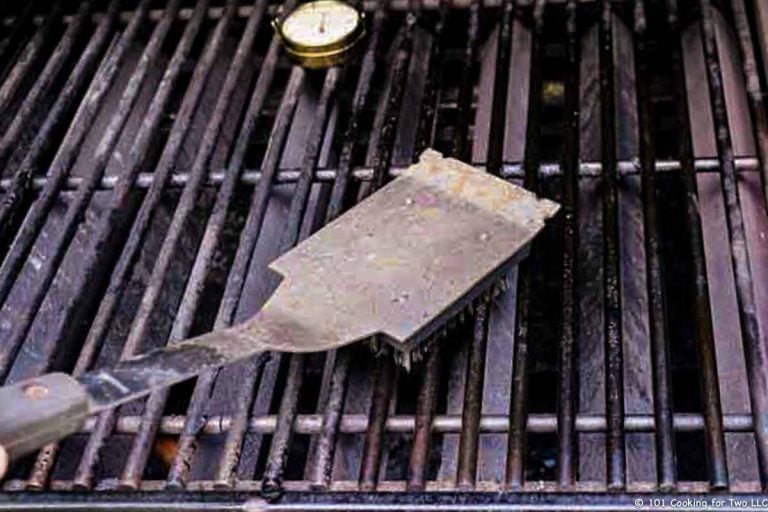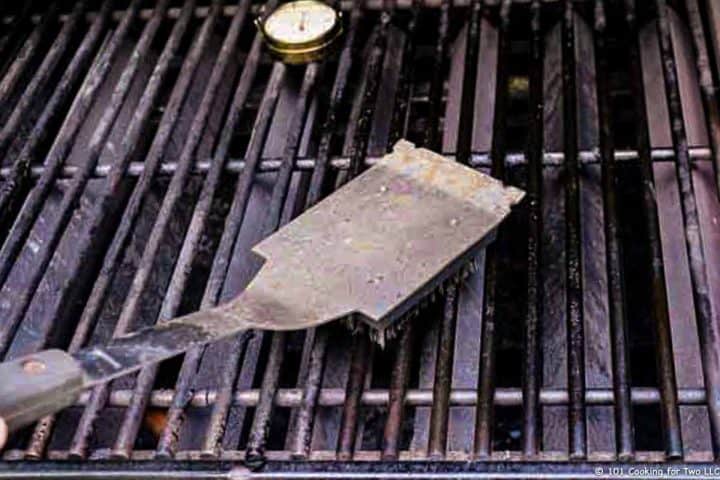 Clean and oil grill. Preheat to a surface temperature of 450°.
Use the seasoning of your choice. I suggest ½ teaspoon paprika, ½ teaspoon garlic powder and ¼ teaspoon black pepper. If not brining, add ½ teaspoon kosher salt. If you use a different seasoning, be sure not to add more salt if you have brined.
Rinse brine off the chicken and pat dry with paper towels.
Give them a light coat of vegetable oil. Sprinkle all sides with a light coat of seasoning.
Place over direct heat with closed lid. Flip every 5 minutes until an internal temperature of 165°. About 20-25 minutes most of the time.
Allow to rest 5 minutes before serving.


Do you want more recipes from 101 Cooking for Two? Sign up for the newsletter and get all posts delivered straight to your inbox!
📖 Recipe
Editor's note: Originally published June 7, 2019. Updated with expanded options, refreshed photos, and a table of contents to help navigation.