A great side dish for everyday or special meals. If you can boil water, you can do this. Break the French fry habit with these crispy on the outside but fluffy on the inside smashed potatoes.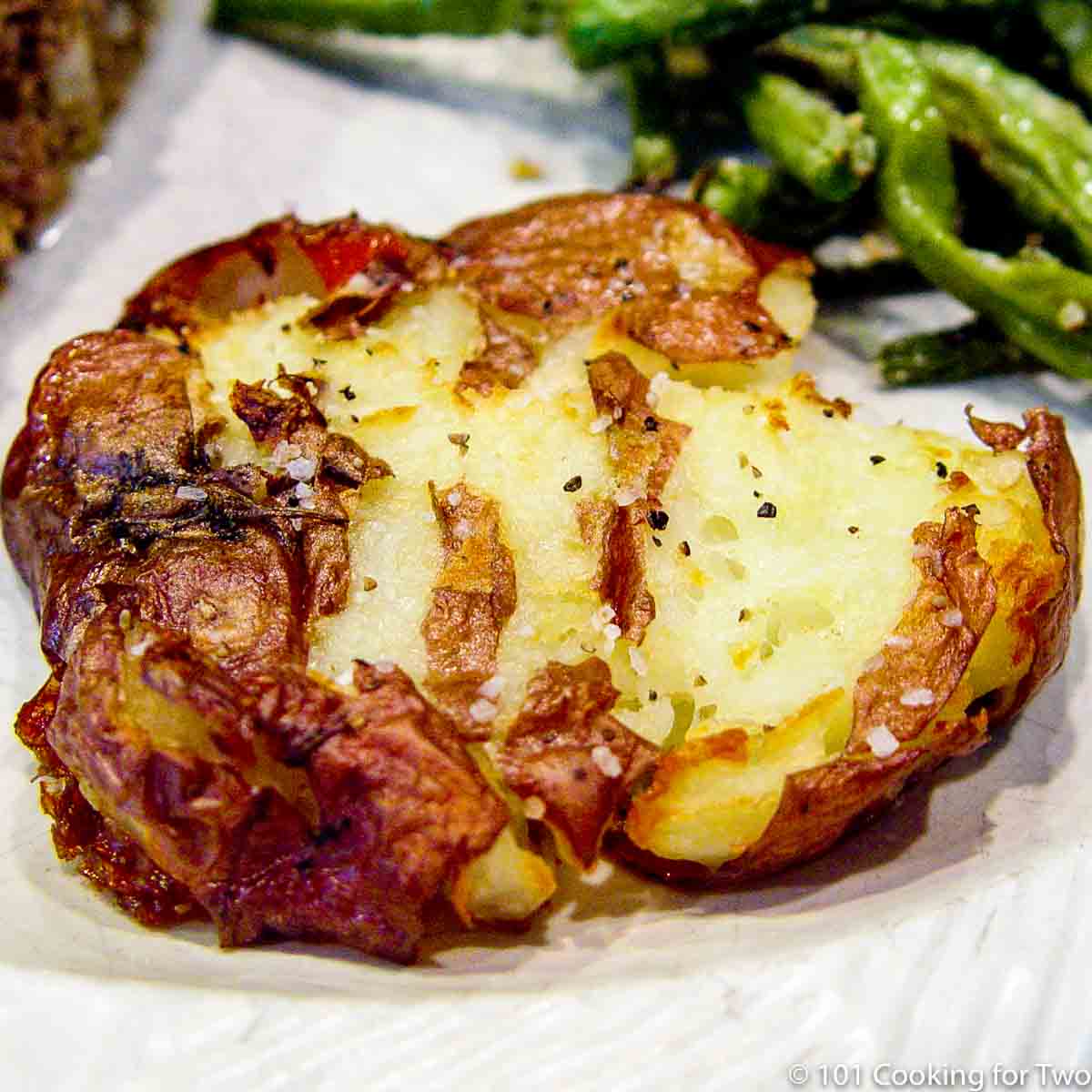 Introduction
Crispy... Tasty... Simple... Some of my favorite words. My type of recipe. An easy potato side dish that will become one of your all-time favorites.
Smashed potatoes have been around for quite a while but many people have forgotten about them.
Most recipes for smashed potatoes are very similar, and I'll pick a Pioneer Woman recipe as the inspiration recipe, but it could have been many others. I'm simplifying as much as possible with easy step-by-step photo instructions.
The basic idea is to boil some smaller potatoes in salt water until soft—about 30 minutes. Smash them on an oiled pan, top with oil, salt, pepper, and anything else you want. Then bake them at a relatively high temp until browning and crunchy—about 20 minutes.
My Rating

This is a solid 4.
🥔The Potatoes
There are several hundred types of potatoes, but I like to divide them into russets potatoes and thinner skin types. Russets are picked when mature and tend to have more starch and thick skins, great for baking.
The potatoes for this recipe need to be a thin-skinned potato. Also, big enough for a nice serving but not too big. This puts the choice right on medium-size red potato.
I think any thinner skin potatoes like Yukon Gold, young or baby potatoes would be fine also.
Generally, you want the potatoes to be about 1 to 1 ½ inches in diameter. Think one to two golf balls size.
♨️Cooking
The potatoes need to be fully cooked to smash well. I will define that as "fork-tender," which means if you stick it with a fork, it will come out easily. If you don't "get it" about fork-tender, you can use a thermometer. I like to use 210°. Cook's Illustrated recommends 205° to 212°.
For these potatoes, it will be about 30 minutes simmering in boiling water. But will vary some with the size of the potatoes.
The pan needs a good coat of oil to the point of pooling a bit. Also, the pan needs to be big to leave some room between each of the potatoes. I like to use a "non-stick" sheet pan also but is perhaps overkill here.
🌡️Oven Temperature
While I wrote the recipe to cook at 425° convection or 450° conventional oven, it will work with a wide range of oven temperatures. You are cooking to an endpoint of nicely browned and crispy.
✔️Tips
Make them "loaded smashed potatoes" with bacon and cheese.
I used my 7:2:1 seasoning for that garlic taste.
By choosing the amount of smashing and the potatoes' size, you can adjust the final results to your desires. The thinner smashed potatoes will be crisper; thicker will be fluffier on the inside. The rougher the surface, the more crunchiness of the final results.
Add a little melted butter to the oil you are brushing the potatoes with for more flavor, but all butter will not be good due to the high oven temperature.
📖Potato Recipes
Crispy Parmesan Baked Potatoes
Old Fashion Cheesy Potato Casserole

🖼️Step-by-Step Instructions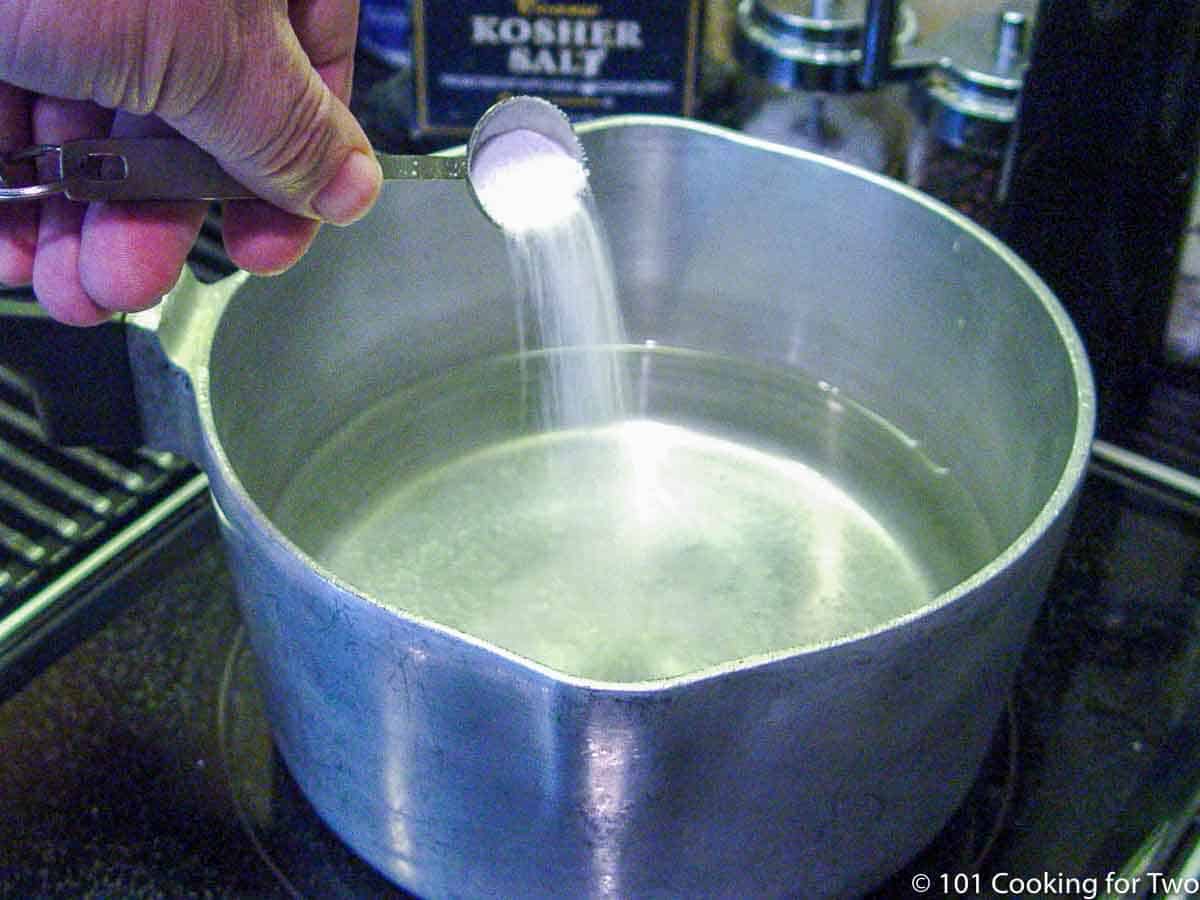 In a pan big enough to hold the number of potatoes you want, add water and some salt. Here I have 3-4 cups of water; I added one teaspoon of salt and brought it to a boil over high heat.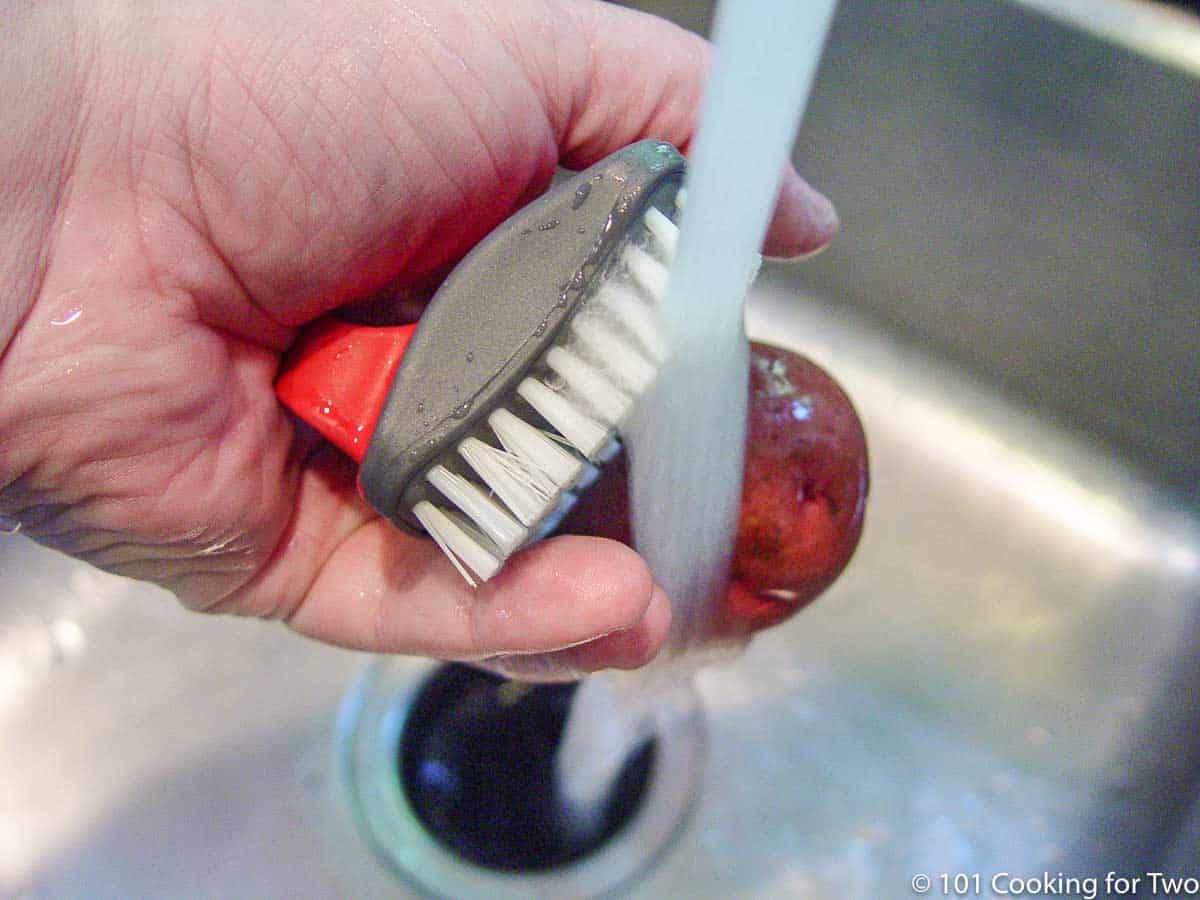 Scrub some smaller potatoes. These are about 1 ½ inch red potatoes.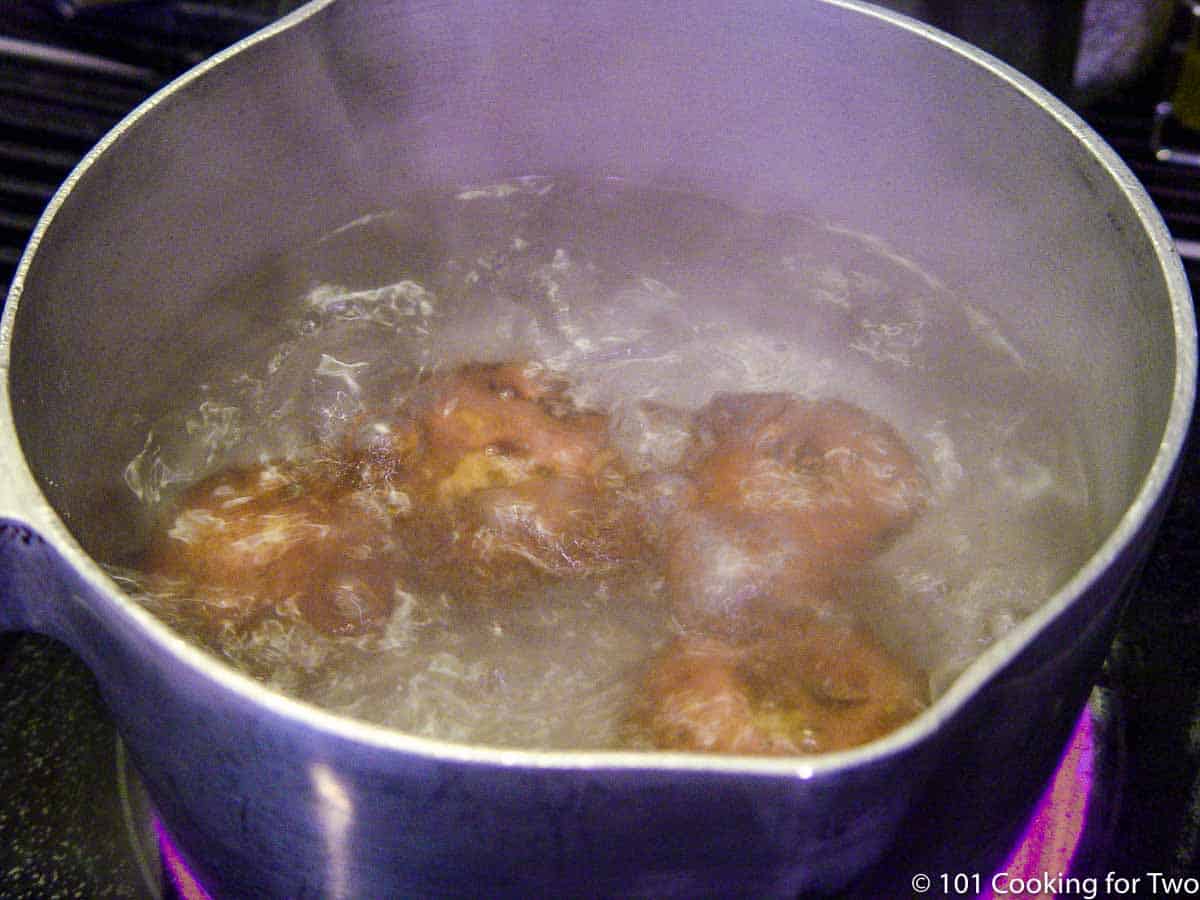 Add the potatoes to the water. Be sure you cover the potatoes with water. Cover with a lid and reduce the heat to low and simmer for about 30 minutes until "fork tender". This is when you can stick it with a fork and meet only a little resistance, and it comes out easily — Preheat oven to 425° convection or 450° conventional.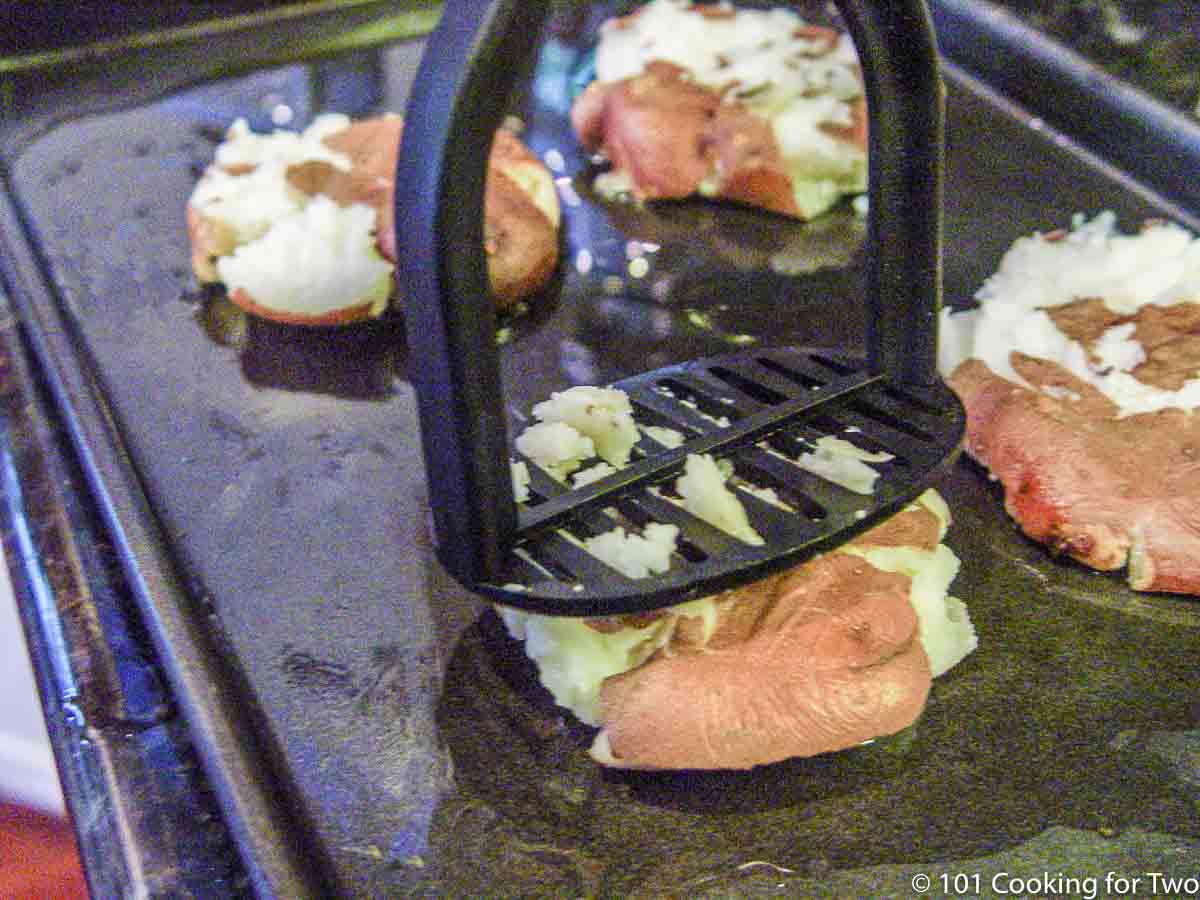 Add olive oil to a baking pan with an edge (non-stick preferred but not required.) Use enough to have it "pool" a little, not just a coat. Add the potatoes and "smash" to about ½ inch thick. I used a potato masher or fork, but the bottom of a large glass would work also.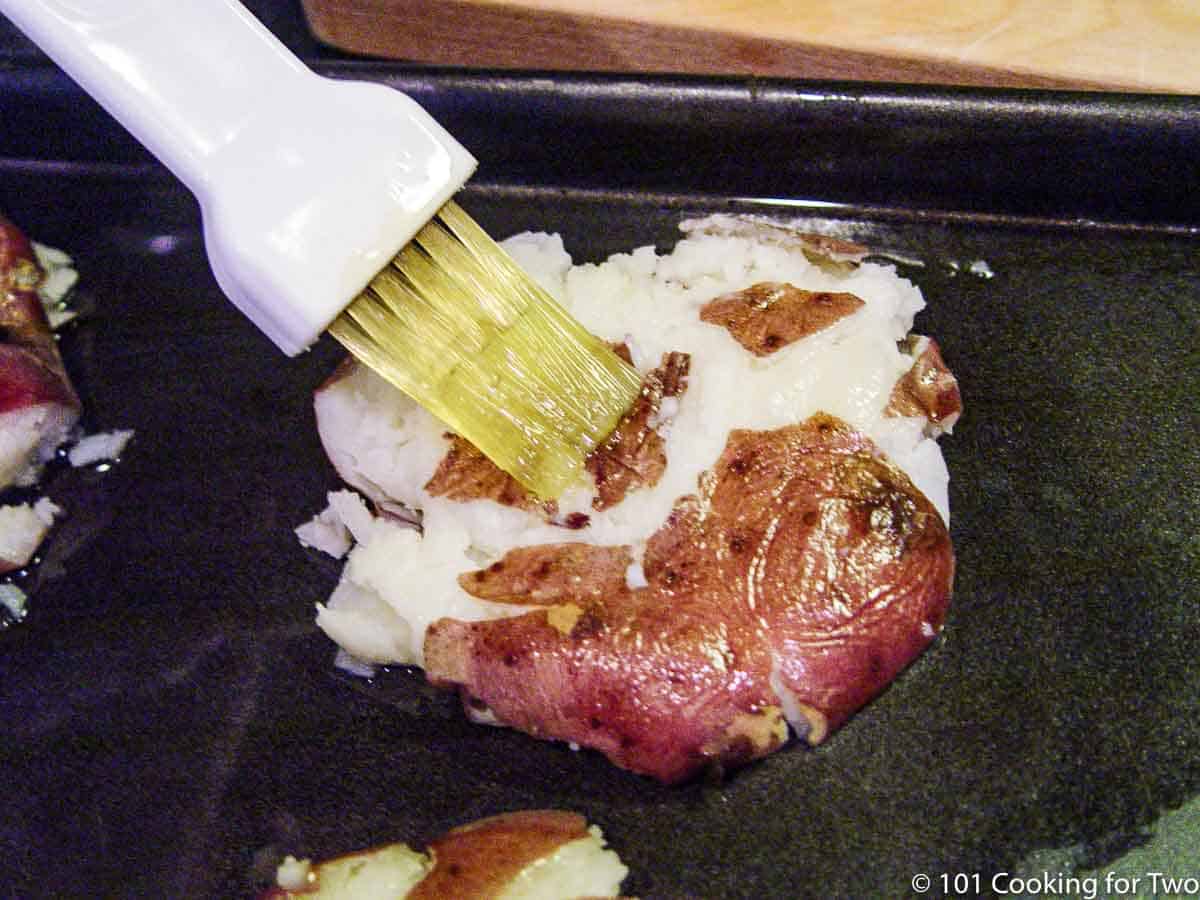 Brush top with more olive oil.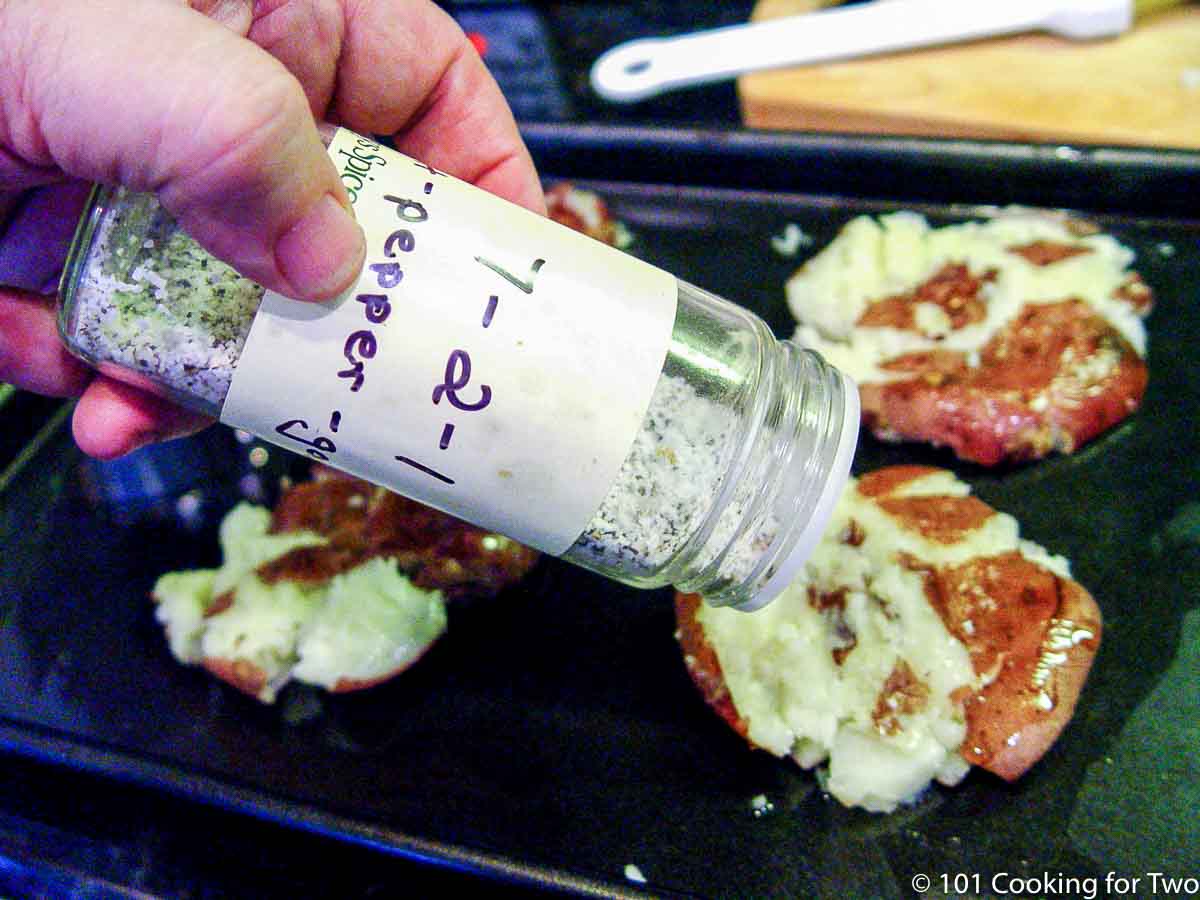 Sprinkle with salt, pepper and anything else you want. I used my 7-2-1 seasoning mix which also has garlic in it.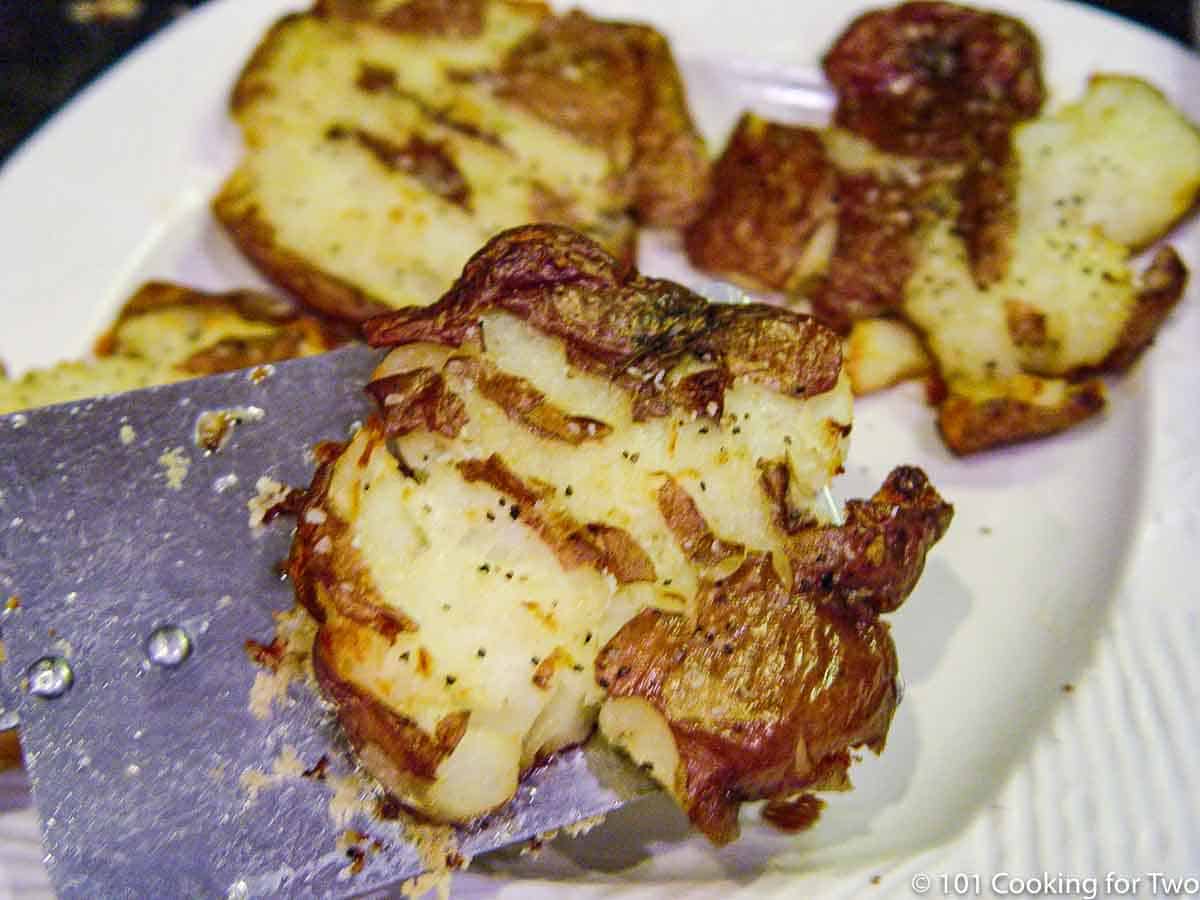 Bake until brown and crisp. About 20-25 minutes. You may bake longer if you want crispier surface.


Do you want more recipes from 101 Cooking for Two? Sign up for the newsletter and get all posts delivered straight to your inbox!
📖 Recipe
Originally Published July 4, 2012. Updated with expanded options, refreshed photos, and a table of contents to help navigation.