The Holy Grail of ribs, smoked, grilled baby back ribs, can be yours. It's not that hard. Do them low and slow like the smokers do but on your gas grill. The trick is the grill set up. Once you get this down, it's easy.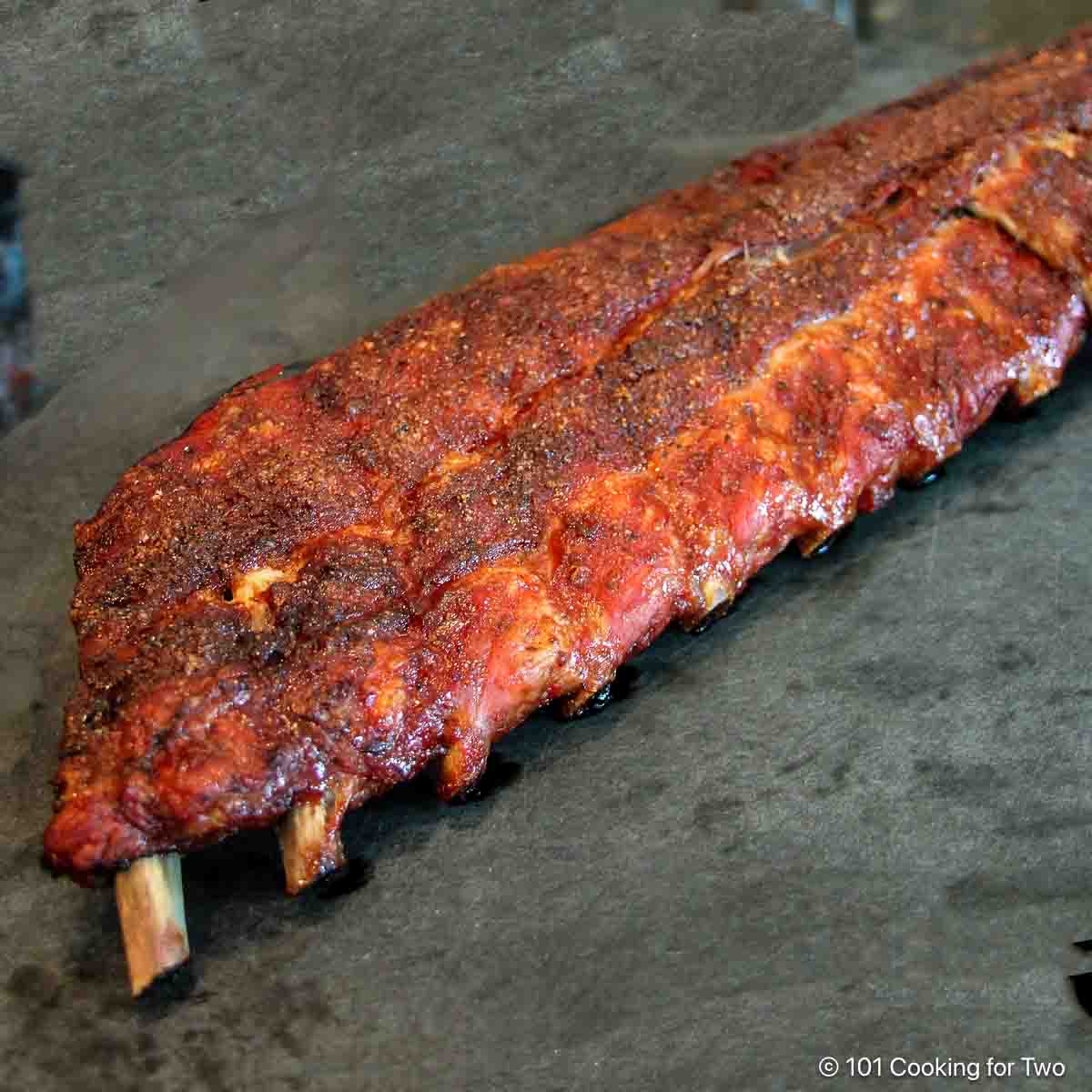 Introduction
There are three recipes I consider the Holy Grail of grilling. First, this recipe for baby back ribs. Second, Brisket (How to Cook a Brisket on a Gas Grill.) And third, Pulled Pork from Butt (Pulled Pork on a Gas Grill - Not That Hard.)
For real beginners, I want to add on hamburgers (How to Grill a Hamburger - A Beginner Tutorial) along with chicken breasts (How to Grill Chicken Breasts on a Gas Grill).
If you conquer all of them without fear, you are a grill master. You have won the backyard battle.
With ribs, there is are just a few things to learn, and you can do this over and over. First, you must set up your grill. And you must know your endpoint, that is it, the rest is a personal preference.
My Rating

An easy 5. My wife wanted it over and over and gave a five, also. "The best-looking ribs...ever."
♨️Grill Setup
By far, the most important thing about this recipe is the grill set up. You get that right, you are golden and can do no wrong (almost). Get it wrong, and you have no chance. This goes for almost any grill recipe more complicated than a hot dog.
Fortunately, it is not that hard. Please review these details on the grill setup.
How to Set Up Your Gas Grill for Smoking and Low and Slow Cooking
A Beginners Guide to Grill Temperature on a Gas Grill
But here is a summary.
Indirect Heat
You will be using indirect heat, meaning the meat will not be directly over the burners. All grills are different, but you will need to learn this for your grill for this and other recipes.
You will need a way to check and monitor the surface temperature of the grill where the ribs will be cooking. This is NOT a hood thermometer. They are first inaccurate, and second are nowhere near the surface where the cooking is happening. I suggest a grill surface thermometer that will be about $10. It will make your grilling of all recipes 200% better instantly.
If you are lucky, the manufacturer of your grill provides these instructions. But even then, you will need to spend a bit of time experimenting with your set up. For my 4 burner grill, I can use the center area with those two burners off and the two outside burners on about medium. But yours may be totally different.
You will also need a drainage pan under the ribs. This is usually under the grids but CAN NOT rest on the burners.
Again, please see my more comprehensive guide listed above.
Smoking
I have a smoking box built-in my new grill. On my old grill, I used a cast-iron smoking box (link in The Cooking for Two Shop.) You could use an aluminum foil pack of wood chips. I generally use hickory, but cherry, pecan, mesquite, and apple are commonly used. Some people like oak but I really dislike oak for this.
Again, please see my more comprehensive guide listed above.
🐖The Ribs
First, your ribs should not be frozen when cooked with this method. Also, examine the ends of the bones for bone chips before proceeding.
What are Baby Back Ribs?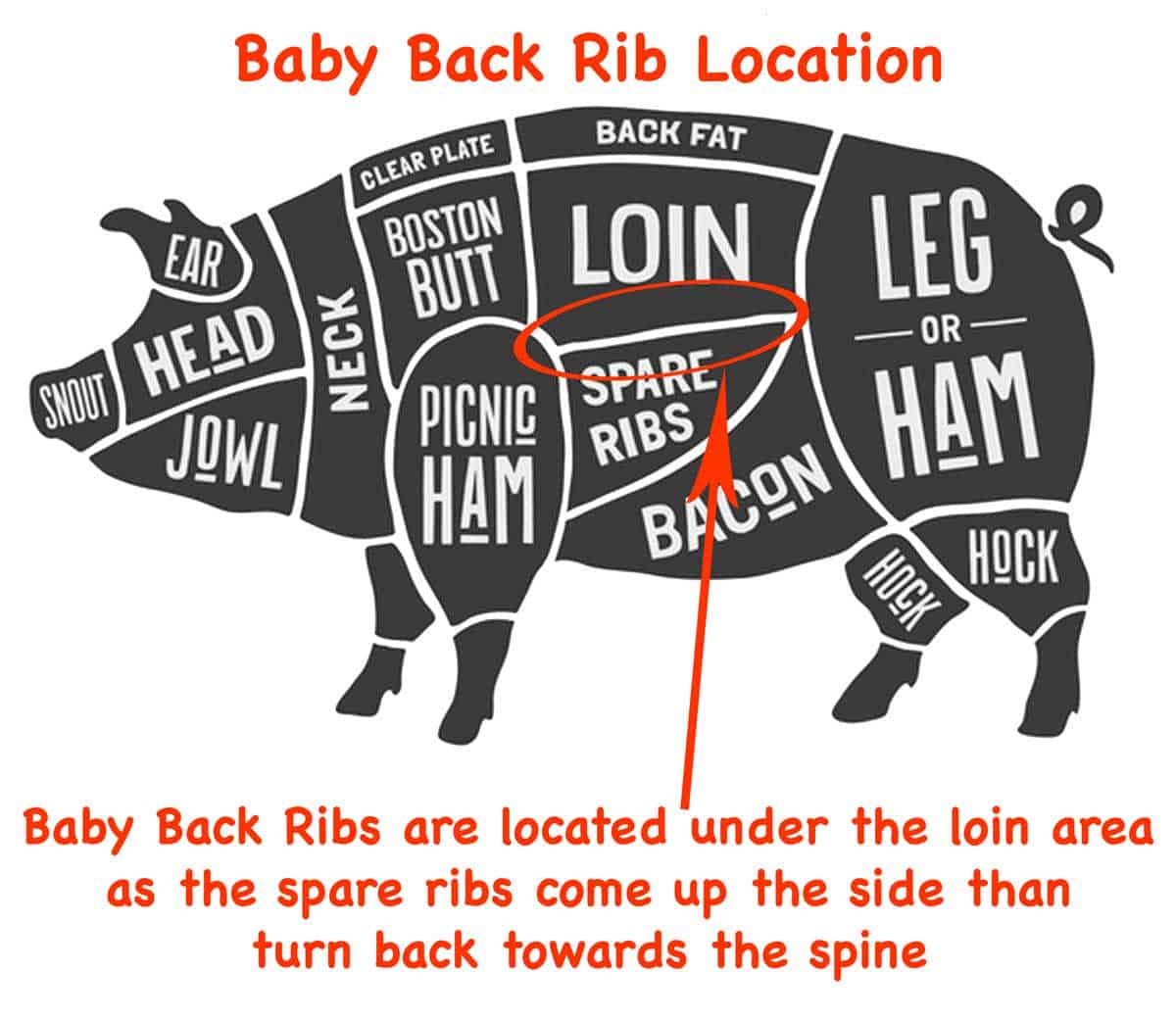 Back ribs are cut from the top/back part of the rib, where it meets the spine. They are called baby back since they are shorter than the other rib cuts. They will usually be 10-12 ribs that are 4-5 inches give or take a little and usually weighs 1 ½ to 2 pounds.
Since they are meatier and in higher demand, they will cost more but well worth the price.
Removing the membrane
Pork ribs have a membrane on the back of the ribs, which is the lining in the lung cavity. It does not have to be removed, but most experts want it removed (and I do, also.) I think you get more rub flavor if you remove it.
This is easier than you think. I like to use my fingers and a butter knife. And many times, the best part of the knife is the handle. Work your way under it in the area of a rib near an end. Then once you can get a good hold on it, start pulling at an angle, and it will come off. It is an acquired skill, so you won't be perfect the first time.
The Dry Rub
I included a nice simple 8:3:1:1 rub in the recipe. A great rub by any standard, but do you want a "top of the line " rub? It is a bit more complicated, but try Marlowe of Memphis BBQ Dry Rub, it is more work, but it is worth it. Try some Marlowe Memphis Dry-Rubbed Ribs today.
🌡️Grill Temperature
Most smokers and top grillers like to cook ribs in the 225°-250° grill temperature range. While higher temperatures will cook faster, that is not better. It will tend to cause dried out meat.
⏰How Long?
While there are the variables of the grill and meat, there is never an exact time for something like this.
A good estimate for cooking a medium size rack of ribs is 3 hours. If the ribs are a bit small or you are unsure about your grill setup, start checking at about 2 hours. A thick slab may take 4 hours. If you are cooking more than one slab with a vertical rack, add about 30-60 minutes.
How to tell if they are done?
This is the biggest issue. Too long, and they are dry and overcooked. Too short, and they are tough. I'm combining three things.
1) Temperature, I want the instant-read temperature at 190° plus range. More like 200°-205° is better. It is hard to get an accurate temperature due to the thin meat and the bones interfering.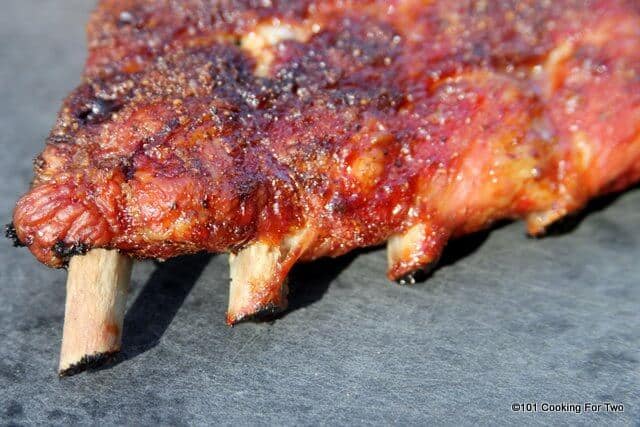 2) I want to see some bone. This means the ends of the rib bones are sticking out some.

3) When I pick up the ribs with tongs holding them about ⅓ of the way up, they crack some.
If you use a larger rib like a St. Louis or similar, they will also take longer. DO NOT GO BY TIME ONLY HERE.
📖Related Recipes
Easy Oven Baked Baby Back Ribs
Memphis Barbecue Sauce - A Wonderful Thing
Marlowe of Memphis BBQ Dry Rub

🖼️Step-by-Step Instructions
Set up the grill for indirect cooking over a drip pan under the indirect are with ½ to 1 inch of water. Stabilize temperature about 250°. Clean and oil grill, of course.
Prep the ribs. Remove the inner lining and check for bone chips. There seems always to be some.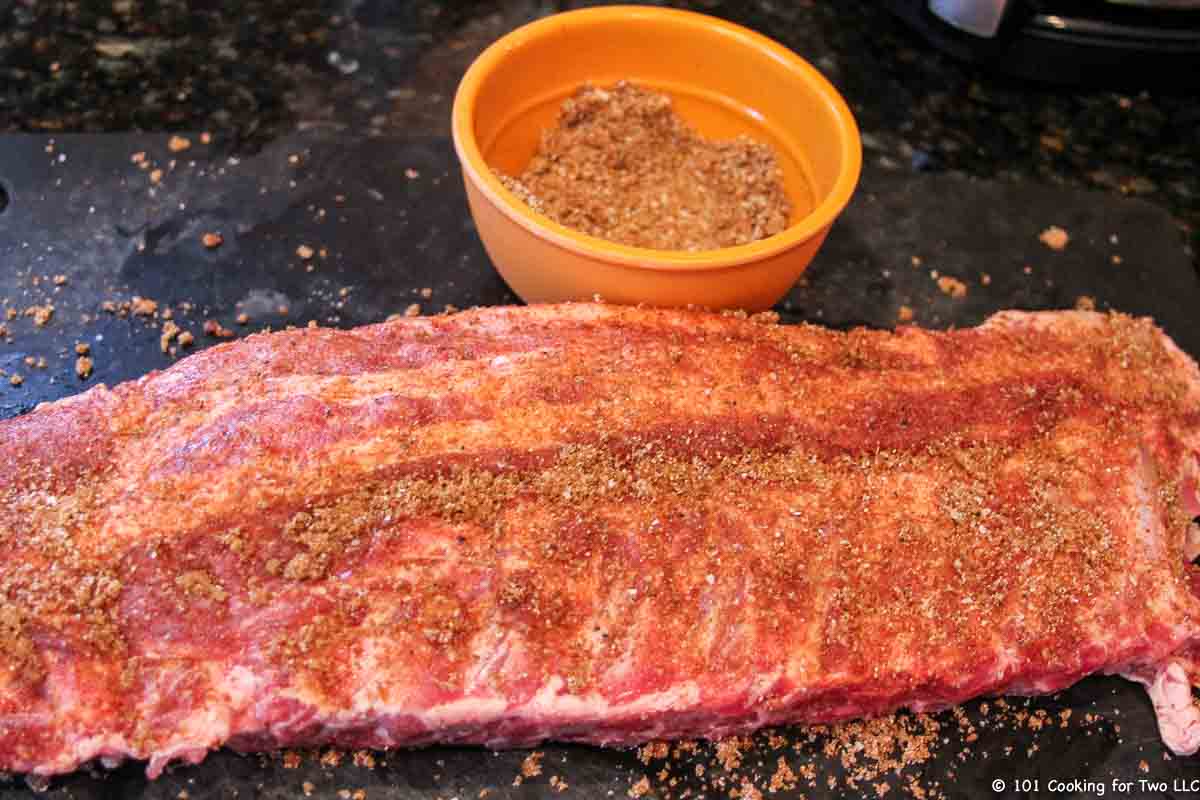 Rub with about ½ cup of a dry rub of your choice. I have included an 8:3:1:1 rub in the recipe but use what you want. The rub will work fine if applied just before grilling or the day before. If applying early, then wrap with plastic wrap and refrigerate.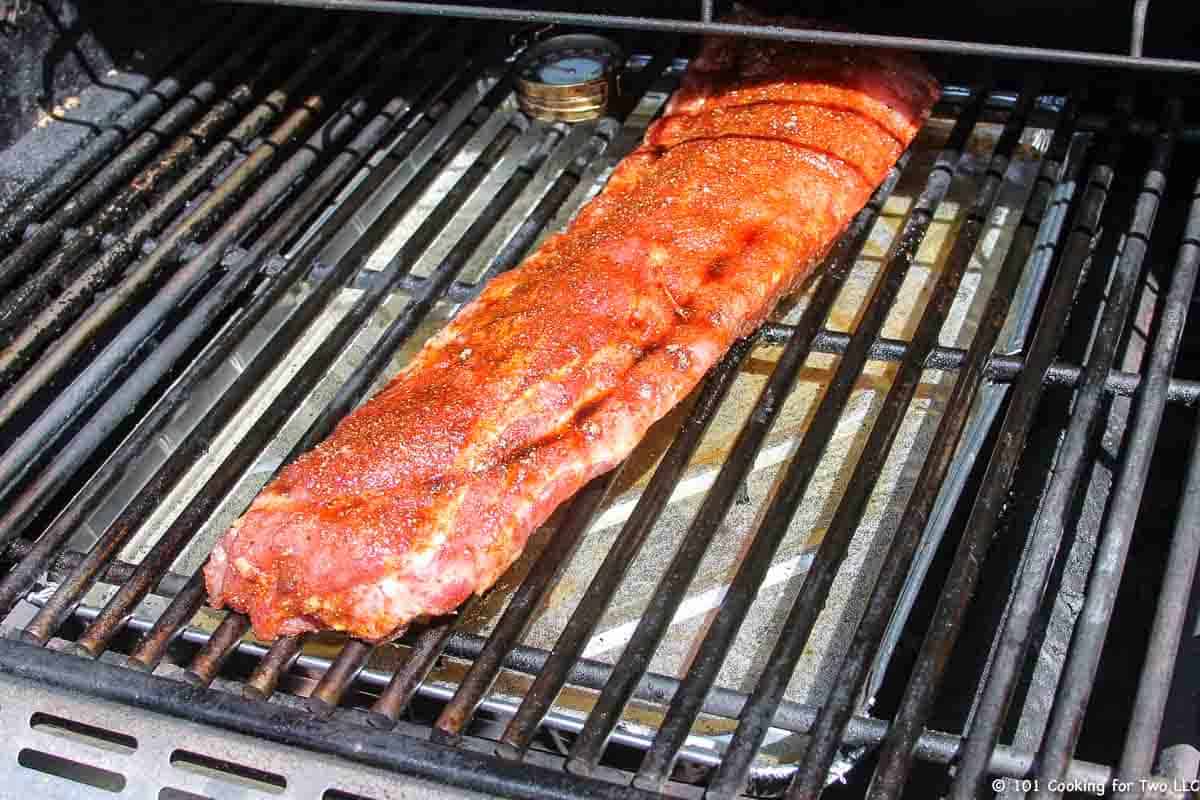 Place over the drip pan and start your smoke. I did about 30-60 minutes. Then keep your hands off for about 3 hours total from the start of cooking. Add some time to that if cooking more than one slab. It may be 4 hours or more. If you are unsure of your grill setup or doing smaller ribs, start checking at 2 hours.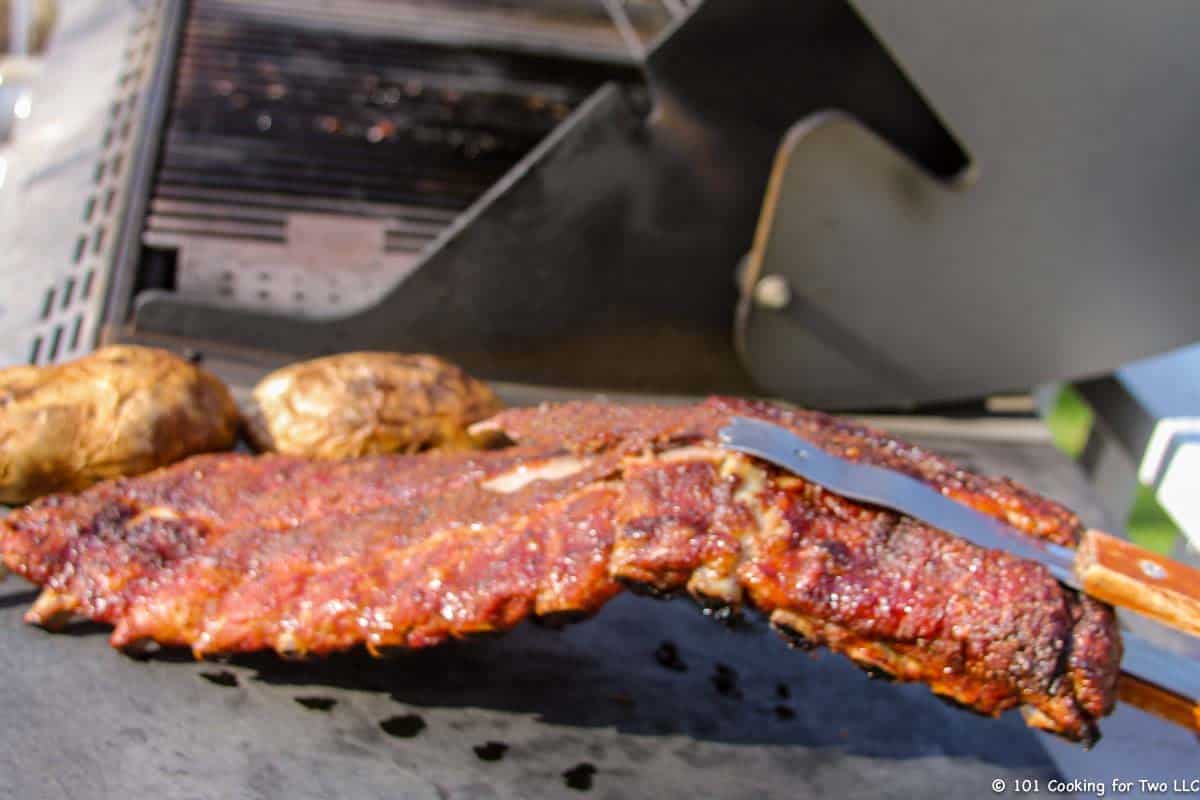 The ribs are done when: First, temperature, I want the instant-read temperature in 190° plus range (200°-205° preferred.) Second, I want to see some bone. This means the ends of the rib bones are sticking out some. Lastly, when I pick up the ribs with tongs holding them about ⅓ of the way up, they crack some.
Allow to rest for 10 minutes before digging in.
Potato Bonus
Scrub and coat medium-large russet potatoes with oil. Toss them on the grill with ribs in the indirect heat area. They will be great.


Do you want more recipes from 101 Cooking for Two? Sign up for the newsletter and get all posts delivered straight to your inbox!
📖 Recipe
Originally published May 11, 2014. Updated with expanded options, refreshed photos, and a table of contents to help navigation.