Pork carnitas are simple. Cut up the pork butt, add a few spices, and a lime. Pop them into the oven for a slow roast—no big fuss or mess. Have one of your favorites at home today.
Introduction
One of our standard restaurant meals is carnitas. If you are unaware of this Mexican classic, they are basically chunks of pork butt cooked with seasoning.
Also known as "little meats," and sometimes called Mexican pulled pork, they can be found on the street in Mexico cooking in large vats of lard. Not a good option for us home-cooking Yankees.
I have done carnitas multiple ways (never in lard). The most common method that I see recommended is braising chuck of pork butt in a spiced-up fluid of some type and then cooking off the liquid either on the stovetop or in an oven.
That method works nicely but is a fair amount of work and makes a heck of a mess. I have done this a number of times (not published), and it was very tasting. But the work to food ratio was high for me.
There is a much easier method, and the major issue, which is the horrible mess I usually make at home, is gone.
My Rating

Low 5 or high 4 range. Much of the fat drains due to the rack, so the "greasy factor" is markedly decreased.
🐖Pork Butt
Like many cuts of meat, there are multiple names about the same thing. Pork butt, Boston butt, and Pork shoulder are the same in common usage.
A "real" pork shoulder is really the thinner area of this cut but is commonly cooked and used the same as the butt, but usually, the term pork shoulder is used interchangeably with pork butt and Boston butt.
I do suggest a boneless butt to simplify by letting the butcher cut the bone out. Just make your life easier.
♨️The Method
I needed a really simple technique. And finding a recipe to model was a major problem.
The simplest was at instructables.com, but I had a few issues. It required flipping, I felt it would probably overcook, and it was not on a rack, so the pork would cook in the drained out fat and juice, which I wanted to avoid.
My method is simple enough for the average home cook to make. So here, we cut the pork into chunks, season, spread on a rack, cover and bake for a while in a low oven then uncover for a while, almost everybody can do this.
I do suggest a boneless pork butt to simplify by letting the butcher cut the bone out, which can be more work than you appreciate.
The rack will lift the meat out of the rendered fat and improve cooking on all sides without flipping.
🧂Seasoning
The seasoning of carnitas is highly variable. It can just be salt or use lots of other spices and herbs. There may or may not be citruses like lime or orange. So season to your taste.
📖Other Carnitas Recipes
Healthier Pork Tenderloin Carnitas
Chicken Carnitas AKA Carnitas de Pollo

🖼️Step-by-Step Instructions
Preheat oven to 250° convection or 275° conventional.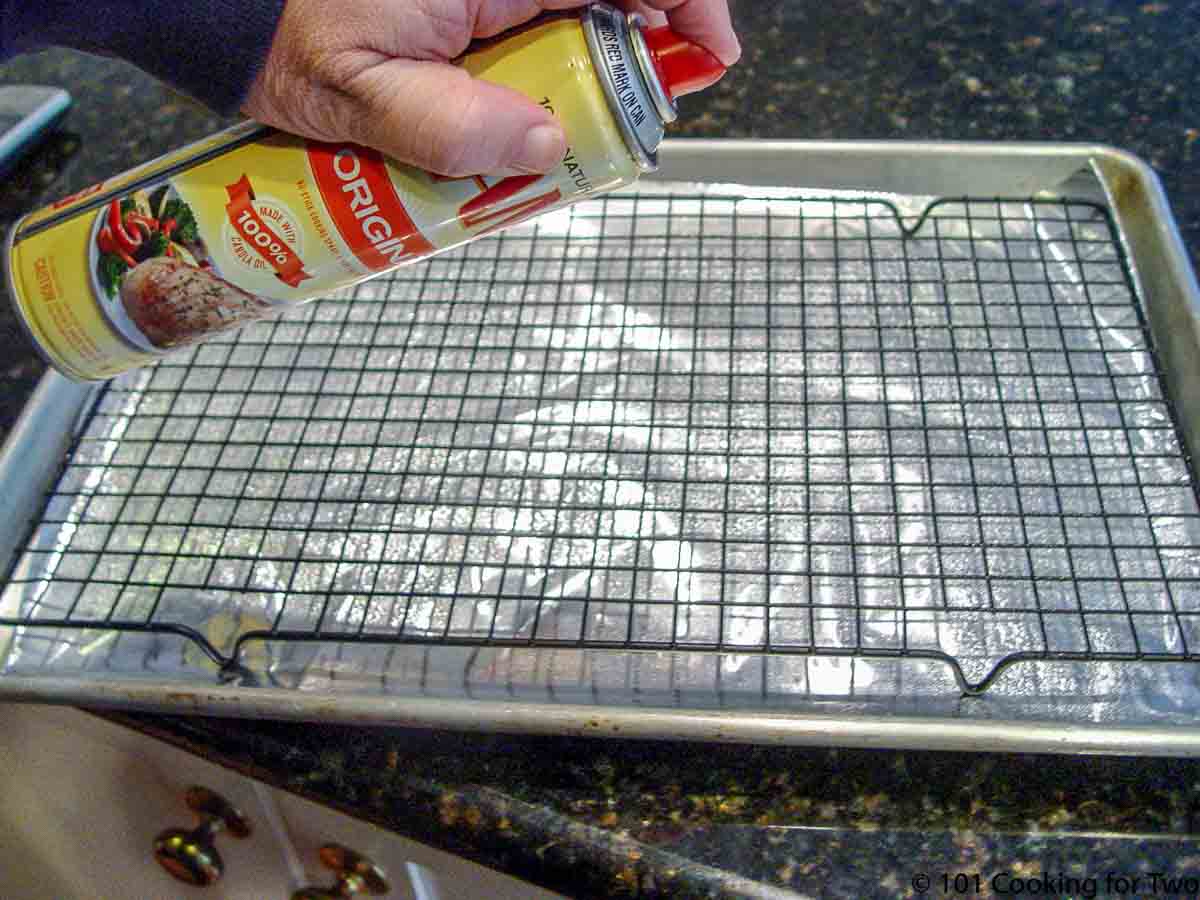 Prepare a sheet pan with foil and a rack. Give the rack a heavy spray of PAM.
Cut a 3-4 pound boneless pork butt into about 2-inch chunks. Trim big chunks of fat only. You could do bone-in butt, but you will just be making your life harder.
Place pork in a large mixing bowl. Add the juice of one lime. Mix well. Add 1 tablespoon chili powder, 1 teaspoon cumin, ½ teaspoon garlic powder, 1 teaspoon kosher salt, and ½ teaspoon pepper. Mix well. Change the seasoning if you wish.
Transfer meat to the prepared pan. Distribute evenly but largest chunks in the corners.
Cover with foil.
Roast in the preheated oven for 2 ½ hours. Remove foil and continue to roast about 2 more hours until internal temperature is 195° to 200° on the biggest pieces.
Allow to rest for 10 minutes before serving.


Do you want more recipes from 101 Cooking for Two? Sign up for the newsletter and get all posts delivered straight to your inbox!
📖 Recipe
Editor's Note: Originally Published October 1, 2017. Updated with expanded options, refreshed photos, and a table of contents to help navigation.