The easiest and tastiest fall apart tender pork carnitas you will ever have. Just follow these easy step by step photo instructions.
Introduction
Pork carnitas are the holy grail of Mexican food around my house. But they are usually a little too much work, so it is restaurants for us. We now grade Mexican restaurants on their carnitas (and refried beans) just like I judge Italian restaurants by their Chicken Parmesan.
It was just time to do my own carnitas the easy way. I chose crock pot. I have done stovetop, but I make a big mess, great taste but a big mess.
Other Recipes
As usual, I did lots of research. The cooking method for carnitas should usually be with lard on a stovetop with a Dutch oven. Lard is just not happening in my house, and here I chose a slow cooker for easy results.
Something was wrong with all the crockpot recipes I read.
Carnitas are "little meats" not shredded. But all the recipes put the butt in the crock pot whole then later shredded and browned under the broiler. It just didn't seem right.
I did it with shredding, and we had a very nice meal... a 5 rating really but I had a hard time publishing it. It just didn't feel right calling it carnitas. I would call it crock pot shredded pork butt or something like that. But not carnitas.
So what is a blogger to do? Well, all of us good "Blogger Scouts" are innovative and creative so I fixed it. Now I feel better.
My Rating

A high five from the wife and myself. A candidate for the recipe of the year.
🐖Pork Butt
I have recipes on this site for carnitas with chicken and pork tenderloin, but traditional carnitas is pork butt. It is seasoned and cooked low and slow like pork butt should be.
You can use boneless or bone-in. You will be cutting it into chunks. I want to get the top crisped up some, so 3-5 pounds is the right amount for most standard crock pots.
The spicing was obvious for me. I want fresh orange, lime, and jalapeno. The cutting up of the pork provides more surface area for flavor.
👨‍🍳Cooking Method
Cut up a pork butt into chunks ("little meat" remember), and I needed to find a way to "brown" in the crock pot.
The solution to browning was to cook fully, remove enough fluid, so the top half of the meat was exposed then finish cooking with the lid shifted some to let moisture out.
A great finish temperature is 190° plus here. That is the minimum I would use for pulled pork on the grill.
♨️Reheating Carnitas
So many choices and so much disagreement.
Oven: Most recommended method. But a couple of ways are usually recommend.
First Method, shred up some, add some of the juices and heat under a broiler.
Second Method, a covered dish in a 350-degree oven. Add some of the juice in the bottom. This will take about 10-15 minutes.
Stovetop: Heat 1 tablespoon of oil in a large skillet over medium-high heat. Place shredded pork into the pan and press down and cook until the bottom side is browning. Add some of the juices and flip. Continue to cook until bottom is brown a bit and all the meat is hot
Microwave: Yep, this is ok but just be careful. Heat only what you need and just warm enough to be served immediately. Add some juices to moisten.
📖Carnitas Recipes
Healthier Pork Carnitas with Pork Tenderloin
Chicken Carnitas AKA Carnitas de Pollo

🖼️Step-by-Step Instructions
Start with fresh orange, lime, and jalapeno. This is a 5 pound bone in pork butt. 3-5 pounds should work. More won't fit in the crock pot well.
Cut the pork but into 2-inch chunks. Trim large chunks of fat and of course the bone if present.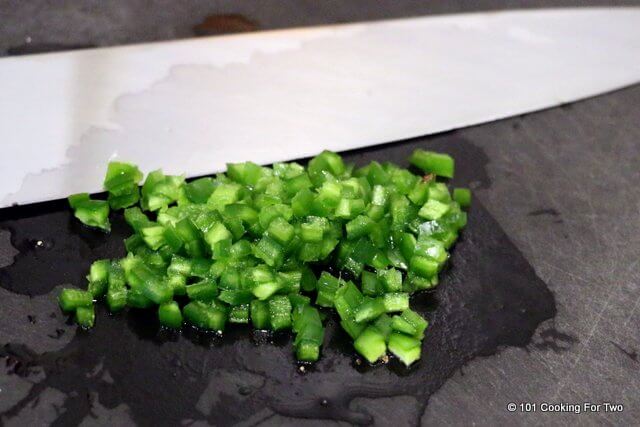 Mince on jalapeno. Crush or mince four cloves of garlic.
Add the meat to a large mixing bowl and coat with the juice of a large orange and two limes. If cooking closer to three pounds, do one lime and a smaller orange.
Add two teaspoons coarse salt, one teaspoon black pepper, one teaspoon cumin and one teaspoon oregano. Add the garlic and jalapeno and mix well.
Prep a large crock pot with a good spray of PAM. Add the meat and cook on low for 5-6 hours and check the internal temperature.
You're looking for 190° plus. Once there, remove enough liquid to leave about half the meat exposed. Save the removed liquid. Cook for one more hour with the top opened a little to vent moisture. Save the juices.
Remove the carnitas and cover with foil for 10-20 minutes before serving. Add the juice to the previously removed juice and refrigerate for reheating. Skim fat after cooling.
Serve with the topping of your choice. Good refrigerated for 2-3 days and will freeze well. To reheat, shred up some then add some of the juices and heat under a broiler.


Do you want more recipes from 101 Cooking for Two? Sign up for the newsletter and get all posts delivered straight to your inbox!
📖 Recipe
Originally Published March 7, 2015. Updated with expanded options, refreshed photos, and a table of contents to help navigation.