The best crispy oven-fried chicken breast you will ever eat. Super easy to make and healthier too. Brined in milk, coated with seasoned flour, then baked in butter. Nothing is better.
Introduction
Who doesn't love fried chicken? Get a great fried chicken that is crispy and moist with this easy oven recipe. Add in the gravy, and you have wonderful comfort food.
But what a mess at home fried chicken can make. The deep-frying is just not home friendly not to mention the health issues. So here is a simple method to get all that great taste, avoid all that mess and work. Plus it's much healthier.
Based on a Food.com recipe I simplified it to a one-pan method and changed the gravy to our tastes.
You marinate the chicken in milk, melt some butter in an oven-safe pan, coat the chicken with seasoned flour, and "fry" it in the oven. Make the gravy, and you have a great family dinner.
Since I'm cooking for two, the one-pan thing works well but if you are cooking for more, use a larger pan like a cake pan, and you can move the drippings to a saucepan to make the gravy.
Also, the original recipe uses milk and mushrooms in the gravy. I don't use mushrooms in much of anything due to family food allergies. The milk would be okay, but the chicken broth adds some more chicken taste.
My Rating

I love this recipe. I could live on fried chicken, and this is excellent. PS I love gravy, also.
🐓The Chicken
This is for skinless boneless chicken breast. But thighs work also but cook them to about 180°. While skin-on chicken should cook fine with this method, it won't be tender like the meat.
🥛The Milk
This recipe uses milk as a brine (milk is high in salt) that adds some great moisture. Any milk will do, but buttermilk is commonly used. Use what you have.
The milk also combines with the flour and helps the breading stick to the chicken. Just shake off the milk, don't pat them dry.
If you want to skip the milk brine, I suggest trimming and drying the breast, then a dip in a whipped egg with a touch of water. Shake off and proceed with the flour coating.
The Butter
This recipe "works" so well because of the butter in the pan. It adds just the right taste to make this technique excel.
The chicken needs to be in touch with the surface as much as possible so skinless chicken breasts or thighs work well here.
⏰How Long
Medium size skinless boneless chicken breasts will take about 35-40 minutes at 375° in a convection oven or 400° in a conventional oven. The target internal temperature is 165°.
If you use thighs, everything stays the same but it will take a few minutes more since you want to use a 180° target internal temperature—that is a texture choice. Chicken is safe at 165°.
✔️Tips
Milk or Buttermilk makes an excellent marinade for chicken. You can skip this and use an egg wash to adhere the flour coating to the chicken.
If you want a little more KFC taste, substitute white pepper for the black pepper. Or go full 13 spice KFC with Oven Fried Chicken – Is it KFC? my version of this recipe with KFC spices.
Bread crumbs? I do a lot of cooking with bread crumbs—but please not here. It is not needed and will make it "shake and bake" like.
If you have issues with the coating sticking to the chicken, coat the chicken with the flour mixture and allow to rest for about 10 minutes. Then proceed with melting the butter and cooking.
Also, be very careful flipping the chicken. Use a fork in the edge. Do not use tongs or a spatula.
📖Chicken Breast Recipes
Pan Seared Oven Baked Chicken Breast
Sheet Pan Chicken Breasts with Carrots and Potatoes
Parmesan Mayonnaise Baked Chicken Breast

🖼️Step-by-Step Instructions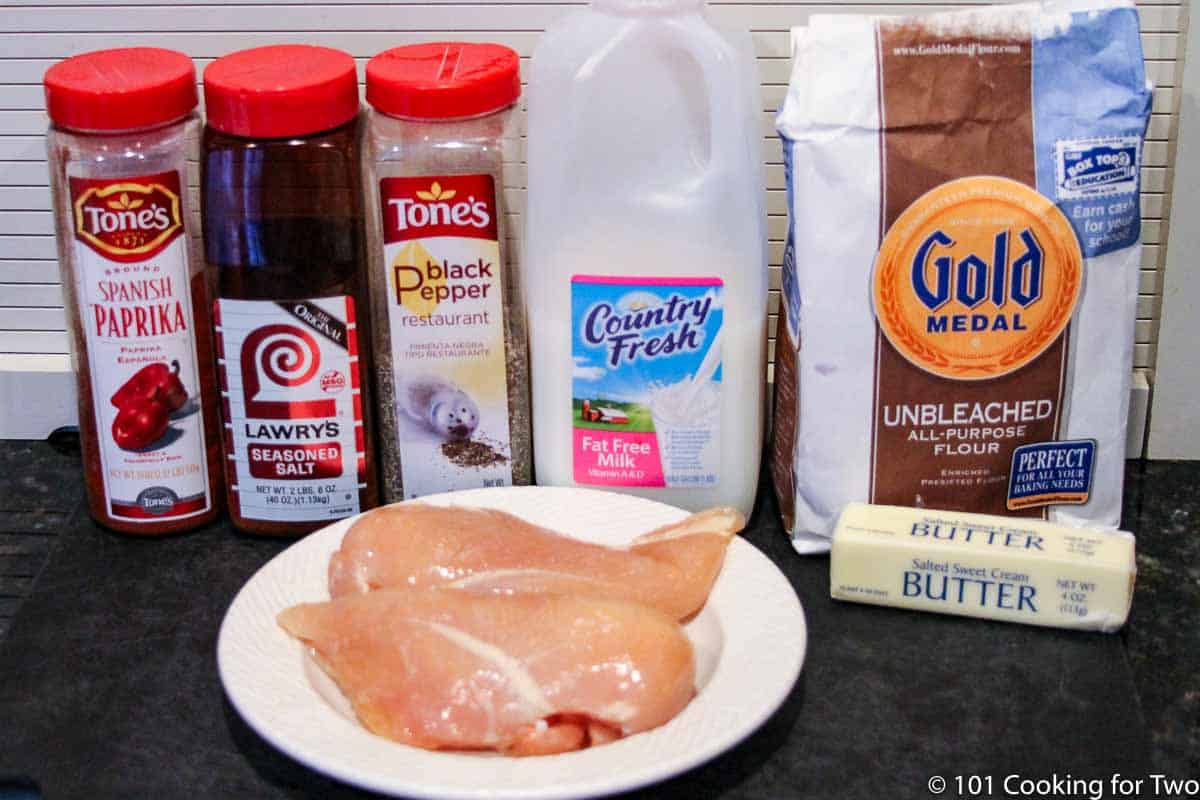 Everyday ingredients.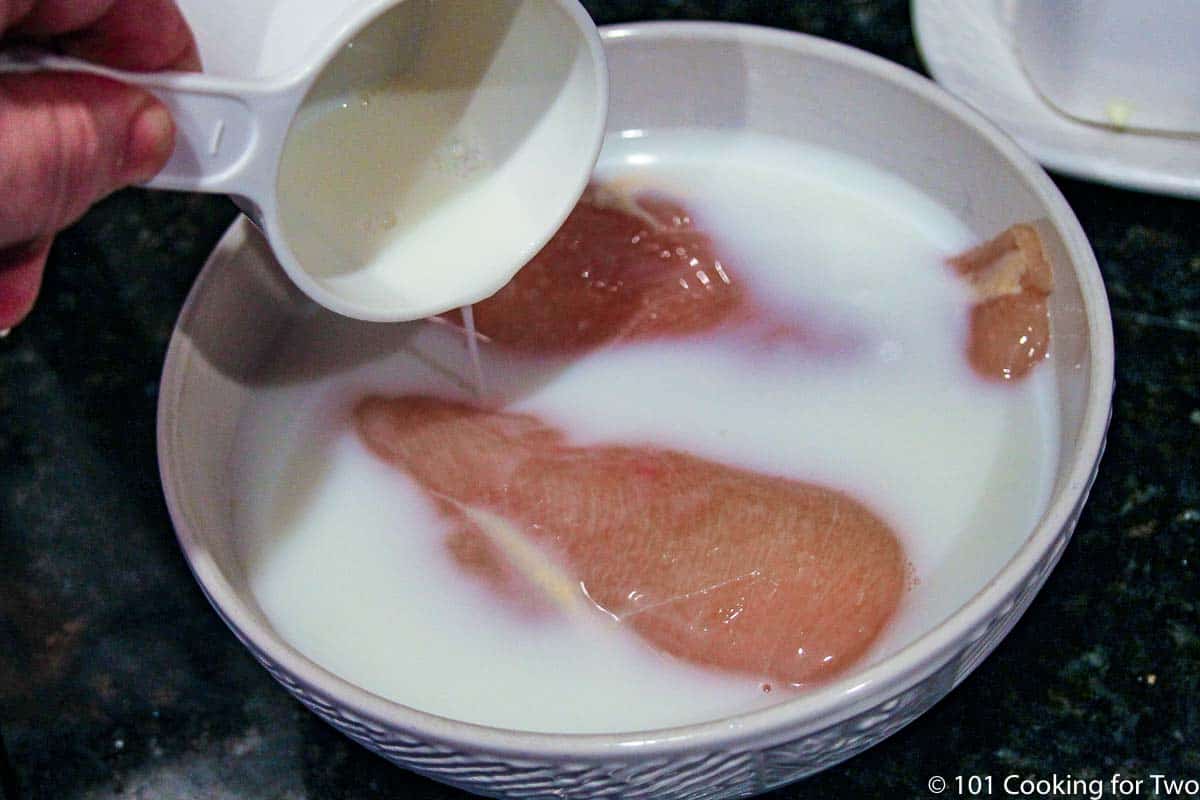 Start with a milk marinade for 30-60 minutes. Cover the chicken with the milk and allow it to set in the refrigerator. Buttermilk would be excellent here.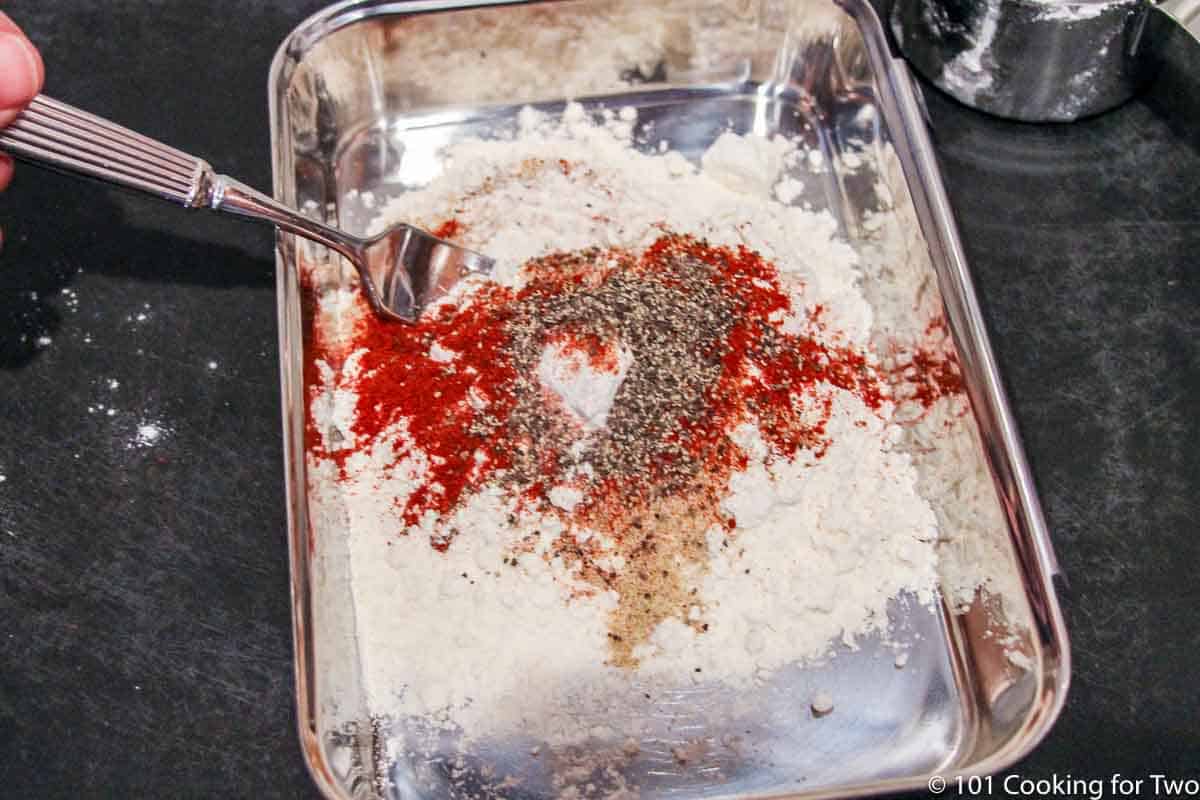 Preheat oven to 375° convection or 400° conventional. Mix 1 cup AP flour with 1 tablespoon seasoning salt (I used Lowery's), two teaspoon paprika, one teaspoon black pepper. Mix well.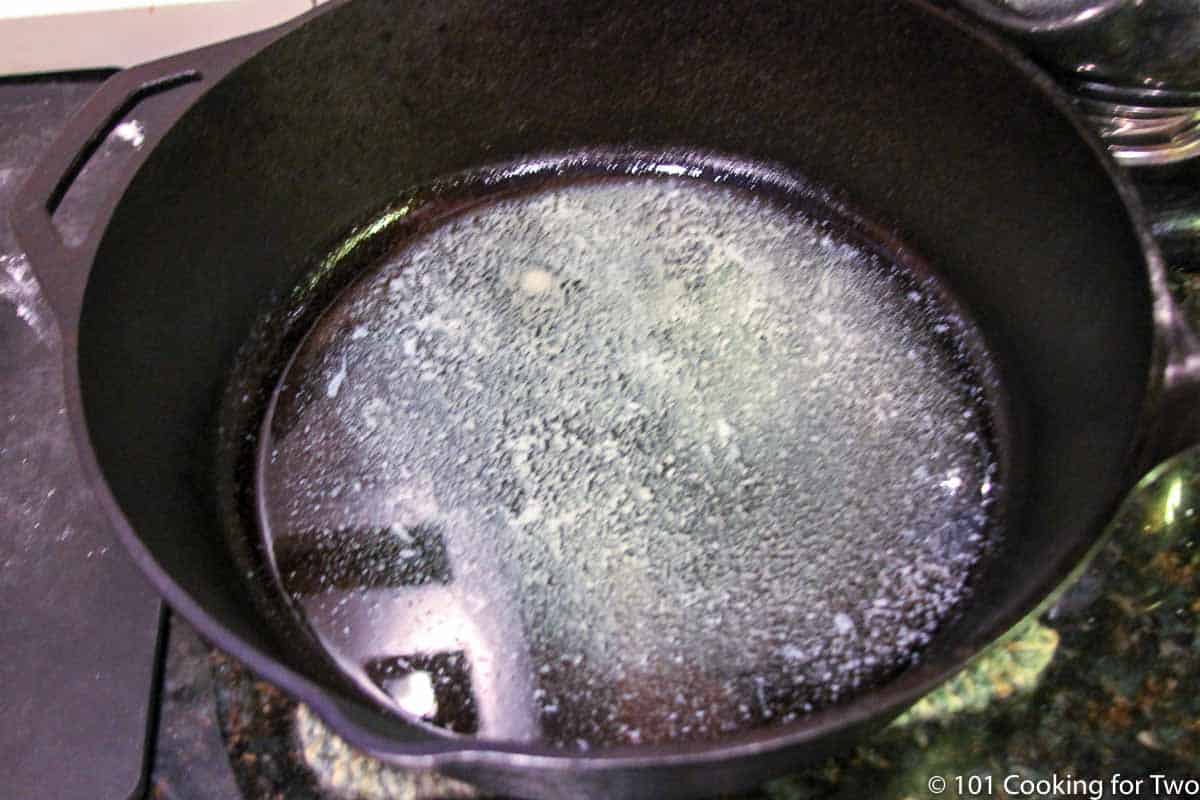 Slice up four tablespoons of butter into an oven and stovetop safe pan. Place in the hot oven for 2-3 minutes to melt the butter. I'm using a 12-inch cast-iron pan.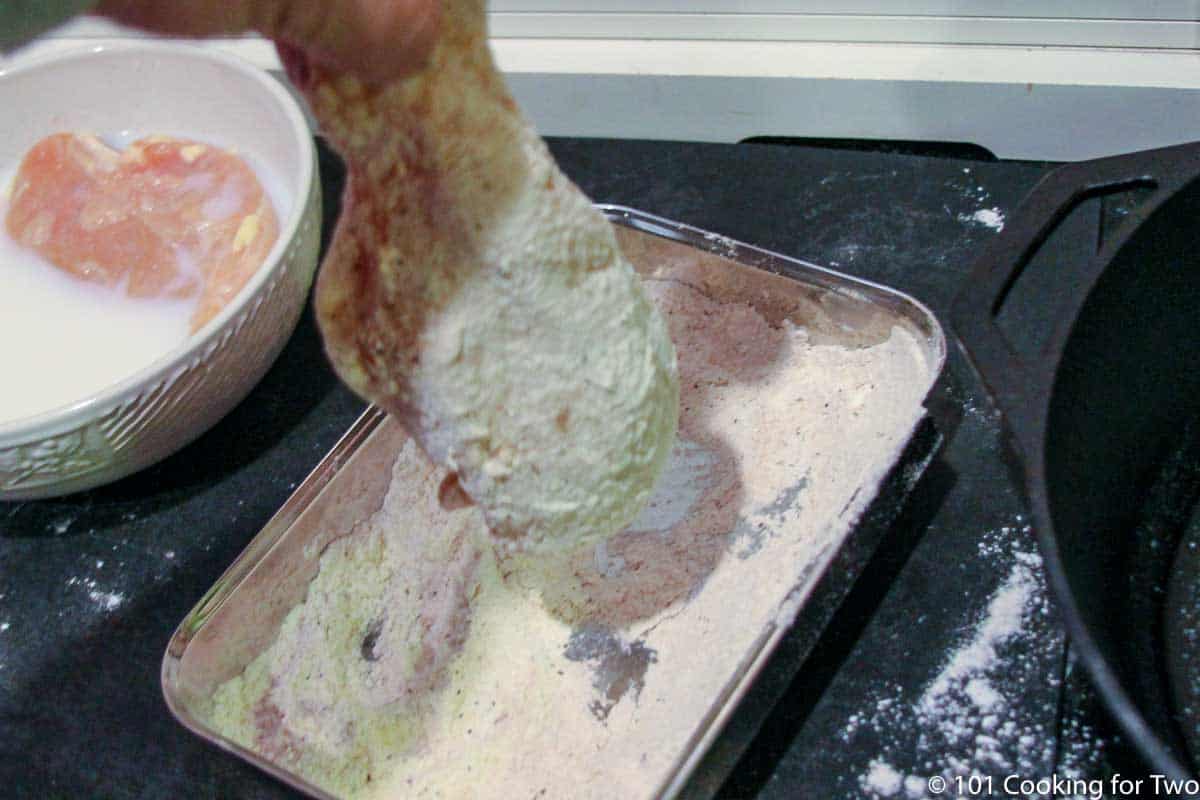 Shake off any extra milk and dip in the flour mixture. If you have skipped the milk brine, trim and dry the chicken well then dip in an egg bath with one egg and a teaspoon of water. Cover completely with the egg mixture, shake off excess and proceed with the flour coating.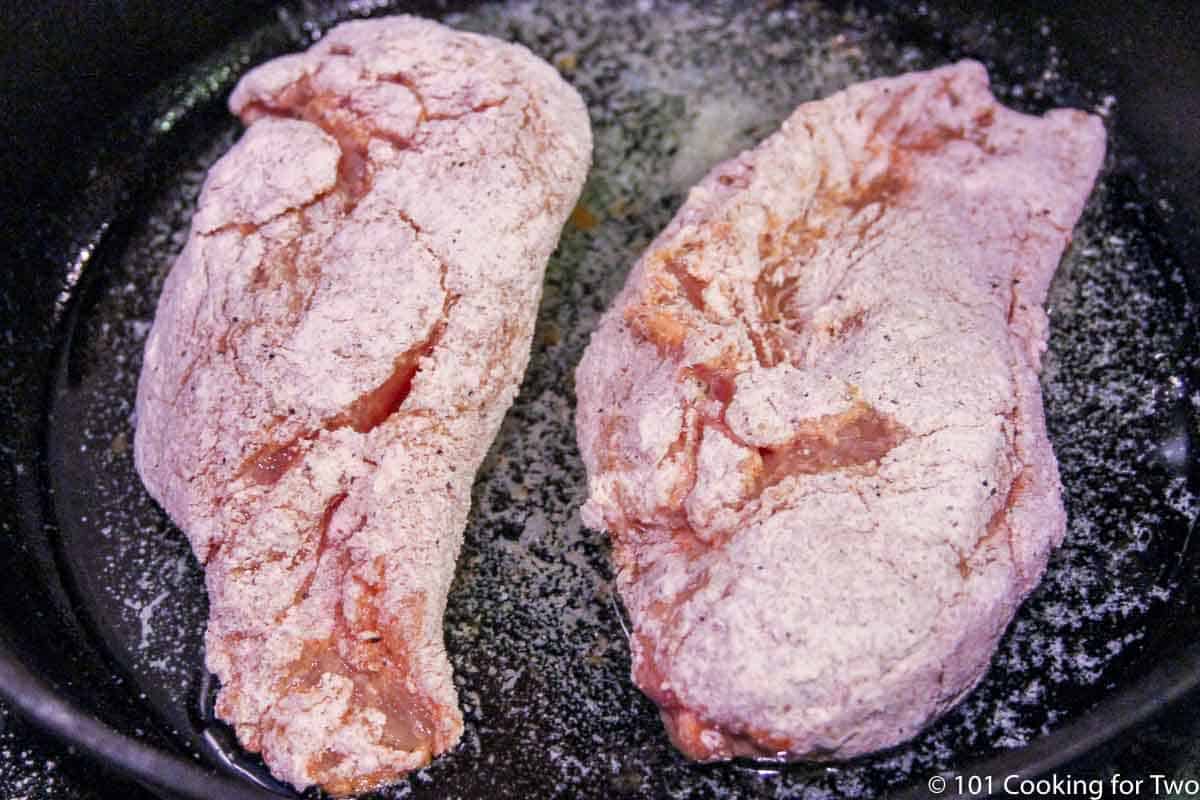 Shake off excess flour and let rest for 5-10 minutes before placing "good side" down into the melted butter. Bake for 20 minutes, then turn the chicken over using a fork on the meat's edge. Cook until the internal temperature of 165° (about 15-20 minutes more) depending on the chicken's thickness.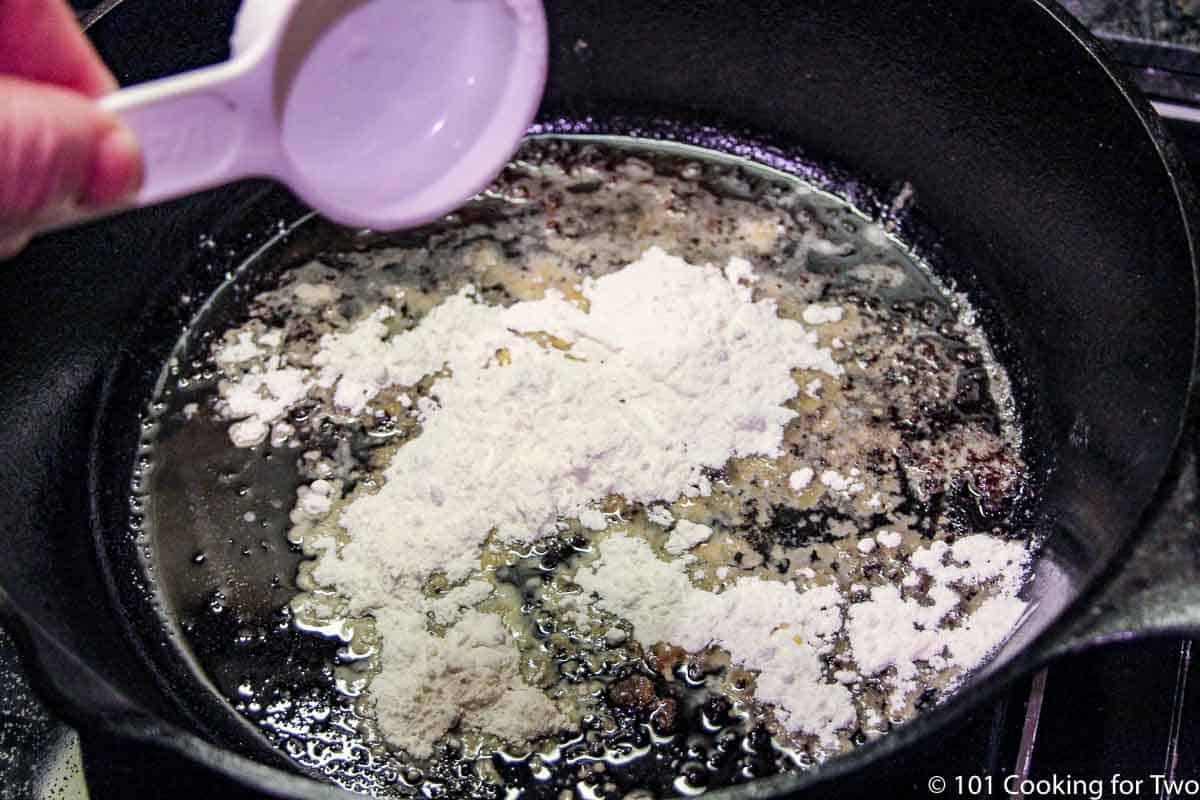 Remove chicken and tent with foil on a plate. Place the pan over medium heat. At this point, you should have some drippings left. You need about ¼ cup. If you don't have that, add a little chicken broth. Add flour approximately equal to the volume of the liquid. Whisk the flour and liquid together and cook until browning some — about 2-3 minutes.
Add 1 - 14 oz can of chicken broth, and bring to boil while continuously whisking. Continue until nicely thickened. About 3-4 minutes then add salt and pepper to taste.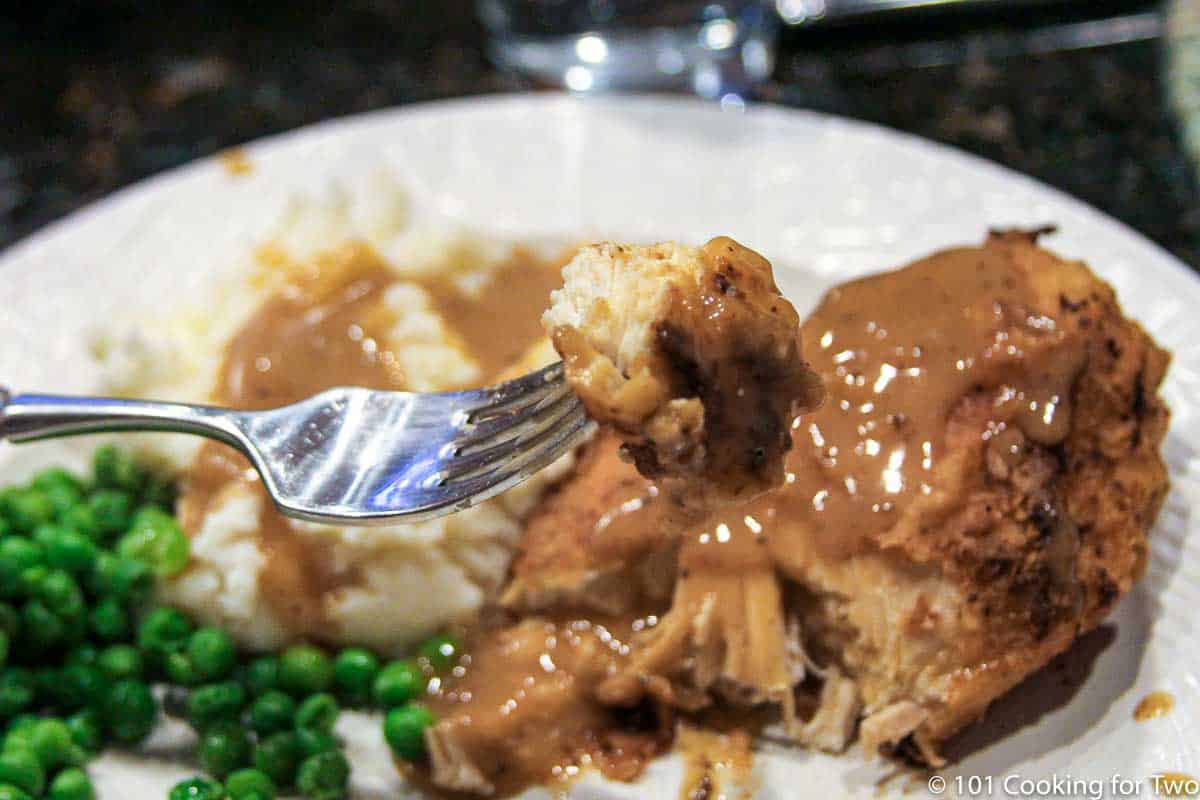 Do you want more recipes from 101 Cooking for Two? Sign up for the newsletter and get all posts delivered straight to your inbox!
📖 Recipe
Editor's Note: Originally Published February 1, 2104. Updated with expanded options, refreshed photos, and a table of contents to help navigation. I personally love this recipe, and we do this frequently. You can not go wrong with this recipe. I guarantee it.