Learn the best way to oven bake chicken breasts that are healthy, moist, and tender every time in about 30 minutes with just a few easy secrets. A recipe every home cook can conquer.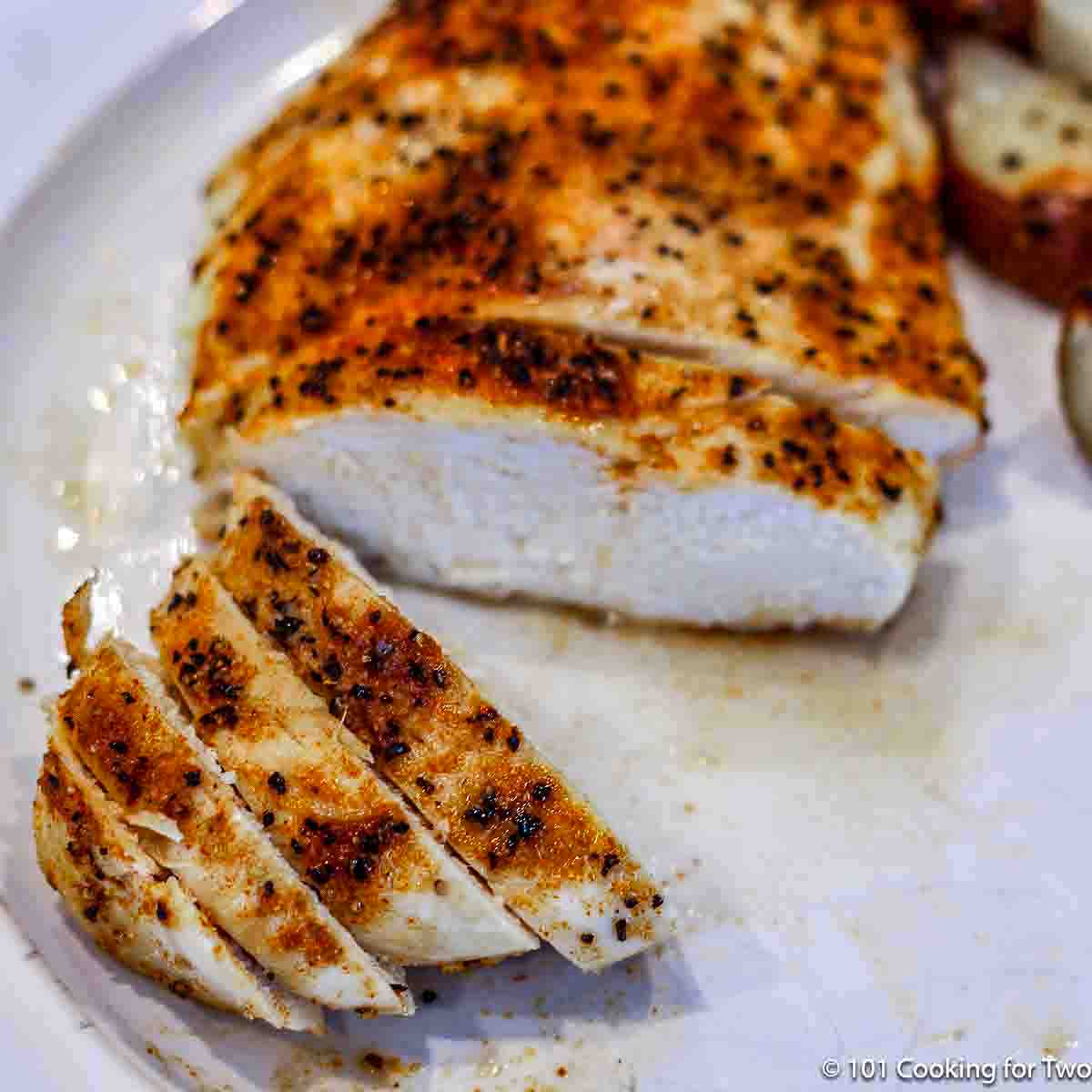 Introduction
Learn the three secrets that are easy and will give your perfect results every time. Cooked right, your chicken will be juicy, tender, and favorable—a new family favorite. Cooked wrong, and we are taking dry rubbery and tasteless—I call that a hockey puck.
It is time to get back to some basics with healthy skinless boneless chicken breasts; you love them but hate to cook them. That ends now.
Let's go through the basic technique. You can modify the results with your favorite seasoning and adjust the technique to your needs.
My Rating

A solid five even if it is just chicken. It is perfectly done.
🤐The Three Secrets
So what are the secrets? Drum roll, please...
Even out the thickness of the meat.
Cook in a high oven to exactly 165°.
Rest after cooking for at least 5 minutes.
Now for the details.
🐓Chicken Breasts
We are dealing with skinless boneless chicken breasts. Try to pick breasts that are about the same size and thickness.
I prefer fresh but frozen can be fine but must be completely thawed. A few will come pre-brined which is fine but please do not brine or salt again.
The Preparation of the Chicken Breasts
Trim any trimmable fat and look for blood vessels and even bones. Pat dry and do not rinse. See Chicken… To Rinse or Not To Rinse? for a safety discussion about rinsing.
(Secret #1) Some breasts are just too thick to cook well. By evening out the thickness some, you will ensure more even cooking. Otherwise, the thinner parts of the breast will be overcooked by the time the thickest part is done.
We need to adjust the thickness, so all the breasts you are cooking are about the same. Try to get them to about ¾ inch thick. Don't measure, don't obsess, just knock the thick part down a bit.
I like to use a 1-gallon zip-lock bag to prevent splatter, but plastic wrap will do. Do not just knock them down without protecting yourself from spattering (a major health hazard). You should assume that any chicken is contaminated with salmonella.
I use a meat mallet, but you can use the bottom of a pan if you don't have one. You have something you can use.
🧂Brining
Brining the chicken breasts is optional but nice if you have time. A brine will always improve the results and is so simple to do.
WARNING: A few chicken breasts will come pre-brined or injected. Do not brine those breasts, and do not use salt-containing seasoning for cooking with them.
I would consider brining more important if you are dealing with previously frozen chicken which can lose some moisture.
The ratio for a brine is 2 cups of water and one tablespoon of table salt. Some people will add some brown sugar equal to the salt. Remember that all salt is not equal, and 1 teaspoon table salt = 1 ¼ teaspoon Morton kosher salt = 2 teaspoons Diamond Crystal kosher salt.
As little as 15 minutes makes a big difference. But you can brine for up to 2 hours if you want. This is a "heavy brine" in the amount of salt and matches the Cooks Illustrated suggestions. You may see longer brine times suggested, but please limit it to 2 hours maximum.
📋Seasoning
Start with a brush of melted butter or olive oil. Some will worry about the smoke point, but it is not really an issue since the meat it is coating will get nowhere close to the smoke point.
Now we are going to add dry season. If you did brine, DO NOT add more salt. So some of the options don't apply to you.
Some simple options are just some of my 7:2:2 Homemade Seasoning Mix if you are cooking to use in other recipes. Or just seasoning salt like Lowrys and pepper if you are in a hurry.
I included in the recipe card a suggested rub that is excellent. And if you brined, you can leave the salt out.
Add some thyme or other flavors. Heat it up some with switching out my paprika for chili powder or add a pinch of cayenne pepper. Try Italian or Cajun, all up to you.
Some people like to add some sugar to their seasoning to get more caramelization and browning. The choices are endless.
♨️Baking
(Secret #2) If you get nothing else out of this, the main key to moist and tasty chicken breasts is in the final internal temperature of 165°. Do not overcook—it will lead to drying and poor texture. Do not undercook due to safety issues.
A high oven is the way to go here. 400° or even more is the best choice. This is lean meat, and a lower temperature will just dry it out. Higher temperatures will seal the outside and help keep the meat moist.
Like all meat cooking, your time will vary by the thickness of the meat, the exact starting temperature of the meat, and your oven. So always cook chicken breast to a final internal temperature of 165° for safety.
🌡️⏰Temperature and Time
Cooking time is dependent on the thickness and size of the chicken and the oven temperature. With average size (about 10 oz) chicken breast and a 400° oven, about 26-30 minutes is a good estimate. The only real answer is to cook until 165° internal temperature.
Here are a few estimated times based on 10-12 oz skinless boneless chicken breast correctly prepared to even out the thickest areas. Remember the variables of size and thickness of the chicken, the starting temperature of the meat, and your oven.
400°F convection or 425°F conventional will take about 23-26 minutes - I recommended this temperature.
375°F convection or 400°F conventional will take about 26-30 minutes.
350°F convection or 375°F conventional will take about 30-35 minutes.
350°F conventional will take about 35 minutes or a bit longer to get to 165°.
The best answer is to use the temperature of the oven you want and bake until 165° internal temperature. Times are provided to help in planning only. I suggest 400°F convection or 425°F conventional.
Times estimates are provided only for planning purposes. Remember, you are aiming for 165° internal temperature in the thickest part of the breast.
Some people will remove the chicken a few degrees short of the 165° target, assuming (probably correctly) that it will increase a few degrees after removal from the oven. With safety things like this, I prefer being sure you hit 165°.
Rest the Chicken After Cooking
(Secret #3) Be sure you rest the cooked chicken before cutting to allow all of the juices to reabsorb into the meat keeping your chicken breast moist.
5 minutes is usually enough. If longer, tent with foil to keep warm.
Storage
Good in the refrigerator for 3-4 days and if sealed well, can freeze for 3-4 months.
📖Chicken Breast Recipes
Baked Parmesan Crusted Chicken Breasts
Parmesan Mayonnaise Baked Skinless Chicken Breast
Pan Seared Oven Baked Chicken Breast
How to Grill Chicken Breasts on a Gas Grill

🖼️Step-by-Step Instructions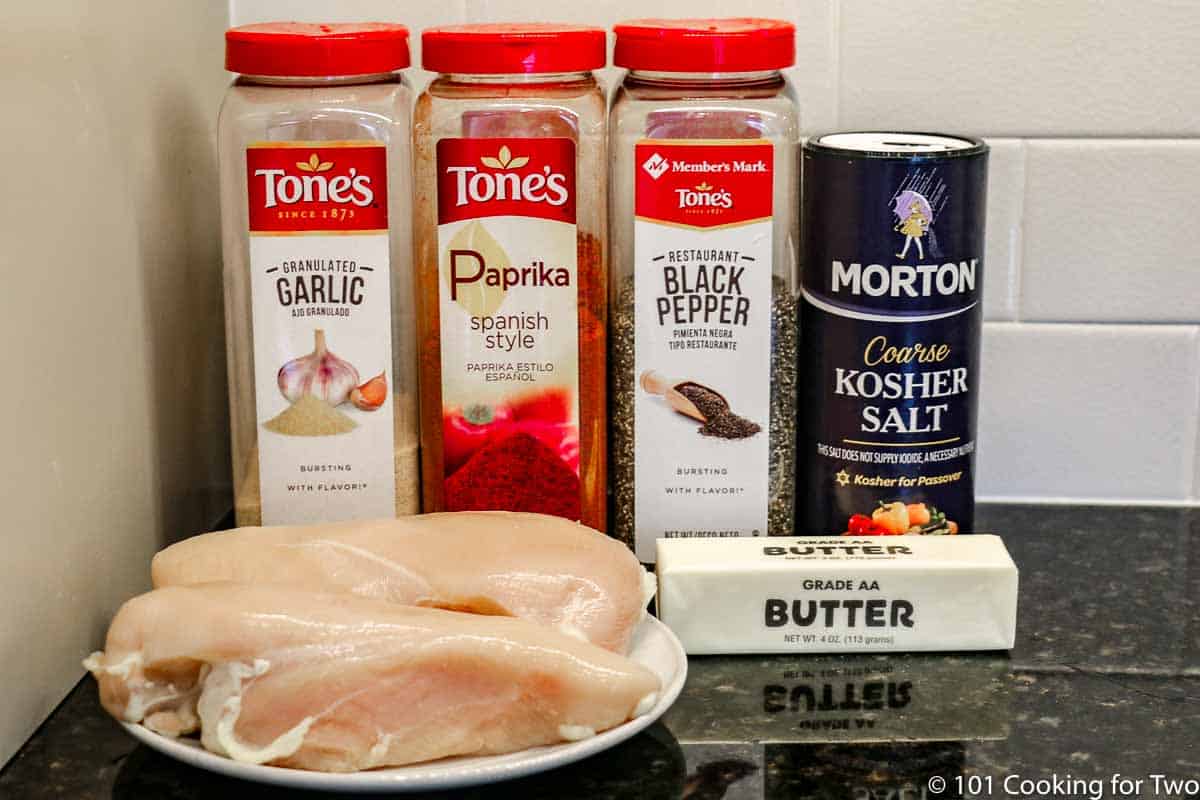 Preheat oven to 400° convection or 425° conventional. Rack in the middle of the oven.
Trim two skinless boneless chicken breasts of trimmable fat.
Place the chicken in a ziplock bag and flatten the breasts to about ¾ inches thick with a meat mallet or heavy pan.
If doing a brine, mix 2 cups of water with 2 tablespoons table salt. 15 minutes will give some results—2-hour maximum. Be sure to rinse off the brine before proceeding.
You may use the seasoning you want. Here is a suggested seasoning ½ teaspoon kosher salt, ½ teaspoon garlic powder, ½ teaspoon paprika, and ¼ teaspoon black pepper. Leave out the salt if using a brine.
Prep small baking dish with a spray of PAM.
Pat dry the chicken. Melt 1 tablespoon butter in the microwave and brush both sides of the chicken.
Apply your seasoning to your taste.
Bake in the preheated oven. It will take about 23-26 minutes and is done when the internal temperature is 165° in the thickest part of the breasts.
Allow to rest for 5 minutes before serving.


Do you want more recipes from 101 Cooking for Two? Sign up for the newsletter and get all posts delivered straight to your inbox!
📖 Recipe
Originally Published April 16, 2019. Updated with expanded options, refreshed photos, and a table of contents to help navigation.