This super easy sheet pan chicken breast recipe has a great Italian flair. Crusted with Parmesan and roasted with carrots and potatoes, you will have a complete healthy meal for the entire family in less than an hour.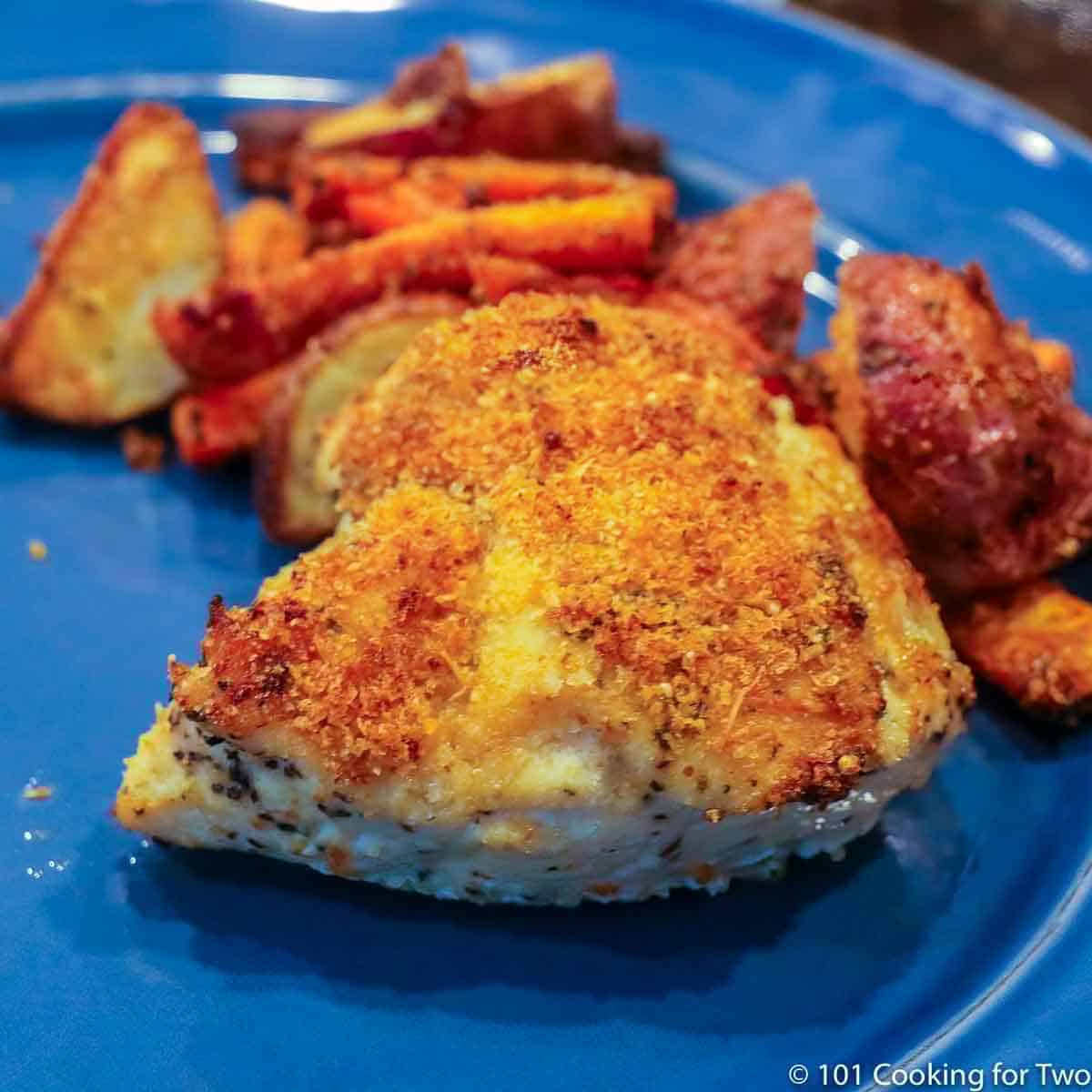 Introduction
So in my never-ending quest not to work very hard, my mind sometimes works overtime. Do you know that the roasting time for skinless boneless chicken breasts is about the same as chunks of potatoes and carrots? Add some Parmesan, bread crumbs, spicing, and you're there.
My Rating

A nice solid 4. Great for a weeknight change of pace.
📋Ingredients
The Chicken
I'm suggesting skinless boneless chicken breasts. Since mostly they weigh more than one serving, just cut them before in half before cooking.
You can use thighs, also if you wish. The skin on should be ok.
Vegetables
Root vegetables are suggested since mostly the cooking time will be about the same as the chicken.
Potatoes should be about 1-inch size. So use the potatoes you want, I suggest something like red potatoes or Yukon since the skin is thin. Russets will work, but I would peel them due to the thick skin.
Carrots need to be smaller also since large whole carrots will take longer to cook. You can use the "baby carrots" if you want, but they have less taste.
✔️Tips
13X18 size sheet pans work great for the full recipe. Use the smaller size 9X13 for a half recipe.
An easy recipe to cut in half.
Leftovers are good for 3-4 days refrigerated and 3-4 months frozen.
You can use an Italian seasoning mix in place of the suggested spices.
📖Sheet Pan Recipes
One Pan Roasted Pork Tenderloin with Potatoes and Carrots
Easy Sheet Pan Chicken Fajitas

🖼️Step-by-Step Instructions
Preheat oven to 375° convection or 400° regular oven.
Pat dry two skinless boneless chicken breasts. Trim and cut in half if normal size. Cut in thirds if huge.
Prep veggies. Wash, peel and cut carrots into slices or ¾ to 1-inch chunks. Wash and cut small red potatoes in half. If using other potatoes, cut into ¾ to 1-inch chunks.
Toss chicken, potatoes, and carrots into a large bowl and mix with one tablespoon olive oil, ½ teaspoon each of thyme, basil, garlic powder, and pepper. Add one teaspoon coarse salt and mix well.
Prep 13X18 baking sheet pan with a coat of PAM. Spread the chicken and veggies. Mix topping of ⅓ cup Italian breadcrumbs and ⅓ cup grated Parmesan (fresh preferred). Sprinkle over the chicken and veggies.
Give it a light spray of PAM to keep it moist.
Bake until veggies are golden brown, and chicken is 165°. About 35 minutes for me. Your time will vary with the size of the pieces and your oven.


Do you want more recipes from 101 Cooking for Two? Sign up for the newsletter and get all posts delivered straight to your inbox!
📖 Recipe
Originally Published April 5, 2015. Updated with expanded options, refreshed photos, and a table of contents to help navigation. Also, this was in the middle of months of remodeling, and those images and discussion removed.