This delicious hearty crock pot chicken stew is a healthy easy dinner recipe for the entire family. With tender chicken, potatoes, and veggies all in a seasoned chicken broth, it will become one of your family's favorite cold-weather meals.
Introduction
Like most of the soup/chili/stew recipes, I'm "cooking for two with leftovers." While this recipe is set for a full-size crock pot and 8 servings, it is a perfect recipe to downsize to a small crock pot (3.5 or 4-quart) and make only 4 servings.
The idea of a crock pot is to make your life easier. Not much is easier than this family-pleasing stew. Using things you probably have on hand anyway, you spend about 10 to 15 minutes preparation time and eat in 8 hours.
This is a simplified version of a slow cooker recipe that appears identically on multiple recipe sites. It is not only delicious but extremely simple to make.
This stew is loaded with chicken and veggies and delicious. It is easy to make with these simple step by step photo instructions.
My Rating

I liked it a lot, and my wife loved it. It is so easy and really quite excellent for what it is. But all chicken stews are a bit bland.
🐓The Chicken
The amount of chicken, like most ingredients in may soups and stews can vary some. 1 ½ to 2 ½ pound range is fine.
I tend to always use skinless boneless chicken breast, but chicken thighs would be an excellent choice, also.
🧂Spicing Stew
The first thing to realize is that all chicken stews are a bit bland. Yep, chicken stew does not "pop" a lot of flavors, but that is just what a chicken stew is all about.
The original recipes called for one teaspoon of thyme. If you are a big thyme fan, great, but it is a bit much for us. I changed it to an optional ½ to 1 teaspoon.
I think the optional tomatoes are a great addition. A can of Rotel has been suggested by some comments on this and other sites. It should be good if you want a little southwest taste (I would skip the thyme then).
Other suggestions would be ½ teaspoon of curry, paprika, or poultry seasoning.
🥄How to Thicken in a Crock Pot
The last issue is the thickness of this stew. This is a little thinner than most stews. Here are some options to thicken this stew if you want.
1) Don't add as much broth at the beginning. Just cut it in half. But you will want to replace the chicken taste with a bouillon cube.
2) Make a roux with flour and butter. For this option, with about 1 hour left in cooking, remove 1 cup of liquid from the stew. Melt 4 tablespoons of butter in a saucepan over medium heat. When bubbling, whisk in 4 tablespoons of flour. Stir continuously and cook for 3-4 minutes, then add the liquid from the stew and whisk until smooth, add back to the stew and increase the crock pot to high for the last hour.
3) Thicken with potato. You can add ¼ to ½ cup of potato flakes near the end. OR dice one of the potatoes at the beginning of cooking very small. They will fall apart and thicken.
4) Tapioca: For this recipe, I would suggest 3-4 tablespoons of tapioca would be the best if you want thicker. You can add it about 30 minutes before done when adding the peas.
Not Recommended - My Opinion
1) Cornstarch: You could use cornstarch, but reheating can be a problem since it may have a gel-like texture when reheated. Also, there are texture issues when frozen.
2) "Cooking down" the stew. Some will recommend cooking longer or partly opening the lid of the cooker. I don't feel you will get enough effect to do much.
Storage
Good refrigerated for 3-4 days and frozen for 2-3 months.
📖Soup Recipes
Thick Crock Pot Cheeseburger Soup

🖼️Step-by-Step Instructions
Prepare veggies. Chop one large onion, 4 peeled carrots, and 2 ribs of celery. Next 4-5 medium potatoes peeled and cut into ¾ to 1-inch cubes. Optional- 8 oz. mushrooms cleaned and halved.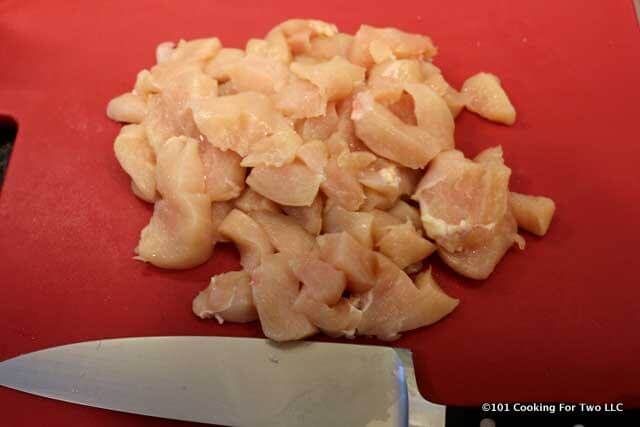 Clean, trim, and cube about 2 pounds (about 3-4) skinless boneless chicken breasts.
Add the chicken, prepared veggies, 1 cup frozen corn, 28 oz of chicken broth, 1 teaspoon celery seed, ½ to 1 teaspoon thyme, ½ teaspoon pepper, and optionally on 14 oz can of diced tomatoes.
Cook on low for 8 hours or high for 4 hours. Add peas 30 minutes before the end of cooking. Also, 3 tablespoons tapioca if you want thicker chili. Please see the recipe posts for other options.


Do you want more recipes from 101 Cooking for Two? Sign up for the newsletter and get all posts delivered straight to your inbox!
📖 Recipe
Editor's note: Originally published January 12, 2011. Updated with expanded options, refreshed photos, and a table of contents to help navigation.