This crock pot beef stew has tender chunks of beef with rich hearty sauce and vegetables. It is one of the best beef stews you can make at home and will be a dinner or weekend favorite.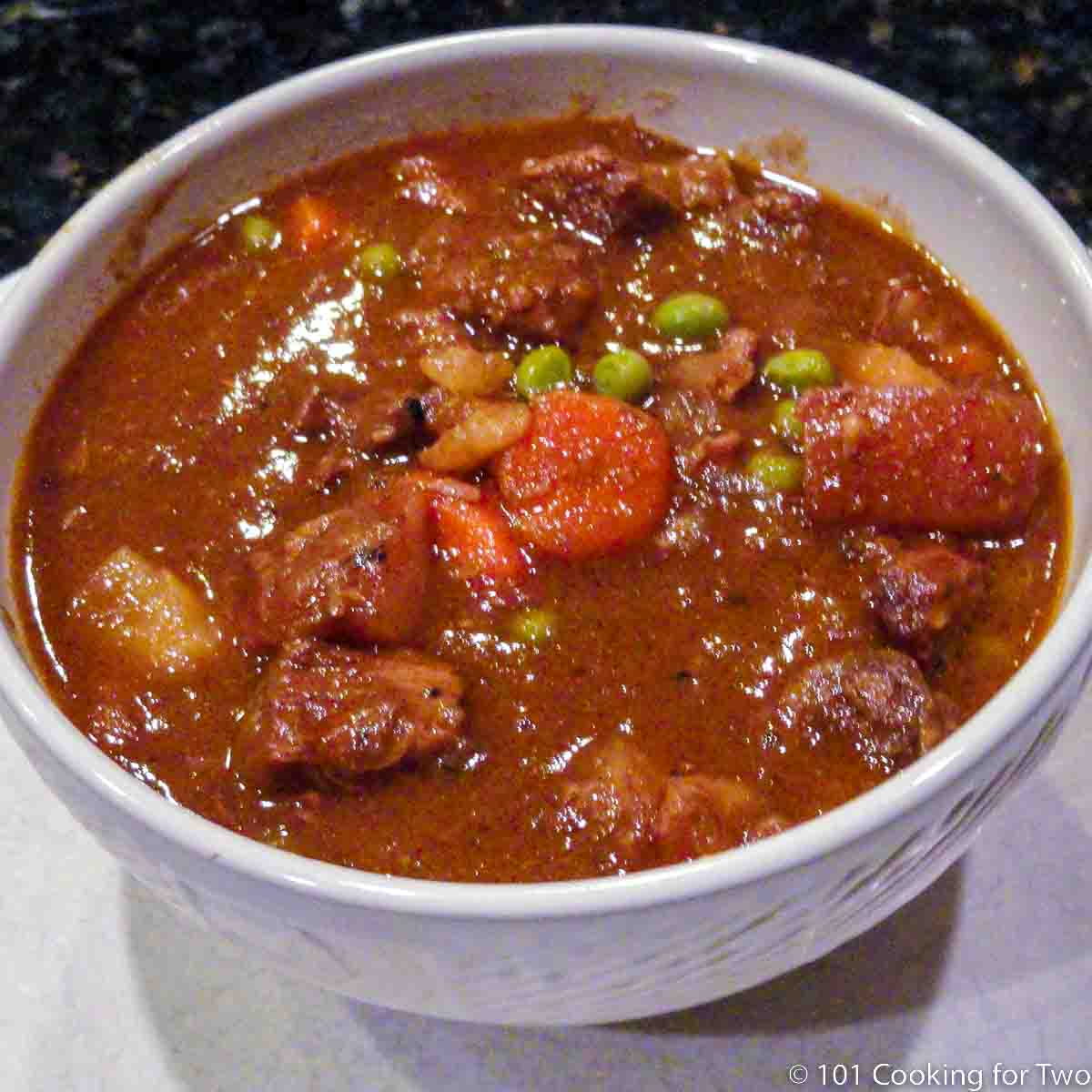 Introduction
I love beef. I like pork and chicken, but I LOVE beef the most. Too much Iowa in me, I guess. Cool-weather is coming, so it's a perfect time for an easy slow cooker beef stew.
This is a small crock pot version of beef stew. I started with a Cooks Country recipe (subscription required), but I think it is unrecognizable now. It would feed a large army. I wanted only the small army size, please.
Also, lots of fuss as usual from Cooks Illustrated has been removed along with some other adjustments.
I keep a little fuss at the beginning that I thought would enhance the taste with browning the meat and onion, but I used the time to cut the other veggies so really minimal extra time, just one dirty pan.
You could probably skip this extra work of browning and just dump the ingredients in, but I think the taste was great and worth the little extra work.
My Rating

An easy 5. We loved it with seconds all around.
🐄The Beef
I like to use a well-marbleized chuck roast for this recipe, but many other cuts of beef will work fine. When doing a double recipe where I need about 3-4 pounds of meat, I usually do the chuck roast. But for a single recipe needing only 1 ½-2 pounds, I will cheat and use precut stew meat.
I do like to brown the trimmed meat before going into the crock pot. That will add some nice extra flavor, but you can skip that step if you want.
📋Ingredients
The thyme has been made optional, and in our house, it just is not done. My wife does not like it in this recipe, and I tend to agree. Cooks Country seems to love it, so the choice is yours.
I added the garlic. A personal taste at our home.
Any potatoes will do but if you use russet potatoes, peel first. The potatoes should be cut into 1-inch or slightly smaller size.
Feel free to use the vegetables you enjoy in your stew.
✔️Tips
Crock Pot Size
As written, this makes about 2 quarts of stew. That will nicely fit in a 3-quart crock pot since crock pots should not be filled over 75% full.
A double recipe, which is what we usually make, needs a 6-quart or bigger crock pot.
Time
On low, this takes 8 hours and on high 4-5 hours. Some beef may take a bit longer, so check the beef for tenderness and extend the time a bit if needed ( not commonly needed.)
It is fine in the crock pot on "keep warm" setting for an hour or a bit more if needed for your timing.
Thickening in A Crock Pot
Tapioca is used to thicken this recipe. I think that is an excellent choice since it can be added at the beginning of cooking. Another plus is reheating, where it is fine.
Cornstarch reheated liquids are gel-like and gross. Using a roux with flour is just fussier then it needs to be.
Storage
Leftovers are good in the refrigerator for 3-4 days. Or in a freezer, 2-3 months and longer in a deep freezer.
📖Crock Pot Stew/Soup Recipes
Easy Crock Pot French Onion Soup
Crock Pot Ham Bone and Bean Soup
Extra Thick Crock Pot Cheeseburger Soup
Crock Pot Broccoli Cheese Soup

🖼️Step-by-Step Instructions
Note: All images are for a double recipe. Instructions and ingredients are for a single recipe.
Start by trimming about 1 ½ to 2 pounds of boneless chuck roast or use stew meat if you are lazy. Give it a light dusting of flour and place in hot oil over medium-high heat in the large nonstick pan—Brown for about 7-8 minutes. Move the meat to crock pot but keep any liquid in the pan.
While browning meat, peel 2 carrots and cut into ½ inch thick medallions. Scrub ½ pound of red potatoes and cut into chunks. Other potatoes could be used but if using russet potatoes, peel also.
Dice 1 medium onion. Crush or mince 2 cloves of garlic. Add onion, 3 oz. tomato paste, and ¼ tsp salt into the hot pan. Cook until onions are soft and lightly browned. Add the garlic for the last minute.
When the onion is ready, add 1 cup of beef broth to the pan and scrape any brown bits from the bottom of the pan.
Add all ingredients except the peas in the crock pot, stir well. Cook on low for 8 hours or high for 4 hours. Add the frozen peas for the last hour of cooking.


Do you want more recipes from 101 Cooking for Two? Sign up for the newsletter and get all posts delivered straight to your inbox!
📖 Recipe
Publisher Note: Originally published March 5, 2011. Updated with expanded options, refreshed photos, and a table of contents to help navigation. Also, the technique has updated a small amount to current my practice.