Apples and pork go together and here is the easiest way to match them up. Just follow these easy step by step photo instructions.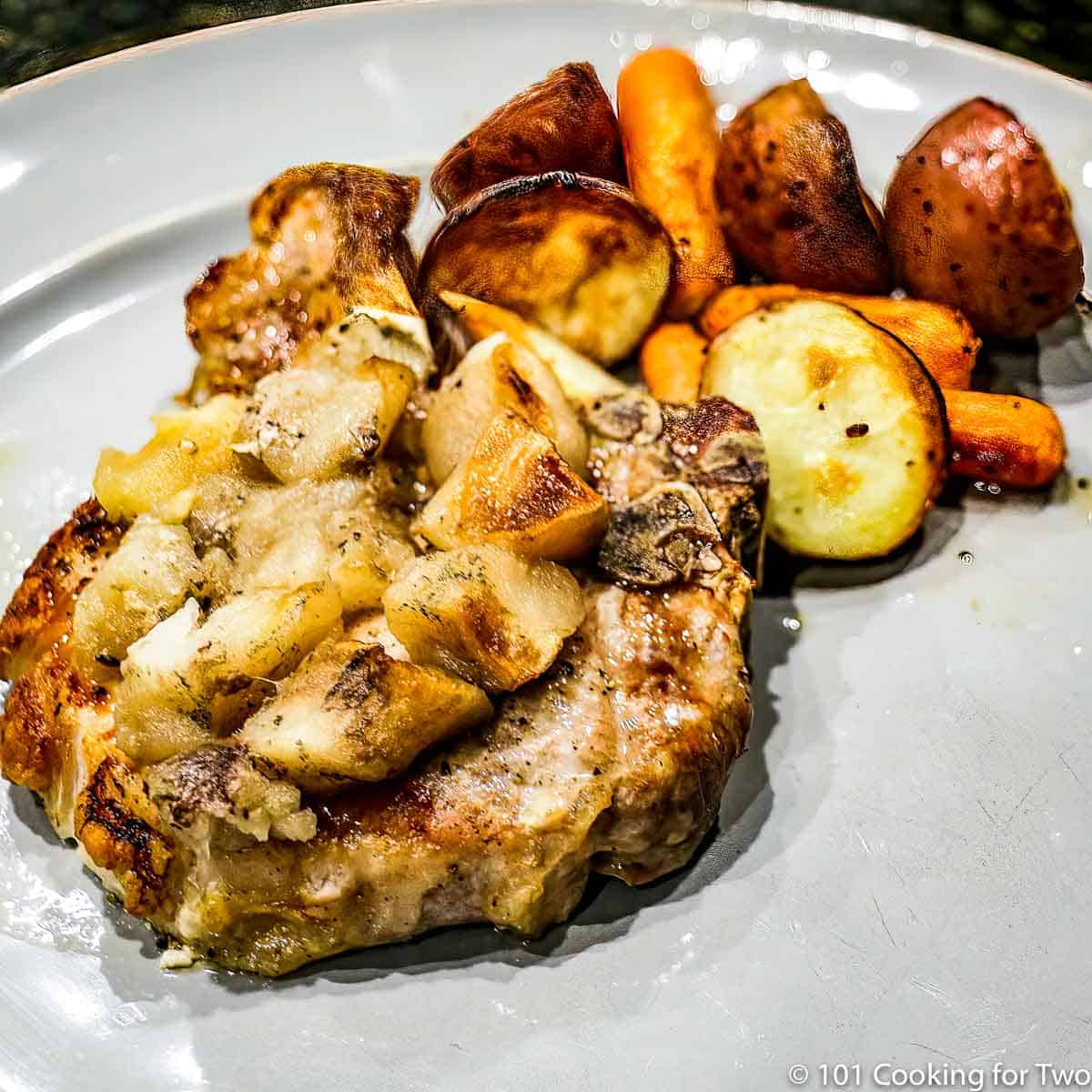 Introduction
It is still fall and football season, and I bought too many apples. But this can be a year-round family meal. I only got to use two apples plus the one I ate while cooking. So three.
I love sheet pan meals. I think it is because I'm too laze to think of side dishes. They are usually quick and easy. Add in delicious, and they have me hooked.
My Rating

A solid 4. I miss the gravy I normally have with indoor cooked pork chops. And it was a bit dry without a brine.
🐖Pork Chops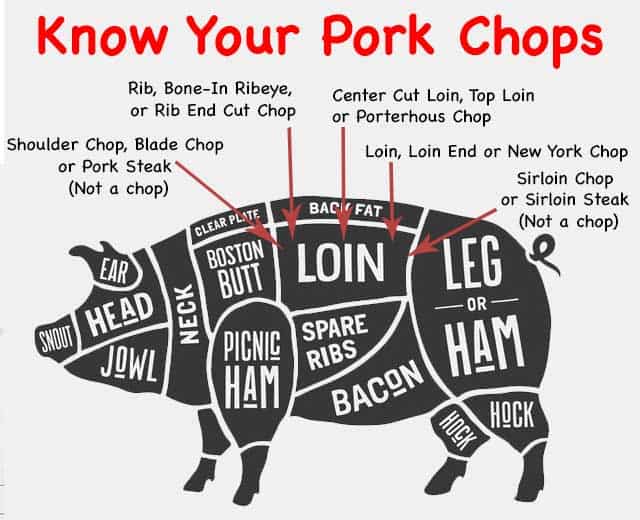 Real pork chops are all cooked about the same. So as long as you using any of the center 3 in the diagram, you should be fine.
Your pork chops may be bone-in or boneless and for this recipe try to use ¾ to 1 inch thick.
Today's pork is much leaner than in previous years and does tend to dry out during cooking and if you have time, brine.
How to brine pork chops: A brine is used to add moisture to meat like pork. A standard pork brine is 1 cup of water with 1 tablespoon of table salt. If using a different salt, you should adjust accordingly. Also, you may add other things like sugar (usually equal to the salt) or other herbs.
🍎Apples
A lot seems to be made of what apple to use for this or that. I believe it is more a matter of individual taste. I suggest Cortland, Granny Smith, Ida Red, or Honey Crisp. I had Cortland.
But probably the apples you have is fine other than Red Delicious or Macintosh. Here is a handy-dandy chart that is very well done.
🥔The Potatoes
You want to use a thin skin potato in this recipe. So not russet potatoes. Usually red potatoes or Yukon gold would be good choices. They need to be cut small, no more than 1 inch at any point to help speed cooking time.
📖Pork Chop Recipes
Easy Crock Pot Pork Chops with Gravy
📖Sheet Pan Recipes
One Pan Roasted Pork Tenderloin with Potatoes and Carrots
Easy Sheet Pan Chicken Fajitas
Sheet Pan Chicken Breasts with Carrots and Potatoes

🖼️Photo Instructions
Preheat oven to 400° convection or 425° conventional.
¾ to 1-inch thick pork chops. If there is a large rim of fat, then cut that down to ¼ inch and cut through every 1 inch to prevent cupping. The pork chops may be boneless or bone-in.
Clean ¾ pound small potatoes and cut into pieces no more than 1-inch size. Rinse 1 cup baby carrots (about ½ pound). In a large bowl mix the potatoes and carrots with 1 tablespoon olive oil, ½ teaspoon Kosher salt, 2-3 cloves crushed garlic, and ¼ teaspoon pepper.
Prep a smaller sheet pan with a heavy coat of PAM.
Melt 2 tablespoons butter in a small bowl in the microwave (about 20 sec). Coat both sides of pork chops with melted butter and then a sprinkle of kosher salt and pepper.
Peel and cut up 2 medium apples of your choice. Cut each apple into ⅛ wedges then cut those in half to make cube-like shapes.
Add 2 tablespoons brown sugar and remainder of the butter. Stir until evenly coated.
Add the carrots and potatoes around the edge of the sheet pan. Spread the apples over the middle of the sheet pan.
Top with the pork chops. Bake for 25-30 minutes. You want an internal temperature of 145-155 on the pork chops (your choice) and soft potatoes and carrots.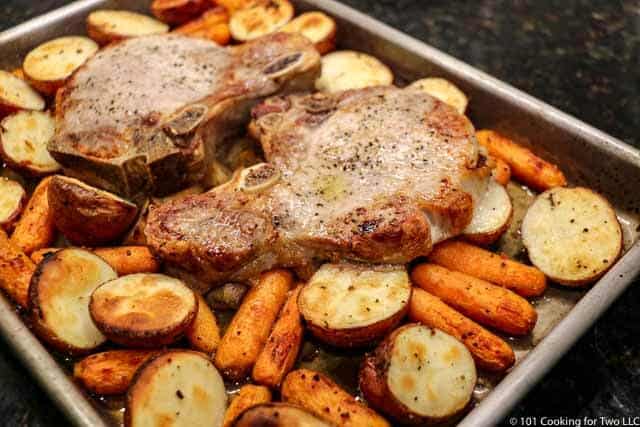 You may want to use the broiler for a few minutes to add more browning if you want.


Do you want more recipes from 101 Cooking for Two? Sign up for the newsletter and get all posts delivered straight to your inbox!
📖 Recipe
Originally Published November 4, 2018.