Crunchy and tasty, this old fashion broccoli slaw is everybody's favorite. The one side dish that is at home at a potluck, a picnic, or any holiday gather. Just toss it together in a few minutes.
Introduction
Many times before the family knows what the main dish is the "Are we having broccoli slaw?" question. Now I call that a good dish.
I have meant to publish this family favorite for over a year but never got the pictures. Just too many things going on at family gatherings, and the slaw was usually not my responsibility.
The origin of this version seems to be the local grade school cookbook since it appears there, but it seems to me, we were using it before then.
My Rating

That is the entire family rating.
What is Broccoli Slaw?
Broccoli slaw is a variation of coleslaw, prepared using shredded raw broccoli stalks substituted for cabbage. It is available premade in the produce department of most supermarkets in 12 oz packages but can be 16 oz.
👨‍🍳Variations
Most recipes will use various nuts and some onion of some type. Nuts in the form of sunflower seeds and almonds usually.
This recipe does use more celery for extra crunch. I do vary the celery and onion a bit, depending on the size of the produce.
An oil note: The recipe calls for sunflower oil, but any good vegetable oil will do. Most recipes use olive oil, but I prefer other oils here.
❄️Storage
Good covered tightly for 2-3 days in the refrigerator.
I try to anticipate if there will be leftovers and reserve that part and add the rice noodles later. Or just sprinkle with the noodles at serving.
📖Summer Salads
Fresh Spinach Salad; A Summer Favorite

🖼️Step-by-Step Instructions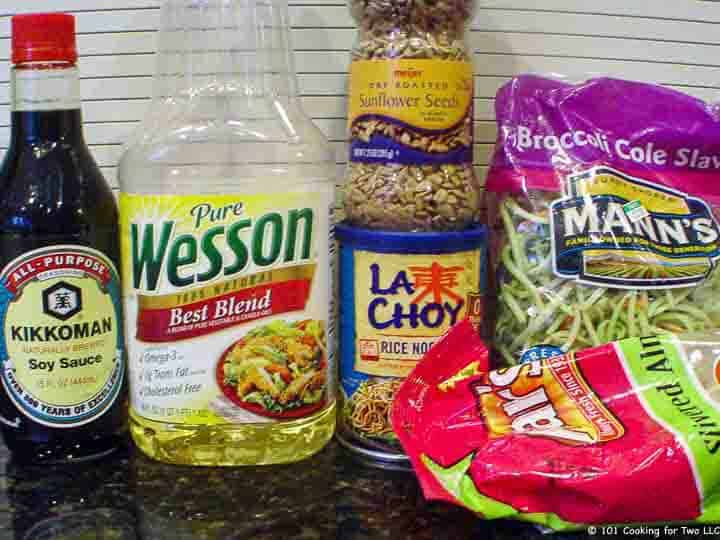 Simple ingredients.
Clean and chop 2-3 ribs celery and slice 3-5 green onions. The variance is for the size of the produce. (All pictures are for a double batch.)
Mix the celery, onions, one pkg. broccoli slaw, ¾ cup sliced almonds, and ½ cup sunflower seeds. Mix well.
Add one can of rice noodles and mix.
Mix dressing: ½ cup sunflower oil (or other good oil), 1 ½ teaspoon soy sauce, ½ cup sugar, and ¼ cup white or rice vinegar. Add just before serving and toss well. Note: you may not need quite all the dressing. Just add until all the mixture is moist.


Do you want more recipes from 101 Cooking for Two? Sign up for the newsletter and get all posts delivered straight to your inbox!
📖 Recipe
Originally Published December 29, 2011. Updated with expanded options, refreshed photos, and a table of contents to help navigation.