Fire up the crock pot for some of the best baked ziti you will ever eat. You may confuse it with great lasagna. With no precooking of the pasta, you will love this recipe.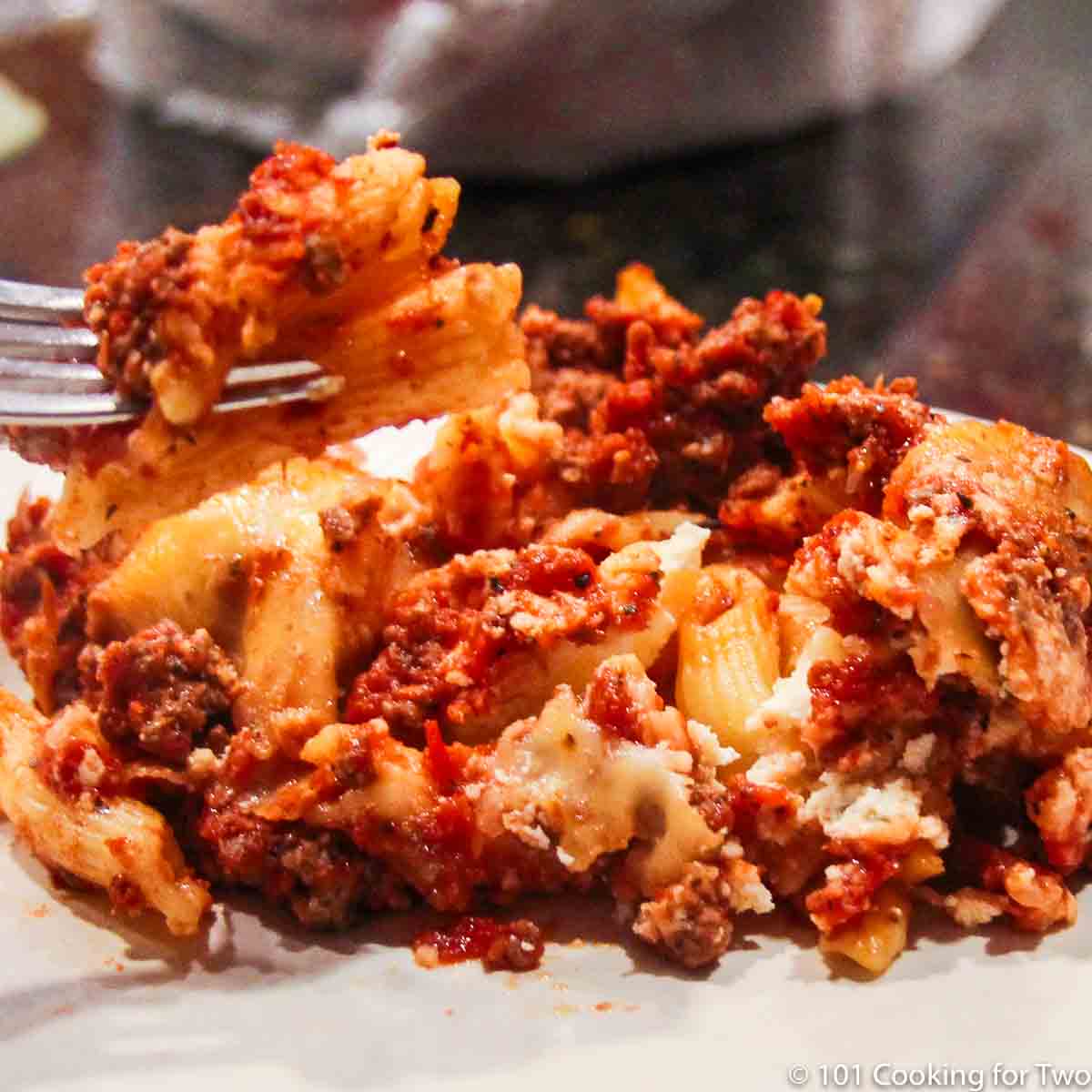 Introduction
This recipe was in my top 10 recipes of 2013. I have repeated it many times when I need a special casual family meal. You can not go wrong with this recipe. I guarantee it a great relatively easy dinner without spending the day in the kitchen.
This takes just a bit more work than my normal slow cooker recipe, but it is so worth it. You can have great Italian at home.
I rarely use the term "best" or anything similar. You will see me use easy, simple, and other pronouns, but I will use "best" here. I can not imagine any crock pot ziti being better than this.
As I read the crock pot recipes, I realized they were not that different than the oven recipes, except they may use uncooked pasta (probably a good idea, or you might have mush) and usually had a bit more liquid to help cook the pasta.
So I modeled what I felt was the best, and that was a Pioneer Woman recipe for Baked Ziti. It was a bit more lasagna-like with ricotta and Parmesan cheese in addition to my normal mozzarella. I will never go back.
My Rating

Outrageously good.
What is Baked Ziti?
Baked Ziti is basically some kind of tomato sauce usually with meat in my house, but you could skip the meat if you must. Add in some kind of cheese and pasta, and you have a classic Italian dish. There are variations, but that is basically it.
👨‍🍳The Pasta
Cooking pasta in a crock pot can be a bit tricky. Crock pots vary in their temperature curve, and the other ingredients can affect the cooking.
But perhaps the most important variable is the pasta itself. I suggest using a similar pasta each time to learn how it will cook by this method.
Smaller pasta will tend to cook faster. The recommended cooking time for the pasta you are using will give you a clue. The penne pasta I usually use has a suggested cooking time of 12-14 minutes.
Pasta with very short cooking times will not be a good choice and I doubt whole wheat pasta or gluten-free pasta will be a good choice.
So like most recipes, a test cooking before important meals is always in order.
Ziti vs. Penne Noodles
Close but not the same. Ziti is a bit bigger and has straight-cut ends. Penne is a little smaller with angle cut ends.
I have been berated for using penne instead of ziti. Yep, I do it all the time, and it doesn't matter. Ziti pasta is harder to find for me, and I like smaller pasta. So use what you like.
Should I Cook the Pasta First?
No. It is cooked in the crock pot with the fluid from the sauce. I suggest using standard box pasta here since I know how it will cook in this sort of usage.
If you use non-standard pasta, the results may or may not be good.
🐄The Meat
If you want, leave the meat out. But, in our home, ziti always has meat. It may be burger, Italian sausage, or chicken. But we always do meat.
Ground meat, like hamburger or sausage, must be browned before adding to a crock pot recipe. If uncooked, you will have a clumpy mess. So a nice browning and drain. I take the opportunity to precook the onion here also.
♨️The Crock Pot
The recipe, as written, is a cut-down recipe already. I used my 3.5 qt crock pot, which is "Cooking For Two," after all. This filled the pot about 75%, which is really about the most you should do, so do not use it in a smaller pot.
This would be great to double and would just fit in a 6.5 qt crock pot, but bigger would be better.
Low vs. High
I recommend cooking on low for this recipe. Less likely to overcook your pasta. On low, generally right at 4 ½ hours generally. Plus, use a 4-5 hour range, but always check the pasta at about 3 hours.
If you want to cook on high, generally it will be 2 to 2 ½ hours. And check the pasta at 1 ½ hours, please.
🇮🇹Crock Pot Italian Recipes

🖼️Step-by-Step Instructions
Use the pasta you want. I happened to use Penne this time. Please see the discussion about selecting your pasta above.
Start by place 1 pound of ground beef over medium-high heat to brown. Then chop one small onion and crush two cloves of garlic and add while the meat is browning. Cook until no longer pink. About 9-10 minutes.
Combine 1 cup (8 oz.) ricotta cheese with one egg white, ¼ cup grated Parmesan cheese, ½ teaspoon dry parsley, and ½ teaspoon salt—do not over mix.
To a medium mixing bowl, combine 1 - 28 oz can crushed tomatoes, 1 ½ teaspoon basil, 1 teaspoon salt, and ½ teaspoon pepper—mix well.
Drain the meat of extra fat and combine to make the meat sauce. You can add ⅛ tsp crushed red pepper if you wish. It will not add much heat.
Give a 3.5 qt. or larger slow cooker a good spray of PAM. See Notes about crock pot sizes. Now you get to layer the dish. Put about 1 ½ cups of meat sauce in first and spread to cover the bottom. Add 1 cup of uncooked ziti noodles or other pasta.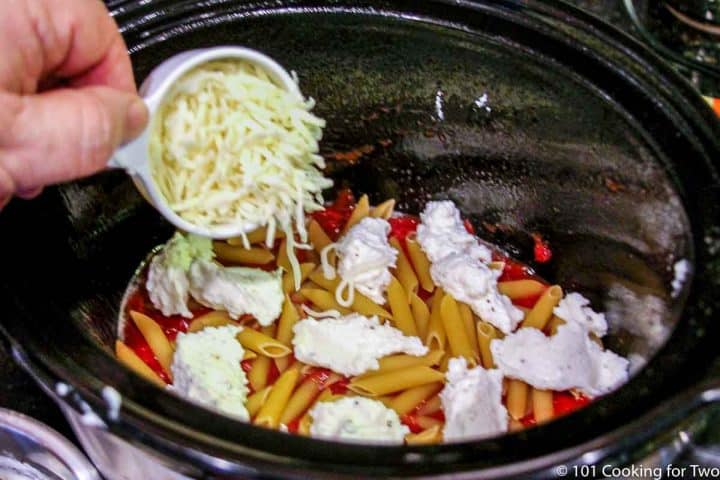 Now add half the ricotta mixture by placing spoonfuls on the pasta. Add ½ cup of shredded Mozzarella cheese on top of that.
Repeat the lay. Add 1 ½ cup meat sauce. Add 1 cup ziti noodles. Then add the rest of the ricotta and ½ cup mozzarella. Top with the rest of the sauce and 1 cup of mozzarella.
Cook on low for 4-5 hours. But check the pasta one hour early and closer to the end. End cooking early if needed to prevent overcooking.


Do you want more recipes from 101 Cooking for Two? Sign up for the newsletter and get all posts delivered straight to your inbox!
📖 Recipe
Editor's note: Originally published December 5, 2013. Updated with expanded options, refreshed photos, and a table of contents to help navigation.